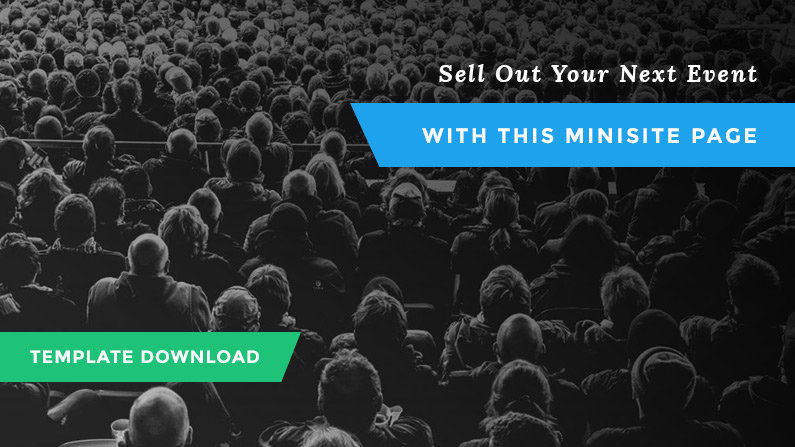 Resourceful LeadPages members have been using our landing-page templates to promote their live events for ages, taking advantage of excitement-building features such as countdown timers and prominent calls to action.
There was just one thing missing: until now, our standard template library didn't have a template made specifically for live events.
Today, we're making up for that absence by releasing an elegant minisite event page design packed with just about any feature your next seminar or shindig might require. It's designed to help you tell the story of your event from top to bottom in a thoroughly engaging way. And, of course, you're perfectly welcome to use it for virtual events such as webinars, too—just hide or repurpose any sections that don't make sense for you.
Here's a preview of this slick new template: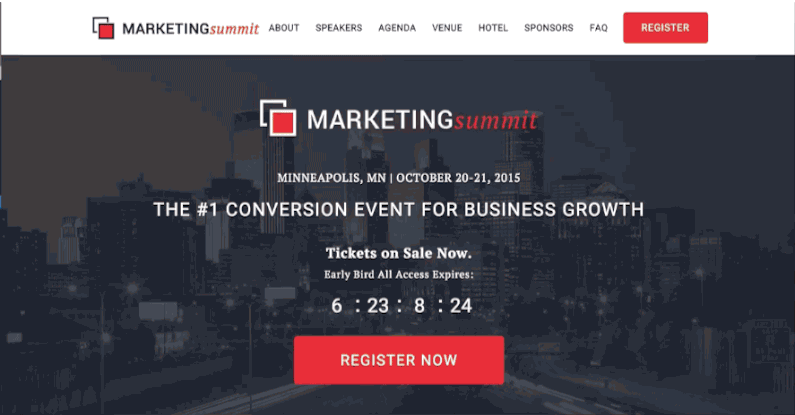 To celebrate this first-of-its-kind addition to our library, we're giving you this template totally free. Click below to download all the HTML, CSS, Javascript, and image files. Then, simply update them to suit your event and publish them to your own server. (You will need to do some coding or hand them off to your web developer to make this happen.)
If you're already a LeadPages member, you'll find this template waiting for you in your account—just look for the Live Event Page in the standard template library when you log in.
Let's take a closer look at what makes this template great, section by section:

Intro Screen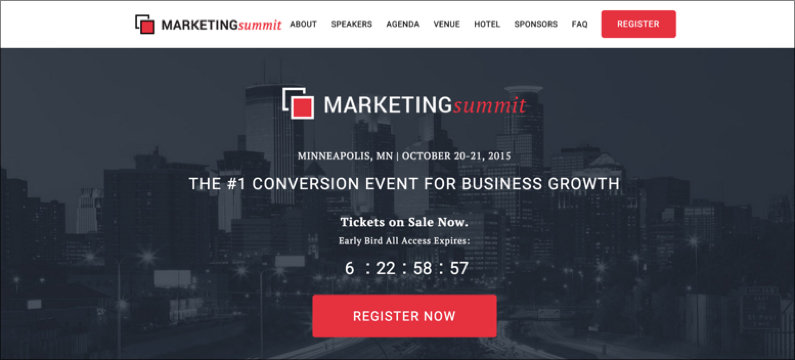 The first fold of this template has it all. The navigation bar includes links that let visitors zip to the other sections of the template, plus a registration button that can either summon a LeadBox™ sign-up form or link directly to event-registration platforms such as Eventbrite. (If you're wondering if we're really hosting a conference in Minneapolis in October 20–21, the answer is yes! Get the scoop on the CONVERTED conference here.)
There's also plenty of space for your event's logo to shine over a large background image. You can swap in images of your location, your venue, or an excited audience—whatever suits your event.
Setting up the countdown timer is as easy as selecting a date and time from a calendar. You can use the timer in several ways, counting down to the event itself, the close of registration, or the deadline for getting a certain ticket price (as shown in the default copy). A countdown timer can have a huge impact on your conversion rate—for instance, in this case study at ConversionXL, simply adding a timer nearly tripled one music marketer's conversion rate.
"About" Section

Here's where we get into the details. This simple section lets you add a compelling description of your event. I'd recommend limiting yourself to a few paragraphs, since you'll have plenty of space to highlight different aspects of your event below with the help of images and other design elements.
One other thing pops up here: social share buttons. From this point, they'll sail with you as you scroll all the way down the page. Few people like to go to a party alone, and this feature makes it especially likely that attendees will expand your social reach—and your ticket sales—by sharing with their networks.
Speaker Lineup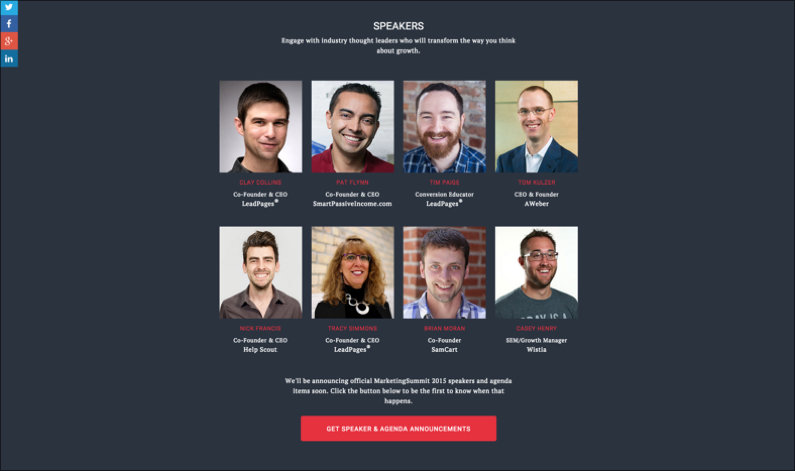 If you're hosting a conference, seminar, panel discussion, or training, the stars of your show are your presenters. This section gives them room to shine with large photo slots and space for their name and title or presentation topic underneath.
But don't skip this section if your event doesn't have any talking heads. Imagine these spaces filled with photos of musicians at a concert, art for sale at a gallery opening, or stops on a tour route.
Finally, this section has a secondary call to action that makes this page an effective buzz builder even when launched months before the event date. This button lets you add an additional LeadBox™ so you can send event updates to prospective guests as the lineup expands.
Agenda Section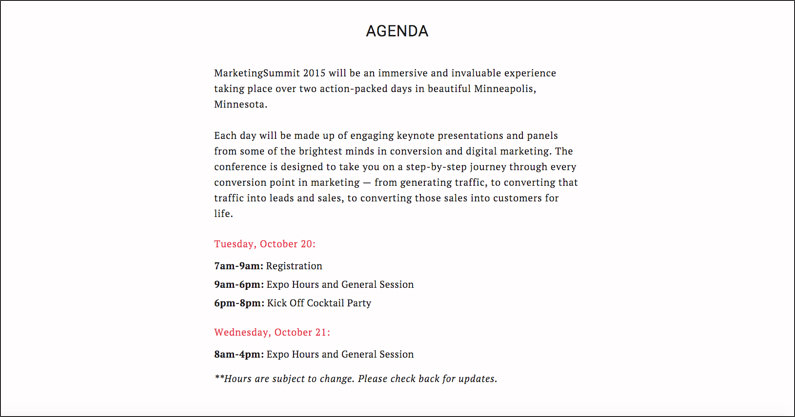 It's time to talk logistics. But the practical details don't have to be dull. This section gives you space to expand a little on the themes you introduced above before breaking down the timeline of your event. Elegant text styling makes the agenda easy to take in at a glance.
Venue Info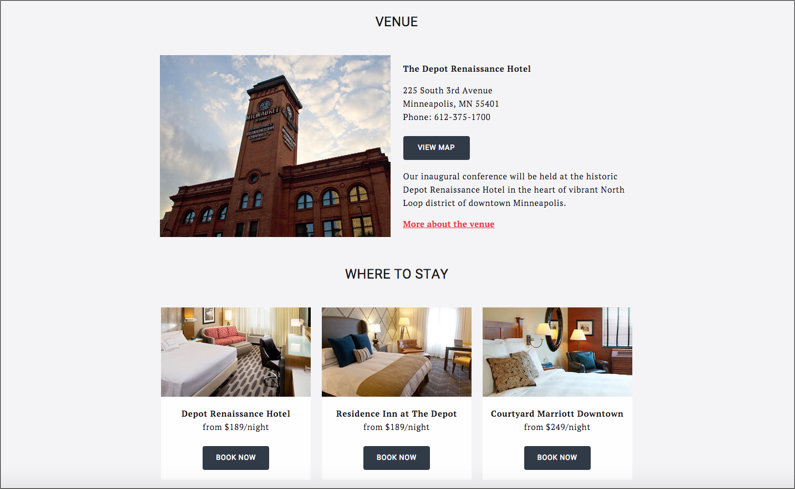 A large photo box lets you present your venue from its most flattering angle while the rest of this section conveys all the essential location details. If you don't have a good venue photo, you could add a map inset here instead of linking out (which the default button allows). Plus, there's a built-in spot to link directly to important information on the venue's website.
If you're expecting out-of-town guests, this section has you covered with space for recommended lodgings. Buttons let you link to hotel booking pages so guests can easily make reservations. But if your event's a one-day affair, you still have lots of options here. Use this space to call out places to eat near the venue, things to do in the area, or different events happening in different parts of the venue.
Sponsors Section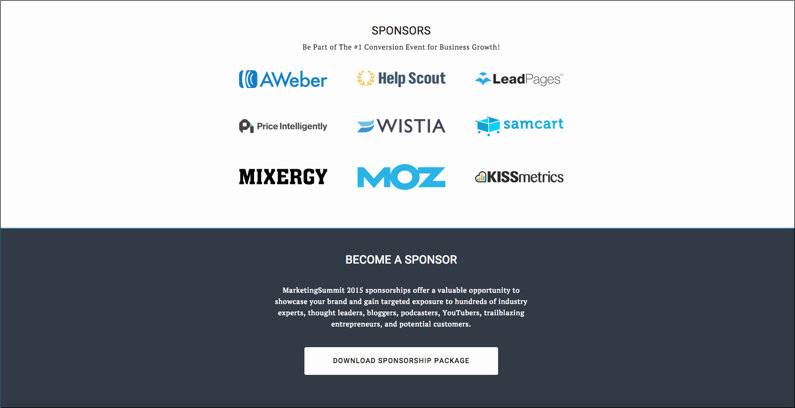 Your sponsors, if you have them, will love the opportunity to have their logos featured in this space. Plus, a secondary call-to-action button below can attract even more sponsors to the event.
However, nothing's stopping you from turning this section into something else entirely. If your event has gotten any media coverage, you could use it as an "As Seen In" section instead with a link for media inquiries link below. Or you could repurpose this section to showcase any vendors your event is partnering with, and use the button to provide an application for prospective vendors.
Pricing Section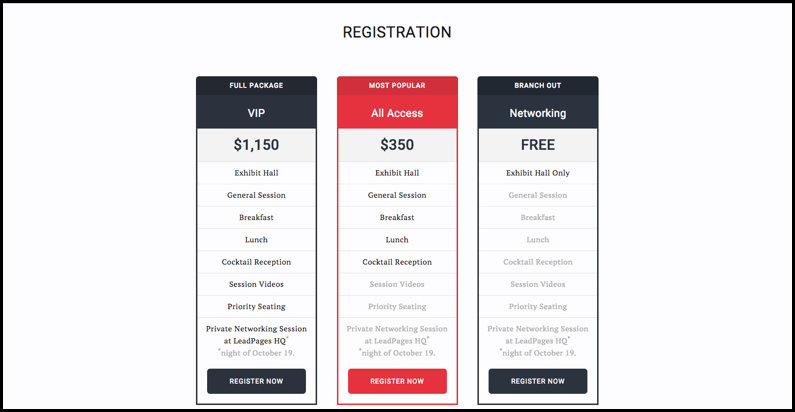 You've taken visitors on a whirlwind tour of the best parts of your event. Now, it's time for them to buy tickets. This section allows for different pricing levels based on access, seating, or other ticket-package components.
With its highlighted center column, the pricing chart draws on a well-known principle of pricing psychology called price anchoring. Once you've figured out which ticket option you want to promote most, you'll get more people to buy it if you place it next to a higher-priced option. First-time purchasers especially tend to choose the middle option when presented with several price points, so this format lets you guide them straight to the right choice.
FAQs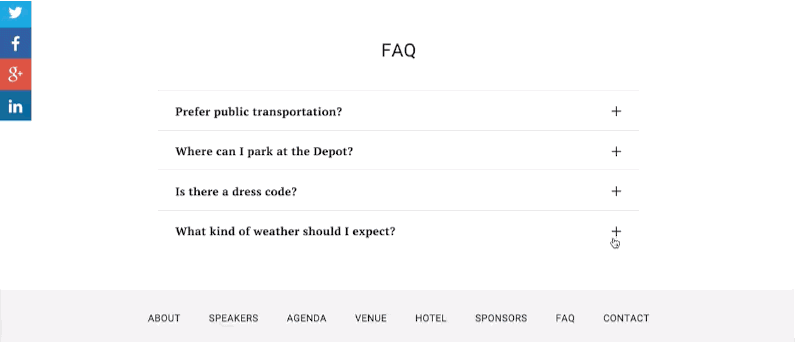 Event promoters often have a dilemma when it comes to the FAQ section. On the one hand, this is information many people will seek out, and you don't want them to delay their purchase if they can't find it. On the other hand, a weighty FAQ section could make the event and its ticketing policies look more complicated than necessary and scare some people off.
This template neatly solves that dilemma with expandable answer sections. People who want this info can click into each question to see it, while those who don't can scroll on by. And once they reach the end, they can navigate back up to any section they missed, or share the event with an additional set of social buttons.
Ready to sell out your next event? Click below to grab this free template:
Have you created any event pages lately? Did you encounter any challenges or find any great tips to share? Tell us in the comments!