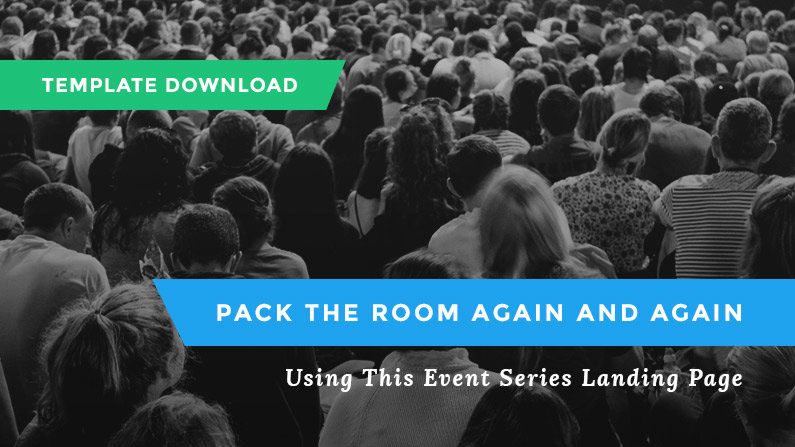 Although these days I write about the digital world, in the past I've worked covering concerts and other in-the-flesh events. That means I've seen a lot of event pages. And most of them fell into a few different categories.
Some were all style, no substance. They'd have giant photo backgrounds and animated intros, but once the strobing graphics stopped, you'd find yourself clicking the same few links over and over in the hunt for a simple event schedule.
Some were visually stuck in 1997, put up quickly by organizations with too many other things to do to be bothered with web design. Pages like these may have the virtue of conveying information clearly, but they don't necessarily prepare attendees to expect a well-run, modern event.
Some were even more basic than that, and lived only on Eventbrite or another ticketing service site. Eventbrite pages can get the job done—they are, at the least, going to smoothly allow visitors to purchase tickets—but they're unlikely to be beautiful. The page template is bare bones, and the text fields are sometimes used as a dumping ground for way too much disorganized information.
And some were just right. They contained clear logistical information alongside compelling event highlights. They looked good, with design choices that reflected the event's intended audience. They made their signup buttons easy to find.
Whether or not any given event would have one of these high-quality pages seemed almost a matter of chance. But it shouldn't be that way—and that's why we've created our new Event Series Landing Page template to give to you. Download your free copy here, or read on to learn more:

If you're already a LeadPages® member, this template is already waiting for you inside your account—just look for the Event Series Landing Page when you log in. If you're not a LeadPages® member, you'll need to download the files, edit them to make any changes you'd like, and host them on your own site (or pass them along to your web developer if you're not a coder yourself).
This new template immediately orients visitors with a lightweight internal navigation menu. Here's how it works: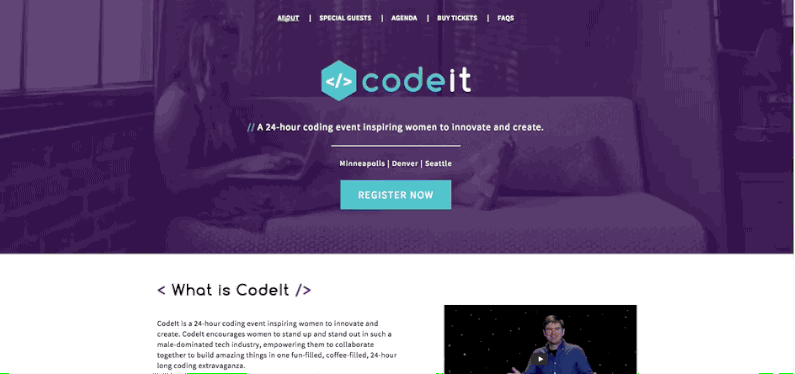 (Of course, you can also use this menu to link to external pages if you need to build this page into a larger site.)
The Event Series Landing page isn't the first template we've released that's geared especially for live events, but it is unique in that it's designed to accommodate a series of events, instead of just a one-off. And that means you can keep the same page up longer, rather than having to overhaul the page or build a new one every time you add a date.
After getting an introduction to your event series or your organization at the top, visitors can scroll or click down to this section, which has space for up to 3 events: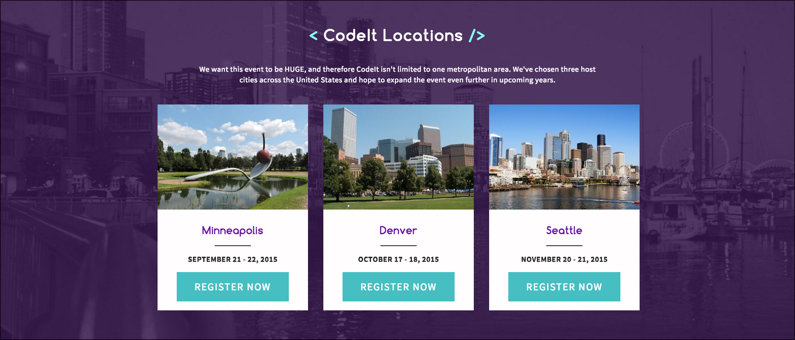 In this example, this section is used to showcase events in 3 different cities, but you can easily update it to showcase options such as:
Different locations within the same community (such as yoga classes at different parks)
Different dates for the same location (such as a series of related concerts)
Options for different groups of customers (such as a 1k, 5k, and 10k race)
Different pricing or ticketing options (such as different access levels or seating sections)
Whether or not you use it for multiple events, the Event Series Landing Page contains several elements that should be standard on any event page. Here are 3 of the most important:
1. It's mobile responsive.
That's true of every landing page template LeadPages creates, but it's especially worth noting here. This page is designed to be a useful resource for attendees even after they've signed up, and it's likely they'll be consulting it on their way to the venue or even during the event.
That means they'll be viewing it on their smartphones, so it's important for the page to look and function just as nicely on a smaller screen. Because it's built with mobile in mind, this page also makes it easy for people to sign up when they're not near a computer—for example, when they're reading event listings in the local alt-weekly, or when they're checking out a poster on a bulletin board.
2. It's informative, but not overwhelming.
The layout of this page allows for the essential details of an event: time, location, agenda/lineup, headliners, and FAQs to answer whatever prospective attendees might need to know before they go.
All this information could add up to a lot of text, but this page feels almost airy. Optional photo and video slots break things up, while 2 stylized photo background sections offer a chance for you to convey the vibe of your event subtly without adding length to the page.
3. It keeps the calls to action focused.
You may want people to do a number of things when they arrive at your event page—not only buy a ticket, but perhaps share on social media, subscribe for notifications, upgrade their ticket package, invite a friend …
That's understandable, but loading up your event page with too many calls to action can be counterproductive. Instead, we'd recommend that you focus on making the initial ticket sale (or registration, if your event is free). Then, once they've signed up, you can reach out via email to prompt any additional actions you'd like them to take.
You can either use this page for a one-off event or event series, or continue to update it and make it the hub for all your events. Click below to download your free copy now:


When you're signing up for an event, what do you like to see on the event page? Tell us in the comments.