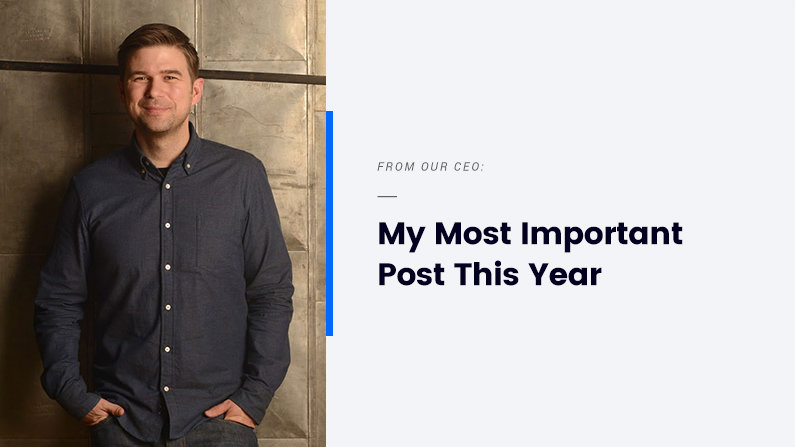 Editor's Note: Our new product, Center, is now available to the public. Click here to check it out.
* * *
This might be the most important thing I've ever written about marketing.
My only worry is that I've said too much here about our future strategy. Ultimately, however, I'm a huge believer in transparency. I believe that real progress comes through execution, not access to proprietary ideas.
This post is our thesis on the future of marketing technology and a statement about our forthcoming direction. We're being pretty open here about our strategy.
If you want to know what core beliefs, theories, and assumptions are driving our product creation, then keep on reading.
But first, some housekeeping …
A Preview of Our New Product & Brand
The post below is several thousand words. If you don't have time to read it all, here's all you need to know: we've just unveiled the early adopter program for our new product and brand.
Click here to learn more about it.
Announcing: The Most Important Early Adopter Program Since We First Launched LeadPages
Our product and engineering teams have been working on an entirely new product.
We believe it's another first in our industry. I've been waiting to see us release this for a long, long time.
It is, quite frankly, the most important product announcement we've made since the launch of LeadPages itself.
That's coming. For today, I want to show you where we see marketing technology heading next.
Where We See Marketing Technology Going in the Next 5–10 Years
Right now, the marketing software industry is being disrupted (slowly and almost imperceptibly).
In a lot of ways, traditional all-in-one marketing software is on a collision course (albeit a long one) with irrelevance.
The myth of the "marketing-suite-to-rule-them-all" (that doesn't actually suck) is becoming, with few exceptions, an unrealistic pipe dream.
Five years ago, traditional marketing suites could actually be the go-to solution for handling all your marketing needs across your business, or multiple businesses.
Today, this is unlikely. In the near future, it will be almost impossible.
We have nothing against companies and products like Ontraport, InfusionSoft, Marketo, Eloqua, HubSpot, and Salesforce (Pardot). In fact, in many cases, we think these products are really great investments, provided that you're using them in the right ways and for the right reasons.
Nonetheless, traditional marketing suite software is being disrupted very slowly, and sometimes imperceptibly, by a new generation of marketing technology and marketing technologists.
In order to explain this, I'd like to reference …
The 2 Opposing Forces of Marketing Technology
There are 2 opposing forces having a heavy impact on the marketing technology space:
Opposing Force #1: Desire for an all-in-one "marketing-suite-to-rule-them-all" system that handles and runs everything
Opposing Force #2: Willingness to embrace any point-solution software that generates more revenue
Over time, the tides have turned. One of these forces is overwhelming the other.
Let's break this down by talking about …
Opposing Force #1: Customers' Desire for an All-in-One System That Handles Everything
When someone first starts doing digital marketing, they generally start with a couple of marketing tools (maybe MailChimp and GoToWebinar) but eventually want an all-in-one system that does everything for them.
Here at LeadPages, we get daily requests from customers wanting us to do everything for them. As soon as someone discovers that we make easy-to-use high-quality software, they want us to provide them with an email marketing solution, a webinar solution, a membership site solution, an affiliate management solution, a shopping cart solution, a blog solution, an analytics solution, etc.
For most companies, trying to build the all-in-one solution is very seductive. There are 2 reasons for this.
First, customers are asking you to create more solutions for them. This is flattering, and it's natural to want to give customers everything they want.
Second, if revenue or customer growth is slowing down, then selling more things feels like a viable way to maintain growth. After all, if you're not increasing your customer count each month … then the only real way to grow revenue is by upselling a bunch of new solutions to existing customers.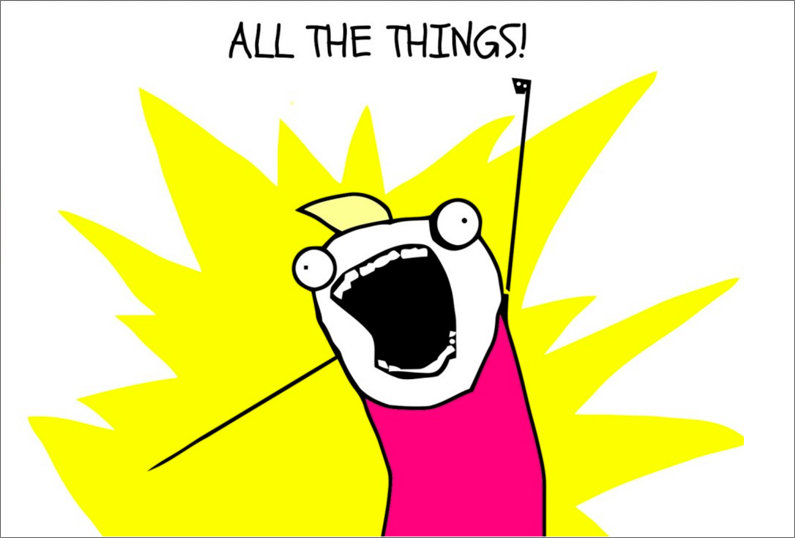 The problem with being an all-in-one marketing suite is that doing "all the things" grows harder and harder every year as markets mature, customers get more sophisticated, and the scope of digital marketing increases.
Not only are additional categories of digital marketing software being created every year. The pre-existing "traditional" categories are getting more and more sophisticated.
It's Getting More & More Difficult to Do "All The Things" Well
Every year, what's required to have a best-in-class marketing product (in any given category) increases dramatically.
Five years ago, marketing suites only had to do a handful of things well.
Today, an end-to-end marketing suite needs to be competent in 7 to 10+ categories, each of which is 10 times more sophisticated than it was just a few years ago.
Let's say, for example, that your all-in-one marketing suite includes (1) social media marketing tools in addition to (2) a blogging platform, (3) a shopping cart/checkout page/payment processing solution, (4) email marketing tools, (5) marketing automation, (6) a CRM, and (7) an affiliate management system, among other things.
In that scenario, your social media marketing tools alone are competing with companies like Hootsuite—which has been focused on social media marketing solutions for 7 years, has raised almost $250M in venture capital and has over 500 employees, all of whom are focused on the company's social media marketing mission.
Hootsuite probably has more engineers just focused on social media marketing than your all-in-one provider has worked on the entire platform. In addition, 100% of their top product people and their founders are focused on social media marketing. Add to that companies like Buffer (social media broadcasting and scheduling), Edgar (reuse of social media posts) and 22Social, and you've got a social media marketing stack that no marketing suite can compete with.
Of course, if your marketing suite comes with a blogging platform, you're competing with WordPress.
Game over.
We could do this analysis for every aspect of your all-in-one solution. The point is that trying to do everything well makes it really difficult to do anything at a world-class level.
This brings us to …
Opposing Force #2: Customers' Desire for Higher Conversions & Best of Breed Software
At some point, we all want an all-in-one suite that does everything for us.
I have a prediction about you and your current all-in-one marketing suite: you probably don't like it that much.
For example …
Maybe the automation features are good but email deliverability sucks.
Maybe the email marketing features are serviceable, but it has a clunky API with a high error rate, so it's hard to integrate with other services.
Maybe the analytics are good but it's not so good with forking logic, custom fields, or relative time/dates … or maybe the shopping cart or affiliate program leaves a lot to be desired.
Maybe they've released some awesome new updates, but their e-commerce order forms for selling your products are still ugly.
I have another prediction about your current all-in-one marketing suite: you probably dislike it but use it because it's a lesser evil than others.
And this is only going to get worse, not better, as these providers struggle to keep up by doing more and more.

Not only do these systems have to keep building more in order to "do it all," but they have to deal with technical debt, legacy systems, and integrations across their product portfolio while building deep institutional domain expertise across so many systems.
But, my guess is that you'll buy another tool time and time again if the return on investment is there and you have the chops to use it effectively. Time and time again.
This is important: we are not saying that people will stop using these suites altogether. We're just saying that, over time, a smaller and smaller percentage of these suites' feature sets will be used or be relevant. Most people are still using their all-in-one system AND they're still buying more apps to bolt onto it.
That's why, even if you have a marketing suite, you probably still have a number of other point solutions. And if you're like most marketers, you're buying more and more of them every year—even though this probably isn't your first preference.
Which invites the question:
If People Want One Trusted Company to Provide All of Their Marketing Needs, Why Are They Buying Several Best of Breed Point Solutions?
Every single aspect of digital marketing, if done just a little bit better (in a sufficiently sized business), can add millions to your bottom line.
And given enough time, numbers win over just about everything in a discipline as quantifiable as digital marketing. It is for this reason that there's no stopping the rise of single-purpose best of breed software.
The issue is that no matter how convenient all-in-one software might be, there will always be a company focusing exclusively on one or two of that system's features, and doing it 10 times better. Given the leverage afforded by digital marketing, doing something just a little bit better—when it comes to any category of marketing software—makes a huge huge difference to your bottom line.
Let's say you pay $4,000 per year for a marketing suite that does about 10 things (email marketing, automation, shopping cart, affiliate system, landing pages, analytics, split testing, etc.). And let's say you find a piece of software that does just one of those 10 things so well that it gets you a 5% lift in revenue or productivity and costs $100 per month (although in many cases a much larger lift is likely).
You're probably going to buy it because—in a small business with recurring revenue—that increase likely represents tens of thousands of dollars, and in a medium-sized business or enterprise, the increase could provide millions of dollars in increased revenue.
Here are some notable areas where people are opting for best of breed point solutions over all-in-one marketing suites:

Payment Processors and Shopping Carts: Even a small improvement in your payment success rate can mean thousands or hundreds of thousands to your bottom line. And if you're using a payment processor like Stripe, it comes with an entire ecosystem of software that reduces churn, gives you analytics on business growth, helps with dunning, makes customer management easier, etc. Each of these things could create a huge revenue lift. And of course, a shopping cart engineered from the ground up to increase conversions or make it easier to do upsells, etc., could have a similar or even greater effect.
Affiliate Systems and Tracking: Better stats and analytics create trust and motivation among affiliates. And all things being equal, an affiliate system that provides more thorough and segmented analytics—and takes the friction out of promoting a product—will generate much more revenue than a system that does not. The corresponding lift could be huge for most businesses with affiliate programs. Companies like Cake are crushing it in this space.
Email and Deliverability: Getting into inboxes is getting harder and harder these days with filtering mechanisms like Gmail's "Promotions" tab. And of course, ending up in spam folders because your email providers is grey-listed or blacklisted on URIBL (or some other similar site) can potentially cost you thousands—if not millions—of dollars. Conversely, getting in more and more inboxes can create a real lift in revenue. Using an email service provider that is single-mindedly obsessed with getting into inboxes can have a real upside for your business.
Analytics: Most digital marketers don't know exactly which blog posts are creating customers for them or the lifetime value of customers associated with every ad group they've created. They don't know the exact ROI of their content marketing efforts vs. their PR and social media efforts, and they don't know where to increase spend if they want to achieve maximum growth. That's because their analytics are lacking. Highly focused products like MixPanel can help with this.
Landing Pages and Lead Generation: We've found that that biggest driver of increased conversions on a website is not landing page conversion rate, but the sheer number of landing pages and unique opt-in opportunities available. Yes, people are using LeadPages instead of the landing page tool provided by their marketing suite … but not just because of increased conversions. It's also because we make it so much easier (and faster) to create a signup/opt-in opportunity (whether that be through SMS with LeadDigits®, an automation link with LeadLinks®, a landing page, or an opt-in form with LeadBoxes®). Folks like Neil Patel are using LeadBoxes® on every single blog post to skyrocket their list growth … and we're using this strategy as well; we invented it.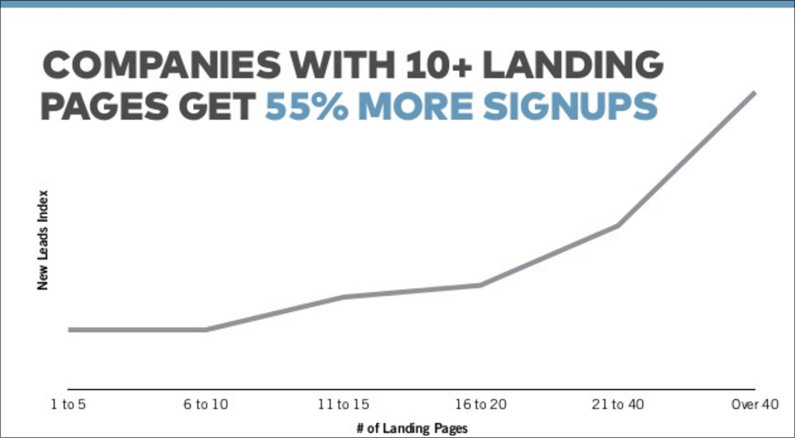 It's likely that every single aspect of your all-in-one system can and will be done better by a laser-focused, disciplined, and well-funded company that does nothing but obsess (and create thought leadership) about just one of the several feature sets included in your marketing suite.
But guess what: there's more where that came from because the increasing demand for highly focused and specialized best of breed point solutions is creating an abundance of marketing technology companies.
See below: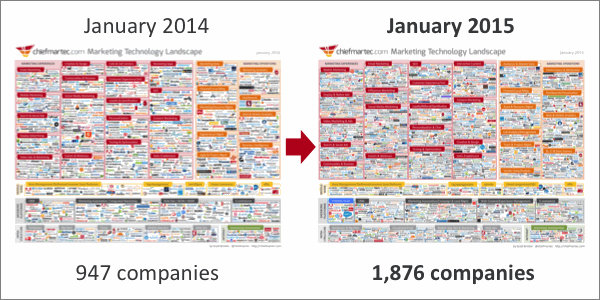 According to ChiefMarTec.com, the number of marketing technology companies almost doubled from 947 to 1,876 in just a year.
The doubling came (almost exclusively) from highly focused point solutions.
So disruption is happening in the marketing space because people care more about higher conversions than they care about using one tool to run all of their marketing.
But …
Here's the Downside: The Disruption Happening in the Marketing Space Is Leading to Painful & Unmanageable Fragmentation
Let's face it: using several best-in-breed point solutions to create a cohesive marketing campaign can be a pain. Having to log into and stitch together 5 different point solutions to create a marketing campaign is laborious and painful; creating integrations and gathering analytics across several platforms can be even more difficult.
So yeah, all of these platforms and the integrations needed to make them work together are becoming frustrating and increasingly difficult to manage.
Another issue is that there really isn't a single database of record anymore. All of your leads, prospects, and customers are no longer in one place, and it's becoming increasingly difficult—even impossible—to have a single database of record.
For example …
Some of your leads might be in your webinar platform (like GoToWebinar).
Some are in your email service provider (like MailChimp).
Some are in your CRM (like Salesforce).
Some are in a Google Docs spreadsheet.
And some might be in your call center software.
This isn't, in and of itself, problematic—until you need to create rules and segments across your entire marketing stack.
Let's say, for example, that you want to email everyone who …
Attended at least half of your sales webinar
Watched over 75% of your Wistia sales video
Visited your checkout page but didn't actually purchase a product
Because of "database fragmentation," quickly creating the above segment can be next to impossible for most marketing teams (unless you do a lot of manual work or do custom API development).
This is a problem.
So If All-In-One Suites Are Being Slowly Disrupted, and Point Solutions Are Painful, What's to Be Done?
That's where our new product comes in. 🙂 Stay tuned.
– Clay