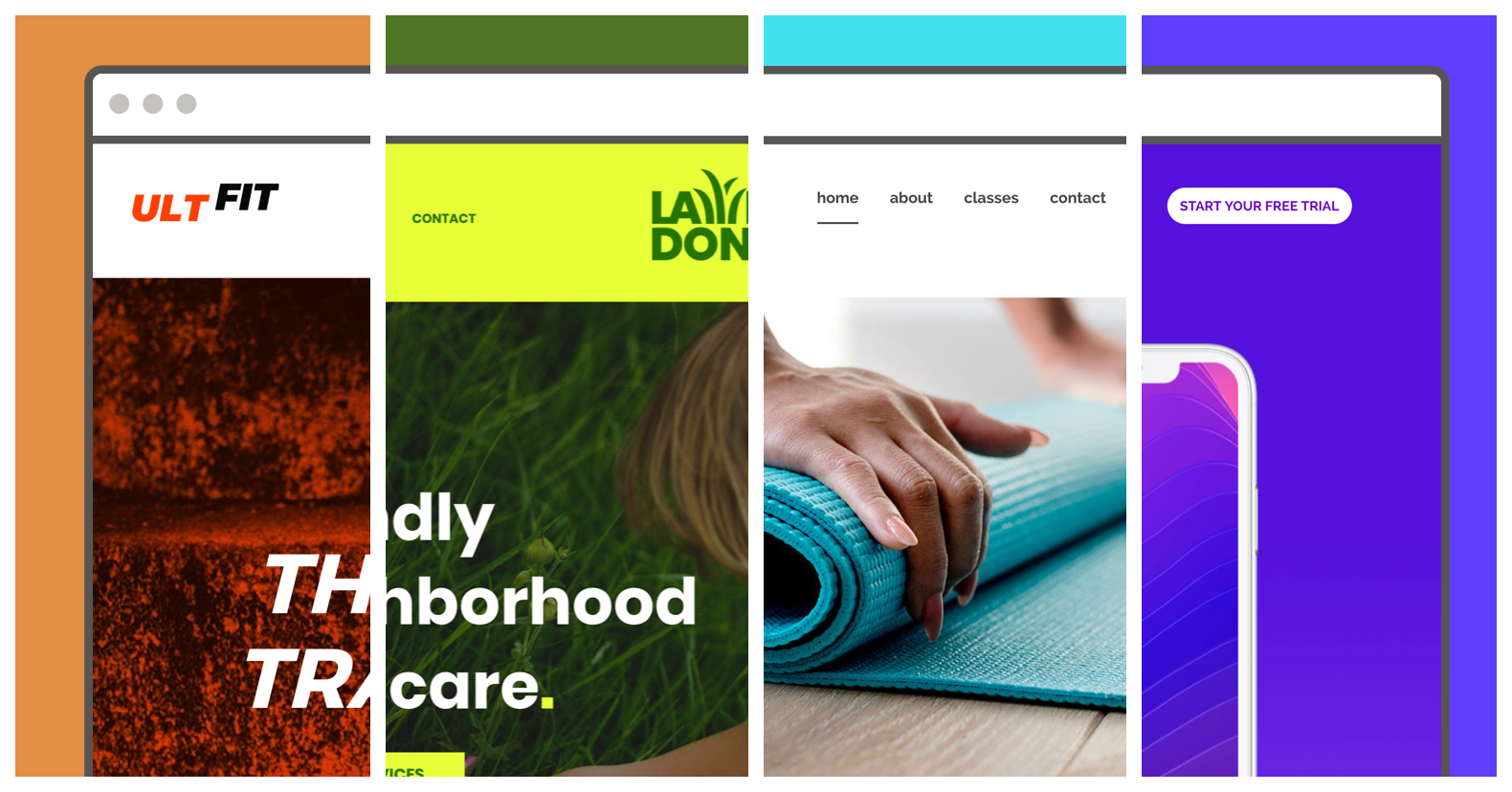 After releasing Leadpages Sites—hundreds of small businesses have created high-converting websites in as little as 1 hour! And a few common questions have arisen: How do I set up my site? What about my old website? What about blogging? Where should I begin?
Any of that sound familiar to you?
In this article, we're going to cover a few common scenarios to help you determine how to put Leadpages sites to work for you.


Creating your website? Don't wing it!
Set Goals, Plan Content, and Track Performance with your free website workbook.
Situation 1:
You don't have a website.

Solution: No website, no problem! Every part of the website process is all under one hood with Leadpages. You can purchase a domain and create your website all within one interface. First, click on 'Purchase Domain' within your Leadpages account and walk through our wizard to connect it directly to Leadpages!
Situation 2:
You have one website on a third-party website builder.
Solution: Create a new website on Leadpages with a temporary domain or just use your Leadpages subdomain, and build your site on that domain. You can start sending traffic to it without buying another domain. Then you can compare the Leadpages-built site versus the one you created with a third-party website builder. Once you've made the decision, you can switch your domain to the Leadpages server.
Situation 3:
You have a website (or websites) on an independent host.
Solution: If you're in this boat, you likely have a shared web server hosting your site. In this case, you should buy a new domain through a domain registrar and connect it to the new domain with your Leadpages site. Or if you're used to connecting a domain with a new account within a web host manager, you can create additional add-on domains, as long as you have access to the CNAME and A Records you can set up your domain to point to your web host name server and add those records within your hosting account.
Please note: Switching an existing domain to a site with Leadpages will disconnect (but not delete) your website. So if someone tries to go to your website, it will be gone.
Situation 4:
You run multiple websites for yourself and other clients.
Solution: If this is your scenario, you likely have a WHM account. Set up accounts as usual and connect them to the site through CNAME records.
Another option is setting up client site accounts at the registrar level on their behalf. Use Advanced Leadpages plan for more domains or refer your clients to their own Leadpages accounts as an affiliate.
---
What are your hosting options for Leadpages sites?
You have three options for hosting a Leadpages site:
1. Connect your domain directly to Leadpages
This option uses your domain's DNS settings for CNAME and A Records. Follow the steps to connect your domain here.
2. Connect your domain within your hosting
This is useful if you have multiple websites already on your own hosting.
3. Connect your subdomain within your hosting
This is useful if you want to keep your existing WordPress site.
For more insight, see our help article.
---
Why use Leadpages Sites?
Thinking of getting started with Leadpages Sites? Whether you are a one-person shop or a major enterprise, Leadpages can work for you.
There are a few reasons why we may be the solution for you:

1. Conversion focus:
Leadpages allows you to create a website focused on conversion. We want to make sure that you don't get a half percent conversion like most website owners, rather than an 8 to 10% boost.
Long story short, our beautifully designed templates are built to maximize conversions.

2. Unlimited page views, leads, and conversions:
Unlike other platforms, we don't charge more for our customers' success.

3. Website/Landing pages/Facebook Ads under one roof:
Leadpages is the only platform that centralizes content creation and management of websites, landing pages, pop-ups, alert bars, Facebook & Instagram ads, and more.

4. Real-time analytics:
Unlike other platforms, Leadpages offers real-time analytics so you can measure performance and make the most of your ad spend by adjusting content instantly.

5. Code-free customizations:
Uniquely intuitive and designed for small business owners who don't have professional web developers on staff, Leadpages champions ease-of-use.
6. Page load speed:
Leadpages' landing pages load 2.4 seconds faster and have a performance score of 30% higher than leading competitors. Slow-loading web pages cost you conversions, sales revenue, organic search rankings, and PPC ad quality score. With conversions and customers on the line—Leadpages is leading the charge for lightning-fast page load speeds. Learn more.

7. Security
Nothing is more stressful than having a security breach on your website—data breaches and downtime are both costly and damage your credibility in the eyes of your customers. All pages on our servers are secured with SSL and HTTPS protocols. Whether you use your Leadpages domain or connect your own domain, your pages are secure.
Our users benefit from site security so you don't have to worry about security problems, frequent updates, or outdated plug-ins that could lead to cyber-attacks.



8. Zero Back-End Maintenance:
We do the heavy lifting so you don't have to. Our support team is here to guide you along the way. Contact a friendly Customer Care member from your Leadpages dashboard at any time.
Pro tip: If you're using Leadpages, all you need to do is follow the bouncing ball. It's a set-up system where you follow the prompts and away you go!
General tips for setting up your Leadpages Site
You would not use Leadpages and another third-party website builder (like WordPress, SquareSpace, Wix or Weebly) on the same domain.
You can have a site and individual landing pages as long as the slugs are different for each site page or landing page.
Creating your website? Don't wing it!
Set Goals, Plan Content, and Track Performance with your free website workbook.
Blogging with Leadpages Sites
If you blog about one time per month or less frequently, use the blog page templates within Leadpages.
If you blog two to four times per month, use Medium or LinkedIn to publish your articles. You can link to them on your navigation and get the network effect of being on a third-party site.
If you blog multiple times per week, set up a WordPress blog on a subdomain of a domain you have connected to your own website host.
Email addresses with Leadpages Sites
While Leadpages doesn't provide an email address, your domain registrar can provide an email. They typically charge only a small monthly fee.
You can connect Google's G-Suite for Business at $5 per month to your MX record through your registrar or web host.
Need help with your website?
Our support team is ready to help you put your site into the world and can help along the way. Visit the Leadpages Sites Knowledge Base for resources and in-depth how-to's when it comes to managing and growing your online presence.