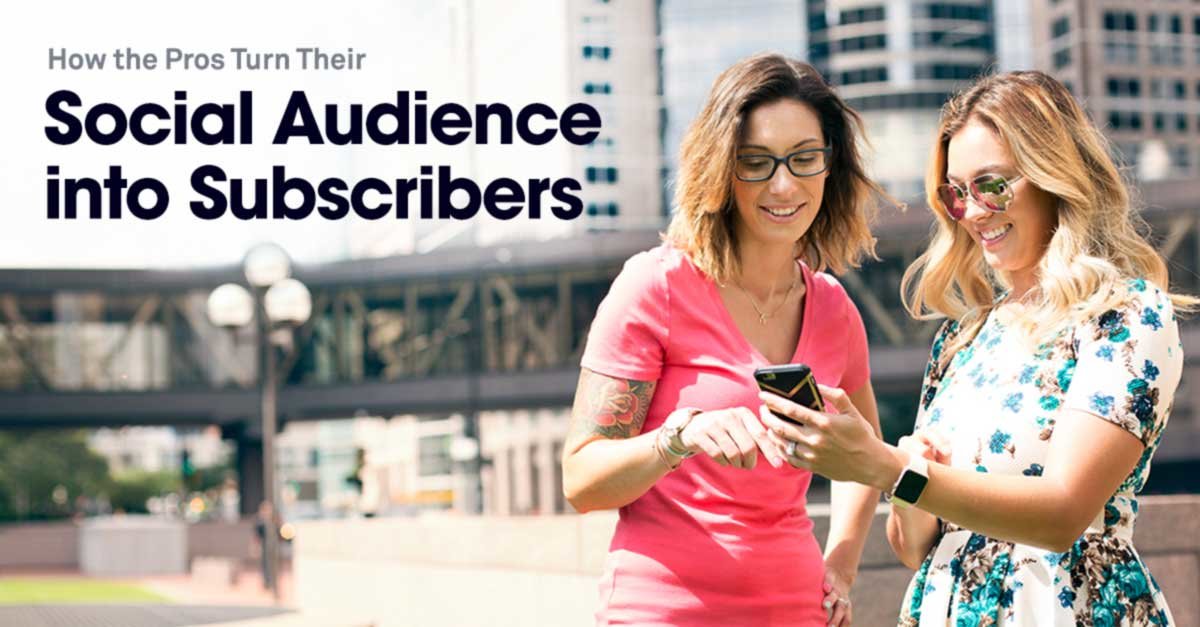 I'm pretty lucky that I work in marketing. If anyone peeks over my shoulder in the middle of the workday to see me scrolling through social media, I don't get side-eye—they know I'm doing research. (I promise, I usually am.)
I learn a ton by spending time on social sites like Instagram, Twitter, and Facebook, interacting with our customers, and studying the way they're taking advantage of social media marketing to connect with customers.
One trend that absolutely blows me away is when landing pages work harmoniously with social media, leading to a seamless user experience that gets visitors exactly where they want to go, and exactly where savvy marketers are hoping to send them.
This is a smart strategy. Social media platforms, as powerful as they are, are unpredictable. The rules could change any time, and an algorithm change-up could mean fewer eyes on your content. Sending your audience to a landing page, where you can collect emails, allows you the control to contact your audience whenever you want, even when algorithms change or an entire platform becomes less popular.
Here are a few of my favorite examples of entrepreneurs combining the power of Leadpages and social media to make digital marketing magic. If you're not using these tactics yet, I predict you'll come away with lots of ideas for your own social media—and to fan the flames of inspiration, I've also put together a guide with 10 ideas for getting social media traffic to your landing pages.
Pinterest
Converted 2016 speaker and e-course creator Melyssa Griffin is a Pinterest expert. She teaches webinars on the subject and even has an e-course called Pinfinite Growth. Of course, she's tested all the tips and tricks she teaches with her own audience, and one of my favorite tactics is the way that she gets her Pinterest followers on her email list using Leadboxes.
We'll start with the pin itself. Here's one of Melyssa's recent pins.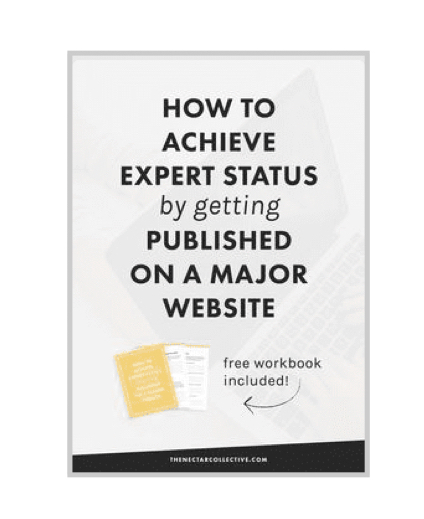 This is a pin that functions more like an ultra-targeted banner ad. She places the text front and center, letting Pinterest users know exactly what they'll get from this post. She rounds out the pin by telling the scrolling passerby exactly what to do: "Click through to read the post and download your free worksheets."
When you click through to the article, you'll find the lead magnet nestled in among excellent content.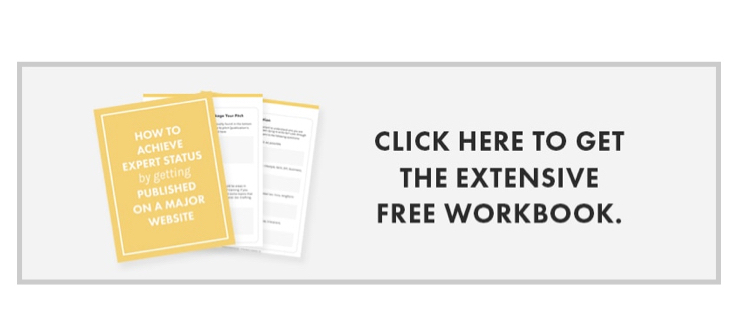 When you click on this image, a lead magnet pops-up with a prompt to enter your email address.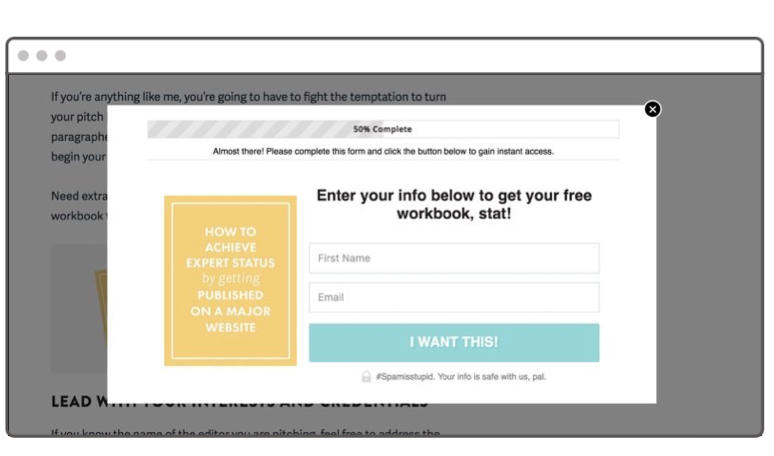 Just like that, the reader gets the content they were promised on Pinterest, and Melyssa Griffin gets a new lead. And she did so by using a few techniques that are optimized for gaining leads specifically from Pinterest.
She links to an evergreen blog post. Time-sensitive content isn't a great fit for Pinterest, because the platform works more like a search engine than most social media platforms. (For instance, Pinterest wouldn't be the place to link to a webinar sign up, unless that webinar happened every week.) Keep in mind that Pinterest users might find your content months from now.

She plugs a bonus in her pin. Include the promise of your lead magnet in the pinned image. This will increase the likelihood that people will click through in the first place, and also the likelihood that they will share their email and convert when they reach your opt-in form.
Instagram
Meighan O'Toole is an Instagram whiz. She has built a business around her online strategy and teaches courses and webinars about social media for small business owners.
Instagram is a tough platform because you cannot have clickable links in individuals posts. You can have one link in your profile, however, and you can change it as often as you like. Meighan O'Toole takes advantage of that one link to convert Instagram followers into webinar attendees (and email list subscribers).
One of her best techniques for turning Instagram followers into leads is so stunningly simple that most entrepreneurs look right past it. In order to get visitors to her webinar page, she…posts a photo of her webinar page. (And why not? It's a beautiful landing page.)
Then, in the caption, she adds a note reading "Link in profile."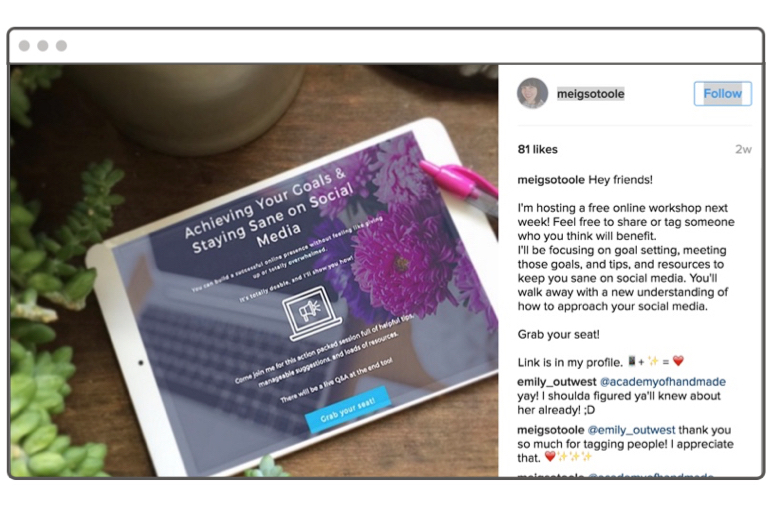 When you click on her profile, you'll find a bit.ly link to a landing page for the workshop. And, just in case someone ends up on her page but didn't see the post that explains where the link in her profile is pointing, she adds "Enroll in my free workshop" to her profile description.

When you click on that link, you're sent to the signup page for the workshop. This system takes advantage of the places where Instagram will allow a link and is a smart way to direct your traffic exactly where you want them to go.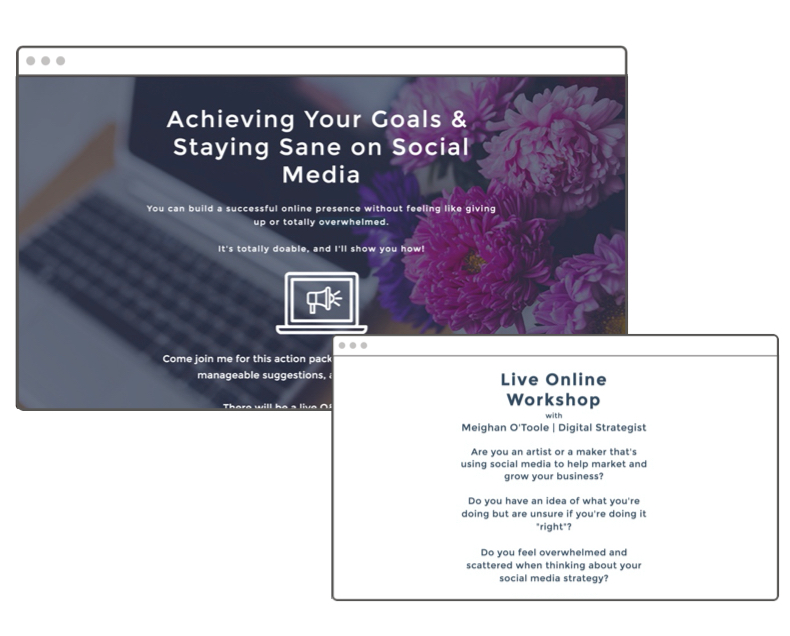 In this sequence, Meighan uses some techniques that work especially well for Instagram—normally one of the most challenging platforms for capturing leads.
She changes the link in her profile. This is the only clickable link you can have on your Instagram account, so you want to make sure it's always sending followers where you want them to go, not just to your homepage. If you find yourself changing this link multiple times every day, you can use a service like Link in Profile, which will assign a link to each picture and bring followers to a page where they can select the picture they were looking at and get where they wanted to go.

She posts an image that fits in with Instagram but also tells followers what she's trying to get them to do. The example above is such a genius Instagram photo because it fits in with the general aesthetic of the platform while setting expectations for followers. She incorporates words without being obtrusive, yet piques visitors' interest enough to get them to click.

She creates a seamless follow-through experience. Since Instagram is a mobile-first platform, it's crucial that any links you use lead to a fully mobile-responsive landing page. By using Leadpages, Meighan's got this covered.
Bonus: You can also link directly from Instagram ads to your landing page! This is a great technique if you're building a paid campaign on Instagram since you want every click to have the greatest possible impact. You can include a clickable link on Instagram ads, so creating an ad like Meighan's and linking it to a landing page would be an excellent paid strategy.
Facebook
Mari Smith is "The Queen of Facebook" if you ask her website, her 178,000+ followers, and maybe even Facebook itself—last year, she hit the road with the social media giant on the Facebook Boost Your Business tour.
If you can do it with Facebook, Mari probably knows about it. So it's no surprise that she's using Leadpages' Facebook integration to publish a landing page as a custom tab on her Facebook page.
When you click the tab on the left that says "Free Facebook Ads Guide," this tab pops up.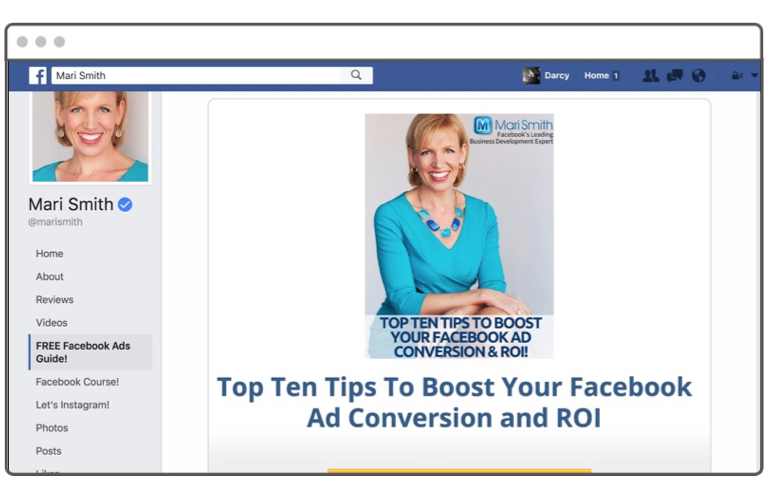 When you click on that call to action button, a Leadbox pops up right inside Facebook.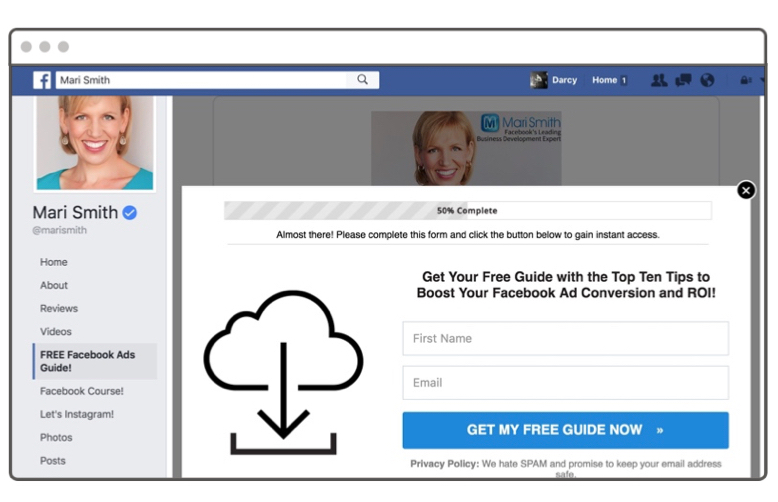 Mari Smith uses Leadpages' seamless Facebook integration incredibly well. Some tips to take from her:
She designs her landing page with Facebook in mind. She's made the page seem at home on Facebook by working with the blue color scheme, but they make her call to action pop by putting it in bright yellow. It's both convenient and reassuring: visitors don't have to leave the platform they know and trust to sign up for Mari's free resource. (And that likely means a higher conversion rate for Mari.)

She makes you want to click on that tab. Mari calls her tab "Free Facebook Ad Guides!" Not only does this title make you want the free thing, but it's a smart resource to offer a group that's already on Facebook. Create a catchy title for your tab, and be sure to choose an offer that you know your audience just can't resist.
Twitter
Converted 2016 speaker Amanda Holmes took over as CEO of Chet Holmes International following the death of her father, the sales guru who lent the company his name. Since then, she's brought the organization's time-tested sales tactics into the digital age by integrating them with channels such as social media.
Amanda optimizes her own Twitter feed for lead generation by placing a link to a landing page in her profile. While most Twitter users just put their homepage in this spot and never give it a second thought, Amanda Holmes knows that new visitors to her profile are likely to click this link.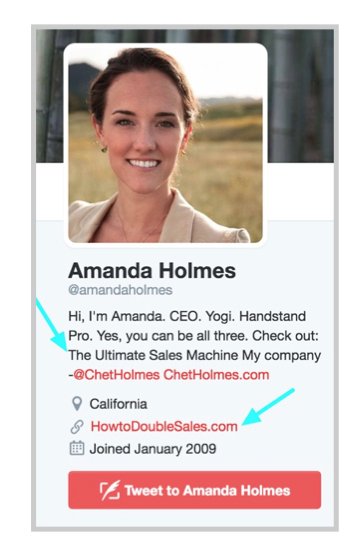 She sets them up by saying "Check-Out: The Ultimate Sales Machine" in her profile. Then, when they click, they find a Leadpage with an enticing free offer.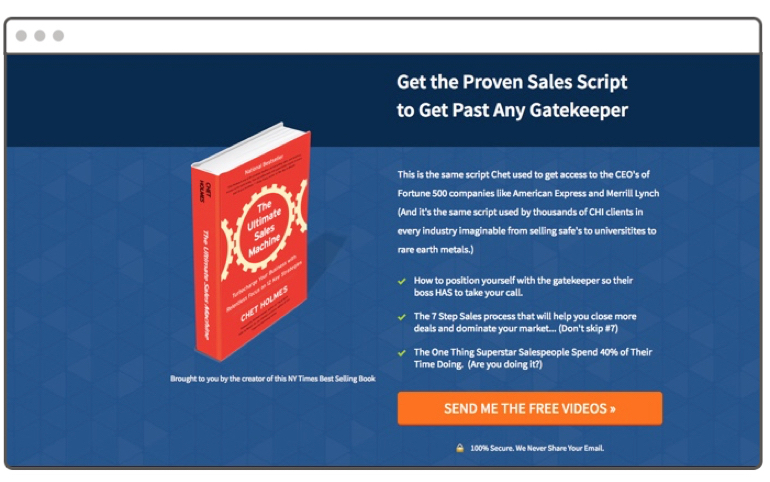 She's made it that much more likely that a Twitter visitor will become a lead. Obviously, you can tweet landing page links as well, but if you have an evergreen landing page offer, why not get leads from every possible place on your Twitter account?
Here are some of the landing page qualities that help Amanda to turn even a random visitor into a possible lead using the combination of Twitter and Leadpages.
She keeps the landing page brief. Twitter is a short-form medium, so visitors from Twitter might not be in the right frame of mind to scroll through a long, complex page. This page makes it easy to understand and opt-in for her offer within moments.

She tells readers what to expect from that link in her profile description. While this might seem less necessary on Twitter since most everyone has a link hanging out underneath their personal description on Twitter, it helps here since she isn't sending us to her homepage or personal website.

She uses the landing page to build authority. A Twitter bio doesn't give you space to tell your life story, and it might not let you fully show off your credentials or your company's expertise. Here, Amanda uses the left side of the page to indicate that her lead magnet is based on a best-selling book, while the copy mentions the Fortune 500 companies Chet Holmes has worked with.
I haven't covered every social media platform here–not by a long shot. Start keeping an eye out for Leadpages users on social media, and you'll find them using smart landing pages everywhere: on LinkedIn, on Periscope, on Quora, and probably on niche platforms I haven't even heard of yet. And once you start thinking about social media as a ripe source of leads, you're likely to start seeing dozens of places to link your landing pages everywhere you post, too.
To give you a head start, I've put together a guide of my 10 favorite places to promote your landing page on social media.
Do you have a landing page you designed for social media? Share a link in the comments!