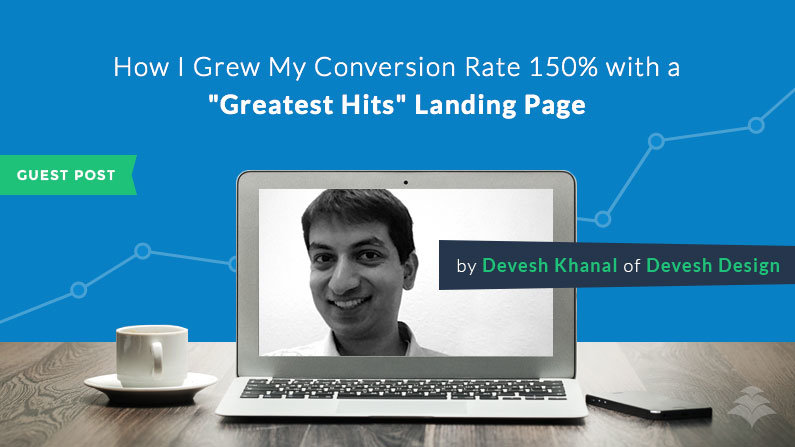 Editor's Note: We're pleased to introduce Devesh Khanal, this week's guest post author. Trained as an engineer, Devesh now runs the conversion-optimization and marketing firm Devesh Design. He's also a prolific blogger, and today he's sharing a simple strategy he's used to generate more leads from his writing. For more information, Devesh has created a guide explaining a second piece of that strategy: how he delivers his lead magnets. Check it out here.
If you read the LeadPages blog and don't know the value of an email list—well, I'm not entirely sure how that's possible, but I'll give you a 5-second refresher just in case.
An email list has serious, lasting business value. It's not just some passing fad for, say, 20-something bloggers living in Thailand who sell info-products about running a blog from Thailand.
Nordstrom, United Airlines, and Best Buy send hundreds of thousands of emails every day. Why? Because it makes them money.
And . . . my 5 seconds are up.
Ok, so an email list has value. Next question: how do you grow your list?
The first step is getting people to know you exist, and if you don't want to pay Google or Facebook, that almost always means getting featured on sites that already have traffic: guest posts, press mentions, or any media outlet that can link back to your site. (This is what's meant by getting backlinks.)
When you do get featured on the right site, you have to make sure that people click through to your site, and that most of them join your list.
That's what this article is about.
I'm going to show you how I increased the amount of referral traffic that joined my list from 7.4% to over 18% from a link on a major blog. That's 150% more referral visitors deciding to join my email list.
Then I'm going to show you how you can do the same thing with existing links and future links to your site, without wasting a ton of time making new content.
Let's get started.
My starting point: 7.35% conversion rate
In the case I'm talking about here, the source of my referral traffic was this post: Conversion Rate Optimization (CRO) Techniques: The Complete List. It's a massive post that's actually interactive: people can select some options and we suggest a few methods they could try to increase conversions.
I spent months working on this with Brian Dean of Backlinko, and at the top of the post, I'm mentioned as the co-producer: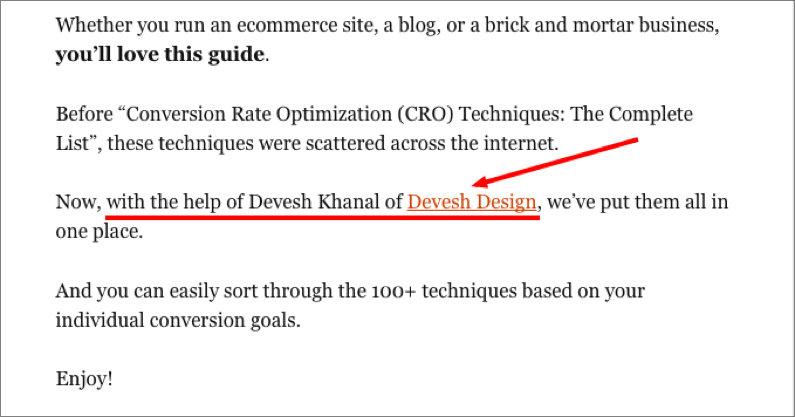 So where was this link pointing to? My homepage.
Now, I didn't even think this was a problem, because I knew my homepage was better optimized for email conversions than most blogs.
For example, most people's homepages look like this: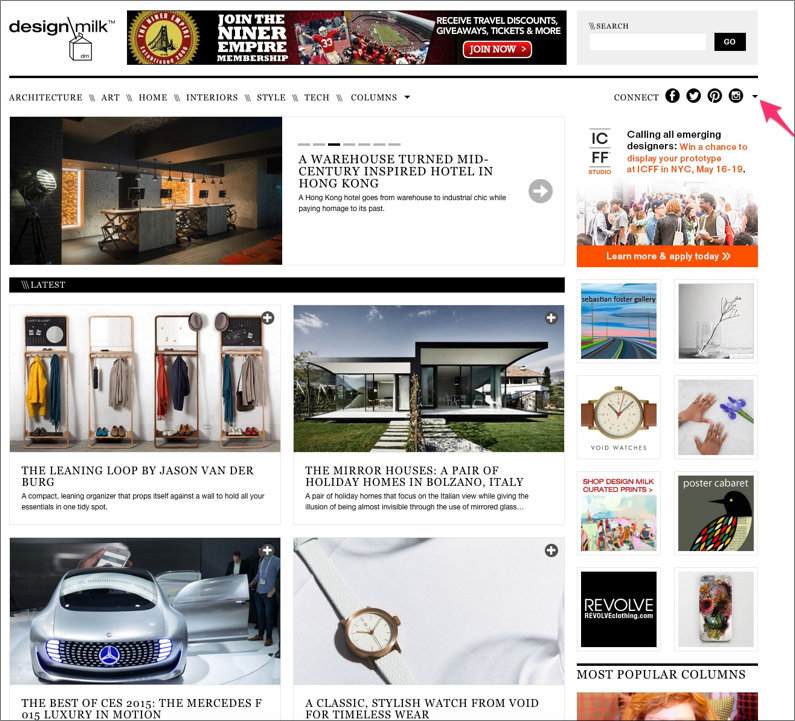 It has a ton of content to click on, and four social media options at the top. But to subscribe by email, you have to find the form hidden inside a dropdown menu. (I pointed it out with an arrow at the top, because otherwise I'm guessing you'd never see it.)
In my experience, homepages like this will convert 0.1%–0.5% of their visitors into email subscribers. If that.
Instead, I used a feature box on my homepage, which a lot of bloggers are using now. For example, it increased Derek Halpern's blog subscription rate by 51.7%.
Here's what mine looked like at the time:

Even though it was totally un-optimized, it still converted 6%–8% of visitors into subscribers depending on the week:

"Not bad!" I thought. "I'm still converting 1000% better than most sites."
Little did I know…
After: I got 150% higher conversions with a landing page promoting my greatest hits
When the post came out, I had a conversation with
Bryan Harris from Videofruit
, who told me I needed to send people to a dedicated landing page, not just my homepage. Ramit Sethi of I Will Teach You to Be Rich calls this kind of page a "catcher's mitt," and it lets you welcome new readers with a targeted message.
I had the usual, predictable, excuses to not do it:
I'm busy with client work
I'd have to make new stuff to give away
I'll have to design it, and that takes time
But he insisted it wouldn't take more than 30 minutes (and I'm glad he did).
So I did it.
I used Leadpages to make a page super quickly using one of their templates, the Enterprise Lead-Gen Landing Page. Here's what it looked like: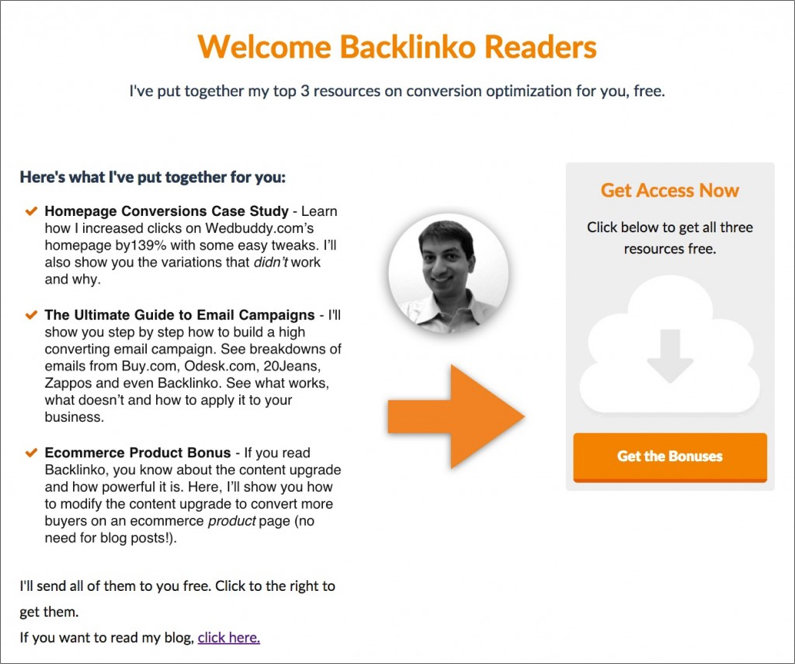 Here's what happened to the conversion rate:

That's a 150% increase in conversion rate.
Note: for you conversion nerds out there, this data is taken from a two-month time period with 102 conversions for /backlinko and 49 for the homepage. I also know the homepage converts steadily at 6–7% from more than a year of data.
That's more than double the number of subscribers joining my list from this link. Take a moment to think about what that can mean for your business long-term.
If you spent years building links and guest posts across the internet and eventually had 10,000 referral visitors per month coming to your site, if you converted 7% of them, you're getting 8,400 subscribers per year.
But if you used this technique and got 150% more subscribers from each link, you'd get 21,000 subscribers per year — over 12,600 more people on your email list!
That means:
12,600 more people reading your material
12,600 more people consistently exposed to your products
12,600 more people you don't have to pay Google and Facebook to retarget
Obviously that's an oversimplified example, but the point is 150% more (or 250% of the original) can make a huge impact.
My greatest hits album: how I assembled resources for the landing page
Leadpages took care of the "I'm too busy to make a new page!" excuse pretty quickly. But there was still the issue of content.
Creating that massive CRO guide was a project unto itself, and now I had to create more content to give away? Give me a break. I thought: How can I keep producing more content people want? Who am I, Taylor Swift?
So, after singing "Bad Blood" to myself a few times, I had an epiphany:
The people clicking over to my site from a guest post don't already know about me. In fact, they know nothing about me. They don't care about new stuff. They just want my best stuff.
I needed to make a greatest hits album!
If you already have a blog—or any content at all—that's easy. Just package your best, most relevant posts together and give that away.
That's what I did here: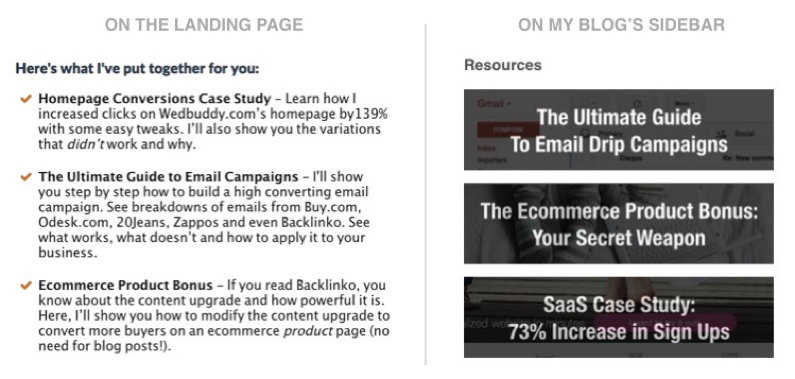 Deciding on what to include and writing the copy for the email that delivers these bonuses and the landing page took about an hour—mostly due to indecision. If I had to do it again, I could probably do it in 30 minutes.
How your greatest hits album adds genuine value to new readers
To pull this off I had to overcome a small but pesky mental barrier:
"Isn't this somehow a scam? These posts are freely available on my site. How can I ask people to opt in to get them?"
I took care of this mental barrier in two ways:
First, I realized that when I go to a new blog, it's a huge pain to figure out what that person or business is really made of: How much value can they give me? Are they for real? What else have they written that I would like?
If you look at the latest posts, you miss out on the best. If you click "About," you usually get some cliche life story. (To be fair, some about page stories are phenomenal, like Jon Morrow's.)
So . . . I would love to see a "this is my best stuff" intro to each new blogger or company I ran into. It's like asking the waiter, "What's good here?" If you get that on your first visit and still don't like it, you know you didn't order the wrong thing.
Second, I also included a link to let people bypass the landing page and go to the blog:

Would I lose some conversions because of this? Probably, but I felt like it was the right thing to do.
How to convince a site to change their link
Many people will read this and think "Wish I'd known this before I published that one post last month!"
That's just an excuse.
Remember, the post in this case study had already been published for a bit when I decided to switch strategies.
After I made my landing page, I sent Brian this email: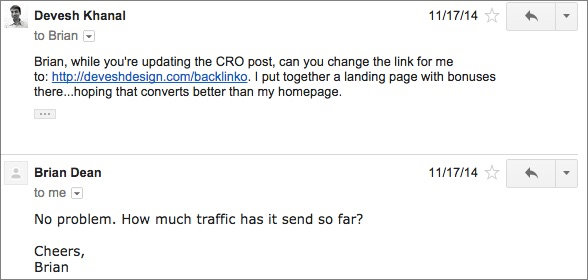 See how easy that was?
Now that's not totally fair, since Brian and I were actively updating the post anyway. That made it easy to ask for this switch. Plus, he's a client, so we exchange a lot of emails.
If you want a link updated from someone you aren't as close with, or it's some famous person you are lucky to get a guest post from, I recommend trying two tactics:
Link-Switching Tactic 1: Just send them an email explaining how you assembled some stuff that their audience would love. This is important: Don't copy my email to Brian Dean above if you don't know the recipient well. You don't want to say you're asking for their time because it will benefit you. Make it about how this will benefit their readers.
Here's a script you can use:
Hey NAME,
Thanks again for publishing that guest post—I've gotten such great feedback on it, people are loving it. I've been building some new resources for readers and made this landing page for readers coming from that post (URL HERE)—it gives them my top 3 posts on TOPIC, so they can get value right away. Figured this will be a lot more useful for them.
When you're updating the site next, mind updating the link to my homepage to this new landing page?
Thanks again!
Link-Switching Tactic 2: If you really want to be helpful, simply point out some broken or updated links on their site and find replacements for them. Then, ask them if they can update the link to your site as well. This tactic is useful when you feel nervous sending the email above.
Hey NAME,
I was checking out this article: URL, and I noticed this link is broken. Here's a replacement that would be just as good. Figured you'd want to know!
Once they respond with "Sweet, thanks!" send them a follow up that mentions your new landing page similar to the first email above and includes the phrase "while you're updating the site."
What I didn't focus on: design and A/B testing
Note what I did
not
focus on at all in my landing page: design.
It's not the fanciest landing page. There are some exquisite ones on Leadpages, but I just grabbed one as fast as possible.
It's also not optimized at all. I could A/B test the layout and copy and eke out a few more percentage points, but most backlinks don't send over enough referral traffic for that to be worth it.
Instead, I made sure I offered free content that the readers coming from Backlinko would actually want.
Think about their psychology: they're reading a post on conversion optimization from a trusted source. They see this guide was co-authored by me. They click to learn more, and here I am offering them more content about the exact subject they're interested in at that exact time.
Boom. 18.4% conversion rate.
Knowing how to get big wins like this instead of achieving only tiny conversion-rate gains with small tweaks makes all the difference between having a site that brings in quality leads day after day . . . and being frustrated for years about the top of your funnel.
Do you have questions about how this applies to you or how you can do this for your business? Ask me in the comments. I'll be around for a while and will personally answer as many as I can.
If you want to send unique opt-in bonuses to different readers while still making sure everyone ends up on the same list, the easiest way to do that is with LeadPages' lead-magnet delivery tool.
Since I like to use a double opt-in system for people joining my list, it took a little bit of extra effort to set up my email provider to do this while still adding everyone to the same list and delivering bonuses only after leads have confirmed their opt-in. Because so many people have asked me how I do that, I've made a free internal process sheet to explain it step by step with my email provider (MailChimp). You can get it free here.