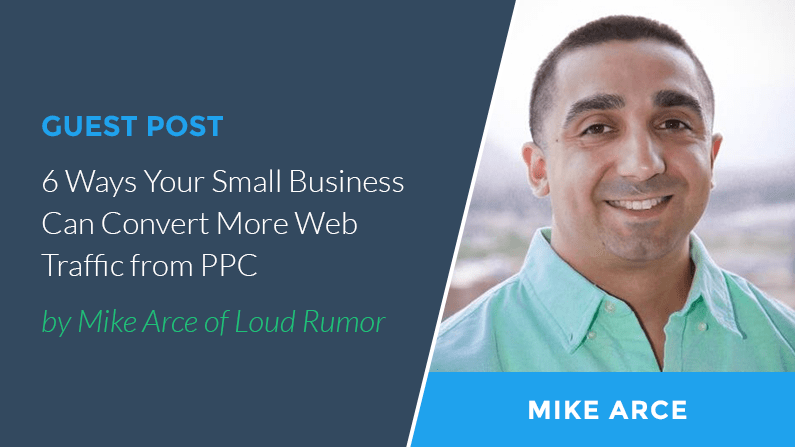 Editor's note: We're excited to present this guest post by Mike Arce. Mike is the founder and CEO of Loud Rumor, an online marketing company that helps local businesses grow with AdWords management, local SEO, social media marketing, and YouTube advertising. You can contact Mike here.
If you're a small or local business, you probably already know how hard it is to track how your PPC (pay per click) campaigns are doing with Google AdWords. In this post, we're going to share some strategies that we've seen reliably improve those campaigns.
But first, I want to address a question that often comes up when this subject is raised.
People always ask us at Loud Rumor about how often they should optimize their campaigns.
What they miss is that it's not based on time. It's based on the data you receive, such as traffic and conversions.
So if you get 100 visits in a day, you might be able to optimize on a daily basis!
But if you only get 10 visits a day, that'd be pointless. You won't have enough information to make good decisions with that little data.
So, be sure when you DO optimize, you have enough data that proves the changes you're about to make are sensible.
With that out of the way, below are some things you should do whenever you do optimize your account to get the most out of your PPC campaign. Let's dive in!
1. Implement call tracking
60% of searches for a local product or service happen on a mobile device. This means the customer is ready to call you. So you want to set up call tracking to see exactly which campaigns, ad groups, ads, and keywords drive the most calls.
At Loud Rumor, we use Call Tracking Metrics. This site is easy to use, provides great customer support, and walks you through the setup process.
You can also listen to each call's recording through this platform to determine which searches drive the most quality leads. So, for example, you may notice that people looking for "personal training" are more difficult to close than those looking for "group training."
Then, if the acquisition cost is too high for "personal training," you'll know you should shift some of your PPC spend to "group training" where the conversion rate and margins are better.
P.S. If you've never played around with call tracking before, you may wonder if having a different phone number on your website then you use for your primary business number can hurt your SEO. The answer is yes. However, companies like Call Tracking Metrics use dynamic phone number insertion.
In short, this means your regular phone number is still hard-coded into your website. But when a visitor arrives at your landing page via AdWords, the call tracking platform will automatically switch in a channel-specific phone number so the call can be tracked. So you get insight without sacrificing SEO value.
2. Create several landing pages per service
If you're a local business, you probably have a killer homepage! But all your inner pages are most likely much simpler with an identical layout and theme—just different content. And those pages often don't convert as well as a page built to promote a particular service or product.
So if you're a dentist and you bring someone to a basic teeth-cleaning page that looks just like your other pages, it may work just fine . . . but having a landing page designed to get people to make an appointment for teeth cleaning—maybe with some awesome before and after pictures and other high-converting elements—is MUCH better.
If you use a company like Leadpages, you can choose from pre-built template designs that can be sorted by conversion rate. All you have to do at that point is select a high-converting landing page that works for what you're offering and plug and play.
And to take your conversion rate to the next level, you'll want to test different versions of that page. That way, you'll learn which landing-page choices drive conversion most.
A study by Search Engine Land found that their clients who ranked in the top 25% of landing pages for their industry-tested an average of 4 unique landing pages against one another to arrive at the winner.
Bonus: To get a head start on building a high-converting landing page, check out this ultimate list of free Leadpages landing-page templates for you to choose from.
3. Use dimensions to see where your conversions are coming from

When you're deciding how to optimize your PPC campaign, you'll need to know who's actually finding your ad and taking the next steps.
Dimensions provide a breakdown of your campaign to see exactly where your best conversions are coming from.
Here are our top favorite dimensions to use:
Time: Compare days of the week, time of day, months, or quarters.
Geographic: Compare which areas and locations drive the most conversions for your campaign. For instance, are you connecting with more customers in Phoenix or in Scottsdale?
Distance: Find out how far away you're reaching people. Are most of them within 5 miles from your office—or 50?
Search terms: See what visitors searched in order to reach your ad, and how they responded depending on what they were looking for.
This is just a brief overview of what these dimensions can do.
 4. Use segments to see how your conversions happen
Segments are very similar to dimensions, but they tell you how people are responding within the environment of your ad, and how that's influenced by the device they're using.
Click type segments show you how many people click on your ad's heading, site links, address, and location details:

Device segments show you the amount of desktop and mobile clicks your ads receive, and which one gets more conversions. That helps you determine where you want to spend more money: desktop or mobile. You can even shut a one-off device type completely if it's not seeing results.
If you find that your desktop and mobile results are pretty even but one still does a little better than the other, decrease your bid for the lesser by about 10–15%, and increase the more successful one by about 10–15%. This way, you essentially pay for a better ranking position with the device that's already got the best results, making for a better acquisition cost for you.
5. Keep your ad testing simple
When it comes to optimizing ads, there's something any two marketers have in common: they'll both agree the third marketer is doing it wrong.
That said, here's where we see the biggest mistake being made. What most local businesses do is run 3, 4, 5, or even more ads at once—all totally different from each other. Here are the problems with that.
Number of ads: Never have more than 2 running against each other at once. With just 2 ads, you'll get more data per ad. And that helps you test more. Having more ads dilutes your data, meaning that none of your ads will see enough action on its own for you to draw any meaningful conclusions.
Ad differences: Your ads should not be drastically different. In fact, you should start by making them identical with the exception of the headline.
Here's an example of an ideal ad test:

Over the course of 4 or 5 different optimization cycles, you'll find what title works best. Once you have a high-converting title, do the same thing for the second line in your ad. Then move on to the third line, and so on. The important thing is to test one variable at a time so there's never any question about which part of your ad caused the changes you're seeing.
6. Use multi-step opt-in forms
This is an awesome strategy that has proven to increase conversions, as it allows the visitor to get invested in your landing page's process with the promise of instant gratification.
If you use Leadboxes on your landing page, you've automatically got a two-step opt-in process: first, visitors click on your call-to-action button to opt-in, and only then are they asked for their contact information.
It's often the case that fewer form fields make for higher conversion rates. But that depends on what you're promising to send as a lead magnet. And if you're offering a free proposal or another customized resource, you'll need to collect some extra information. In that case, adding an extra step or two can build forward momentum.
So ask customers for information that matters to them first. In the beginning, you might ask which service they're most interested in. What are their goals?
On the next step of the form you'll ask something a little deeper and then finish by asking for their personal information.
We use a multi-step form here at Loud Rumor, and this is how we break up the information we ask for when someone opts in for a free proposal:
Step 1
What are your goals?
Where do you advertise?
Step 2
What industry are you in?
How many miles from your office would you like to cover?
What's your website?
Step 3
Where should we send the proposal?
Name
Email
Phone (optional)
Once they get to that final section and enter their email, phone number, and so on, you'll know they're actually interested. You'll have captured that lead and you can contact them knowing they're serious.
Your AdWords campaign can drive a ton of traffic and leads if it's done the right way. As you can see, there's a lot of testing that needs to happen before you're able to find that sweet spot. But once you do, it's the best feeling.
These are just 6 of many things you can do to optimize your AdWords campaign. If you know of any other ways local businesses can convert more web traffic from PPC aside from these 6 examples, fill us in by commenting below! We'd love your feedback.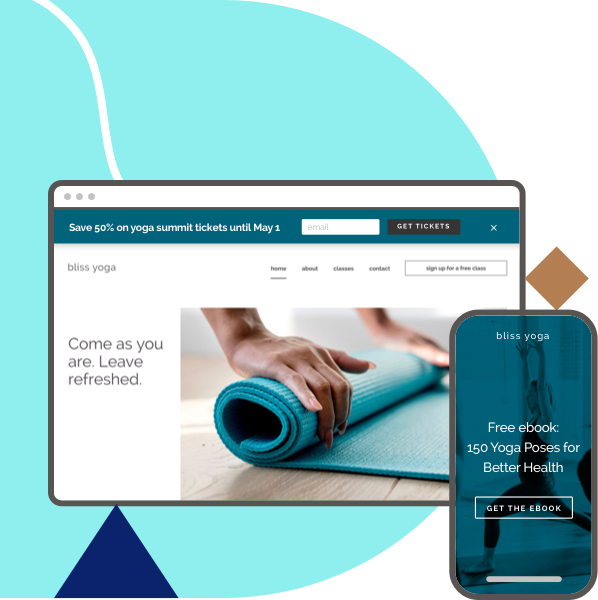 Turn clicks into customers
Leadpages helps small businesses connect with an audience, collect leads, and close sales. Easily build websites, landing pages, pop-ups, alert bars, and beyond.