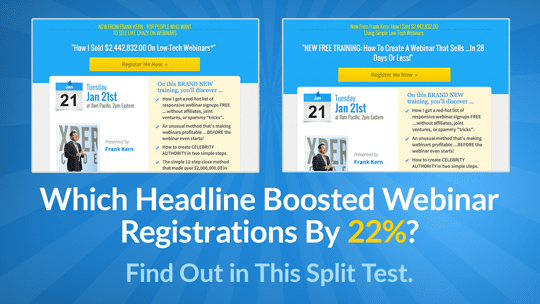 Today's split test focuses on one of the first things that visitors see on any page: the headline.
This split test comes from online marketing expert and LeadPages user Frank Kern. As you will see, Frank and his team split tested to find the ideal hook for his webinar registration page.
Frank's winning headline here effectively communicated the idea behind his webinar and generated the highest response.
This split test is as clean-cut as they come — everything is the same on these two webinar registration pages except for the pre-header and main headlines.
Take a look at the two headlines below to see which won dominated in this simple split test.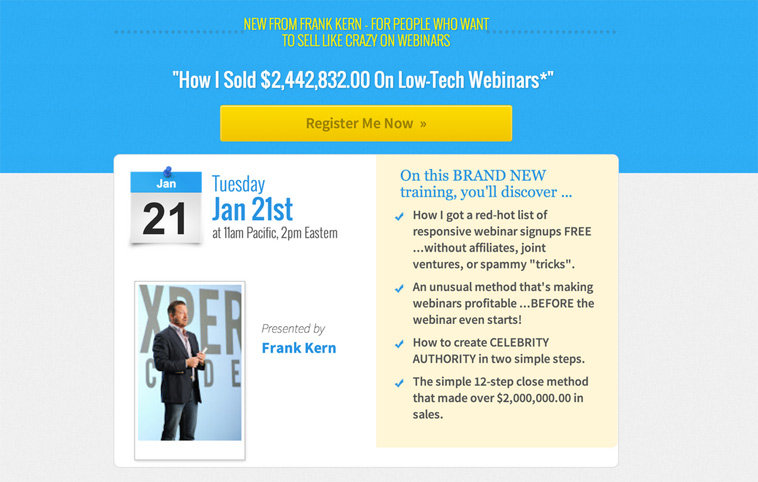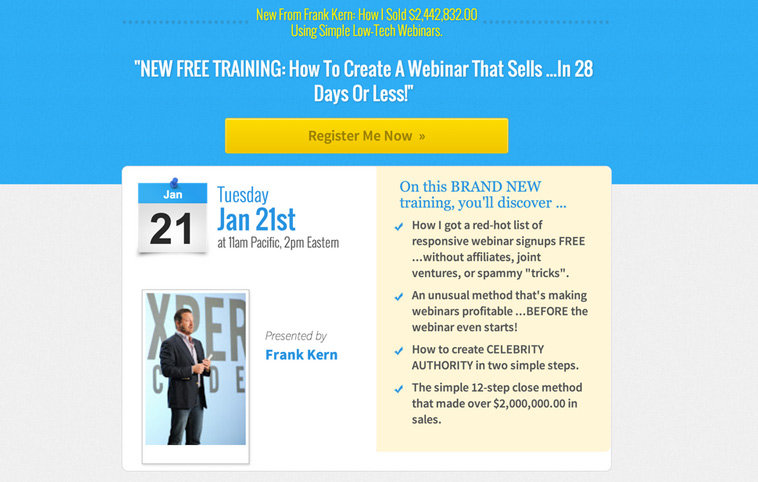 The Winning Headline Is…
The second headline, "New Free Training: How to Create a Webinar that Sells…" which boosted response by 22% in this split test.
Personally, I thought that the first headline with it's impressive sum had the most promise, but after deconstructing the numbers we'll see there's strong evidence that this was not the case.
(Were you also surprised that this headline won? Or do you have an opinion of why this second headline won out in this split test? If so, I'd love to hear about it in the comments.)
In the month that this test ran, the first headline that read "How I Sold $2.44 Million…" attracted a conversion rate of around 33%. The winning headline that read: "New Free Training…" brought in a conversion rate of 41%.
That's equivalent to an increase of around 22% in Frank's conversions just from switching around the headline on this webinar registration page.
After running the stats, these figures translate to a probability of outperforming the original of around 95%.
(And keep in mind that anything above or around 90-95% is considered statistically significant when you're split testing.)
Take a look at the full numbers below. The red line indicates the winning headline: "New Free Training…" and the blue line is the losing headline of "How I Sold $2.44 Million…"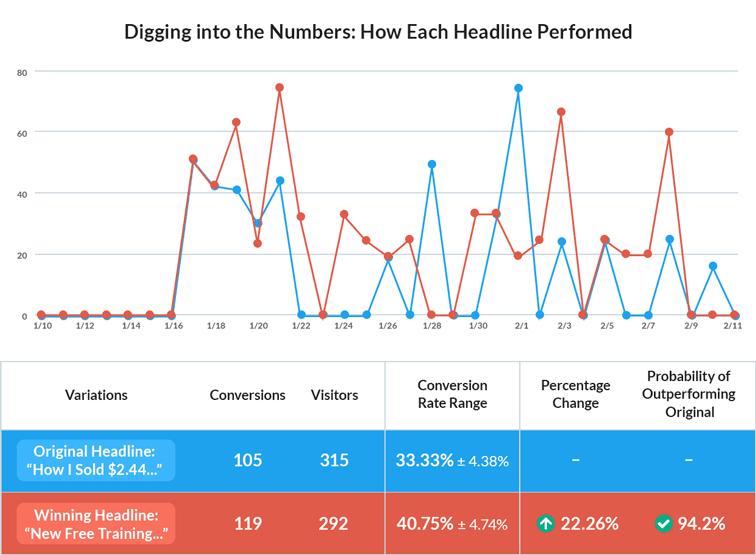 A big thanks again to Frank Kern for allowing us to showcase the results of his split test.
 Running This Test on Your Own
Your headline is one of the most critical parts of your landing page. It's well worth the time it takes to make sure you have the best performing variation possible.
On this blog, we've looked at how many different small changes to the headline can lead to a big boost in conversions:
Split testing can shed light on just about any hypothesis you're curious about — headline, design, or otherwise — and best of all its technology is more accessible than ever.
 In fact, running a test exactly like Frank's can take only a few minutes with LeadPages' intuitive split testing resources. Our super customizable templates allow you to get just the right look and feel for any test you might be working on.
If you're unfamiliar with the LeadPages system, check out our 3 minute tutorial to learn more. Our built-in tools are available to any pro-level member, but third-party resources will always work as well.
Again, the second headline that started with "New Free Training…" won out in this split test. Do you have an opinion on why this particular headline won? Let me know in the comments below.