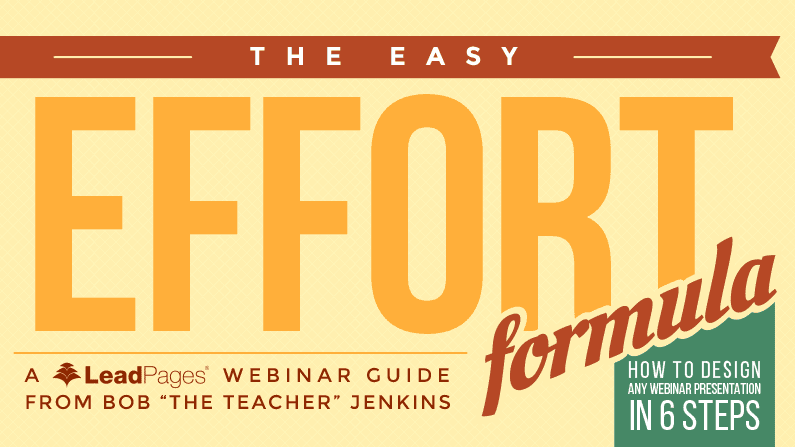 We love doing webinars at LeadPages®. Of all the marketing methods we execute on a regular basis, webinars consistently bring us the best results. I'm excited to share a few tips today on making webinars a major part of your marketing. After personally conducting over 1,000 webinars over the last 9 years, I've made plenty of mistakes along the way and learned what really works on webinars.
One of the issues that may be holding you back from doing webinars more frequently (or even your first one) is trying to figure out what to say. For the last 5 years, I've used a formula to make it easy, and I want to share it with you today so you can lay out your entire webinar presentation in under an hour. This formula cuts your webinar into six, easy to digest (and easy to create) chunks. I call it the Easy EFFORT formula.
This formula will help you map out what to say, when to say it and how to move your audience through this part of your webinar funnel so they become your customers faster. Consider it a ready-made outline for your presentation, which you can complete by filling in the story of your business.
The Easy EFFORT Formula is one critical piece of a complete marketing system. You can learn more about running your own webinar—from promoting it to leveraging your audience—in our Webinar Funnel System course. This was the first course I designed for LeadPages® and it remains very popular with our blog readers and customers alike. Best of all, it's free.
You can watch all 10 videos on the course page in about 2 hours (that's less time than it takes to watch a movie). Or you can download the entire course, including all 10 videos, audio files, a mind map, checklist, course handouts, the LeadPages® Guide to Webinar Marketing and more. Simply click the button below to see the entire Webinar Funnel System.

I call this webinar structuring method the Easy EFFORT formula because "EFFORT" is an acronym for each of the six steps.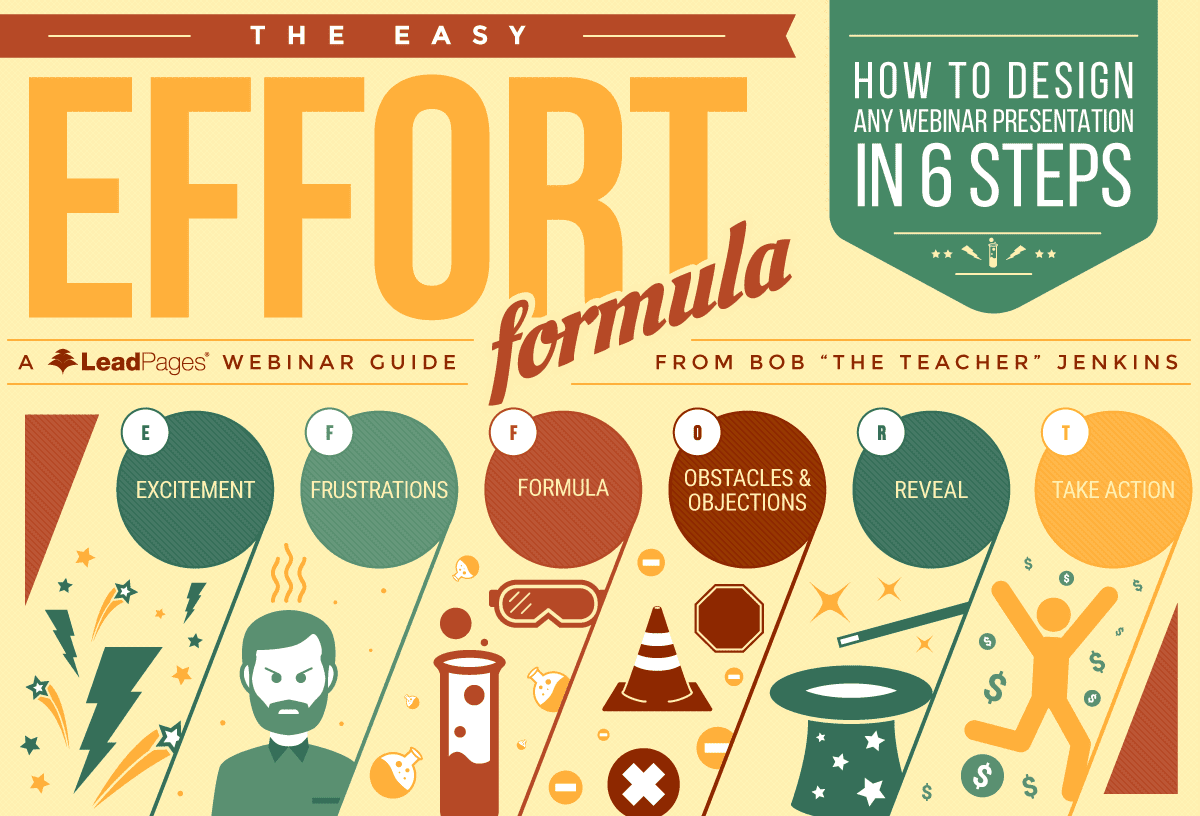 This is how you would create a 60 minute webinar.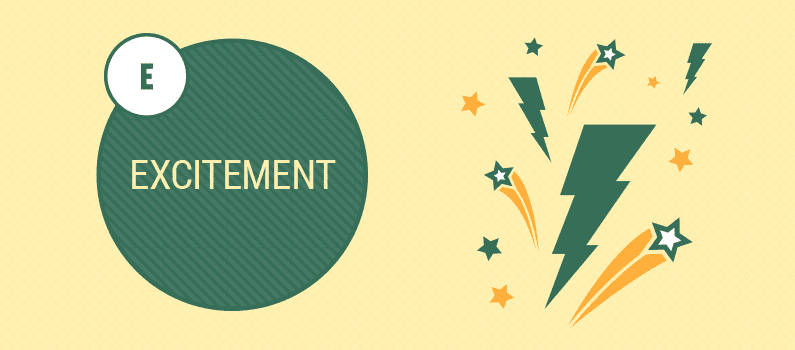 Use the beginning of your presentation to show your audience why you're so excited to be sharing this information with them. This portion of your presentation should only take a couple of minutes, as it serves as your introduction.
This is your chance to explain what your audience will get out of this training and the types of results they could potentially see. This is also a great place to give examples of these results.
For instance, in the Webinar Funnel course, I use my fictitious wedding consultant business as an example. If I hosted a webinar for my fictitious business, the result I would use might be, "In my 15 years as a wedding consultant, it's never been easier to save at least $850 on a wedding. And many of my clients have saved several thousand dollars because of what I'm going to share with you during this webinar."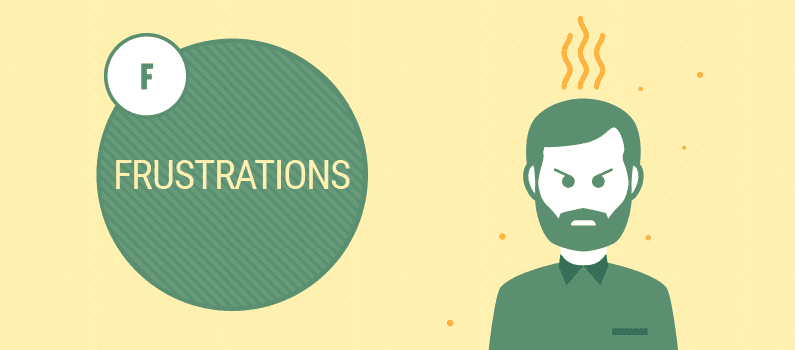 Every person in your audience is attending your webinar because they're frustrated by a certain problem. Depending on the subject of your webinar, there may be different frustrations within your audience. Whatever those frustrations are, your audience believes the information you're about to give them will address those frustrations and give them a solution. This section should take about 3 to 5 minutes.
This is where you get to share your story of how you overcame your frustrations. You can also share stories about the frustrations you helped your best clients overcome.
Show your audience that you feel their pain and have managed to beat the odds. More importantly, tell them you're going to show them a faster path to solving the frustration.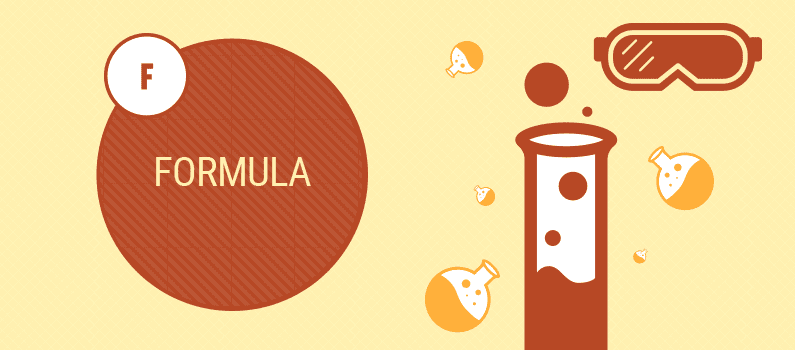 This will be the bulk of your training and should take about 30 minutes.
This is where you lay out your formula for success. You demonstrate your authority and credibility in this section by showing that you have the path to the solution figured out.
For example, at LeadPages®, all of our webinars are based around the four steps you need to take to build your email list. So the bulk of our presentation is teaching these four steps.
Basically, you break down the process for your audience. Show them that if they follow these steps, they'll have a much easier time solving their problem, because you've already blazed the trail for them.
You can use case studies of other clients or examples of your own success to show how your formula works and how the results have affected those involved.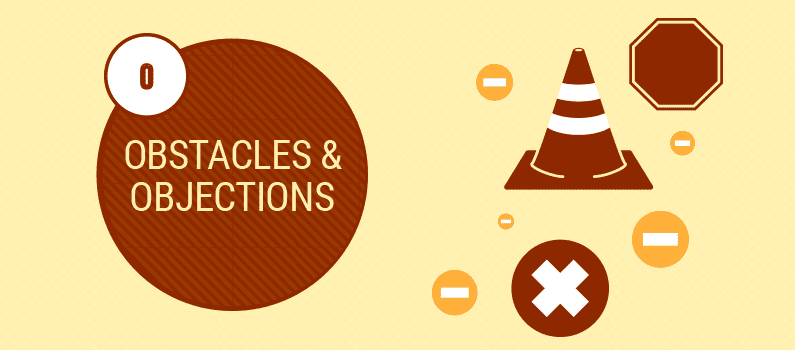 "So," you say in a dramatic pause after you've unveiled the majority of the steps in your formula, "I know what you're thinking…"
Everyone in your audience is going to come to your webinar with potential objections — reasons why your formula won't work for them. And most will come up against certain obstacles during the process if they try it on their own.
A good way to overcome these issues is to show people what would probably happen if they tried to solve their problem on their own. For instance, at LeadPages® we point out that you can make your own landing pages, or pay a designer, copywriter and developer to make them for you. This is a very expensive route to take and it can take weeks to get a landing page up and running. If you use LeadPages®, you can have a fully-optimized landing page published to the Internet in 5 minutes.
This step will probably take 5–10 minutes of your presentation.
By acknowledging these issues up front, you tell your audience that you've been where they are right now and you "get it." In fact, you probably "get it" better than they do, because you can predict their reactions. By sharing this information openly, you'll be pleasantly surprised at how effectively the next step in this process works.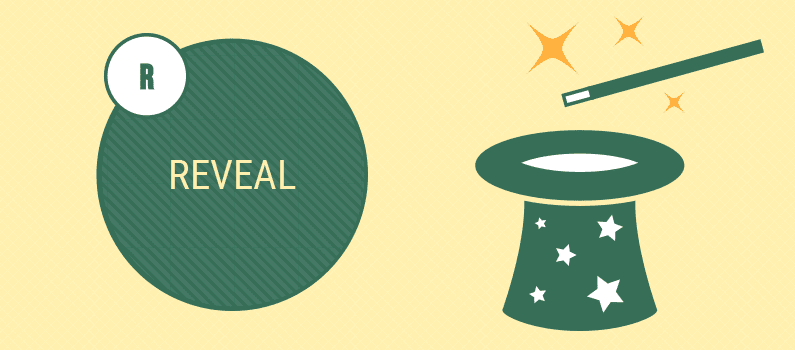 This is where you introduce your products or services to your audience as the obvious best solution to their problems.
You have already created the path for them to get from point A to point B. Now,if they just use your product or service, they'll have a much easier time on their journey than if they try to go it alone.
Dedicate 10—15 minutes to this segment to make sure you have plenty of time to drive your message home and answer questions about your offer.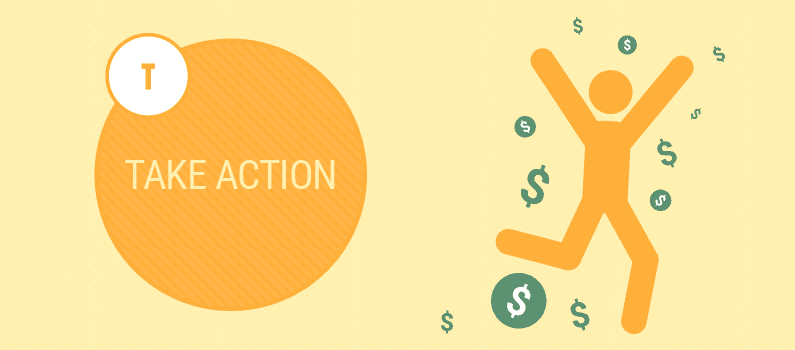 The last step is to urge your audience to take action and go to a landing page where they can buy your product or service. This last section should only be about 5 minutes.
This may seem like the most important part of your webinar, but if you don't build up to this point correctly, using all of the other steps outlined here, you'll have lost their attention and this portion of your presentation won't have the effect you want it to.
By following the Easy EFFORT formula, your webinar is likely to keep attendees more engaged and turn more of them into new customers. You may be surprised by how effective this formula is.
Once you know what to say, the next challenge you'll run into is having an audience to say it to. How will others find out about your event? How will you make sure they show up after they've registered?
Then, after your webinar is over, what should you do next?
Get the Whole Webinar Funnel System Course
I created the Webinar Funnel System to leave no question unanswered, and I want to give it to you today for free.
If you want to learn more about running your own webinars, make sure you check out the full course. The Webinar Funnel System includes "the rest of the story" when it comes to marketing profitably with webinars, including attracting your audience, engaging your attendees, and leveraging your content.
In this 10-video course, I lay out the same system we use every single week here at LeadPages®  in a simple, easy-to-execute plan you can start implementing in your business this week. This course is great for beginners, but will also teach you important strategies if you already have a lot of webinar experience. Click on the box below to learn more.

And if you want to make sure your webinar registration pages get the most people to sign up, consider using our landing page and lead generation software. LeadPages® is a great resource to help you build your webinar funnel.
We have more than 100 fully optimized landing page templates available to show off your products and promote your webinar. In fact, several of our highest-converting landing page templates are specifically designed for webinars.
Plus, LeadPages® integrates with GoToWebinar and WebinarJam, making the process incredibly easy for you to build your email list simultaneously with every new webinar registration.
Tell Us About Your Webinar!
Use the comments section to tell us how your webinars are going, or what you plan to talk about during your future webinar, if you've never done one before. We're looking forward to seeing what you're up to.
FYI: The Easy EFFORT Formula is not only an excellent presentation plan for your webinars, it's also perfect for blog posts and emails. Now that you know the formula, you can see how we've followed it to create this blog post.