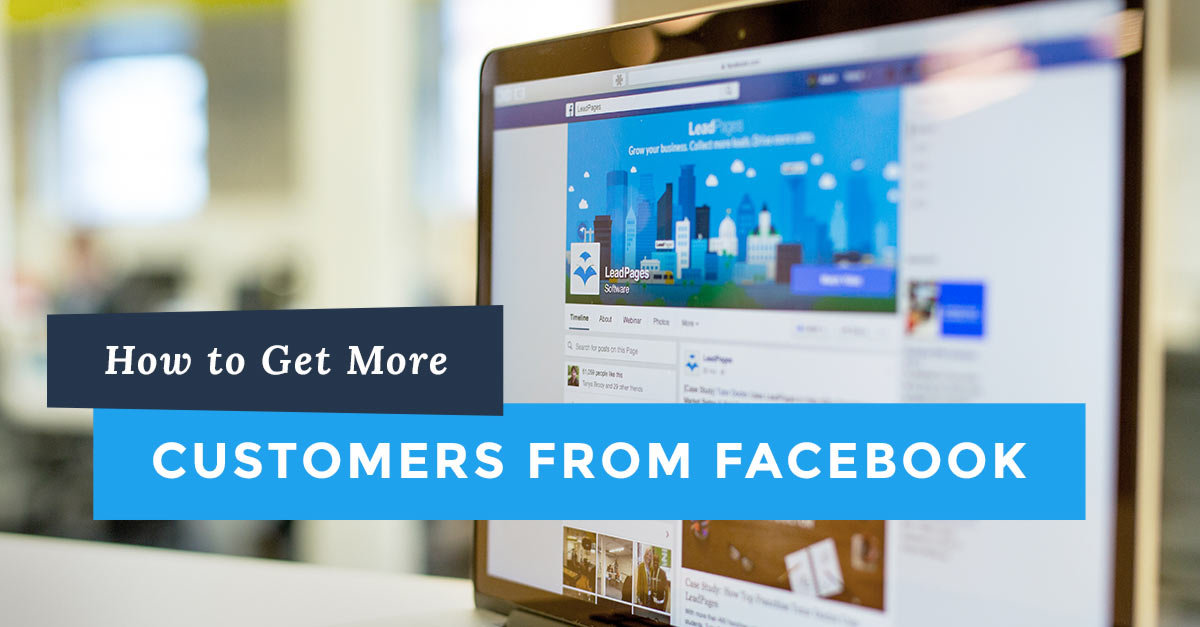 Facebook has achieved its massive success as an ad platform partly by being … well, massive.
It's just about everywhere for just about everybody. So it's no surprise that, at Leadpages, we're constantly recommending it as one of the most effective marketing channels we've seen for small businesses. No matter what kind of prospective customers you're hoping to attract, they're all but guaranteed to be there.
However, not every business that uses Facebook is in the position to spend money on ads right away. Maybe you're just getting off the ground, or you're taking an existing business online for the first time. And there are only so many hours in a day.
But what's the alternative if you want to generate actual customers from your Facebook page?
After all, most business owners who have been on Facebook for any length of time have noticed that posts on their page only ever reach a tiny fraction of their followers. So do you just have to post a dozen times a day—making up the gap in reach with sheer frequency?
In a word, no. While you should be posting once a day if possible, there are a number of other ways to transform your business's Facebook presence from an obligation into a dynamic source of new leads and customers. Some are small improvements to what you're already doing, while others will add something totally new to your arsenal.
We've also put together a free Facebook Resource Kit for you to download so you can apply the tactics in this post more easily. Click below to get two made-for-Facebook landing page templates—the Facebook Advertising Page (good for non-advertising purposes, too) and the Facebook Tab Opt-in Page—plus our Social Platforms at a Glance infographic, which will help you carry your Facebook success onto any other platforms that make sense for your business.
Click Here to Download the Free Facebook Resource Kit
If you have
LeadPages™
, you don't need to download this template – it's already available to you inside your LeadPages account. Just
log in
and you'll see how super easy it is to customize this page in seconds with no technical knowledge or skills, make it mobile responsive, integrate it with your email service provider or CRM, run A/B split tests, and publish it to Facebook, WordPress, or your own server.
Here are some of the most common questions I've heard from small business owners about getting more customers from Facebook. Have others? Ask in the comments and we'll crowdsource an answer from the experts on our team.
How can I … use Facebook to get by without a website?
Anywhere from 30% to 50% of small businesses (depending on which survey you consult) manage their marketing without a website. From my own experience working on campaigns for small businesses, I suspect that a good number of those siteless entrepreneurs are using a Facebook page to stand in for a website—either temporarily or because they feel like a Facebook page is good enough.
It generally isn't—at least not if you're trying to build a web presence that actively and reliably gets you, new customers. Aside from the inherent risks of "building on rented land," you can only go so far in customizing and controlling your business page.
However, you have options between using only a Facebook page and building an expensive business website. To start, consider supplementing your Facebook page by building a one-page "minisite."
A minisite is a single web page that touches on all the important aspects of your business, section by section. Internal links let visitors jump quickly from section to section without having to click away to a different page.
Here's an example of a minisite-style landing page template:

You can build a page like this very quickly starting with a template inside Leadpages. Then, set it as your business's website on your About tab and the destination for a built-in call to action—which is much more prominent than the regular website field.
If you haven't used this second feature yet, look to the left of your page's "Like" button and you'll see an invitation to "Create Call to Action." Once you've set up a call to action, your new button will show up in this spot.
You can choose from many different "actions" in this space. Depending on the nature of your minisite, you can direct visitors to:
Learn more
Book an appointment
Contact you
Shop from your store
Watch your video
Just make sure that whatever you're asking visitors to do is clearly accessible from your minisite, and you're good to go.
The end result: visitors who click through get a fuller picture of your business, presented exactly the way you want to present it, without having to scroll through your timeline and potentially get distracted by others' comments.
Of course, subscribing to Leadpages gives you the ability to create unlimited landing pages, so you might not want to stop there. Some social-savvy small business owners we've seen create a custom page for each of their social media profiles, welcoming that platform's users with a special offer that entices them to opt into their email list.
For instance, you could try something like this for people who find you on Facebook: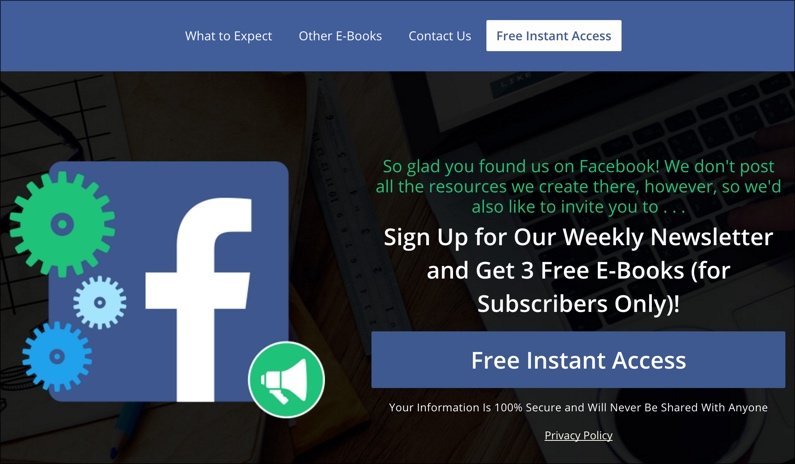 This is a snapshot of the Facebook Advertising Landing Page, which you'll notice is designed to match elements of Facebook's own design. That's not because we're trying to fool anyone. Instead, it's simply meant to make for a smooth transition from Facebook to your own page, so prospective customers can immediately focus on what matters: your offer.
If you're active on other channels, you can do the same thing. Design an offer that makes sense for your audience, create a simple page letting visitors know it's just for them, list the page as your business's website on your profile, and start getting your prospective customers from a platform you don't fully control (Facebook) to one you do (your email list).
This last part is especially important if you want to turn your fans into actual customers. We'll talk about why shortly.
How can I … collect opt-ins directly from Facebook?
The pathway I suggested above—Facebook page to opt-in page to an email list—is pretty simple, but it's possible to make it simpler still.
You can actually get customers to join your email list without leaving Facebook if you have the right tools.
One of those tools is a Leadpages custom tab. Here's what they look like in action: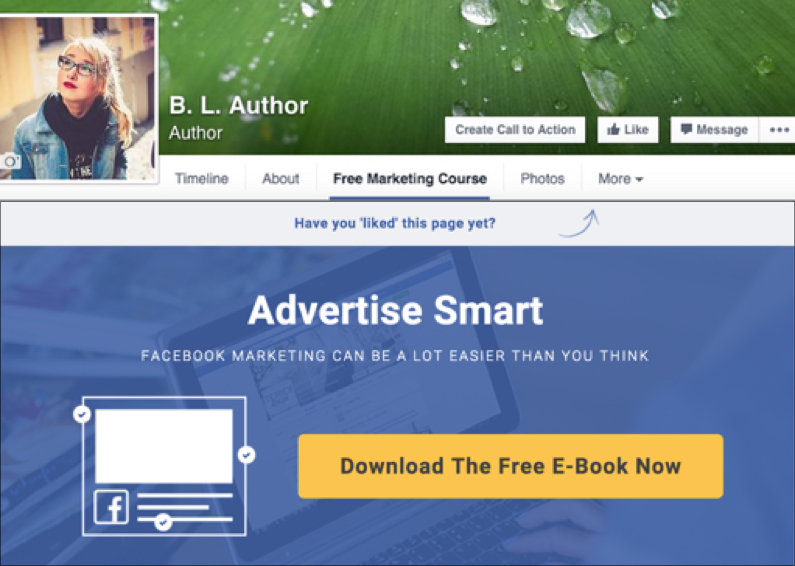 When we first released this feature, our CEO, Clay Collins, had this to say:
"You can, in many cases, get a higher opt-in rate to the exact same page when it's placed inside of Facebook. And the reason for this is that cold traffic that isn't used to your website, has never worked with you before, and isn't familiar with your brand is going to feel a lot more comfortable with your page when it's on Facebook. Facebook is an environment that most people know, like, and trust, and when your page is in a comfortable context that people are used to, they're going to be much more likely to opt in.

Now obviously, this is going to vary from market to market, and you should test this, but I've seen a lot of people take landing pages that they used to post on their website and post them on Facebook instead precisely because they're getting a higher opt-in rate when that page is located on Facebook."
Any page you create in Leadpages can be published as a custom Facebook tab. For best results, choose a simple, appealing opt-in offer for your custom tab. You can ask visitors to:
Download a free resource
Subscribe to your newsletter
Opt in for a coupon
Get a free consultation
Enter a prize drawing
Join a webinar
… or do anything else that's easy to understand and allows them to supply you their email address.
If you're trying to get a lot of signups quickly—or you want to keep your custom tab as it is while launching a new campaign—you can also post links to your Leadboxes directly to Facebook. (They'll just pop up in a new tab, since Facebook won't support JavaScript in posts.) Here's an example: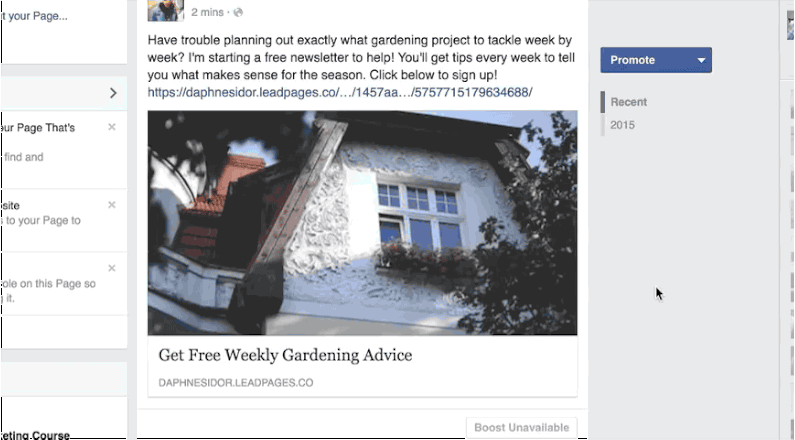 Some tips: make sure to add a brief intro to your post so visitors know exactly what they should do and why. And give a little more thought to the title of your Leadbox than you might if it were simply embedded on a page—that title will show up in your post preview, so you want something a little catchier than, say, "OPT-IN FORM FOR MAILCHIMP LIST 4-25-16."
How can I … get more people to my landing pages from Facebook?
Say you already have a website or a minisite page listed in your About tab. But now you want to make sure the people who follow you find out about your events, your promotions, your webinars … so you use your landing page builder to spin up purpose-specific pages each time you need them.
It's smart to share these pages with your Facebook followers, and it's even smarter if you spend a couple of extra minutes to make your post as captivating as possible. First, make sure you're not just posting a bare link—a little context and an explicit request for Facebook users to check out your page go a long way.
If you're using the new Leadpages drag-and-drop builder to create your landing pages, you can also change the Open Graph tags controlling the headline, description, and image that appear when you (or other people) share your page on Facebook. That means you're not locked into displaying the page title and meta description (which might be great for SEO or your own records, but not super clickable), or whatever image Facebook decides to grab from your landing page.
A Facebook post isn't an ad, but you can think about these three components in the same way you might design a banner ad. What's your message? How can you support it with images and text?
How can I … fine-tune my posts to get more customers?
It bears repeating, however: a Facebook post isn't an ad. And you can't write it like one and expect your fans and anyone else who stumbles across your business's page to engage.
In fact, anecdotal evidence suggests that even when you are advertising on Facebook, people prefer to see and click on posts that aren't pressuring them for a sale.
"An ad with copy that is directly selling people what they are looking for is typically less effective than an ad that makes a softer sale," Michael Koral, co-founder of social-media marketing tech company needls., wrote in a guest post for Leadpages. "We had 9 times more clicks to our website when we promoted our free e-book vs. selling direct." By using real, relatable photos and taking a softer approach that suggested opting in for a free download, Michael also achieved a 45% lower cost per click and five times more clients than when he tried to sell a product.
That meshes with the results of a recent study in which BuzzSumo analyzed 1 billion Facebook posts from 30 million business pages looking for trends in engagement. One finding: posts that asked a question got more interactions than any other kind of content.
In other words, the social component of social media is crucial. Understanding that will inspire more people to slow their scroll actually read your posts, and click through to your landing pages.
And because you're finding ways to turn your Facebook followers into leads (right?), you don't actually need to make a hard sell on Facebook. Save it for your email marketing and get the sale that way.
How can I … get more of my followers to see my posts?
Facebook's inscrutable algorithm broadcasts any given post you create to only a small percentage of your followers by default (unless you pay to boost your post). That's not going to change. But there are a few things you can do to make sure you get all the organic reach Facebook is willing to give you:
Build in opportunities for engagement. The one thing that's certain in this area is that Facebook gives more exposure to posts that get more engagement: likes, comments, clicks. This happens both algorithmically and naturally—for instance, if someone comments on a brand's page, some of their friends are likely to see that comment pop up in their own newsfeeds (even if they don't follow that brand). So when you share links to your landing page, consider asking people a question or inviting them to give you feedback.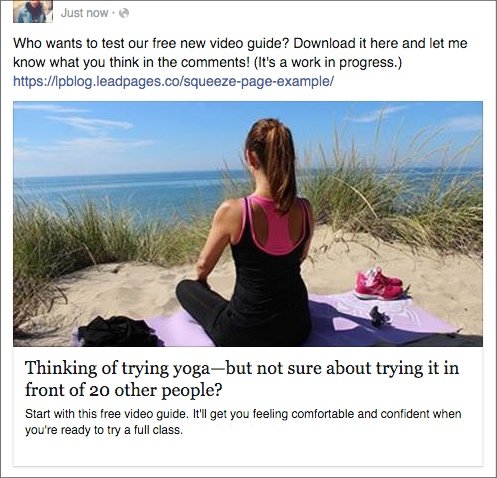 Don't be all business, all the time. Pay attention to the kinds of posts that show up most often (with the most likes and comments) in your own personal feed. You'll probably find a mix of interesting quotes, commentary on current events, videos, funny quizzes … in other words, a broad range of the human experience, sometimes amusing, other times grippingly emotional.Tap into this with your own posts, and break the pattern of content about your business with the occasional post that's more lighthearted or more personal (as long as you keep the vibe more "knowledgeable friend" than "difficult relative"). And feel free to share great posts from others in your network—a move that can also build goodwill with potential brand partners.
Reply to all comments. This one's simple: keep the engagement going by responding to any commentary on your posts. It shows visitors you're truly listening, rather than using Facebook as a megaphone.
Take a closer look at your audience. Ever wonder exactly who your business's fans are (other than your friends and family)? Click over to your Insights tab and check out the "People" dashboard, where you'll find out whether you're really talking to the people you think you're talking to. You'll find breakdowns by age, gender, and location, and you can even see how that demographic picture changes when you look at who engages with different parts of your page. This knowledge could help you refine your posts to better reflect the lives of your audience, or even inspire you to present your product differently on your landing pages.
Post during the off hours. When there's less competition, your posts get seen more. Early mornings, late nights, and the lunch hour can provide a convenient lull for you to fill. Once you notice patterns in the times that produce the most engagement, you can pre-schedule your posts for those times.
Start a group (maybe). There is one environment where your posts can get substantially more exposure: a Facebook Group. This won't make sense for every type of business—there's probably not going to be a lot of community discussion around your accounting firm or hotdog stand—but if your business involves holding classes or sharing skills, why not give your clients (and prospective clients) a place to gather and learn from each other? Again, this isn't the place for in-your-face sales pitches, but it can be an excellent way to keep your services top of mind.
That's plenty to take in, but the basic principles of getting more customers on Facebook are simple. To recap:
Complement your Facebook page with a website—and remember, an effective website can be as simple as setting up one minisite page.
Set up a custom call-to-action button linking to a purpose-specific landing page.
Consider creating a special landing page with an offer just for your Facebook fans.
Set up a custom tab and use Leadboxes to collect email signups directly from Facebook.
Customize your landing pages' Open Graph tags to control how they appear when you share them, and add appealing intro text.
Be friendly, engaged, and audience-focused in all your posts. (You can focus more on selling later, in your emails to the leads you capture here.)
Which of these tactics are you using with Facebook already, and which ones do you plan to try in the future?
Tell us in the comments
.