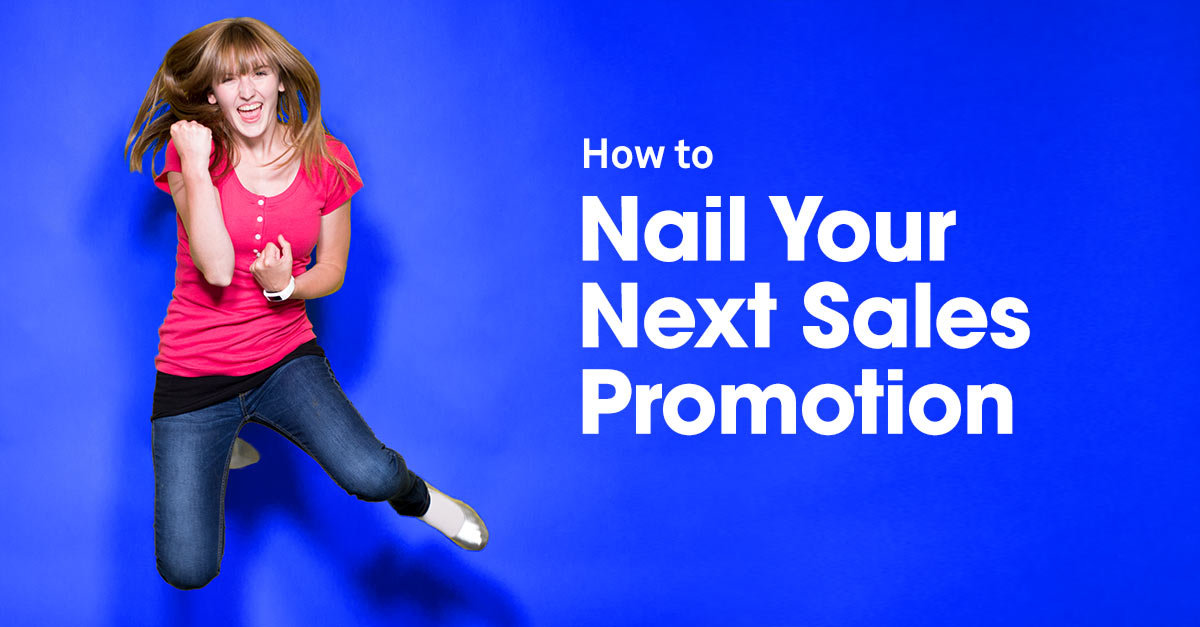 It's end of the month. If you're a marketing manager, you know what that means.
This is it. D-day. The day of reckoning when your sales for the month will be tallied. Numbers will be crunched. Analytics will be consulted to point out your successes (or lack thereof).
Your boss (and your boss's boss) will want some answers for why your sales numbers aren't quite up to your admittedly optimistic expectations. (Cue the scary music.)
If you are your own boss, it's almost worse. It's the time of the month when you have to own up to your failures, and count this month as another learning experience.
Or do you? Well, not if I have anything to say about it.
The fact is, if you already have a product to sell, then you can run a quick sales promotion in less than 48 hours and turn your numbers around. In this post, I'm going to show you exactly what you need to run a last minute sales promotion for your business.
Pressed for time? Don't let me keep you. Just be sure to download my 25 favorite ideas for creating a promotion right now before you rush off.
The irresistible offer
If you're going to run a quick sales promotion to hit your numbers, then you need an absolutely drool-worthy irresistible offer to attract your audience's attention.
What's an irresistible offer? It's an easy-to-understand, unique promise for your product or service that your ideal target audience is not likely to refuse.
The good news? It's not that difficult to craft an irresistible offer that will encourage your already interested, would-be potential customers to buy your product. (It's not impossible to close sales from cold traffic with this approach, either.)
But you need to give those potential customers a reason to take action and purchase your product right now.
That's what an irresistible offer does. It gives your customers a justification, a thoughtful, considered reason why they should buy your product or service, right now—when your end-of-the-month numbers demand it.
The best irresistible offers that I've ever seen (or run myself) do the following:
1. Give your customers an unexpected benefit
If you want customers to respond to your 48-hour sales promotion, try offering an unexpected benefit they can only get if they purchase your product at this time.
In digital marketing, these unexpected benefits are often called bonuses or incentives. These can be software, courses, coaching, or anything else that gives extra value. If you run a brick-and-mortar store, this could be a special discount or other benefit.
If you're stumped for what unexpected benefit you can offer, look to your affiliates or other strategic partners. Some of the best "unexpected benefits" I've ever given away with quick promotions came out of strategic partnerships with other companies.
Just ask yourself: What kind of product or service would help my customers get more value out of what we already sell? Then see if you can form a partnership with that person or company to deliver that missing piece.
For instance, you might be able to negotiate a bulk discount on a product that you can then give away as a bonus. Or you might decide to hold a joint promotion, where customers get a package deal containing products from both of you.
Here are some other examples of irresistible offers:
15% off your next purchase
A coaching session to help customers implement your products or information
A free extra month's subscription to your magazine (or software)
Limited-edition products that won't be available anywhere else
For your own promotion: what can you offer to make your product or service even more irresistible in the next 48 hours?
2. Make your customers feel like they're getting a deal
The best irresistible offers give unexpected value and make your customers feel like they're getting the better end of the deal.
Whether you use one or both of the strategies above, your irresistible offer must give customers a reason why purchasing now is a better idea than purchasing later.
Here are a few ideas to get you started …
Run a 2-for-1 sale: Instead of discounting your product, think about running a 2-for-1 sale to give your customers an unexpected extra offering of your product.
Raise the price of your product: Sounds odd, I know. But if you're planning to raise prices in the future, find out if you can raise prices at the end of the month, so you can quickly run a "Get in before we raise prices" sales promotion.
Run a last-chance offer: Do you know that your company is planning to remove a feature from your flagship product? Are you reaching the end of a limited supply of a certain product, or about to close down registrations for a course or event? If so, that gives you the perfect reason why to run a last-chance, 48-hour sales promotion to "get this before it's gone for good."
Again, the point is to make your customers feel like they're getting a deal. You know your target audience. Ask yourself: what kind of offer would my customers respond to?
3. Encourage your customers to take action right now
Remember, this sales promotion is about speed.
You want customers to buy instantly. Not next week, not in two months—now. That's why the best irresistible offers give your customers an excuse to purchase immediately.
The easiest way to encourage your customers to take action is to give them a deadline.
Here at Leadpages, we have found that the best deadlines come at "natural endings." Typically, that means ending sales promotions on the end of the week on Fridays, the end of the month, or even at the end of the year. (We've run several successful promotions that deadlined on New Year's Eve, for example.)
But if you're a marketing manager looking to hit your numbers this month, I'd recommend making your sales promotion deadline at the very last second on the very last day when you can tally your numbers for the month.
That way, you can get the full benefit of this 48-hour promotion on the books.
The 20-minute sales page
I know, I know. Professional copywriters can take days, weeks, or (holy marketing fail, Batman!) even months to craft that so-called "ideal" sales page.
We don't have that kind of time. We have 48 hours to hit our numbers.
So you need to get down to brass tacks here. What is the absolute bare minimum your sales page should have in order for you to generate sales in this 48-hour sales promotion?
A easily understood headline that spells out your irresistible offer: Your irresistible offer really makes or breaks your 48-hour promotion. So don't bury it. Craft a compelling headline that spells out clearly what you're offering in a single sentence. Good rule: Don't try to be clever in your headline. Just be clear so a potential customer can understand what you're offering in less than 5 seconds.
Compelling call-to-action buttons throughout your sales page: On your sales page, you need CTA buttons to link to your online shopping cart or payment provider. Good rule: Always add your first CTA button above the fold (in the viewing screen) so your customers can take action immediately. Also, be sure to add clear instructions to each CTA button so it's absolutely obvious what your customers must do to purchase your product. (If you're building a sales promotion page on your own, you can download 144 high-converting call-to-action buttons here.)
Sales video? Only if you have the resources: Here at Leadpages, I'm spoiled with a video team that can turn sales videos around in a day. If your marketing team can pull that off—by all means, create a quick video for your sales page. Write a one- to two-page script that 1) spells out your irresistible offer, 2) gives a compelling reason why you're offering it at this specific time, 3) reiterates what your customers are getting with your product and this offer, and 4) explains the deadline to purchase. This video can be 2–5 minutes tops. But if you don't have the resources, you can rely on your sales promotion copy to close the sale.
The FAQ or fine print: I'd recommend adding a Frequently Asked Questions section to your sales page. First of all, it's an easy way to handle objections for people who may not want to purchase your product. It's also a simple mechanism for covering the basic legal "fine-print" details of your promotion like "When does this offer expire?" and "What exactly do I get with this offer?" (Speed tip: save your FAQs from past promotions to reuse the next time—many of the details are likely to remain the same.)
Always, always, always give a guarantee: You want your customers to take action quickly. You want them to make an impulse buy. To help make this decision easier, always add a guarantee to your sales page. It can be a standard money-back guarantee. Or it can be as simple as "return for store credit" if you run an ecommerce store. Or it can even be as intriguing as Cutco's "forever performance guarantee" that you see below. The point is: Always give a guarantee so your customers feel comfortable purchasing immediately.
Tracking: It should go without saying that you need to be able to track whether your sales page is working and tell sales from your promotion apart from sales you made through other means. If your company uses Google Analytics, don't forget to add your tracking script to your sales promotion page. Or you might decide to use a special discount code or create a special product package that's only available on this page. The important thing is that you have a system to filter out the noise and measure your success.
Deadline, deadline, deadline: I saved the most important for last. After your headline, your deadline is the #1 most important thing to add to your sales page. This is what inspires your customers to take action in time for you to meet your monthly goal. To really drive this point home, I recommend adding a countdown timer to your sales promotion.
If you have a Leadpages account, you can grab a sales promotion template from our library and customize it yourself in less than 20 minutes.
With Leadpages' drag-and-drop landing page builder, you can add, move, or rearrange any of these page elements as you like. You can add a video if you wish, drop in an extra copy section for your FAQ section, add a quick guarantee, and publish your sales promotion page yourself.
By publishing this page yourself (or asking your copywriter to do it for you), you can leapfrog right over any work you might ordinarily need a designer or developer to do to launch your sales promotion page.
That means you can launch this sales promotion immediately.
The traffic source
Running a sales promotion without traffic is like performing a symphony to an empty house. It might look or sound great, but in the end, it's worthless.
When you run a promotion, your success depends on how many people see it. That means you need to send as much traffic as possible to your promotion during this 48-hour period.
If possible, I'd use all the following sources to drive customers to your promotion.
Your "non-customer" email list: Mail your promotion to as many non-customers on your email list as possible—at least twice (once when the promotion starts, and once 6–12 hours before it ends).
All over social media: Think Twitter, Facebook, LinkedIn, Instagram. Be sure to add engaging graphics so your promotion gets noticed. (Speed tip: If you're pressed for time, grab some screenshots from your sales page or video clips from your sales video to use on Twitter, Facebook, and other platforms where images grab attention.)
Paid traffic: This will depend on your business model and your budget for paid media. So look at your budget for the rest of the month. Can you drive Facebook ads, PPC ads, or other paid media to your promotion over this 48-hour period? If so, do it. Also, be sure to add retargeting ads so this promotion follows your best leads around the Internet.
Your homepage or pricing page: At the very least, I'd recommend mentioning your promotion in any banner space, push notifications, or welcome bars you use on your website or pricing page. (We use our WordPress plugin Rapidology to post a Rapidbar at the top of our homepage when we host a major promotion.)
Your blog: If you have a high-traffic blog, make sure you're linking any blog posts during your 48-hour promotion to your sales promotion page. (Keep in mind: you can always remove a promotion from blog posts once your deadline passes.)
That's the bare minimum. Other traffic sources might include:
Your affiliate partners: It's as simple as asking strategic partners to share your promotion with their audiences.
Your weekly webinars: If you're already hosting a webinar, be sure to offer this promotion as an incentive to purchase your product during this 48-hour period.
Emails to your existing customers:You can send a personalized email to your existing customers about this promotion too, if you're marketing a product or service that's relevant for your customers.
Emails to your past customers: Are you offering something that might inspire canceled customers to purchase your product or service again? If so, it might be wise to email canceled customers too.
Your sales team: Does your entire sales team know to push this promotion for you during this 48-hour period? If not, make sure to give them advance warning so they can drive potential customers who need an extra nudge to your sales promotion.
Use your imagination. Think of how you can get as many people as possible to view your promotion and leave no traffic source unturned.
The Execution: running a 48-hour promotion
The big day is here. You have your sales promotion page. You have your traffic sources. Now the 48-hour race begins. Here's how I recommend you execute this promotion.
Day 1:
Do paid media first. Remember, you only have 48 hours. If possible, start loading ads for your paid media campaigns either in the early morning or the night before your sales promotion starts, so you have plenty of time for your ads to get approved.
Alert your sales team and support team. A promotion is a team effort. Alert your support and sales teams about your promotion so they can answer questions.
Send your first email at the time of day when you can expect the most opens and clicks.
Start the social media blitz. Give your social media manager copy, images, GIFs, video clips, and the link to your promotion so they can post this promotion in as many places a possible.
Add this promotion to your website, blog, etc. Add mentions to your promotion in as many places as you can on your website.
Extra traffic sources. If you're using affiliate marketing, your webinars, your sales team or any other "extra traffic sources," start these on Day 1.
Evaluate your sales numbers: This is easy to forget, especially when you're running a tight promotion like this. At the end of Day 1, be sure to evaluate your numbers. Are you making as many sales as you expected? If not, start tweaking your sales promotion page for the next day. If nothing else, try a new headline, so you can make the most of the last day.
Day 2:
This is your last-chance day. You have 12–24 hours to get the results you need, so you need to be ready to make this work.
Mail your list again if possible. "Last chance" emails tend to drive the most sales. If you can't mail all your non-customers again, think about emailing only the people who opened and clicked your previous email 6–12 hours before your promotion ends. (Be sure to suppress all customers.)
Add a deadline to social media posts, paid media campaigns, and website. It's a good idea to update social posts, paid ads, and any mentions on your blog or website so they now say "ends tonight" or "deadline today." This can drive urgency and sales.
Evaluate your numbers. Keep checking your sales figures throughout Day 2. Are you seeing the kind of results you want? If not, tweak and keep testing.
Day 3 (after the promotion ends):
Phew. You're done. The next steps are fairly easy.
Fulfillment. You need to fulfill any promises you made during your promotion. Give your customers any promised bonuses, discounts, or other incentives, pay your affiliate partners commissions, etc.
Look at your numbers again. Yes, keep checking your numbers. Did you bring in the amount of new customers you were shooting for? If not, why not?
Post mortem. Ask yourself: Was this promotion worth your time? Did your irresistible offer work? Did you get the sales you wanted? At the very least, did this promotion boost engagement for your potential customers? Most importantly, can you run this type of promotion again if you get into a numbers crunch next month?
That's about it. Then the next time you're in a bind to hit your monthly numbers, you already have a process in place to create another 48-hour sales promotion.
Before you go, we'd love to know …
In case you couldn't tell, sales promotions are near and dear to my marketing heart. At last count, I've run more than 45 different promotions, launches, and special offers here at Leadpages since I started with the company in 2013.
So before you go, I'd love to know: was this blog post useful to you? Would you like to see more blog posts about closing sales like this one?
Also, can I answer any questions for you about your own sales promotions? If so, please drop them in the comments below. I'd be happy to answer your questions.