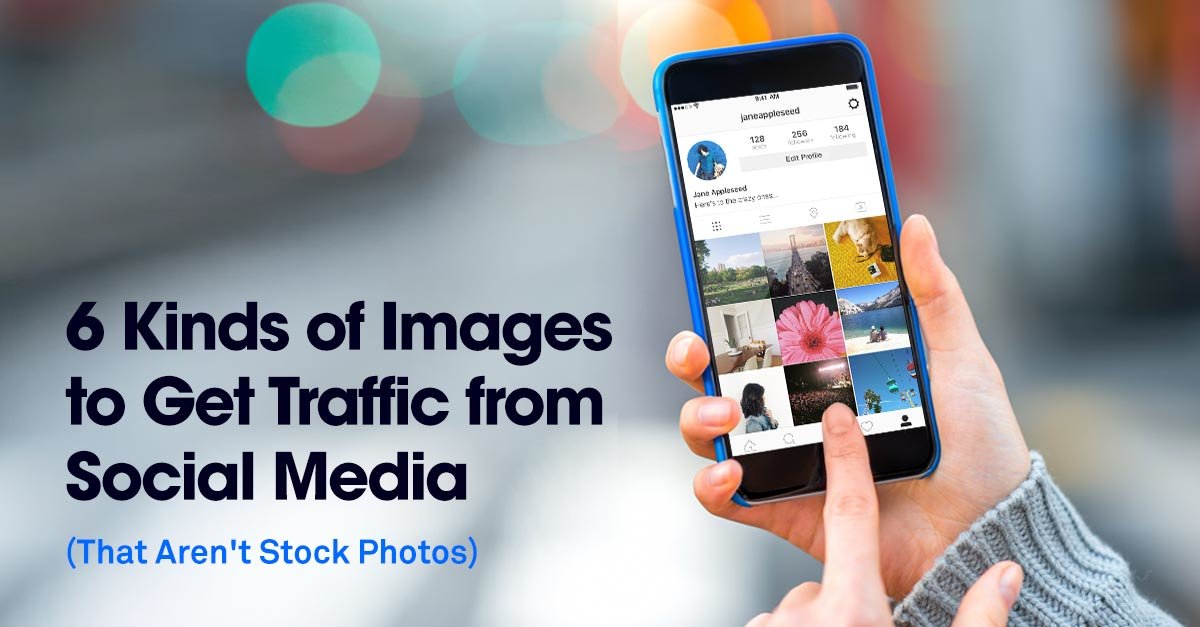 Like many marketers, I spend all day on the internet. I'm writing, of course, but I'm also doing a lot of research, reading and just finding information about our market.
Well, in the past week, I've seen the same stock photo used 3 times on 3 different sites.
The first time I saw it, I didn't think much of it. But by the third time, I had no idea what the image was for, because all I could think was, "Hey! There's that stock photo again!"
I'll spare you the lecture on how images are "worth a thousand words." Instead, I'll just say it's a well-known fact that images are important, and it's never been more accurate than in the world of social media.
Twitter reports that tweets with images average 3 times more engagement than plain-text tweets. Using images on Facebook boosts likes by 53% and comments by 104%, HubSpot research found. Pinterest and Instagram are entire social media platforms based solely on image sharing. According to the Emogi team, Emojis are used by 92% of the online population.
In other words, we're using images to express ourselves more than ever.
With images attracting so much attention, it's tempting to use stock photos for your business. But of course, stock photos have drawbacks. There's the issue I already described, that other companies may be using the same photos. Beyond that, stock photos also won't necessarily reflect your brand identity or the feeling of your company.
Twitter experiment: our own photos vs. stock photos
Sarah Tessien, Leadpages' social media manager, and I conducted a mini-experiment with our own Leadpages Twitter profile to see whether using stock photos or our own photos get more engagement. We selected our blog post on How to Get More Followers on Instagram and Turn Them into Customers and tweeted the same post a couple of times with a stock image, and a couple of times with our own image.
The results were not drastically different as far as engagement metrics, though we did get more link clicks on the post that had our own image (5 versus 1). This was far from a scientific experiment, but the difference was there for us.
We use photos that reflect our brand, not only color-wise but in the general feel and attitude of our company.
When I asked our social media manager, Sarah Tessien, why we don't use stock photos, it all came down to the brand. "I personally do not use any stock photos because I feel like people can tell it's not personal and on-brand for Leadpages or Drip," she said.
For your own business, I'd also recommend you steer clear of stock photos. Instead, I've come up with a list of 6 image ideas for your social media accounts that couldn't be easier to implement. With just a little extra effort, you can start grabbing attention online and increasing your likes, retweets, and traffic.
You definitely don't need to be a designer to use these ideas—but there's no doubt that a little design guidance helps. 
1. Quote cards
If your business could be used to inspire others, you might consider using quote cards to boost your social shares. People love sharing quotes that inspire them, and by placing the quoted text in the image, you can expand the characters available to you.
It's especially useful on Twitter, of course, where your characters are limited and people are much more likely to share images anyway.
You can make quote cards really easily, even if you don't have a design staff to depend on. If you have any good, on-brand photos, you can easily place words on top of them using photoshop, or apps like Canva or Wordswag.
Converted speaker David H Lawrence XVII even mentioned this at Converted last month. From the stage, he said he uses Wordswag at conferences, to create easy tweetable quotes in real-time, and a few of our Converted attendees did just that!
Photo captions can convert better than headlines– Brian Massey #Converted16 pic.twitter.com/ARADXWLv0f

— ✵Kim Walsh-Phillips✵ (@KWalshPhillips) October 18, 2016
If you aren't sure what kind of quotes to include, just think about your ideal audience and what might inspire them. Keep a swipe file in Google Docs or Evernote of quotes you find around the web. Pinterest is a good place to start, but be careful, or it might suck up an entire afternoon. If your business is geared toward other business owners, you might even be able to quote your CEO or another member of your team.
2. Infographics
People love infographics. They're engaging and shareable, and tend to do very well on social media. But, infographics can be a challenge to create.
Starting with the right information will help you create a killer infographic. Try to focus on boiling down one process or one concept to explain, and see if you can boil it down to individuals steps or aspects of the concept. Great infographics are always loaded with statistics, so invest the time to research relevant data.
From there, you can start to piece it together into a cohesive graphic, again using a tool like Canva and Snappa. Don't put too much pressure to build something huge and complicated on yourself when you start out. Even one or two great statistics can make a perfectly shareable infographic.
3. Your own "stock photos"
This is something that we do at Leadpages. We are lucky to have a great photo and design team that can invest the time and energy to create stunning graphics for our blog posts and social media.
While we use the images of our employees and workspace to create our own stock photos, we're able to keep them on-brand by using our brand colors or just by emphasizing the work environment we have here at Leadpages.
Plus, it gives our readers a peek behind the scenes to see our workspace and the faces behind Leadpages.
However, you don't need a photo or design team to take photos for your blog. Just grab a camera and a few of your employees and put together a mini-photoshoot. Chances are, your photos will end up more natural and on-brand than stock photos. Try to get as much natural light as possible when you're taking photos, and then you can just edit them and add text with photoshop, Snappa, or Pixelmator.
4. GIFs
I may be biased because we love them at Leadpages, but gifs are one of the most addictive image options you can include in your social media. GIFs have the ability to imbue your message with so much more action and emotion than a standard image.
We sometimes even build our own GIFs for extremely special occasions, like International Beer Day.
In honor of #InternationalBeerDay, we're sampling beers from all over the world for today's LP Happy Hour! ? pic.twitter.com/9gKWRyUbXy

— Leadpages (@Leadpages) August 5, 2016
Again, we have a great video team that worked with our social media manager to put this one together, but you don't need a dedicated team to share gifs on social media. GIFs are universal (even if the pronunciation of that word is extremely divisive).
Twitter makes it super easy to add gifs to your tweets. When you go to type in your tweet, just click the gif button to search a collection of gifs and find the perfect dance party or fist bump to express the perfect emotion for your tweet.
If you aren't sure what kind of tweets work best with GIFs, start with asking yourself: "How do we feel when this happens?" That's a great place to start.
Hello #LeadpagesChat! Happy Tuesday. Who's excited to talk #SocialMedia strategy today? pic.twitter.com/s5l0cZ1qOd

— Leadpages (@Leadpages) October 25, 2016
5. Images with descriptive text
We use images for our blog posts that include the blog post headline, which is a great formula for telling readers what to expect. But in cases where you aren't necessarily sharing a blog post, you can include descriptive or funny text on top of the image as well.
Bonus points if you can tie the text in the image in with the text in the tweet itself as we did in this post right before our Converted conference:
Less than 1 week until #Converted16! Have you purchased your ticket yet? Buster sure hopes so: t.co pic.twitter.com/p2g9lJBgIh

— Leadpages (@Leadpages) October 13, 2016
Again, adding text to photos is especially helpful for Twitter, where you only get 140 characters for your message. Bonus points if you can include a cute dog in your image. (I don't have any official research, but that's got to boost social shares, right?)
6. Behind-the-scenes photos
Here at Leadpages, we have a fun, relaxed office environment with weekly happy hours and Fido Fridays (yep, we bring our dogs on work on Fridays). That's part of our brand as well, and we want to be sure that our followers feel that they're a part of what makes Leadpages special.
That's why we love telling our followers on social media what's going on in the Leadpages office and even sharing pictures from our events.
For instance, the other day in our all-company meeting, our growth team dressed up as dogs to announce that we're renaming the growth team "lapdogs." It was hilarious, and you better believe we're going to post a photo of our leadership team dressed as dogs on our Facebook page.
Think about what behind-the-scenes photos your audience might be interested in seeing. Even if you're a solopreneur, chances are your audience would get a kick out of seeing your workspace or a stack of packages full of products ready to mail. Get creative and show your company values in this shot. –– and don't forget to follow us on Instagram! 
What kind of images do you use on social media? Let us know in the comments!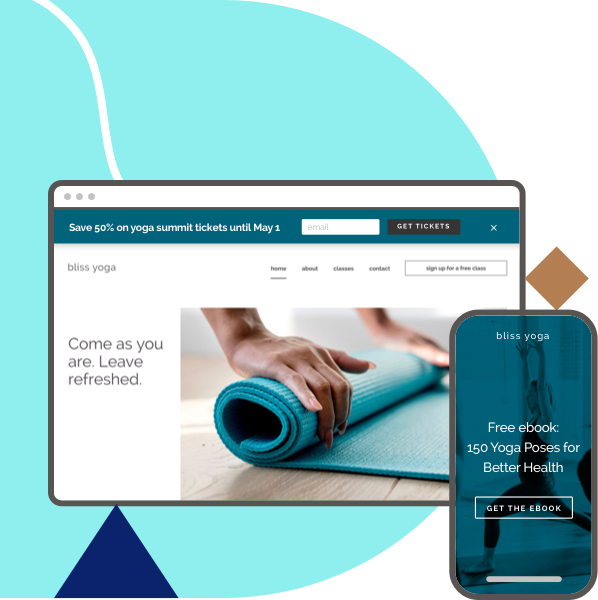 Turn clicks into customers
Leadpages helps small businesses connect with an audience, collect leads, and close sales. Easily build websites, landing pages, pop-ups, alert bars, and beyond.