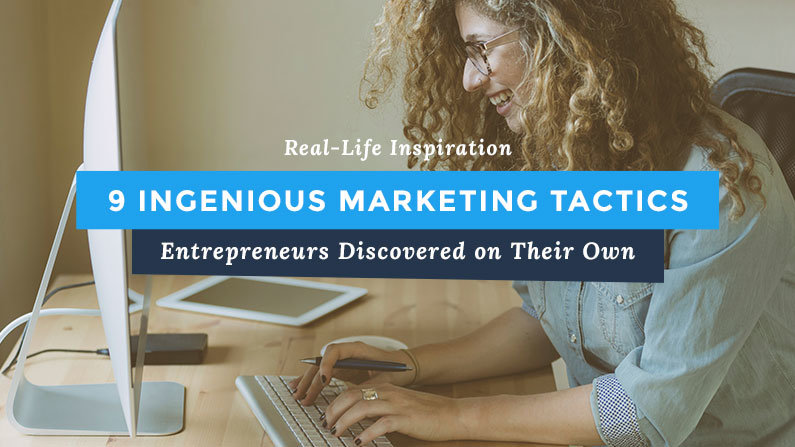 It's the nature of blogging. Write about one thing—anything—long enough and you eventually start to feel a little like an advice columnist, scouting out people's challenges and trying to point them toward the best solution.
When you're successful, it's incredibly satisfying. And it's always exciting to see people taking the marketing techniques we recommend at LeadPages and running with them, often to great success.
But personally, I find it even more exciting when one of our members comes up with a marketing tactic we haven't recommended—either because it's new to us or because not many people are using it yet.
In the past year, we've conducted a score of interviews with everyday Leadpages users who have achieved extraordinary results through a combination of LeadPages' tools and their own ingenuity.
Today, I want to focus on ingenuity. Here are 9 of our own members' strategies that surprised us and may inspire your next marketing campaign.
1. Turn a "100% Off" Offer into a Lead and Revenue Machine Discovered by Freddy Lansky of iChess.net
Generally, you run a promotion for one purpose: to make money. Even if you have to discount your product a bit, the hope is that the increased volume and future purchases from your new customers will outweigh any lost revenue. So you offer something for, say, 50% off and call it a day.
There's one potential problem with that kind of promotion: everyone's seen it a hundred times before. With constant competition for consumers' attention and money online, many people end up rarely paying full price for anything. Basic promotions become a matter of course, not an enticing surprise.
So Freddy Lansky of iChess.net (formerly OnlineChessLessons.net) did something different—he downplayed the discount and led with something totally free.
First, he ran ads to a page offering a free chess DVD. It looked like this: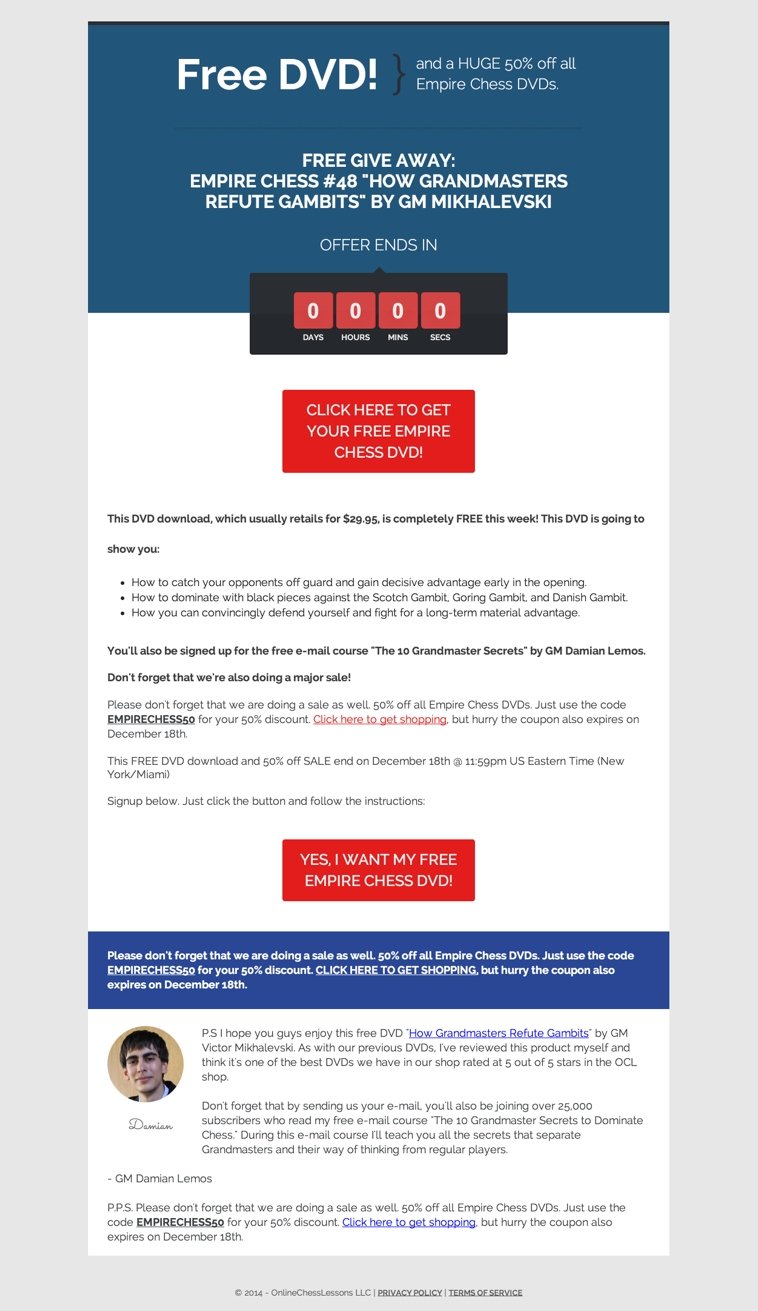 The page mentioned his paid products, but put most of its energy into promoting the free DVD and the email course leads would also get when they opted in for the DVD.
Once they did opt-in, they'd see an unusually information-rich thank-you page:

While visitors were engaged and excited by the free DVD they'd just signed up for, Freddy was able to make a further claim on their attention and explain the benefits of the paid product he was promoting (for a more standard discount, 50% off).
After a month of running this promotion, the company's email list had grown by 6,000 subscribers. That means that even those leads who didn't take advantage of the 50% off purchase could now be contacted about future offers, leading to sales lasting long after the free offer had ended.
2. Stretch Your Ad Dollars by Adding 1 Step to Your Retargeting Process Discovered by Shannon Lavenia
Remarketing is a powerful technique on its own. By narrowing the audience for your ads to people who have already encountered your brand, you're homing in on your hottest leads and are likelier to convert more of them into customers than when you're marketing to a totally fresh audience.
But are all the leads you've connected with once actually on the fence about buying? Or could some of them already have tuned you out?
That's what business coach Shannon Lavenia wondered. Her cost per lead on Facebook was higher than she wanted it to be, so she wanted to tighten up her retargeting budget while still capturing plenty of new customers.
Most new Facebook marketers think about building a custom audience in terms of choosing people to include. Shannon took a different focus and thought first about whom she should exclude.
Using her email service provider, Shannon downloaded a list of people who hadn't opened her emails within the last four months.
Then, she uploaded that list to Facebook's ad builder and told it to exclude those people from her audience. While she was at it, she dropped those contacts from her email list, too—which doubled her average open rate.
The result? Her cost per lead on Facebook dropped by two thirds, freeing up money for other marketing endeavors.
3. Leave No Source of Leads Unturned (Including This Surprising Spot) Discovered by John Corcoran
This is a small and simple technique that's emblematic of attorney/entrepreneur John Corcoran's overall success strategy: take every opportunity to collect new leads.
When we were preparing to interview John for a case study, I happened to notice a link in his email signature . . .

It led to this landing page: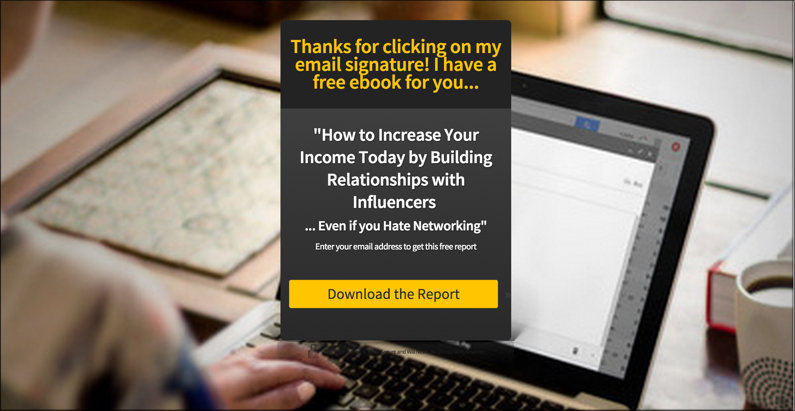 Anyone John emails have a chance to stumble upon this fun surprise—and because it's so unexpected, it's likely that some people will opt into his list here even if they wouldn't have bothered clicking on a link in the body of the email.
4. Turn Pinterest Users into Customers with Content Discovered by Ezra Firestone
Pinterest advertising has swiftly become one of the most promising social avenues for e-commerce marketing. It's essentially an online window-shopping platform that, with the advent of advertising capabilities this year, can easily become an actual shopping platform.
Marketer Ezra Firestone didn't take the most obvious route to market on Pinterest, however. It'd be tempting to simply start promoting pins containing images of your products, linked directly to a sale page. But when Ezra started using Pinterest ads, he suspected that this alone wouldn't be enough to capture the massive audience he hoped to build for a new product line, a collection of cosmetics for older women called Boom! by Cindy Joseph.
Instead, he added one step before the product page. He promoted a pin linking to a blog post on the Boom! Site on makeup tips for Baby Boomer women.
Once Pinterest users clicked through to the post, they had several points of entry to Boom!'s product pages, including direct links to products mentioned in the post. Instead of making a hard sell, Ezra was able to use content to demonstrate the value of the products.
And that content was pretty convincing. In just one month, this campaign brought in $41,254 in sales from an ad that spends just $775.
5. Use This Tool to Strike While the Iron's Hot
Discovered by: Brad Cook of LMS.org
Just about as soon as any company starts doing business online, they should invest in an email service provider (ESP). It saves time, communicates to email providers that your large mailings are legit, and offers a powerful way to segment and automate your emails.
For new entrepreneurs who don't have an ESP yet, there is one elementary option for keeping track of leads with Leadpages: Lead Notifications. Set these up, and you'll be sent an email with new lead information every time someone opts in to a page or form.
E-learning consultant Brad Cook was by no means a new entrepreneur, but he found a way to increase his business by setting up Lead Notifications for his pop-up forms. Every lead he collected on his consultancy's site, LMS.org, did go to his email service provider. But it also went directly to his team's inboxes via Lead Notifications.
Especially when you're selling high-value services, studies have shown that you'll have better success in selling the sooner you contact prospects after they've expressed interest in your company. With Lead Notifications, Brad's team was able to reach out and connect with new leads almost immediately—increasing the likelihood that they'll turn into customers while demonstrating spectacular service.
6. Get More Webinar Signups with Video Teasers Discovered by Amanda Holmes of Chet Holmes International
The man whose name is behind Chet Holmes International was known for being an incredibly charismatic sales guru and coach. His daughter Amanda shared his talents, and when it came time for her to take over the business, she decided to draw on the power of personality by hosting webinars.
Webinars tend to be a very high-converting lead-gen and sales tactic on their own, and Amanda found an obvious-in-retrospect way to get more signups (which would lead to more sales).
Most of the time, good webinar hosts promote their online events with a snappy webinar page and perhaps some ads and email marketing. Amanda found an even better way to promote Chet Holmes International's webinars: video.
By adding videos to each of the emails she sent promoting the webinar, Amanda was able to capture more of the people who'd be interested in a video training. Plus, she was able to show off the kind of audiovisual experience the webinars would offer.
As a result, CHI's webinar registration rate increased by a factor of 10—and 75% of those registrants actually showed up.
7. Fill Your Consultation Schedule from a Thank You Page Discovered by Jana Gouchev
If you're a lawyer, you can't get new clients from internet advertising alone. There's a middle step: the consultation.
It can be difficult to convince people to give you their time to learn about you in person through direct advertising. So business lawyer Jana Gouchev made her pitch for consultations via an unexpected route: a thank-you page.
First, Jana set up an opt-in page for a free e-book called The Top 10 Legal Mistakes Business Owners Should Avoid—a topic that would appeal to her desired client base. Once visitors had opted in, they'd see this thank-you page: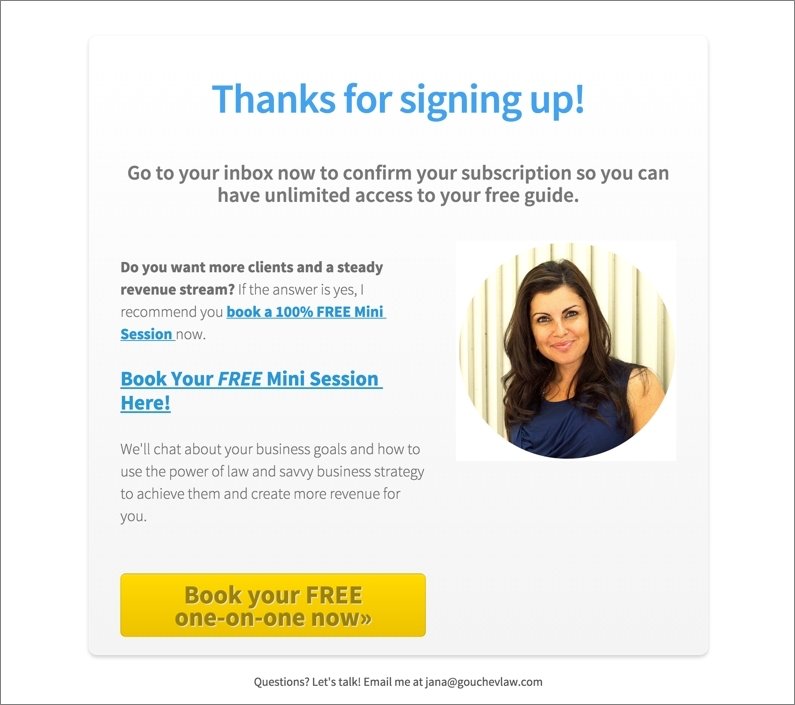 Here she framed her consultations as low-pressure, high-value "free mini-sessions." Hiring a lawyer may often seem like a headache, but with this technique, Jana makes it sound almost fun.
8. Get More Out of Groupon with Leadpages Discovered by Kevin Raheja of 331 Salon
Daily-deal platforms like Groupon can bring hundreds of new customers in your door, which is a godsend for new businesses that haven't had time to build up a client base.
That's where Kevin Raheja found himself when he opened 331 Salon. He knew right away that Groupon would be a good way to start booking appointments fast, but he was worried about hanging on to all those new clients. Would they become long-term customers, or would they move on the next time they got a good deal somewhere else?
To tilt the odds in his favor, he devised a strategy that built on his Groupon customers' love of a good deal. After each Groupon client's first appointment, the salon handed out a card with a special link to a landing page with a pop-up where the customer could download a coupon for a smaller discount on a future service.
Then, Kevin went one step further. He set up social sharing buttons on that page so that his new clients would bring in even more new clients on their own.
Here's what Kevin had to say about the results:
"For every one person that went to that pop-up, we got about two to three people entering their information because of that share functionality that we set up in the thank you page. So people were sharing the offer and bringing new customers to the website and then ultimately new customers into our business. We had 650 customers come in for Groupon and we were able to capture about a third to a fourth of those people through the pop-up that I set up on the website."
9. Take a Production-Line Approach to Ad Targeting Discovered by John Pohly
Real-estate agent John Pohly had an unusual goal for his lead-gen campaign: generate real-estate leads and win his real-estate agency's contest for getting the most people to download the company's mobile app.
That meant he had to reach people en masse. But he knew that an ad aimed at everyone would resonate with no one in particular. Without much time to spare, he decided to get ultra-targeted on Facebook ultra-fast.
First, he chose a Leadpages landing-page template he could customize swiftly just by switching in a new logo and tweaking the headline. Here's one of many versions of that page: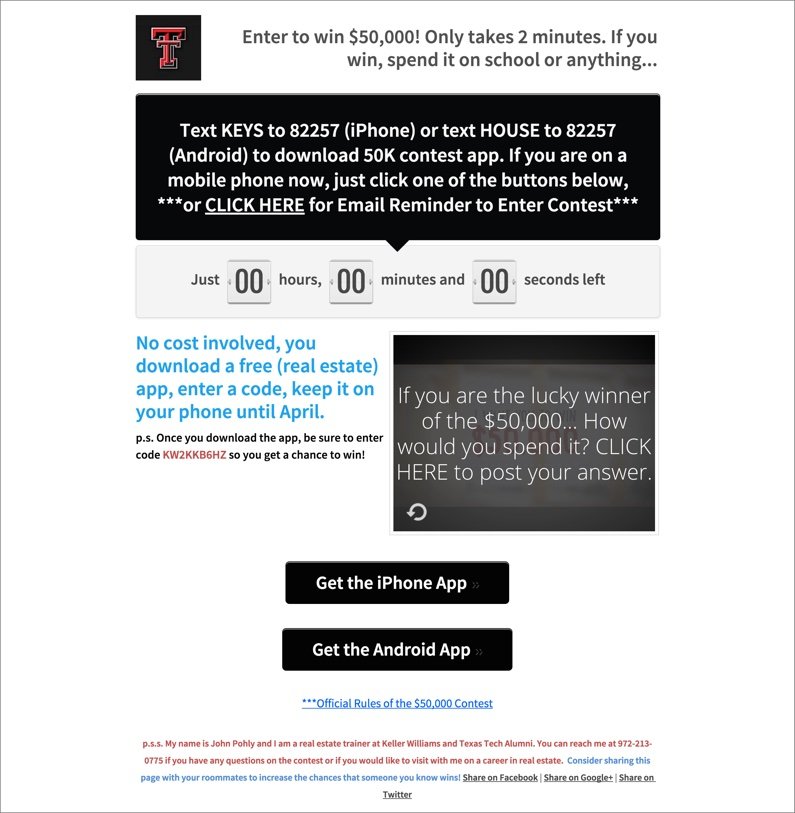 Then, he started defining niche audiences he could target with Facebook ads. As an incentive to download the app, the company was offering a $50,000 prize, so John started thinking about groups that might especially be interested in getting extra cash.
Finally, he wrote ads appealing to those groups. For instance, the students who saw the above page might have been tempted by a message about paying for their education.
It all came together like this: when John targeted Texas Tech students via Facebook, they'd see a Leadpages adorned with the Texas Tech University logo. Other groups saw ads and landing pages designed just for Texas retail employees, school teachers, and engaged couples.
John won the contest by a landslide. He brought in more than 2,000 leads for his company and a $20,000 grand prize for himself.
Have you come up with any marketing strategies you're proud of? Share them in the comments!