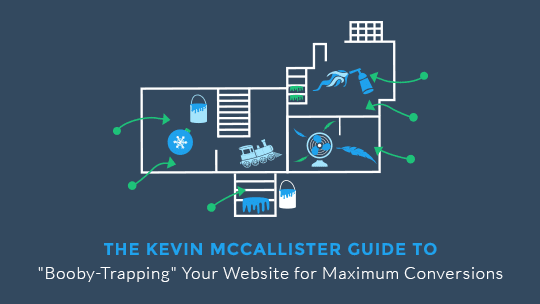 When it comes to online marketing, your website is your home base.
And what do you do with your home base? You defend it.
No — not from robbers, thieves, or even wet bandits, but from those who would have the audacity to come to your website… and NOT convert into subscribers or customers.
In the spirit of the holidays, who better to turn to for "home base" defense tactics than Kevin McCallister, the eight-year-old Home Alone legend who successfully outwitted the infamous Wet Bandits, Harry and Marv?
If you answered, "No one," you are correct. So let's get started.
DISCLAIMER: No web visitors were harmed in the making of this post. We strongly discourage you from treating folks kind enough to visit your website like make-believe criminals. This is all in good fun. So enjoy the post… ya filthy animal.
Our "Kevin McCallister" Battle Plan: An Overview
Before we dive into the nitty-gritty details and humorous GIFs, I want to provide you with a complete overview of this guide in the form of an infographic. Consider it a "battle plan" to add to your current strategy:
NOTE: This infographic is available for download. Click here to get a PDF copy to share with others now.
1. Don't get scared.
Does the term "conversion rate optimization" make you want to run and hide under the bed? Don't let it.
Like Kevin says, "This is ridiculous. Only a wimp would be hiding under the bed."
You are not a wimp. You are the man — or woman — of the house. And that house is your website.
Optimizing your website's conversion rates isn't as complicated as it sounds. In this post, I'm going to show you how to do it using just a few tools and techniques.
Additionally, your visitors will no longer react like this when discovering your website:
2. Have a plan.
"Hiya, pal! We out-smahted ya this time."
Those were the words uttered by Joe Pesci's Harry when he thought he and his partner, Marv, finally had young Kevin McCallister cornered.
Why "this time"? Because, up to that point, Kevin had always been one step ahead of the two crooks for one reason — he had a plan.
If you want to optimize your website for maximum conversions, you need to think through every step a visitor may take after arriving.
Whether they were coming in the front door, the basement door, the kitchen door, the doggy door, or the living room window, Kevin had every entry point covered.
What about your website? Do you know how people are entering? What are the common first pages people land on? They could be…
Your home page
A popular blog post
A product page
Your "About" page
The list goes on. The bottom line?
Be sure you're monitoring user behavior on your site with a service like Google Analytics or KISSMetrics. At the very least, you need to know the most-visited pages on your website.
Knowing where visitors are landing (and where they're going from there) will enable you to optimize the pages that can provide the biggest wins for your business.
Let's take a look at a few ways to do that.
3. Warm visitors upon entry.
What do visitors immediately experience when they land on your website?
It's hard to know for sure without looking over their shoulder, but you can start by asking yourself this question:
Can visitors quickly see how my business/product/service/etc. can help them?
If the answer is "no," you're not doing it right.
When visitors reach your website, they should be able to quickly see how your business can help them, or be inspired to view a resource that will show them (like a video, for example).
Once they're warmed up to your business/product, you can then offer them something of value in exchange for their contact information. That will allow you to follow up with them in the future if they leave your website without converting (which is what most will do).
There are many ways to accomplish this, but here are just a few examples:
1. Give a free demo of your product or service.
Crazy Egg immediately warms customers by offering a free demo of their heat-mapping software (no pun intended):
After visitors enter their website URL, they're directed to a page that looks like this:
2. Capture new leads with a Welcome Gate.
If you don't want to completely redesign your home page, you can use a "welcome gate" landing page to warm up first-time visitors. This is a page visitors will be directed to the first time they visit your home page.
On this page, you can quickly introduce yourself or your company and offer visitors a valuable piece of downloadable content in exchange for their email address. Here's an example from GetStoried.com:
Not only does this page allow GetStoried.com to easily add prospects to their email list, it also warms them up by offering them valuable free content.
3. Add a popup for first-time visitors.
If you don't want to create a welcome gate for first-time visitors, you could use a popup LeadBox™ to offer them a free resource, coupon, etc. after they spend a specified amount of time on the page.
Don't expect people to buy the moment they find you. Build interest, offer value, and turn them into warm prospects.
4. Leave a window open.
You may not want to admit this, but it's true — not everyone who visits your website will convert the first time.
Luckily for you, there's a solution that's much better than just praying they'll come back one day — retargeting ads.
Just like Kevin McCallister lured Marv back into his little funhouse with an enticing open window, you can woo visitors who left your website with the help of retargeting ads.
As we discussed in our recent article about current landing page trends, retargeting is a hot strategy right now. It's the rare tactic that everyone from solopreneurs to companies like Dropbox can implement effectively.
In a nutshell, retargeting services track who visits your website and then displays your ads to those visitors as they visit other websites.
Re-entering a house and stepping barefoot onto Christmas ornaments? Painful.
Revisiting a conversion-optimized website and converting? Now we're talking.
5. Make your website sticky.
If you want to increase the number of time visitors spend on your website and the number of times they return to it, there's one surefire way to do so:
Increase your site's "stickiness" by making a serious investment in content marketing.
Great content causes visitors to do two things:
Spend more time on your website.
Return to your website on a consistent basis.
In every case I've ever seen, the more times visitors come to your website, the better your chances of converting them into customers.
Consider these stats:
Ready to get serious about creating sticky content? Check out these resources:
6. Make it look like a party is going on.
I'm going to go out on a limb and guess that you've already attended at least ONE awkward holiday party this year.
You know what I'm talking about…the kind where no one seems to be having any fun, the music is lame, and you spend the whole night answering "So what do you do?" and "What are your holiday plans?".
Here's a hint: you want your website to be the opposite of that.
You want your website to look like the party that Harry and Marv THOUGHT the McCallisters were throwing the first night they tried to rob the place.
There are two easy ways to do that:
1. Put a spotlight on your email list or customer numbers.
One of the easiest ways to let your visitors know they're not alone is to highlight your subscriber or customer numbers.
If you look near the top of our blog sidebar to the right, you'll notice that we say, "Join over 120,000 subscribers who get fresh content from us on a weekly basis."
Other companies like Shopify use this same technique to highlight the number of customers who trust them.
2. Use testimonials and social proof.
Instead of making prospects feel like they might be your first customer, showcase others who are currently using your products or services. Check out this great example from Moz:
Testimonials and social proof are a big trend in landing pages right now for a reason — they've consistently proven to increase conversion rates.
7. Turn your copy into a slippery staircase.
"What do you want visitors to do on this page?"
I remember the struggle that would often appear on my clients' faces when I would ask them this question back in my freelance copywriting days.
It doesn't matter if you're working on your homepage or your "About" page — you should always have an objective for your visitors on every page.
Once you identify that objective, writing the copy becomes much easier. Why? Because you can implement legendary copywriter Joseph Sugarman's "slippery slide" technique:
To paraphrase, the purpose of your first sentence is to get visitors to read the second sentence. The purpose of the second sentence is to get visitors to read the third sentence. And so on and so forth.
By following this technique, you turn your page into a "slippery slide." Your visitors can't help but scroll down the page line by line until, ultimately, they're led to your call to action.
You can apply this concept to every piece of your marketing funnel.
For example, if you're sending an email about a new product, the purpose of the subject line is not to get your recipients to immediately buy the product. It's to get them to open the email.
In the same way, the objective of your email is not to get them to immediately purchase your product. It's to get them to click through to your sales page.
When you start assigning each piece its own unique objective, writing copy becomes much easier.
8. Utilize affiliate partnerships.
Let's be honest — if it weren't for Old Man Marley, alleged South Bend Shovel Slayer and neighborhood mummifier, Kevin McCallister would be fingerless (and the end of Home Alone would have been REALLY dark).
At the end of the day, no matter how much you optimize your website, two is always better than one. That's what makes having an affiliate partnership program so valuable.
Instead of depending solely on your own marketing efforts, a partnership program allows you to expand your reach exponentially.
At LeadPages™, for example, we invite all Pro and Enterprise customers to join our affiliate program. This gives them a unique link they can use to recommend LeadPages™ to their friends and followers. For every sale their link generates, they receive 30% recurring commissions for the life of the customer.
Our affiliate program has been a key ingredient in the strategy that's allowed us to grow from zero to 30,000+ customers in just two years.
For a step-by-step deep dive into setting up an affiliate program, check out this post from Conversion XL: "How to Use Affiliate Marketing & Get Other People to Sell Your Stuff for You."
If you're looking for a good home for your affiliate program, I'd also recommend checking out the Affiliate Minisite landing page template we use for our own program at LeadPages™.
You can use this page to get people to sign up for your affiliate program and to provide existing affiliates with free promotional resources (which is way easier than helping them mend a relationship with their estranged son).
Unleash Your Inner Kevin McCallister
While many find Home Alone to be a holiday classic, I consider it more of a masterclass in digital marketing. This post has just scratched the surface of the wealth of optimization knowledge it contains, so tell me — what has Kevin McCallister taught you about marketing?
Oh, and before I forget…one last tip:
Don't force your visitors to dress like a chicken.
Just…just don't.
Reminder: Don't forget to download your copy of the Kevin McCallister infographic before you go.