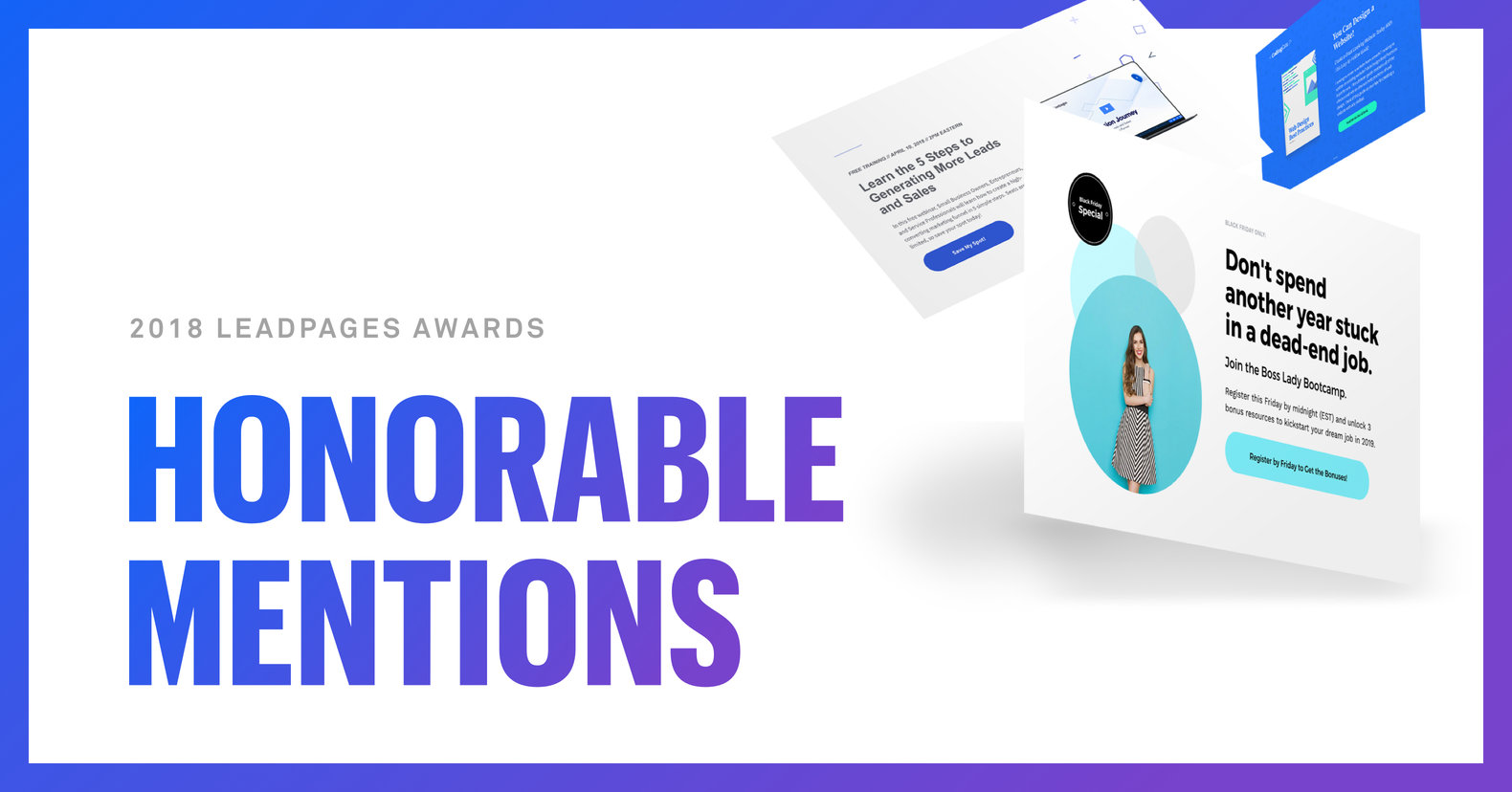 As you might have heard, Leadpages hosted our first ever Leadpages Awards. We called for submissions and received more than 500 entries from dozens of industries all over the world. We then announced our top five winners and revealed what exactly made their landing pages great.
Now, it's time to talk about all the phenomenal pages that ranked among the best. In this article, we'll analyze what they did well—and reveal what lessons you can easily apply to your own small business' digital marketing.
2018 Leadpages Awards Honorable Mentions
"Bali Retreat Waitlist Signup" Event Page
By Abhinav Soni
Manifestation Babe
Click here to see this sleek and fun event signup page.
What about this page makes us want to signup for this retreat in Bali so badly?
Visuals:

Engage with images and videos.

This page is chock full of gorgeous pictures of smiling faces, beautiful resorts, free goodies, and scrumptious food. The page also includes not one but

three

videos about the retreat that engage the visitor on a deeper level. These images are the windows into the experience, and they're a critical part to converting leads into event attendees.

Information:

Give them as many details as they need.

This page isn't all visuals. There's also a lot of information, so women know exactly what they'd be getting from this retreat. The more information the page provides, the more legitimacy the brand establishes—which allows their visitors to trust them and see if signing up for this event is right for them.

Branded Design:

Brand, brand, and brand again.

Everything about this page is branded, from the color scheme to the fonts to the design flow. Even the call to action buttons are highly branded with, "Omg! Take me now!" This event is all about attracting a target audience who believes in the power of this community, so consistent and prevalent branding is key to getting them to signup. Learn how to create a

brand identity here

.
"10 Actionable Tips" Basic Squeeze Page
By Kate Roseth
Founder, Yogabranches
Check out Yogabranches' conversion-worthy squeeze page here.
What makes this above-the-fold page so great?
Branded Design:

Use branded design to lead your visitors to take action.

The page is simple, clear, and easy to follow, and it immediately directs the visitor to the call to action (CTA). The contrast of the white and pink amplifies the main points of conversion, pushing a prospect to one action and one action only: get the 10 tips. The Yogabranches brand is presented through the page's design, both in the repetition of the logo as well as the color scheme and clean aesthetic.

Product Mockup:

Create a prototype of your digital file lead magnet.

Even though this downloadable isn't a physical product, Kate uses a digital mockup to show off the title page of the PDF downloadable. This makes the 10 tips magnet look more professional and high-value, which is more likely to attract downloads. Product mockups are key to conversion!

Problem Solver:

Show how you solve your customer's problems.

The three bullet points are the main (and only) copy on the page, so they have to pack a punch. Each bullet point specifically addresses a concern that a home yogi might have, so the visitor can be certain this downloadable will help them solve their pain points effectively.
"Try Notgrass History With Your Child" Free Download Page
By John Notgrass
Notgrass History
See the long-form landing page here.
How does Notgrass History transform a long page into an approachable lead magnet?
Social Proof:

Use social proof to demonstrate your value.

One of the first things you see on this page is a testimonial from a client who believes in the power of Notgrass. They sprinkle testimonials throughout the page, so the visitor consistently sees positive feedback. The endorsements are simple and straightforward, which adds value without being too intrusive. Notgrass ends with a slide bar of star reviews from thrilled parents and customers to bookend the page with social proof.

Problem Solver:

Be direct about how you'll solve their pain points.

This landing page plainly points out the problems homeschool parents face—and then it provides a solution! In fact, the page content is literally broken up into "the problem" and "the solution." When you acknowledge and solve a customer's pain point, they'll be ready and eager to convert.

CTA Design:

Keep the design of the call to action consistent.

Although they have multiple calls to action on the page, each CTA button is the same distinct orange color. Nothing else on the page is that color. This instantly conditions the visitor to notice the contrasting CTA whenever they see the bright orange button pop up. This "color conditioning" is more likely to lead to a conversion for a free download or to start shopping.
"New Moon Love Letters" Email Signup Page
By Iréne de Brice
PuraPrana
Check out Iréne's inspiringly creative subscription landing page here.
What can we learn about creating from this artistic email signup page?
Problem Solver;

Make it easy to solve their problems.

This landing page quickly delves into the "experience of creative self-care" by discussing how to live life away from the bustle of everyday pressures. We love how she invites the visitor to "step into our circle" and then provides four icons that reveal the four main reasons that subscribing will benefit them.

Sample:

Give a peek into what your offering.

This landing page actually has a subtle blurb that gives an idea what the email subscription would look like. The quote from Plato talks about the importance of art and creativity, which reminds the visitor why they should indulge the artistic side of them. This Plato quote also stimulates an emotional response that is more likely to get the visitor to signup.

About:

Be open about yourself.

In this case, Iréne is at the heart of her business and the emails. So including an "about" section helps her connect more intimately with her audience while also establishing her own legitimacy.
"Stop Wasting Money On Marketing Live Workshop" Event Page
SeeSharp Group
See how SeeSharp is securing spots in their live workshop here.
What do we absolutely adore about this page?
CTA Consistency:

Put your CTA button everywhere

.

Not only are all of their CTA buttons purple and pronounced, but they also use a CTA in every section of their landing page. They encourage you to "secure a spot" above the fold, and then they have five other "register" buttons throughout. This ensures that no matter where on the page their visitor makes the decision to convert, there's a CTA button poised to take their info.

Urgency:

Instill a sense of urgency.

Exclusivity and urgency are the two keys to unlock conversions. If your visitors click away from the page for any reason, you could lose them forever. But if you make them feel like this offering is the best they will get

and

it won't last long, they're more likely to convert here and now.

Visuals:

Incorporate graphics.

This page uses clear, simple graphics and photos to get their ideas across. They seamlessly blend the visual with the written to create a smooth, professional page. Remember that graphics direct your customers through the page towards conversion.
"Take On The Stock Market" Squeeze Page
By Arshad Hasnain
Phoenix Auditing
See how this page launches their leads generation.
How do they make the stock market approachable with this squeeze page?
Information:

Give the Goldilocks of information.

This page is not too short and not too long. It gives just the right amount of info needed in order to make a conversion decision. They explain the benefits of signing up, but they don't overload with a lot of facts and figures at this point in

the marketing campaign

. Right now, they're just looking for leads, so they give the info that gets people interested without feeling overwhelmed or lost.

Social Proof:

Make your social proof unique.

Testimonials are the fulcrum of any good landing page. But what we especially love about these testimonials is that they're

screenshots

from real clients who've seen success with Phoenix. These images show a level of authenticity that makes the social proof more believable and engaging—and makes the visitor want the same results for themselves. Learn

how to get customer feedback for your testimonials here

.

Theme

: Have a theme.

We love that this landing page actually has a "theme" alongside Phoenix's branding. They're using the idea of launching a rocket into space to reflect growing your bank account with their stock moves. This storytelling creates a through-line that leads visitors toward the conversion in order to get to the next chapter of the story.
"Get Your Field Guide To Local SEO" Lead Magnet Page
By Brandon Wright
Thoughtlab
You can find this high-converting lead magnet page here.
See some of the many reasons we love this page:
Value:

Tell them what's inside

.

If you're offering a lead magnet, you want to tell the visitor exactly what value they'll receive from downloading. Thoughtlab's page shows exactly what the prospect will gain from this guide. This specificity helps visitors acknowledge the value and make the conversion.

Social Proof:

Use different types of social proof.

This page has two different types of social proof: client logos and testimonials. First, they show the big names they work for, which establishes credibility and legitimacy. Then, they give you two detailed reviews that illuminate what makes Thoughtlab so unique. Keep in mind that both types include eye-catching visuals, like the client logos and testimonial pictures.

Design:

Be contrasting.

The majority of their page uses subdued colors and designs aligned with the Thoughtlab brand. But then you get to the end of the page and you're shocked with a yellow call to action to get the guide. This bold, unexpected section is likely to grab attention and draw clicks to the "download now" button.
"3 Workouts A Week" Membership Signup Page
By Jenna Taylor
Fitness Balanced
How is this fitness studio using a landing page to get new members knocking down their door?
Images:

Use real-life pictures.

Research shows that people respond to real faces and people more than stock photos, so use pictures from your own business. We love that Fitness Balanced shows photos of their clients in their studio to create an authentic, genuine feel. This helps visitors picture themselves in the studio, because they see firsthand other women like them putting in the work too.

CTA Copy:

Vary your call to action copy.

This page has four CTA buttons, each encouraging visitors to sign up for a monthly membership. Each button is consistent in color, but they use different wording to engage and attract visitors. The different content keeps the reader intrigued and ready to convert without feeling like they're being overly forced into action.

Social Proof:

Use testimonials to provide solutions.

We often discuss how your landing page should present a solution to your customer's pain point. We love that this landing page shows these solutions

within

their client testimonials. New visitors want to attain this kind of strength and weight loss, so it's encouraging to see that there are other women who have already proven that Fitness Balanced works.
"Tool List" Squeeze Page
By Nikolay Velikov
The Weekend Woodworker
Check out this clean, one-pager lead magnet here.
How does such a simple page see such high success?
Problem Solver:

Focus on solving just one problem.

This landing page narrows in on just one specific pain point of the audience: the expense of woodworking. Within the lead magnet itself, he emphasizes that he's showing the most affordable tools and how you can use them to get your projects done. This specificity attracts a definitive audience looking to make their hobby less expensive. When they find this page, it directly meets their major pain point, so it's an obvious choice for them to get the tool list.

Simplicity:

Keep it as simple as possible.

This is a very short-form content page—and it works well! Visitors want this list, and there aren't high stakes to getting it (just putting in their info). So you don't need a long explanation about what it is or what's inside. They know they'll get a list of affordable woodworking tools, which solves their problem, and that's all they need to know. For low-barrier lead magnets, the more concise the page, the higher the chance of conversion.

Images:

Show your face.

The background of this page is a professional, artistic photo of the weekend woodworker himself in his den. This image attracts and engages a viewer who wants to identify with this kind of lifestyle and can picture themselves there, surrounded by tools and wood. The backbone of this page is the image of the

lifestyle

you can create after downloading this tool list.
"Install Drip Workflow" Subscription Management Page
By Anil Agrawal
Agrawal Leadership
Do you know what your visitors want? This landing page does!
Headline:

Start with a question.

This landing page asks the question that's on the visitors mind, and then it immediately presents the answer with their workflow. Start with a question that your landing page will answer—and that your call to action will resolve.

Sample:

Show how it works.

This landing page is basically a how-to of using the downloadable workflow. This shows how easy it is to use and also the value the visitor will get from it. The long-form content engages the visitor by demonstrating the technical details that make the difference and sets this downloadable apart from their competition.

Audience:

Know your audience.

We like that this landing page bookends with the same question, answer, and call to action. They also maintain a consistent design and format as you move down the page. This cohesiveness and uniformity is likely to attract a more technical audience—which is who this page is targeting. Compare this to the Puraprana page for example, which was directed at a creative audience so it had more words, flow, and visuals.
"Flip It Email Course" Email Capture Page
By Barbi Honeycutt
Flip It Consulting
CTA Options:

Consider adding supplemental CTAs.

In most cases, we recommend sticking to one call to action per landing page to avoid confusing the visitor. But we love what Barbi does here. She has one primary CTA to sign up for the email course, but she also includes a small section with additional resources. This encourages visitors to see her blog, get a free whitepaper, or buy her books. If a visitor isn't interested in her email course, she offers other actionable options for engagement and advancement down her funnel. This helps capture more leads that would otherwise be lost if they didn't want the email course.

Social Networking:

Include a social aspect.

There is a social networking bar in the footer of the landing page. Most visitors want to do research on a brand before engaging further. A social bar directs visitors to applicable spots to learn and engage more, like LinkedIn and YouTube. Clicking on these icons opens up a new tap so they don't their place on the landing page—make it easy to come back and convert after doing more research.

Visuals:

Visualize the difference.

When we land on this page, the first thing we notice is the picture of the smiling women at the top. As you scroll down, the picture of the two classrooms also stands out: the first is sad and bored and the Flipped one is happy and engaged. This kind of visualization of the change from before to after the service is a stimulating way to

show

, not just tell, visual learners the benefits of your business.
"Signup For Launch Pass" Signup Page
By Drew Small
Up Here Radio
What makes this simple page so striking?
Design:

Use white space.

This landing page is easy to navigate because it's primarily whitespace. They use professional, aesthetic images to show the benefits of their radio station, supplemented by concise blurbs that give more information. When it comes to a low-barrier signup page, less is more.

Benefits:

List the benefits.

Up Here does a great job clearly establishing the benefits of their station. With four clear graphics, a bold title, and a quick write-up, a visitor can instantly see what makes Up Here "a better way to listen." Always remember to show how you solve the customer's pain point better than your competitors do.

Social Networking

: Use the social aspect.

Don't include social buttons for the sake of it, but this landing page knows its audience. The people listening to their radio station are looking for a community of like-minded worshippers, so they'd be drawn to the social networking that Up Here fosters.
"9 Tips To Save A Child's Life" Opt-in Page
By Donna DeCosta
Food ASC
See this straightforward conversion powerhouse page here.
What does this page do well?
Problem Solver:

Ask and answer the question.

The question for the parents coming to this page is, "How do I keep my child safe?" This landing page directly asks that question and then answers it—with the PDF. Being direct about the problem and solution is the strongest way to connect with your audience.

Benefits:

List the benefits.

Another straightforward move on this opt-in page is listing the benefits of the PDF. Donna explains that the PDF will have three major goals and resolutions that will make your life (and your child's life) better. There's no waste of words or space on this page—just the question, the solution, and the reason you need this downloadable.

Immediacy:

Make it immediate.

You'll notice the use of the phrase, "instant access." Visitors want instant gratification when they download or interact with a lead magnet. If a visitor knows they don't have to wait for the content they're looking for, they're more likely to opt-in right away. The more immediate the content, the more immediate the signup.
"The Power of Gen C Research" Report Download Page
By Babang Witoyo
Bubu Research
How is this page encouraging downloads and generating leads?
Audience:

Speak their language.

This landing page offers two of the same lead magnet: one in English and one in Bhs Indonesia. This attracts multiple target audiences, while also showing the brand's versatility and consumer range to visitors. Don't be afraid to get creative in order to market to multiple demographics.

Product Mockup:

Show a product mockup.

They create a mockup of what their digital data sheet looks like, so it feels more like a legitimate product that people are downloading. They show this mockup next to a description of the downloadable, so visitors know what kind of quality, high-value product they're getting.

Sneak Peek:

Use a statistic.

This page includes a statistic about their downloadable that proves the relevance and importance of the content. A statistic or quote can pique a reader's interest, so they'll want to download and learn more about that info.
"Over The Bridge Retreat" Event Signup Page
By Mary Kay Cocharo
Mary Kay Cocharo, The Couples Therapist
Information:

Give the right amount of details.

This long-form content works perfectly for this event because it provides all of the info a couple needs to decide if this retreat is right for them. A longer form landing page is necessary in this case because of the depth of the commitment and the cost of the product. A free download or low-cost product wouldn't need as much space to convince the visitor.

Exclusivity:

Instill a sense of exclusivity.

The landing page reveals that only five couples are allowed on the retreat, so you want to "reserve your spot" now ("act quickly'). Exclusivity and urgency will encourage your visitors to make a faster decision, which can lead to a higher conversion rate.

Social Proof:

Never forget the testimonials.

The reviews of former clients are one of the most important parts of any landing page. These prove to your visitor that you are legitimate and credible, but also that you provide the results that you promise to. This landing page uses testimonials with beautiful, heartfelt language to pierce into the romantic audience who have landed on this page.

Now it's your turn!
Which of these landing pages was your favorite? What will you take with you as you create your Leadpages landing page?
Tell us in the comments section below!