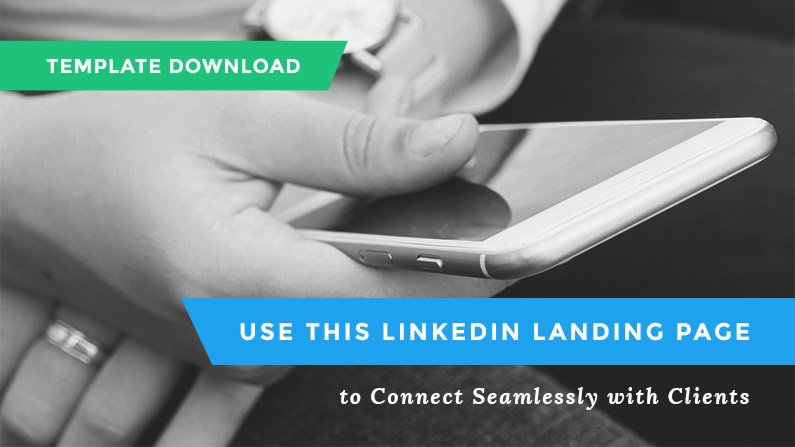 Everyone knows LinkedIn can be a good venue for professional networking. Does that also make it a good venue for marketing? In LinkedIn's own words:
"The professional mindset is aspirational. In other words, members are thinking about how to achieve their ambitions and further their careers. As a result, our members are highly receptive to advertising, content, and experiences that can help make them more knowledgeable and, ultimately, more successful."
This perspective—along with LinkedIn's 100 million unique visitors per month—makes a compelling case that, if your business has anything to do with professional success, LinkedIn is worth trying as a marketing channel.
It's true that, as a marketing platform, LinkedIn doesn't have quite the same reputation yet as Facebook or even Twitter. But if used correctly, it can get your message to an extremely targeted group of people—especially if you're in a B2B industry.
You can start by posting (free) Facebook-style updates from your business account, then move on to paid options: boosting the reach of your existing updates, running sidebar ads, or even sending direct, in-app sponsored messages.
Of course, whenever you adopt a new marketing channel, you need to think about where you'll direct that new traffic. And that's why we've created our newest landing page template: the LinkedIn Landing Page. Check it out here, then download your free copy below:


If you're a Leadpages member, you don't need to download this template—it's waiting for you inside your account. If you're not a Leadpages member, you'll want to unzip the files and edit the code to work for your business (or pass them along to your web developer).
We think this is a good-looking page, but there's more to it than a pretty face. Here's a closer look at some of the ingredients that went into its design.
A LinkedIn-compatible look
As a major website, LinkedIn carries with it some tacit authority. The goal when your visitors click through to this page from a LinkedIn post or ad is not to trick them into thinking they're still on LinkedIn, but to make the transition a smooth one.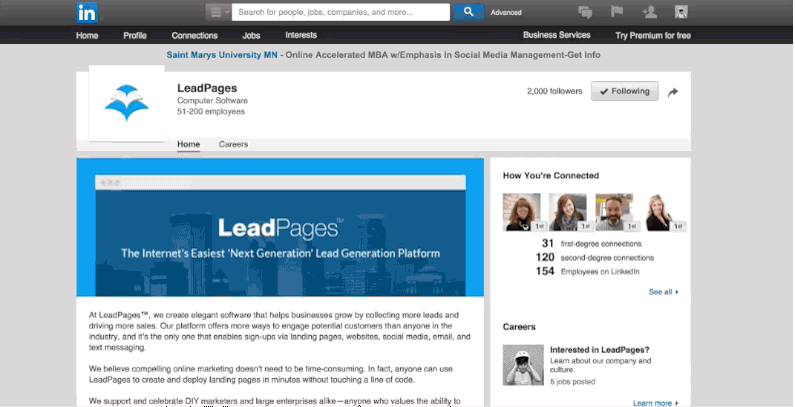 That starts with the header bar, with its familiar trifecta of small logo, company name, and right-aligned call-to-action button (corresponding to the "Follow" or "Connect" button on a LinkedIn page) …


… and continues through the understated layout and color scheme.
But this page also lets you present a fuller picture of yourself than your LinkedIn page can. Here's how:
Lots of calls to action
Unless you're visiting as a job seeker, there's not usually a ton you can do on a company's LinkedIn page. You can follow them, of course, but to engage further you'll probably have to leave the site.
For that reason, when visitors do click through to your landing page, you want to make it as easy as possible for them to take advantage of what you're offering—whether it's a free report, a free estimate, or a free consultation. If you use all the default sections in this template, you'll have no fewer than 10 buttons for your call to action.
While you could make these 10 buttons trigger 10 different links or LeadBoxes®, we'd actually recommend using all of them for the same call to action. (That would be whatever step you've determined your prospects should take based on whom you're targeting in LinkedIn.) If visitors reach the bottom of the page without acting, you can present them with other options at that point via a small navigation menu at the bottom.
Flexible content sections
You have lots of photo and text fields on this template, so you can easily add and switch out content that makes sense for your audience. That lets you make the most of LinkedIn's targeting capabilities, which are extensive: you can display ads to people based on the information in their (often extremely detailed) profiles, the groups they join, how active they are on the platform, and even their first-degree connections.
Video section
A profile photo doesn't necessarily present a clear picture of your business. This template lets you expand on that first impression with a large video field.
What kind of video should you use on a page like this? You might try filming a simple personal introduction, or get more ambitious with a video portfolio, testimonials reel, or behind-the-scenes look at your business. (Of course, you can simply hide it if you don't have a video available.)
Social proof


A counterpart to the Recommendations feature on LinkedIn, this section helps you expand visitors' view of your skills and credentials. Use these text and photo fields to highlight your very strongest customer testimonials, or even endorsements from influential figures in your field.
We're sure that's just the beginning of what our community of creative marketers will do with this new template. Have you tried marketing on LinkedIn? Tell us how it went in the comments?