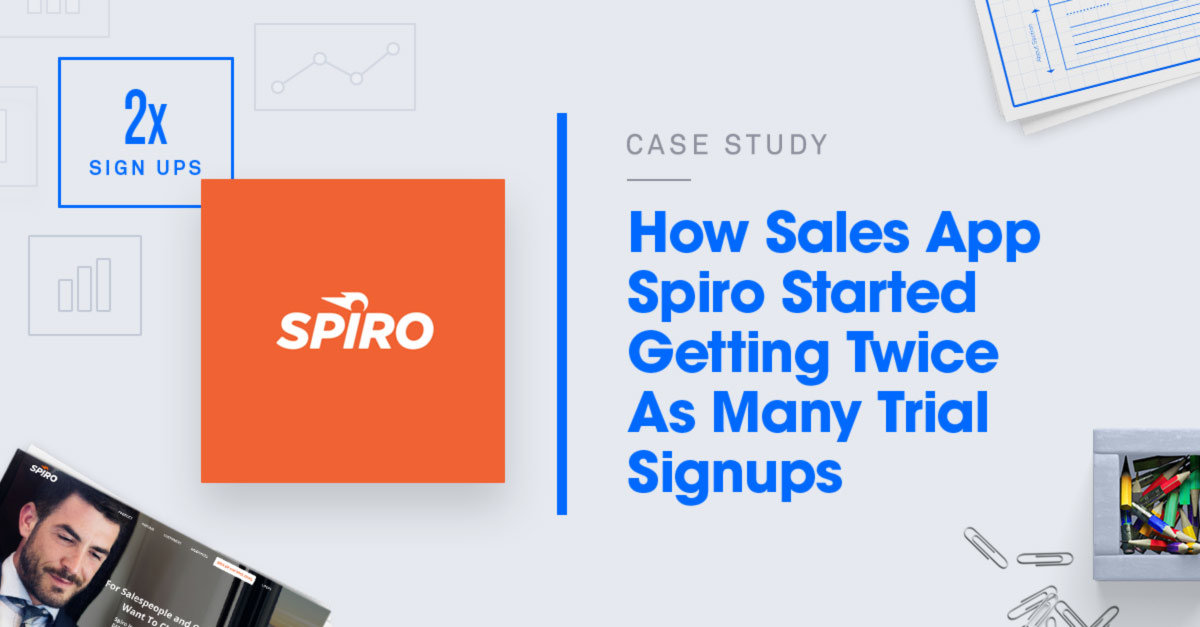 Adam Honig spends much of his time and energy at the point where marketing automation and human sales talent meet.
He's the cofounder and CEO of Spiro, an app that helps salespeople close more deals by automatically feeding them opportunities from their inboxes and calendars. That way, they spend more time talking to prospects and less time struggling with their CRM.
When you're in the SaaS business yourself, you're not going to settle for sales and marketing software that's anything but elegant and effective. Adam has made a habit of seeking out powerful digital marketing tools and using them to build on Spiro's success month after month.
The Spiro story
Spiro's origin story involves a lot of Salesforce and a little bit of Scarlett Johansson.
Before founding Spiro, Adam ran a company that did CRM consulting. It was good money, but Adam eventually found it draining. He was helping hundreds of thousands of salespeople learn to use a tool they ultimately just didn't enjoy using. "It would just take, it wouldn't give anything back," he said. "It would just suck data out of them, all of the reports were for management, and nobody got a lot of value out of it."
Then, in 2013, a certain film came out. As Adam put it:
"Along the way, I saw the movie Her. And I was like, 'God, that's exactly what salespeople need!' So we set out to build an AI-powered sales assistant that would do all the data entry, give them recommendations about who they should call, who they should email when, and do it in a very funny and engaging way."
The artificially intelligent being voiced by Scarlett Johansson became a model for Spiro: an ultra-organized but always charmingly humanesque helper to keep salespeople on track.
"Our focus is on B2B sales organizations that are typically dealing with a decent number of customers and prospects throughout the week—really too many to keep in mind," said Adam. Today, Spiro serves mainly midsize companies with 100–1,000 employees.
As for Spiro's own team, it's as lean as you might expect from a SaaS startup: just 15 employees so far, only one of whom, Ali G., is dedicated to marketing besides Adam. So, he said, "We do all the marketing—the website, the landing pages, the lead magnets, everything that we do."
When you're operating with such a small crew, it's imperative to develop effective marketing tactics you can deploy over and over again at top speed. One of those tactics is the content upgrade.
Spiro's success with pop-ups: serious content marketing with serious results
Spiro has been using Leadpages for only a couple of months, but in that time they've already used it to collect well over 500 leads. So far, that's thanks to just one of the platform's lead-capture tools: pop-ups.
Before signing up for Leadpages, Spiro had already mastered one crucial element of content marketing: publishing stuff that its target audience wanted to read and share.
"We publish two or three blog posts a week about sales topics—you know, very academic topics, like why everyone should date a salesperson or why you don't want to destroy your career on LinkedIn. Very heady stuff," Adam laughed. "Our posts typically get shared on social media 2,000–3,000 times, so they generate a decent amount of traffic."
Many of those blog readers signed up for blog updates, but they weren't necessarily being drawn deeper into the Spiro's marketing funnel. With Leadboxes, the Spiro team saw an opportunity to change that: they'd simply attach a relevant content upgrade to each blog post and use a Leadbox to get people to opt in. Adam focused on creating very practical content for his busy audience, such as "a cheat sheet you can put in your cube to remind yourself when you're on the phone with customers."
Here's an example from a recent post on the Spiro blog:
After people opt in, they're taken to a custom thank-you page that invites them to start a free trial of Spiro right then and there:
At the same time, they'll automatically get an email from MailChimp …
… containing a link to the promised PDF:
Anyone who uses the content upgrade technique regularly will recognize this sequence. But at this point, Spiro goes above and beyond ordinary best practices to deeply engage their new audience. Adam explained:
"So they'll get the email with the link to the PDF of additional content that they can download, and in that email and two additional emails, we'll be providing additional commentary on the content—like an anecdote, or a question I might have been asking myself prior to a call, or some feedback from a reader who might have had some kind of story about it. We'll typically do a three- or four-email cadence off of each piece of content."
Each of these emails includes a subtle sales pitch in the postscript—usually a push to sign up for a free trial or set up a time to talk. Then, said Adam, "typically the last email will be more direct: Hey, we really hope you've enjoyed what we've been sending you. We'd really like to know if you're interested … Often, we get results from that."
Exactly how well has it worked? "We've basically seen the rate at which people organically sign up for free trials double," Adam said. "It's hard work, don't get me wrong. I mean, every week, we're producing three bits of additional content, and then a custom email cadence for each one—it does take a lot of time."
But the payoff is worth it. Spiro gets web traffic from all over, including audiences like:
Sales-related groups on LinkedIn and Facebook
People who encounter Spiro at face-to-face meetups they've sponsored
Active and growing Twitter, Facebook, and Instagram presences
Blog exchanges with other companies (even competitors if the opportunity is right, Adam said)
Emails to Spiro's email list of 35,000 contacts
By making sure every one of these visitors gets a chance to opt into a Leadbox, Spiro can convert what's mostly free organic traffic into leads, trial signups, and customers.
What's next for Spiro
The content upgrade strategy has been so successful that the team's now planning to retrofit the content they produced before using Leadboxes. "We've been in business a little over two years, and we've published over 300 blogs," says Adam. "So now we want to go back and put lead magnets on all of them, starting with the most popular ones first." Other lead-generating content types, such as quizzes, are also on the agenda.
Now that Spiro has a solid automated marketing strategy in place, the team also has room to consider more hands-on sales methods, akin to the ones its customer base uses every day. "We've started becoming much more aggressive about engaging people in conversations," Adam says:
"We're starting to see bigger opportunities by talking with managers and sales executives in addition to individual salespeople. We're experimenting with a whole bunch of different techniques to automate meetings with people, from landing pages with certain messages on them to exit-intent popups. We're trying to do some segmentation on the site and funnel people different ways—whatever we can think of to increase the top of the pipeline and convert more down the funnel."
That's the nice thing about implementing tools as simple and powerful as Leadboxes®: when your content marketing is working for you 24/7, you find the freedom to seek out the next big sales strategy and strike up bigger conversations.
Lead generation for SaaS: lessons from Spiro
One lesson from Spiro's story is obvious: if your SaaS or B2B company has a blog, you're leaving money on the table if you ignore the content-upgrade strategy. If you're trying to make incremental gains by fine-tuning your existing lead-generation strategy, you might also consider borrowing Spiro's customized welcome-email cadence. (A lightweight email automation tool like Drip will easily handle this functionality if your current email platform makes this too complicated.)
There are a couple of other things marketers of all stripes should take away from Spiro's experience.
Find tools that work right out of the box and adjust only what you need to. It's easy to get sucked down the rabbit hole of customization and fancy design. And if you truly have the time for it, that's great. Otherwise, stick to proven templates. "I don't think we've edited the default Leadbox template except to add our custom colors," said Adam. "We don't need to do a lot of testing, because it seems to be working really well." A 50%–55% conversion rate is standard for Spiro's most popular lead magnets. Creating your content may take work, but getting it into leads' hands shouldn't.
Market for the whole customer relationship, not just for quick sales. While Spiro's paid advertising typically promotes direct trial signups, they've found that organic channels perform best when they focus on starting a relationship instead of simply making a direct pitch. Adam said:
"From our perspective, content is still king. I feel like there's a little bit of pushback on the whole inbound marketing thing, because some people are not being super successful at it. But the whole thing for us is producing something that people are interested in, and then they're going to be here and they're going to be happy to sign up and develop a relationship with you. So I'm definitely a big believer in it."
Struggling to come up with content upgrades for your own business? Talk to us in the comments—we'd be happy to help.