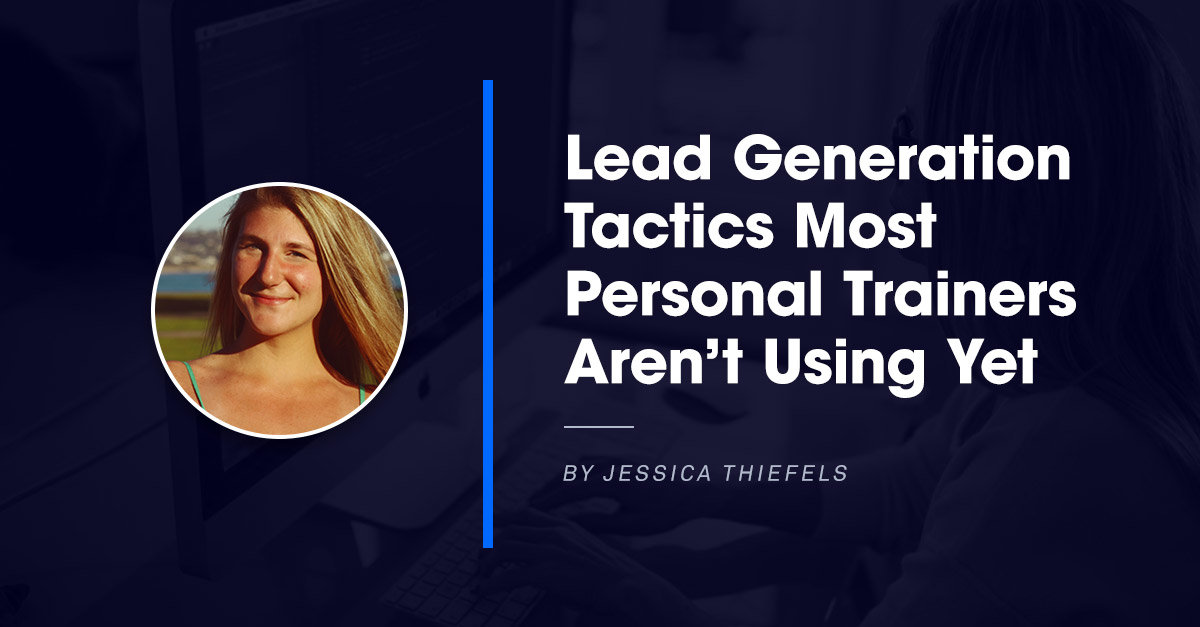 Editor's Note: This week's guest post comes to us from Jessica Thiefels, owner of personal training business Honest Body Fitness. In addition to being an ACE Certified Personal Trainer and NASM Certified Fitness Nutrition specialist, Jessica is an experienced content marketing consultant who helps other businesses teach more people to love what their bodies can do. Today, she's sharing the lead-generation tactics she sees working for fitness pros right now—once those fitness pros know to use them.
A good website is a must for personal trainers and other fitness pros. But it won't drive very many leads on its own—especially in its infancy before you've built a large following or brand.
In those early weeks and months, you need to do everything you can to turn as much of your site traffic as possible into leads for your business.
Why bother with lead generation when what you ultimately need is clients?
Because if you don't, you're missing a major chance to engage with an interested audience.
The first time someone arrives at your personal training site, they might be in exploration mode. They're thinking about starting a fitness plan in the future, looking at the local options, maybe even doing some comparison shopping.
But if your site is like too many fitness sites I've seen, it gives those people just one or two options: book a session or potentially fill out a vague, generic "contact us" form. And since they're not quite ready to book a session and don't have anything particular to say via the contact form, they leave without ever connecting with you.
Maybe they'll find their way back, maybe not. Maybe a competitor who's serious about lead gen will scoop them up first.
Today I want to show you three of my favorite lead-driving techniques to help you get more personal training clients while building your authority and your audience at the same time.
1. Give blog visitors a warm welcome
When I started using dropdown ads on a blog that I manage, I didn't expect to see the results that I did. In fact, I thought that it would annoy our readers more than anything.
Quite the contrary, it ended up being one of the highest-converting ad opportunities we were using to drive leads, second only to our Facebook ads in terms of lead quantity. In the past year our various dropdown ads have driven 16K clicks and 2,500+ leads.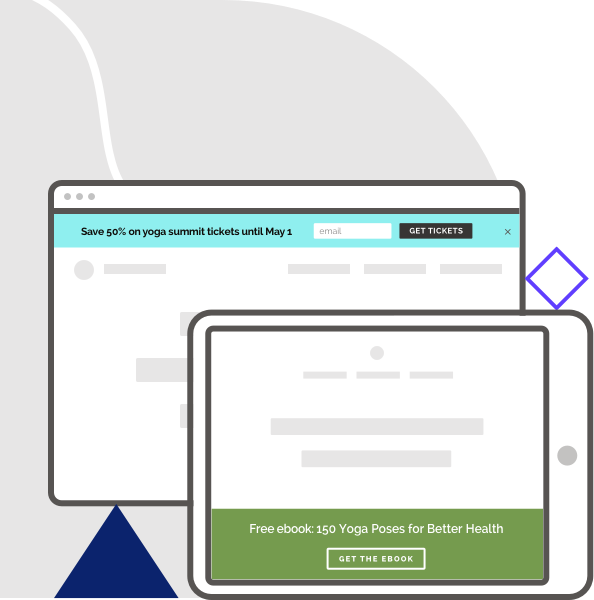 Capture attention and boost conversions with alert bars
Draw attention without drawing your visitors away from the primary content on a page.
To facilitate this, you can use Leadpages alert bars! You can try different widget styles to see what works for you, such as page takeover, which stretches the width of your site.
In just 9 months, I've collected more than 780 emails thanks to a small bar-style subscriber popup that floats at the top of the blog. These subscribers get a monthly digest of content from the blog, which ends up being one of the top traffic drivers each month. And, of course, we can also advertise products in these emails to make sales directly.
Once you're up and running, you can fine-tune the text, imagery, and colors you use in your welcome widgets to see what gets best. One tip I learned the hard way: always remember to preview your banner or dropdown on your phone. For example, I once discovered that the "x" to close a page-takeover ad wasn't clickable on mobile, and I ended up getting a number of comments on our Facebook page about it. I didn't even think to check mobile, assuming it would work the same as on desktop. Lesson learned.
If you find that visitors just aren't responding to the above lead-capture options, there is another option: try implementing a lead magnet on the front page of your blog. You can turn any Leadpages landing page into a welcome screen for your blog, like this:
Once someone opts in, you can take this one step further and set your targeted consultation signup page as your thank you or confirmation page.
2. Gated or opt-in only content
Gated content requires visitors to enter their information—email, name, phone number, depending on what you want to include—to access bonus content, such as a webinar, ebook, or PDF that you've created. This is great way to drive high-quality leads because someone who enters their email and information for a download is likely very interested in the topic, and therefore your service or product. You're likely to get only serious prospects.
As a personal trainer, you could create and gate specific workouts or training plans. Many popular Instagram fitness stars have built their business on lead generation tactics like this, including Kayla Itsines. While her brand has grown exponentially in just a few short years, and she now charges for most ebooks and online programs, she still offers "free" content like this 7 Free Days of My Bikini Body Guide offer. To access it, readers must enter their email address and name.
Itsines is famous for her bikini body guide, and she's using that to her advantage with this gated content. Consider what you're known for if you've built a brand via your blog or social media, and create a program based on that. You can either use the gated-content strategy above or use Leadpages' built-in Lead Magnet Delivery feature to email your new lead the bonus resource automatically.
The great thing about this tactic is that you reach potential clients while building their trust in you and their brand. If they love your "30-Day Summer Slim Down" and see great results, they're more likely to come back to you.
3. Multiple CTA buttons
You never want potential leads to have to search for your call to action (CTA)—you want it to be readily available so when they're ready to click, there's no friction, causing them to leave your site and go to another.
To make this possible, place multiple CTAs throughout your landing pages, home page, and blog. There are many theories, case studies, and A/B tests suggesting different ideal CTA button placements, but there's really just one big rule: your buttons should appear wherever your page visitors feel ready to make a decision. (Check out this roundup of CTA A/B tests from Econsultancy to see how this plays out.)
That point will be different for different people, depending on what they already know about you, so you'll want to include at least two CTA buttons on any action-oriented page that's longer than a single fold. For example, on my Programs page, I include a button to schedule a consultation in my header for super-eager clients and then again at the bottom of my sample 5-week program, after visitors have absorbed the details they need to know to decide whether to consult with me:
Keep these details in mind as you look for the best placement for your CTAs, whether they're clicking through to gated content, a landing page, or a free consultation. Don't forget to make your CTA button stick out, with eye-catching colors (that are still on-brand for you), and clear and specific text, such as "Request Your Free Consult." This is especially important on pages that outline your program options and services.
Don't miss out on potentially valuable leads by forgetting a CTA or not using lead-driving tactics to entice visitors! Use these tips to take advantage of every person that comes to your website, allowing you to get more clients and build a large subscriber base.
Are you a fitness professional? What lead generation tactics are working for you right now? Tell us in the comments.