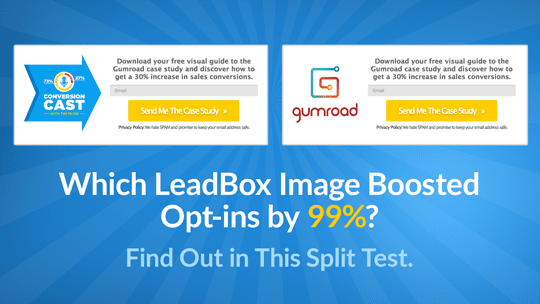 For today's split test, we're pulling back the curtain and revealing the results from one of our own split tests here at LeadPages.
This split test comes from Tim Paige — beloved bearded guy here at LeadPages and the voice of LeadPages official podcast, ConversionCast.
You should know that Tim is a true split test devotee. He literally split tests every single landing page and LeadBox on the ConversionCast blog.
That includes the LeadBoxes split test that you see below.
For this split test, Tim designed two LeadBoxes — one with the logo of a recent ConversionCast guest, Gumroad and the other with a blue ConversionCast arrow.
One of these two images boosted opt-ins in this LeadBox split test by 99%.
Let's take a look at the two LeadBoxes below, and see if you can out-predict a man who swims in these split tests all day long.


Tim's Surprising Results
The winner (by a very clear margin) was the ConversionCast Arrow.
Tim accurately predicted that the arrow design would win, but the margin by which it did took him by surprise.
We'll get into the specifics of the results in a moment, but first here's how Tim explained the test:
"My hypothesis was that the variation would win out, simply because in previous tests I've found that arrows tend to out convert most images I've used.
"The vast majority of the traffic to this LeadBox came as a result of people listening to the episode on iTunes and then wanting to see screenshots from the split test. We do get some organic traffic, but most of it is from the podcast."
How did your predictions stack up against Tim's? Why do you think the ConversionCast arrow won with such a large margin? Let me know in the comments below.

The winning LeadBox with the ConversionCast arrow grabbed an impressive conversion rate of

59%

. That's nearly double the

29%

conversion rate of the Gumroad image.
Crunching the numbers, the probability of the arrow improving upon the Gumroad's logo works out to 95.83%.
In split testing, anything over 95% is generally considered to be very strong evidence that one version has outperformed another.
Testing Your Own LeadBox
Thanks again to Tim Paige for sharing this test with us.
In this example, Tim tested the how two graphics impacted his result. Keep in mind that split testing can be used to generate results for almost any design question you have.
This includes changes to the copy, background image, header, LeadBoxes and more.
Check out the video below for a further explanation of LeadBoxes and how you can split test them on your own site by Neil Patel.
One of the coolest parts about LeadBoxes is that they available to all LeadPages customers, standard or pro alike.
If you already have a LeadPages account, simply click on the "My LeadBoxes" button at the top of your account menu to get started.
I hope you've enjoyed this look at LeadPages' own in-house testing. Why do you think the ConversionCast arrow won? Feel free to leave your questions or comments below.