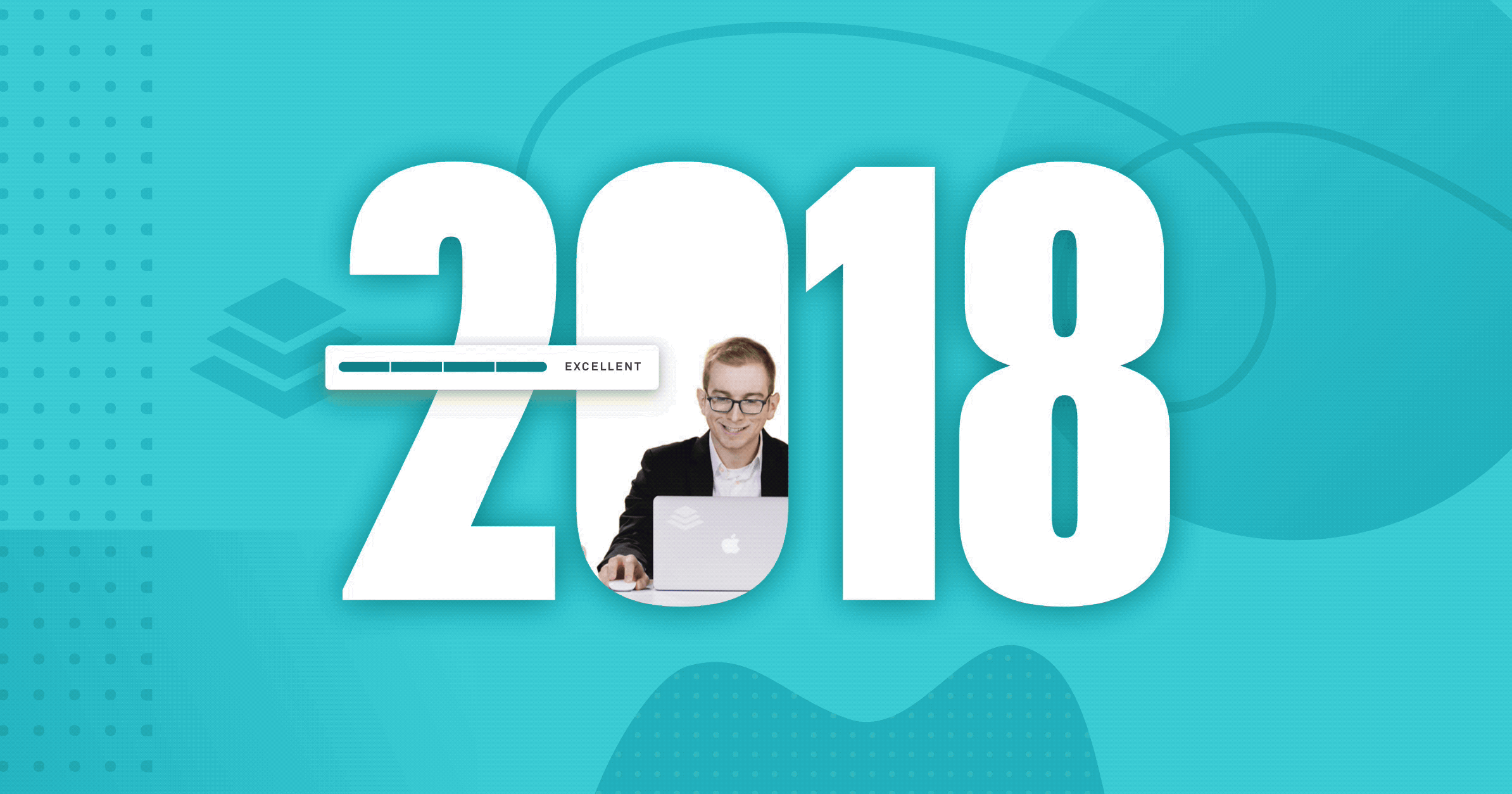 With just a few days left (how is that possible?!), our 2018 trip around the sun is coming to a close. Together, we've navigated our fair share of changes—from new tools & tech to new data privacy laws and major shifts in the digital landscape. So, looking back across the past twelve months, there's lots to reflect on.
That's why, we put together a quick look back at some of the top updates, stories, and moments from Leadpages that we believe had the biggest impact on you (the small business marketers) that we serve every day.
Join us for a look back at some of our biggest moments in 2018.
#1 – Your pages got lightning fast
We knew your pages were fast, but we wanted proof. As it turns out, lead pages outpace the competition and have an average 30% higher performance score, load 2.4 seconds faster and have a speed index 40% faster than other leading landing page builders.
Page load speeds and conversion rates go hand-in-hand and your already speedy pages are now turbocharged. Now images load in accordance with their placement on a page, which means visitors instantly see the top-of-page content and the rest is rendered as they scroll down.
#2 – Leadmeter made it easier to make higher-converting pages
Possibly our favorite feature launch of the year came out in the fourth quarter. The Leadmeter is a bit of built-in technology that automatically analyzes all the content on your page and provides real-time guidance for how you can create a higher converting page (before you publish it).
Thousands of businesses are already using this feature to fine-tune their pages and fast-track their growth and we look forward to expanding its capabilities in the months ahead.
Haven't heard about the Leadmeter?

By instantly analyzing all the content on your page as you make customize a template, the Leadmeter predicts how well your page will perform (before you publish it). It then provides step-by-step recommendations for how you can better optimize every element: from text and images to page layout and opt-in forms.

#3 – You got faster A's to your Q's
Our team of Minnesota nice tech support is possibly our best (not-so-well-kept) secret. These superheroes are on the phones, on the chats, on the emails, and at the helm of helping you—our customers—absolutely crush it by delivering knowledgeable solutions with empathy.
Over the past year, we've been expanding our in-trial customer support and adding weekend hours so that we can get to your questions faster than ever before. And our Knowledgebase has never been more robust.
#4 – You took your pages to new places
You gained more flexibility to publish your lead pages as a homepage or 404 (not found error) page, directly to a domain URL that you own. Making it easier for you to use your lead pages wherever (whenever) you want, and transform your highest-trafficked page (your homepage) and a digital dead-end (404 page) into powerful lead generation opportunities.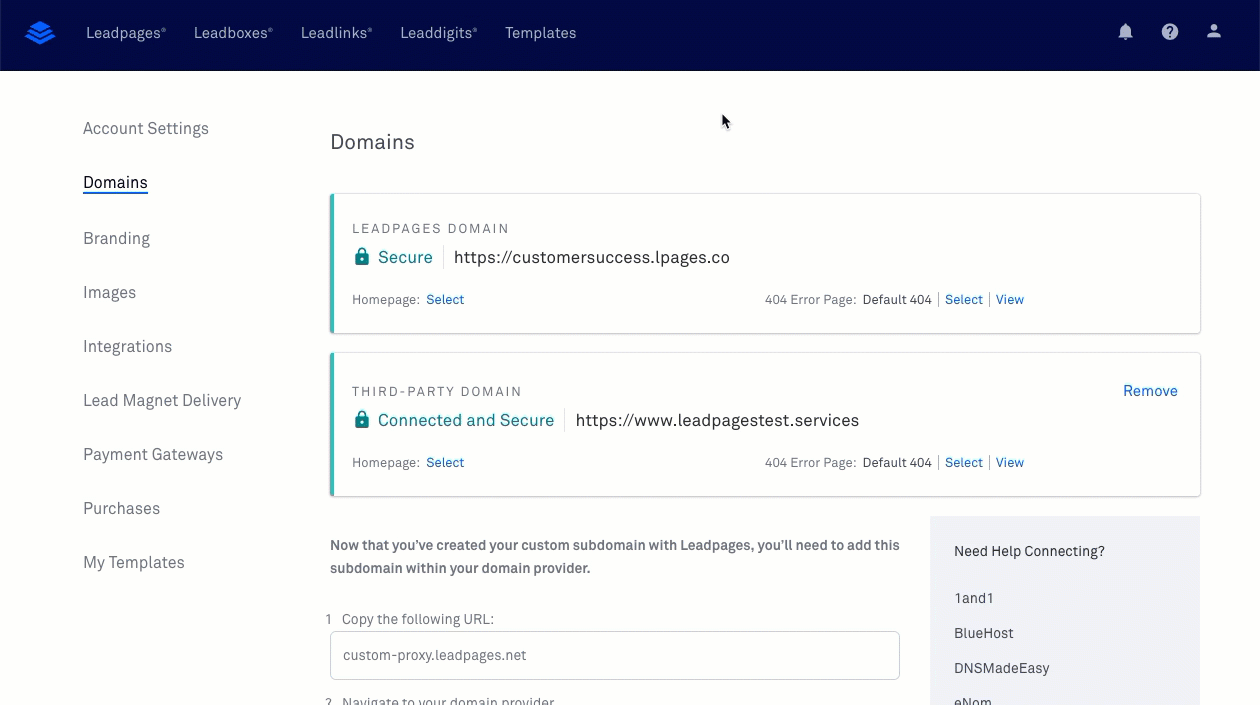 #5 – Multiple domains were connected
We always believed in giving you the biggest bang for your small business buck, but we're stretching the value of a Leadpages plan like it's never been stretched before.
You could always publish to unlimited domains through our WordPress plugin and by uploading HTML files to your servers. But for the less technically inclined, we wanted to make it even easier for your brand to stand out.
Earlier this year we made it possible to directly connect and publish your pages to up to 50 Domains that you own—all from a single Leadpages account. For those of you working with multiple websites or clients, this is a real gamechanger. Connect up to 3 domains on a Leadpages Pro Plan and up to 50 on an Advanced Plan.
#6 – GDPR required changes to our consent policy
Europe's new General Data Protection Regulation (GDPR) took effect in May. These new policies implemented some of the biggest changes to data protection in the last decade and we navigated the new changes together.
We helped prepare you by launching a number of under-the-hood product updates including active consent opt-in features and made updates to our EU user consent policy to reflect the new regulations.

#7 – Zapier integrated & called us a fastest-growing app in 2018
Also in May, we launched our much-anticipated integration with Zapier and made it possible for you to connect your Leadpages account to more than 1000+ different apps and tools. By building "code-free" connections called 'zaps' you can easily add/update leads, trigger automated follow-up activity, and save boatloads of time—all without leaving the Leadpages builder.
While Leadpages natively integrates with a large number of tools, Zapier takes that flexibility even further and is the most extensive app integration platform around.
And you took notice: Zapier named Leadpages the #4 most popular new app of 2018 in their marketplace.
#8 – Calendly & OpenTable joined your widget library
You may have noticed two newcomers to your widget library because both Calendly and OpenTable have joined the Leadpages family.
Coaches, consultants, and professional service providers are using the Leadpages Calendly widget to save time and seamlessly schedule online appointments right from landing pages and thank-you pages.
While the OpenTable widget is winning among bars, restaurants, and breweries who invite their audience to book online reservations.
#9 – The more you know. The more you grow.
Over the past year, we've worked side-by-side with small business marketers around the world to highlight their success and support them along their journeys. Their success stories and strategies are published on our blog and shared on our Facebook Community group.
If you want to grow your business and band together with a community that's always got your back, we hope you'll join us!
We can't express how grateful we are to have such phenomenal customers, partners, and teammates—all of whom helped make 2018 a fantastic year.
Cheers to more big things to come in 2019!