---

If you've made it this far, I want to give you a very hearty congratulations. It's pretty cool to think that now you can build your own high-converting funnels by following the theory we've laid out here.
That's an awesome feeling. So congratulations!
Consider this section a continuation of what we've done up to this point. I'm going to show you a couple of new ways to string together Lead Micro Funnels, emails, resources and traffic sources all culminating in the all-important Sale Micro Funnel. Like I said before, a lot of these come straight from the LeadPages playbook, so you can use some of our favorite conversion tactics in your marketing efforts.
But first, think back to the first chapter when we talked about the three actions behind Micro Funnels. They always attract, always engage, always inform/sell/upsell, and always thank. These are the actions within Micro Funnels ONLY.
Why? As we've established throughout the course, these Micro Funnels are strung together to create comprehensive campaign funnels.
Since campaign funnels are made up of Micro Funnels, that means there's a more definitive beginning and ending to the campaign. That means full campaign funnels abide by slightly different rules due to the "sum is greater than parts" mentality.
But they aren't completely different. The actions in a full campaign funnel only slightly differ from those in a Micro Funnel:
Attract: As always, you have to get people into your campaign funnel so they can experience your first Lead Micro Funnel. Traffic sources are the ONLY things that fall in this category.

Engage: This encompasses everything between bringing people into your campaign funnel and closing the sale. That means Lead Micro Funnels, emails and resources are all part of the engagement process. These pieces move a visitor through your campaign funnel to the point of purchase.
Sell: A sale marks the end of a campaign funnel. A Sale Micro Funnel is the only piece that satisfies this action. Once the sale (and subsequent upsells) is complete, that campaign funnel ends and a new one begins.
The only thing missing is the "Thank" action, but that's accomplished in the Micro Funnel level. Once the last thank you page is reached in a campaign funnel, you've completed your "Sell" and the funnel ends.
You can see this classification of campaign funnel actions in one of our example funnels: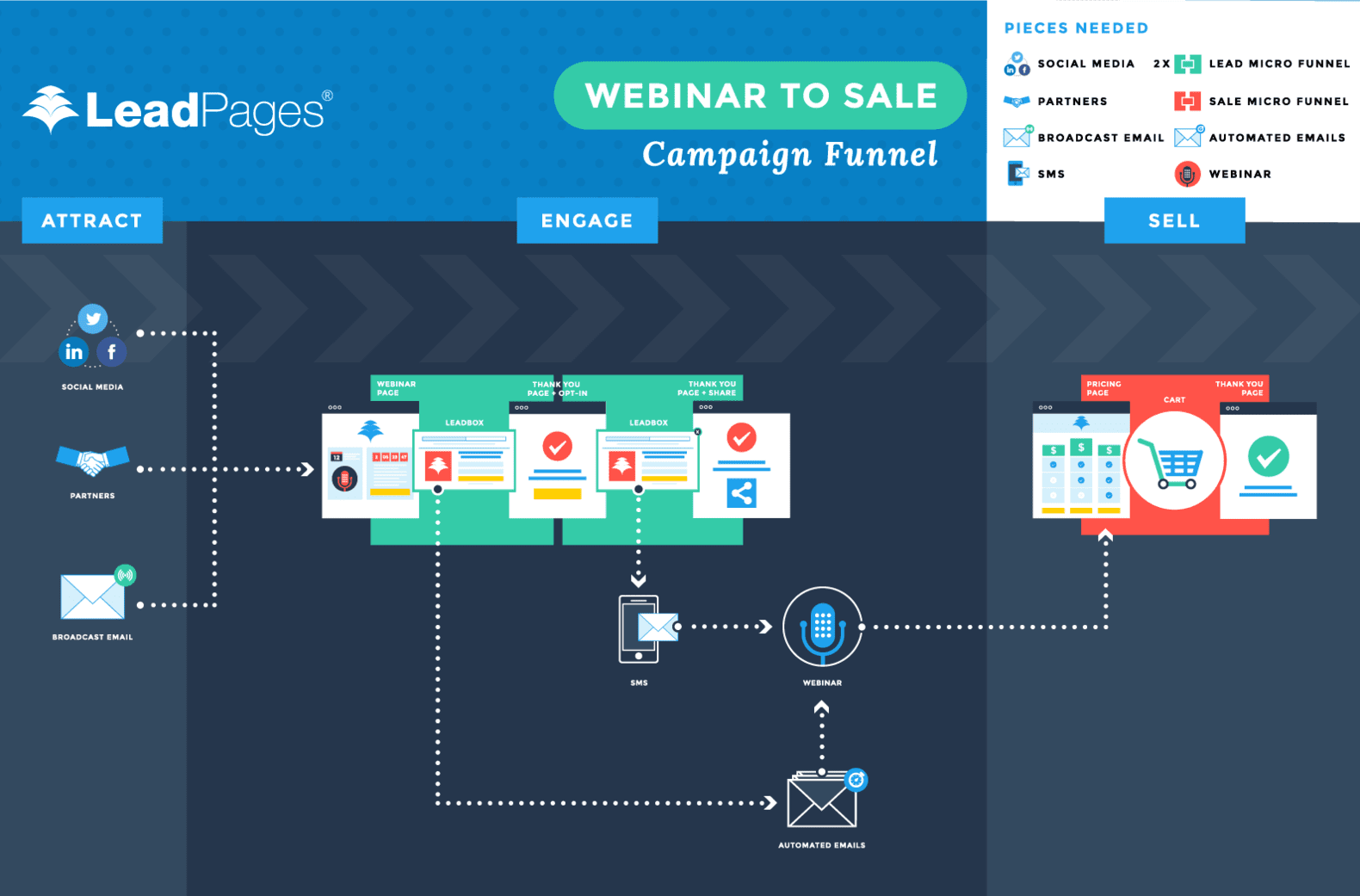 If you look closely, you can see:
Our traffic sources (social media, organic, partner) are squarely in the Attract section.
Our Lead Micro Funnels, emails and resources are in the Engage section.
Our Sale Micro Funnel is in the Sell section.
This funnel is just one of six Advanced Campaign Funnels we've produced to show you what you can create with this campaign funnel building system. But, instead of making this chapter an extra long page full of funnel after funnel, I've done things a bit differently here.
I've packaged these campaign funnels into a handy guide so you can save it, print it or do whatever you want to keep these funnels easily accessible whenever you're planning a marketing campaign.
This guide, just like this lesson, is entirely free. AND, we'll give you a video on how to set up your first Micro Funnel inside of LeadPages.
Just so you can get a sneak peek, here's another one of the funnels in that download: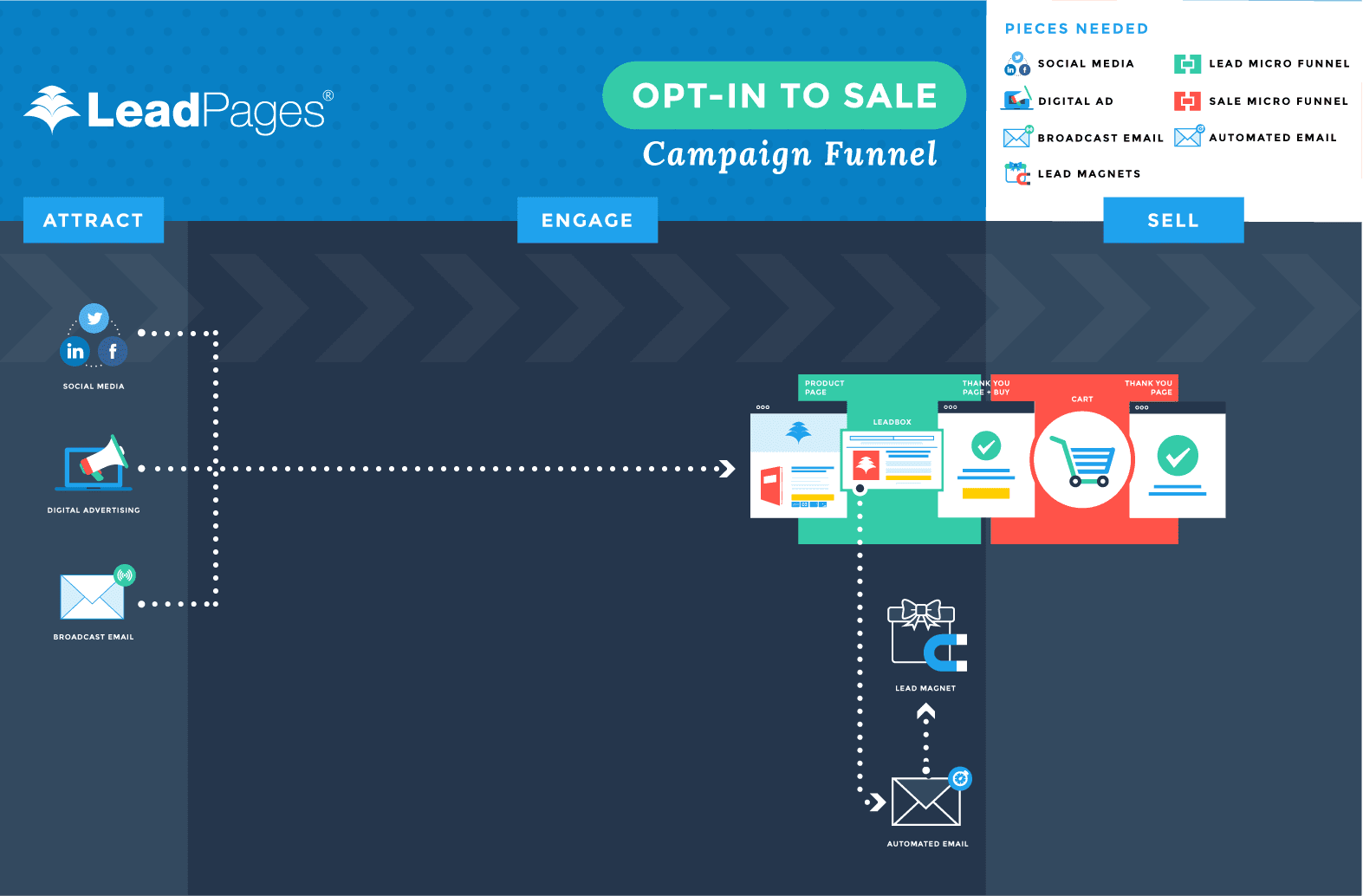 Hit the download button below and the advanced funnels AND "Getting Started" video are yours for free:

I can't wait to see the funnels you create from this. Hit us up in the comments with some success stories you get from this!