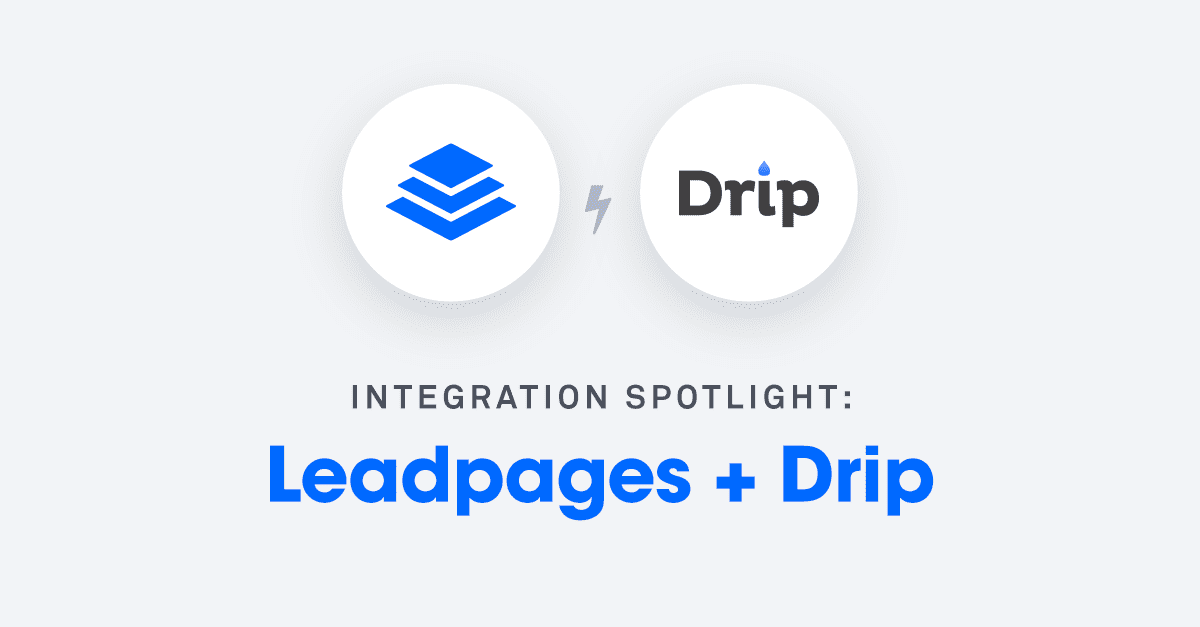 Drip. Drip. Drip.
That's the sound of a steady stream of customer requests to integrate Leadpages with one particular email automation tool. It's also the name of that tool.
This month, we answered those requests and made a few marketing automation dreams come true: Leadpages and Drip are now officially integrated.
After taking a closer look at Drip, I have to agree with all the Leadpages users who asked for an integration: this isn't your standard email marketing tool. Now that you can use Leadpages' high-converting landing pages to easily trigger sophisticated email campaigns in Drip, you have some very exciting possibilities in your hands.
Not familiar with this tool yet? Let's take a closer look.
What's in a name?
In the pre-digital era (and even the early days of email), most marketing operated on the firehose principle: blast out your message as forcefully as possible to cover as large an area as possible.
You might have a well-defined audience depending on the format you chose, but you'd have little control over when and how that audience consumed your message.
Modern digital marketing allows for far more control and precision. Instead of a firehose, you could see it as … a steady drip.
If you do much gardening, you've probably seen drip irrigation systems: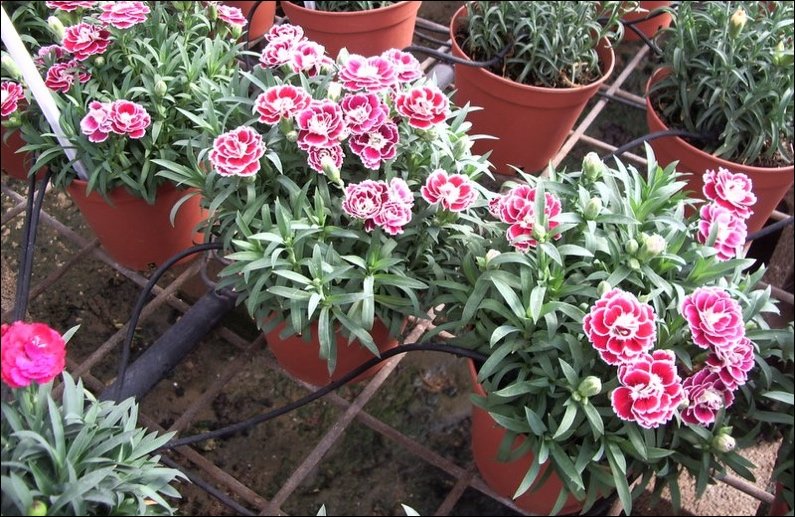 The same basic principle lies behind a drip email sequence. Someone opts into your list, and rather than flooding them with every single thing you want to tell them right away, you deliver that information drop by drop in a series of several timed emails. It's convenient for the subscriber and for you, since you only have to set up the sequence once for every new subscriber to enter at the right point.
As you might guess, Drip is designed with this kind of email sequence in mind. It's found major fans among authors, content creators, consultants, and other software startups in particular (not surprising given that founder Rob Walling is also behind keyword-research tool HitTail and podcast Startups for the Rest of Us). Beyond those groups, it's a tool worth investigating for just about anyone who's ready to branch out from their basic email newsletter.
Of course, many email services these days allow you to create drip campaigns. So what's special about capital-D Drip?
Why do marketers love Drip?
Here are some of the notable features Drip offers:
Tag-based vs. list-based system of organizing contacts: With some email services, your contacts might show up multiple times if they've opted into more than one of your lists. Drip maintains just one entry for each email address, which can be tagged with many different tags depending on where your contact opted in and what they've done.
This can give you a more accurate picture of your subscriber base in aggregate and as individuals. Adding even more to the picture are integrations with Zapier, Wistia, and lots of payment platforms. That means you can trigger emails based on what people have watched or purchased in addition to what they've opted into, opened, and downloaded.
Sophisticated campaign building tools: Not sure where to start with your drip campaign? Drip gives you lots of guidance—in fact, they're currently offering to build out a 5-email mini course for new subscribers who have a little content to work with. In creating your own campaigns, you can work with an easy-to-follow visual campaign builder (think flowcharts) and from "blueprints" that let you adapt proven email campaigns with fill-in-the-blank updates.
Dynamic email content: Drip's Liquid templating system lets you show different pieces of content to different subscribers within one email. This goes far beyond now-standard "Dear Firstname" salutations. For instance, the email below would display a line about a special discount only to non-customers, and omit that line for people who have already bought.

Lead scoring: Drip can also track how frequently your contacts are doing things like opening your emails and clicking through to your site, and give each of them a lead score to match. That makes it easier to identify and target subscribers who are likely to be most receptive to your next pitch.
Email split testing: Wondering which subject line approach or delivery time will get the most opens and clicks? With Drip's split testing tool, you can answer those questions with data.
"Plain text" email builder: In some kinds of businesses, the most effective mass emails are the ones that don't look like mass emails at all. Drip defaults to a super-simple email template that makes your emails to subscribers look just like the ones you send to friends or family.
How can I use Leadpages with Drip?
You can use any page you create in Leadpages' drag-and-drop builder to add leads to your Drip account. That creates a ton of possibilities, including the ability to:
Build a squeeze page that lets people opt into a Drip-created email course: Remember that cool "we'll build you a mini email course" promise? You'll probably want a high-converting landing page to sign people up for it. Now, you can build one in Leadpages.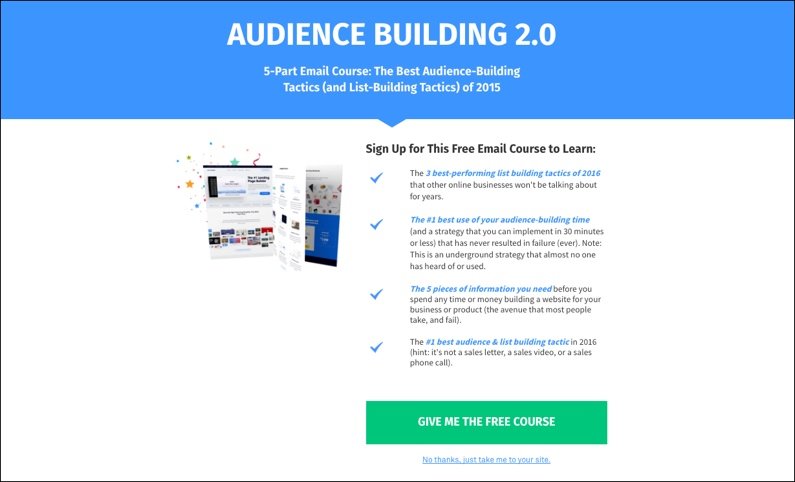 Send special welcome or onboarding emails to new customers who previously signed up on one of your Leadpages landing pages: When a lead you got via Leadpages makes a purchase in one of Drip's integrated payment platforms, you can have Drip send them different onboarding content depending on where they first opted in. For example, you could send different emails to customers who have already subscribed to your blog vs. customers who haven't yet.
Send different email content depending on what subscribers have opted in for in Leadpages: Say you want to build different landing pages for different segments of your audience (since highly targeted pages are typically more effective), and occasionally send those different segments special offers just for them. Or you'd like to remind people who have downloaded a sample chapter of your book to buy the whole thing.
With Drip and Leadpages together, you can build as many landing pages as you need to be successful without worrying about managing a bunch of different email lists manually. Collect your leads with Leadpages, and then use Drip's tagging system to trigger email sequences or one-off messages to segments of your audience as needed.

Getting started is simple.
How do I connect Drip and Leadpages?
Once you're inside a drag-and-drop Leadpage, click into the Leadbox form you'd like to connect to Drip and click on the button to pull up the integrations tab. Choose "Add an Integration" and then "More Services." Scroll down as needed to find Drip: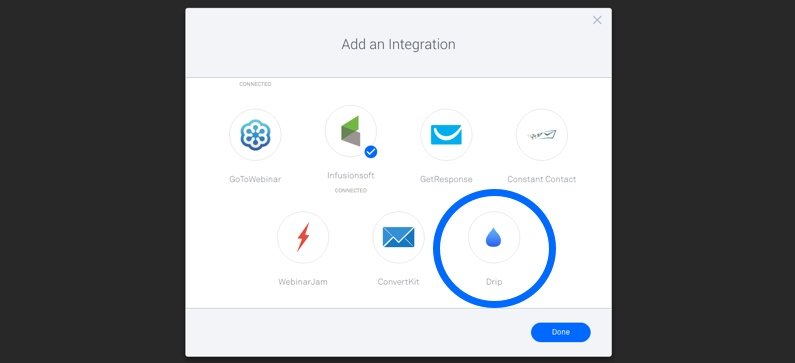 Click Connect, and you'll be taken to the Drip login screen to finish integrating your account.
After that, you'll be able to send any new leads from Leadpages to your Drip account, where you can tag them and add them to different segments as desired inside Drip.
We're excited to see what kind of powerfully automated lead-gen campaigns you create with these two tools.
Do you use Drip?
Tell us about an effective campaign you've created in the comments!