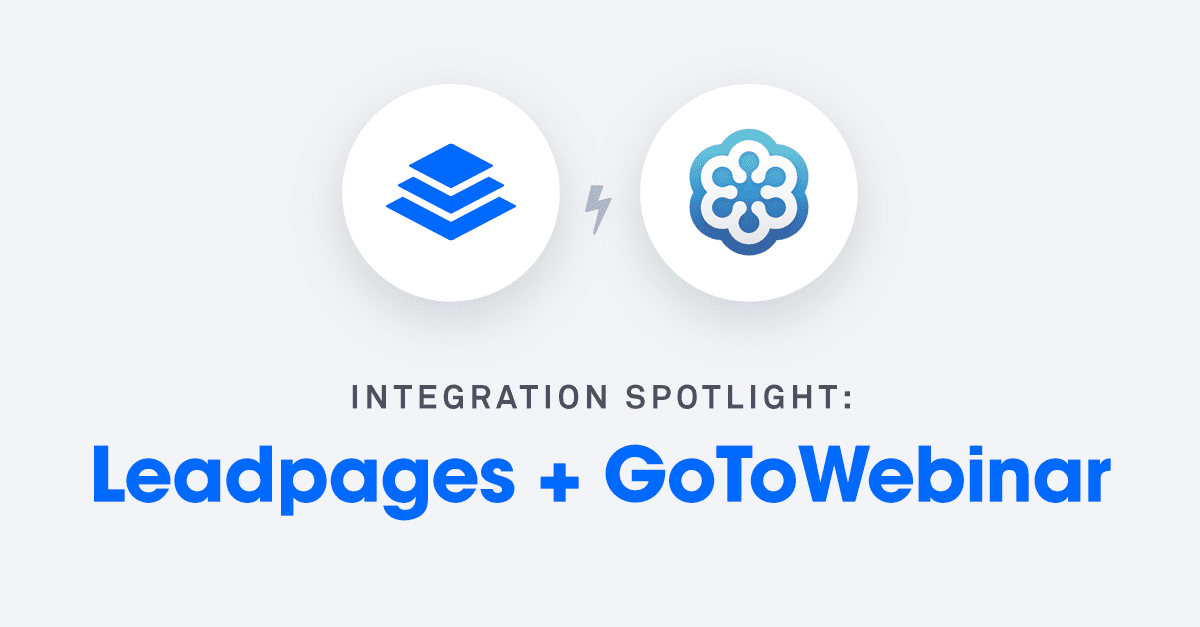 We're big fans of Citrix GoToWebinar at Leadpages. We use it to onboard new customers, educate marketers around the world, and even loop remote team members into meetings—every single week.
In fact, it's a fair bet that Leadpages wouldn't be the business it is today without webinars. Our webinar funnel system has been an essential part of the growth engine that's taken us from 0 to 42,000+ customers in just a few years.
It's been huge for our customers' businesses, too. The great thing about webinar campaigns is that they don't require a ton of different tools or technical skills. You really only need a few things (besides your computer):
A landing page to encourage people to register for your webinar
A way to capture webinar registrations
Somewhere to host the webinar
When you integrate Leadpages with Citrix GoToWebinar, you've got all of these covered. In fact, we're happy to give you a hand with your webinar pages even if you don't use Leadpages. Click below to get a copy of our 10-point guide to effective webinar landing pages:
Download Your Free 10-Point Guide to Effective Webinar Pages
If you have
LeadPages™
, you don't need to download this template – it's already available to you inside your LeadPages account. Just
log in
and you'll see how super easy it is to customize this page in seconds with no technical knowledge or skills, make it mobile responsive, integrate it with your email service provider or CRM, run A/B split tests, and publish it to Facebook, WordPress, or your own server.
If you're considering using GoToWebinar with Leadpages, I want to tell you a little more about how it works and why our customers love it.
What's Great About GoToWebinar?
It lets you host unlimited webinars. One reason many of our customers use GoToWebinar is that it allows them to host as many webinars as they can fit into their schedule—including video conferences—for one flat rate. (And using it with Leadpages makes it especially easy to stick to your marketing budget since Leadpages allows you to collect unlimited leads from unlimited pages.)
It makes it easy to offer replays. GoToWebinar's recording feature lets you save your webinar locally or to the cloud. That means you can draw extra value from a webinar you've hosted long after the live event by sending the replay to people who registered but didn't attend (or didn't purchase).
You could even repurpose a past webinar as part of a video course or free download.
It helps make your webinars truly interactive. While you're presenting and taking audience questions, GoToWebinar also gives you the power to put engagement opportunities such as polls, surveys, and handouts in front of attendees. Plus, you can engage them on the go, since they can watch your webinar from a smartphone or tablet using the free GoToMeeting mobile app.
It's good for joint ventures. You can share up to six presenter webcams during your webinar, so you can welcome a slew of guest presenters or share the screen with a cohost.
It's brand-friendly. You can upload your company logo and a custom image to brand your webinar, reassuring attendees that they're in the right place and reminding them who's behind the great information they're consuming. Plus, if you're using Leadpages webinar registration pages, you can make sure the entire sequence is one seamlessly designed experience.
It has cool behind-the-scenes tools. Got first-webinar jitters? GoToWebinar's practice sessions give you the option to practice your presentation before your live event, you can help ensure everything goes as planned.
Afterward, take a look at your dashboard for data on webinar attendance and participation to see how things went. You can use this information to continually improve your webinars—and, even more valuable, send targeted follow-up emails to registrants depending on their engagement level.
How can I use Leadpages with GoToWebinar?
You can integrate your GoToWebinar account with any landing page or lead generation asset you create using Leadpages. That means you can do things like:
Use a high-converting Leadpages template to get people to register for your GoToWebinar presentation. We've created some of the highest-converting webinar registration pages in the industry. The most successful webinar presenters we see tend to simply grab a template, drop in their information, upload their photo, and press publish—the templates are just that good.
But you're not limited to existing templates. Using our drag-and-drop builder, you can add just about any page element you can imagine to your webinar registration page.
Sign people up for your webinar and your email list at the same time. Leadpages lets you route leads' contact data to multiple places with no extra work for anybody. So when people sign up for your webinar through Leadpages, you can also make sure they get added to your regular email list (or any special list of your choice) or your CRM.
Use trigger links to get your subscribers to sign up for your GoToWebinar event in just one click. If you have an email list of prospects you're hoping to turn into customers, a great sales webinar could be just the trick. To make it incredibly easy for those prospects to register, just create an email invitation in whichever email service you use and add a Leadlink. Here's an example:
Those who click will be instantly registered in GoToWebinar—no need to even leave their inbox.
Capture GoToWebinar signups from all over your blog or website with pop-ups. People who spend a lot of time on your blog or website are likely excellent prospects for your next webinar. You can swiftly get them signed up by triggering a Leadbox signup form from …
A button in your navigation bar
A link in your site footer
A banner in your blog sidebar
… Or just about any other high-visibility part of your site
You can even set an exit timed pop-up to jump up automatically after a certain amount of time, or when someone makes moves to leave the page. This can be a good option for pages that your keenest prospects are likely to see.
Set up custom Leadpages thank you pages to guide registrants to the next step. When someone signs up for your webinar, you can display a thank you page telling them exactly what you'd like them to do next.
You could ask them to:
Download a worksheet that'll get registrants excited to show up
Share the webinar on social media
Invite friends or colleagues to attend
Sign up for text-message reminders so they don't miss out
Add the webinar directly to their online calendar
Many of these options are built right into Leadpages thank you page templates.
Use opt-in texts to sign people up for your GoToWebinar broadcast. With opt-in text, you can collect leads via text messaging when you're out in the world.
Say you're speaking at a conference or your company has a booth at a local event. You could set up a opt-in text and then create a slide or a sign reading:
This is a very user-friendly experience for your registrants because it is easier to text a short word to a short number than to open an Internet browser, type in a URL, and then fill out a form.
Plus, if you want to send text reminders through a different service, you'll already have collected registrants' phone numbers.
Enhance your webinar campaigns with pages devoted exclusively to your bonuses or webinar promotions. If you're including a sales pitch in your webinar, create a Leadpage to house your offer and ask webinar registrants to buy your product through the Leadpage (making it easier to trace actual sales to your webinar).
You can also send the Leadpage URL in a follow-up email to those who registered but did not attend (or attended but did not buy) to give them another chance to make a purchase.
If you're not using these tactics already, give them a shot. From what we've seen, adding just one or two could give a big boost to the percentage of people who make it all the way through your webinar to a sale.
How Do I Connect Leadpages and GoToWebinar?
It's easy! Here's how it works in a nutshell:
1. Create your webinar inside GoToWebinar. When you get to the form settings page, uncheck all the fields. This is because you'll be using Leadpages forms instead of GoToWebinar for this purpose. You should also leave the "Questions" and "After Registrations" fields blank, since you'll take care of this in Leadpages or your email service provider.
2. Connect your GoToWebinar account to your Leadpages account. Inside your Leadpages account, click the Integrations tab in the drop-down menu under your account name. Here, you'll have the option to add a new integration. Choose GoToWebinar:
3. Link your webinar to any Leadpage, Leadlink or Leaddigit. Once you've connected your GotoWebinar and Leadpages accounts, your GoToWebinar forms will show up in a drop-down menu whenever it's time to choose a destination for your leads.
If you already use Leadpages and GoToWebinar and are ready to connect your accounts ASAP, if you're not a Leadpages member yet, you can get started right here:
Click Here to Start Using Leadpages with GoToWebinar
From what we've seen, using Leadpages and GoToWebinar together can make the everyday work of running webinars easier and more profitable. We look forward to hearing your success story!
Got any pro tips for successful webinars that we didn't share here? Tell us in the comments.