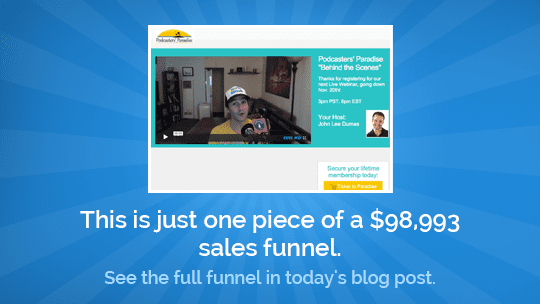 Editor's Note: The following article was penned by John Lee Dumas, Founder and Host of EntrepreneurOnFire, and a Leadpages Guest Blogger. Interested in writing for the Leadpages blog? Hit us with your best shot!
Seriously Leadpages, you complete me.
Here at EntrepreneurOnFire, we just built our entire sales funnel for our latest community – Podcasters' Paradise – inside Leadpages.
Thanks to this sales funnel, our new community now has over 300 members.
Currently, we're sitting at $98,993 in sales. In fact, this sales funnel even pre-sold Podcasters' Paradise before we even opened the doors.
All this would never have happened if we didn't have Leadpages.
Today, I want to share this sales funnel with you, so you can see the exact tools I used to launch this community that had over 175 members and $45,320 in sales before we even opened the doors.
But first, let me take you back to the beginning to show you how this all started.
The Product: How Podcasters' Paradise Became a Reality
Podcasters' Paradise is a community for podcasters who are looking to create, grow, and monetize their podcast.
Believe me when I say: All the brainstorming, research, and time that went into launching Podcasters' Paradise, was – and still is – significant.
For starters, the idea for this new community didn't just hit me one night.
When we started this, I had already created other products that had failed. So I had already put in time and energy. With this new community, I finally felt like I had something that had great potential to succeed.
I wasn't worried about creating the content for this product, because I had already discovered how to grow and monetize my own podcast — EntrepreneurOnFire — within the past year. So it was just a matter of creating video tutorials to show how I accomplished this.
But even though I knew exactly what I wanted the product to look like, I hadn't quite put all the pieces together on how I would actually launch this community.
The Problem: How Was I Going to Launch This?
I had tons of nagging questions like: What will my sales funnel looks like? What are the logical steps I have to take to ensure people will show up with their wallets and buy what I'm offering?
On a quest to answer these questions, I experimented with several different sales pages. I used both WordPress and an OptimizePress plugin, to create several pages.
While these pages served their purpose, it was difficult to integrate them with our CRM, Infusionsoft. It was hard to ensure that when people opted-in to get information about the launch, that they'd actually be added to our contact records with the appropriate tags inside Infusionsoft.
Also, with all the chaos that surrounds a product launch – especially a community-based one – I didn't want to leave anything to chance. I was looking for a solution that could give me everything I was looking for. I wanted my entire sales funnel from start to finish on one, easy-to-use platform.
I've been using Leadpages for over a year for lead generation, but it hadn't occurred to me that Leadpages would be able to offer the diversity that an entire sales funnel requires.
I was wrong. Turns out Leadpages not only has the diversity, but they also had new capabilities that would make the rest of my launch easier.
For example, Leadpages helps you track stats. Leadpages also has landing page templates you can use to stream live Google Hangouts, which I knew would be perfect for the Webinars I planned to host live during the launch.
Prior to our launch, our funnel started out with just an info-based sales page and a landing page where people could sign up to join the interest list for Podcasters' Paradise.
Before we actually launched this product, we wanted to see how many people were truly interested in receiving this insider info.
We created this info-based sales page using the Sales Letter template you see below. Then we linked this sales page to the interest list sign-up page, which we created using the Compact Sales template inside Leadpages.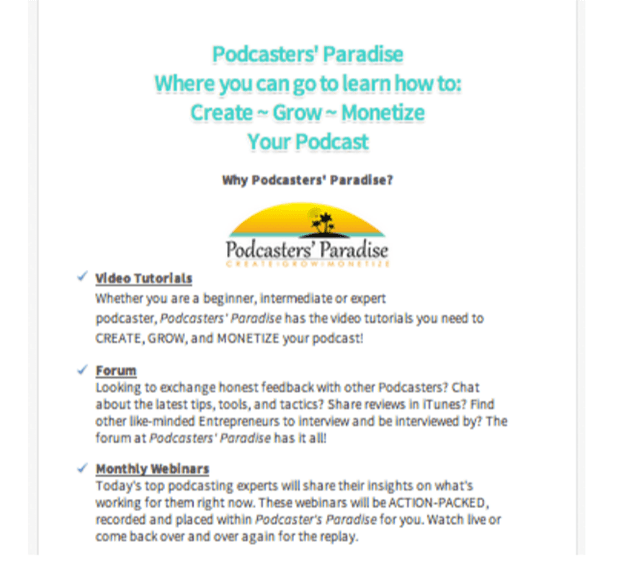 The info-based sales page was a tough one to create in terms of content. This was, after all, the only resource that people had to learn what Podcasters' Paradise was all about. More importantly, this sales page was the only opportunity we had to communicate why they should care about Podcasters' Paradise – and say what the community had to offer them.
We summed up all this information right up front, starting with a one-sentence headline simply describing what the community is. The headline read: "Podcasters' Paradise: Where You Can Go to Learn How to Create, Grow, and Monetize Your Podcast."
Then we followed up the headline with a question that really everyone should have when they see this page for the first time. That question is: "Why Podcasters' Paradise?"
We asked that question point-blank because we knew we had to communicate immediately why Podcasters' Paradise was different. We had to say what this new community offered our visitors and why they should care.
To make this easier to read, we did a bulleted list describing each of the components we offer in Paradise: Video Tutorials, Forum, and the Monthly Webinars.
Now that the info-based sales page was done, it was time to start marketing…
The First Sweet Taste of Success
We shared this first sales letter with our audience in our weekly email newsletter, on Facebook, Twitter, and Google+. We also mentioned it on our podcast, EntrepreneurOnFire.
Five days later, over 240 people had signed up for our interest list. That means 240 people had visited the sales page above and then clicked through to our Compact Sales Page and entered their name and email address.
We were stoked! When we started this, we really had no idea how many people would be interested in monetizing a podcast. Those 240 people were our validation that there was interest in a community like Podcasters' Paradise. But we didn't bust out the champagne just yet…
Validating that there was interest was only the start. Next, we had to found out whether or not people would actually be willing to pay for it.
We knew there was only one way to find out. So we emailed these 240 people an Early Bird Offer: $197 for a lifetime membership to Podcasters' Paradise, available for 72 hours.
We announced that this was the lowest price anyone would ever see for a lifetime membership to Podcasters' Paradise. Only those who had signed up for our interest list were aware of this offer – a true benefit for signing up for the insider info we had promised to deliver.
The Pre-Offer: Creating the Early Bird Page
To create the early bird offer page, we used the Special Offer Video With Countdown template inside Leadpages.
We chose this particular template because we knew the countdown timer is a proven effective tool to get people to take advantage of an offer. This works in many industries. If people can see that time is running out, they are much more likely to buy now — especially when this particular offer will never be available again.
On this countdown page, we made sure to mention again that $197 was the lowest price the lifetime membership would ever be. We also made it clear what the price would be once time ran out ($300).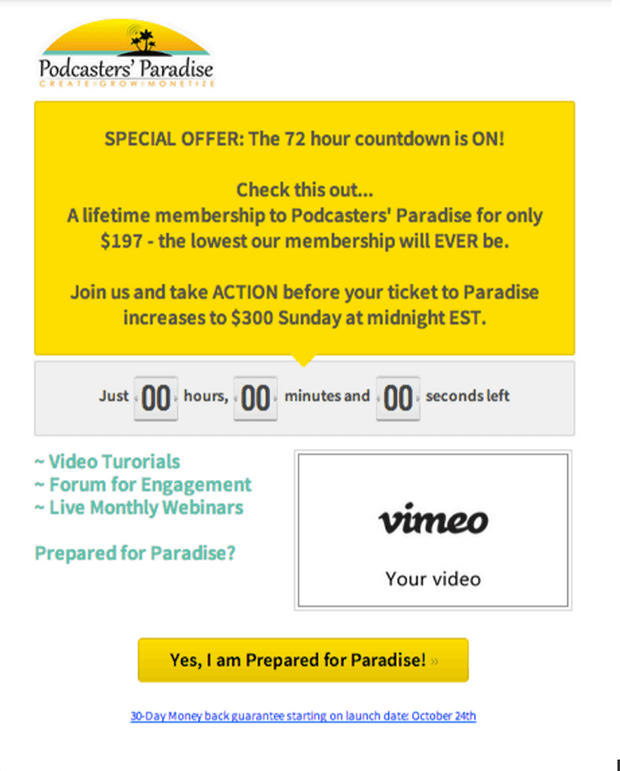 As you can see above, we took advantage of the space above the timer — and put all the necessary information there. We also kept this copy as short as possible because we knew that the only people who would see this page had already visited our sales page. So they already knew what we had to offer — we just needed to give it to them.
In 72 hours, 35 members signed up for a total of $7,000 in sales — with this one page.
Proof of Concept? Check… Thank you Leadpages!
By the end of September, our interest list had grown from 240 to 430. At the time, our launch was still nearly a month away, so we decided to schedule a Sneak Peek Webinar.
This Sneak Peek Webinar would give people a behind-the-scenes look at Podcasters' Paradise. Again, this was something we only offered to our interest list.
This webinar served a dual purpose. At that moment, we already had 35 members signed up. We didn't want to leave them hanging for an entire month with nothing — so this webinar was a perfect added benefit for these early responders. Also, it was a way for us to offer Podcasters' Paradise to a larger group of people before we even launched.
We scheduled the Webinar for October 17. I knew that Leadpages already has a great live Webinar page where we could stream our Google Hangouts On Air. So we set it up immediately using the Live Page template. (You can see an updated version of this page below that we're still using for live webinars.)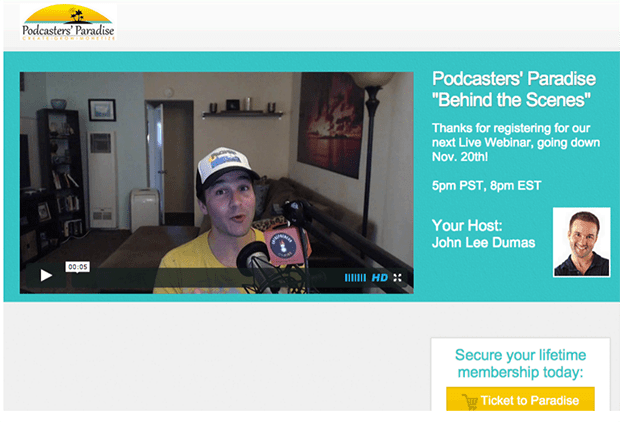 What we loved about the Live Page template is that we could accomplish several things at once — without spending a lot of money on a Webinar service like GoToMeeting or GoToWebinar. This template allowed us to:
Stream our live Google+ Hangout On Air via our own website URL.
Embed a chat box from Chatango below the video so we could chat and do live Q&A with those who were watching.
Include a buy button so that people could be taken directly to the order form from the Webinar to purchase a membership. (There is also the option to have a countdown timer next to your buy button, which works great if you're offering a special price during the Webinar only.)
During this webinar, we had 14 new signups for Podcasters' Paradise. That brought our total number of members to 114 and our total sales up to this point to $26,145.
All of this just one month after taking action!
Launch day! Our Fun with Leadpages Continues!
A month later we officially launched.
Once we went live, we decided to offer different options for people who were interested in learning more about Podcasters' Paradise (or who were possibly interested in purchasing a lifetime membership). This added another critical element to our sales funnel.
Let me explain. Originally, we had a single entry into our sales funnel. We just had the one sales pages that I mentioned, and an opt-in to our interest list.
Now we added another entry point, so we had two sign-up pages in play:
An opt-in page where people can sign up for one of our live, sneak peek webinars, and…
A new sales page (shown below) where people can either sign up to watch the recording of our previous webinar or purchase their lifetime membership right away.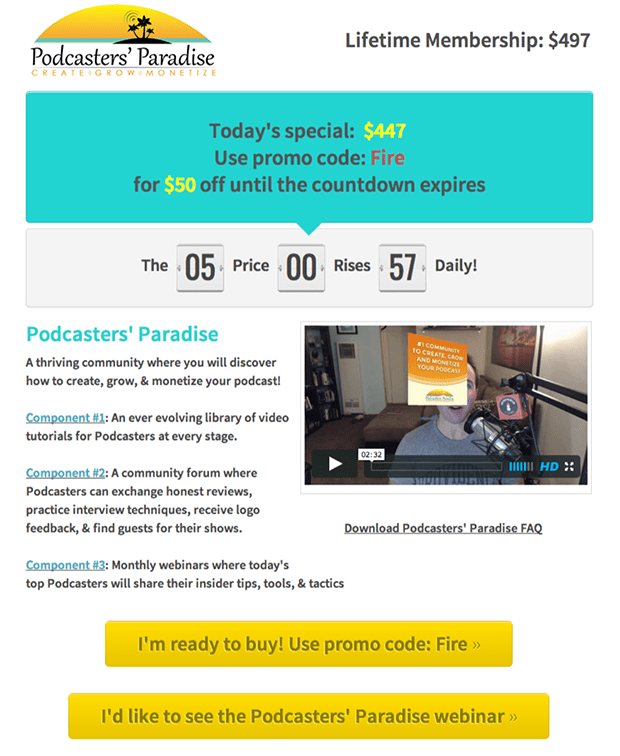 If a user decides they want to watch Podcasters' Paradise Webinar, they are directed to the page below after clicking "I'd like to see the Podcasters' Paradise webinar." To see the webinar, they have to opt-in on this squeeze page.
As you can see, we had an awesome moving background for this squeeze page! We used the Video Background template inside Leadpages for this one…
Once a person enters in their information on this page, they are immediately forwarded to the page below — where they can watch the recording of our Podcasters' Paradise Webinar.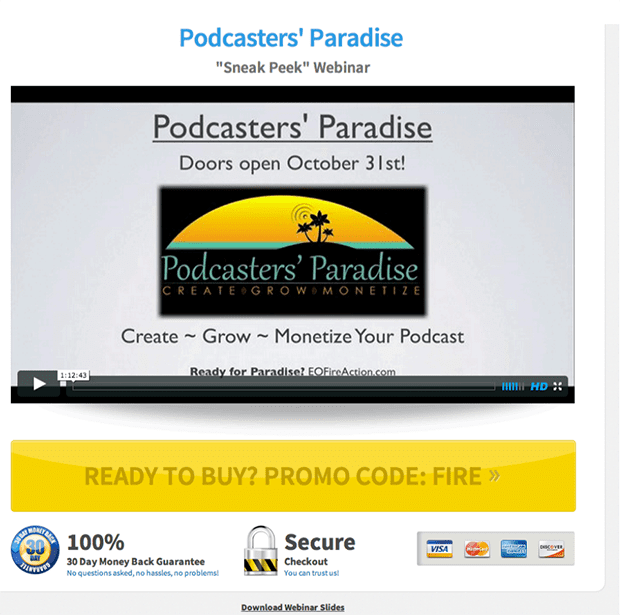 As you can see, this page offers much more than just a video player where we can stream our webinar replay. This page also offers a fade-in buy button right below the video, so we could give viewers another opportunity to purchase their lifetime membership.
This page has been converting incredibly well and recently has received an average of 30 unique visits per day.
A Quick Recap of This Funnel
Let's do a quick recap of how this sales funnel is set up. That way, you can borrow this strategy for your own sales funnels.
First, there are two ways you could enter this sales funnel…
Option One: You can visit PodcastersParadise.com: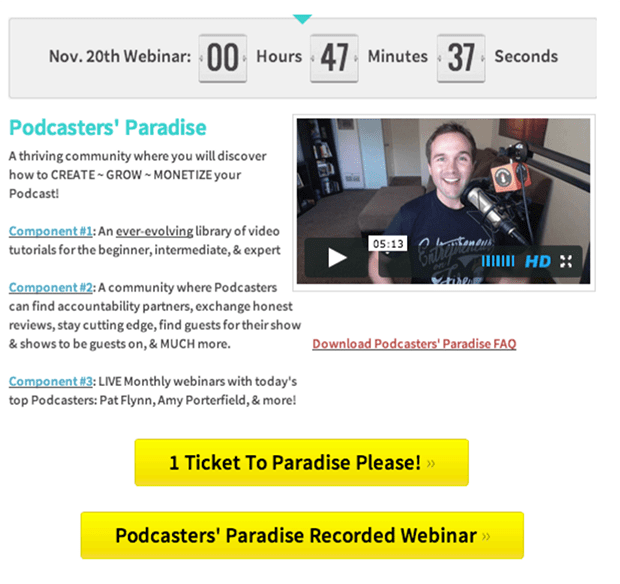 If you click on 1 Ticket To Paradise Please!, then you are zipped over to an order form to immediately purchase.
If you click on Podcasters' Paradise Recorded Webinar, then you are taken to the landing page described above to enter your name and email, and then immediately to the Webinar page.
Option Two: You can visit EOFireParadise.com:
On that page, you can sign up for our live webinar.
After you submit your information, you are automatically entered into our "Podcasters' Paradise Nurture campaign" in Infusionsoft. We built an email campaign to give you free guides, FAQs, and other valuable information to help you make your decision about whether or not joining Podcasters' Paradise is right for you.
Oh, and you get to attend our live webinar, of course!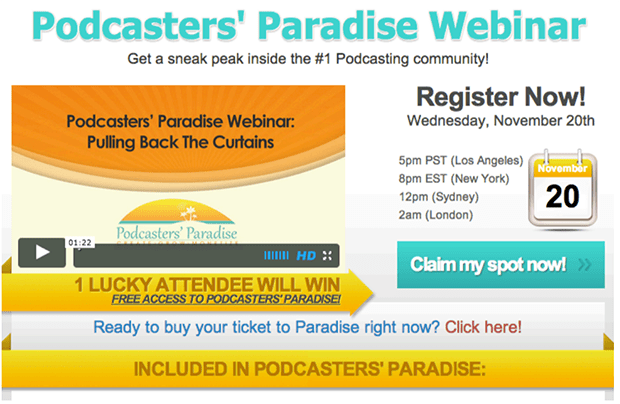 Really, that's it. From those two websites, and this one funnel — we have built a membership of over 300 and counting for Podcasters Paradise.
Today, we sit at $98,993 in total revenue from mid-September to today, and our lifetime membership price continues to rise as we continue to add value to the community daily.
As you can see, Leadpages has played an integral role in our journey to launching Podcasters' Paradise, and beyond. (Now you can understand why I say that Leadpages completes me!)
I hope you enjoyed this behind the scenes look at how we did it — and you'll use all this insider info for your own launches from now on.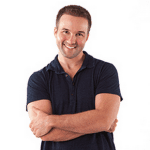 About the author: John Lee Dumas is the Founder and Host of EntrepreneurOnFire, a top-ranked business podcast that interviews today's most inspiring and successful Entrepreneurs 7-days a week. His book, "Podcast Launch" is the #1 ranked book in Amazon on podcasting, and Podcasters' Paradise is a community for Podcasters to create, grow, and monetize their podcast. EntrepreneurOnFire generates over 450,000 unique downloads a month with past guests such as Seth Godin, Tim Ferriss, Barbara Corcoran, Gary Vaynerchuk, and Guy Kawasaki. For more from John, visit EOFire.com, to get recaps of his 300+ episodes and much more.