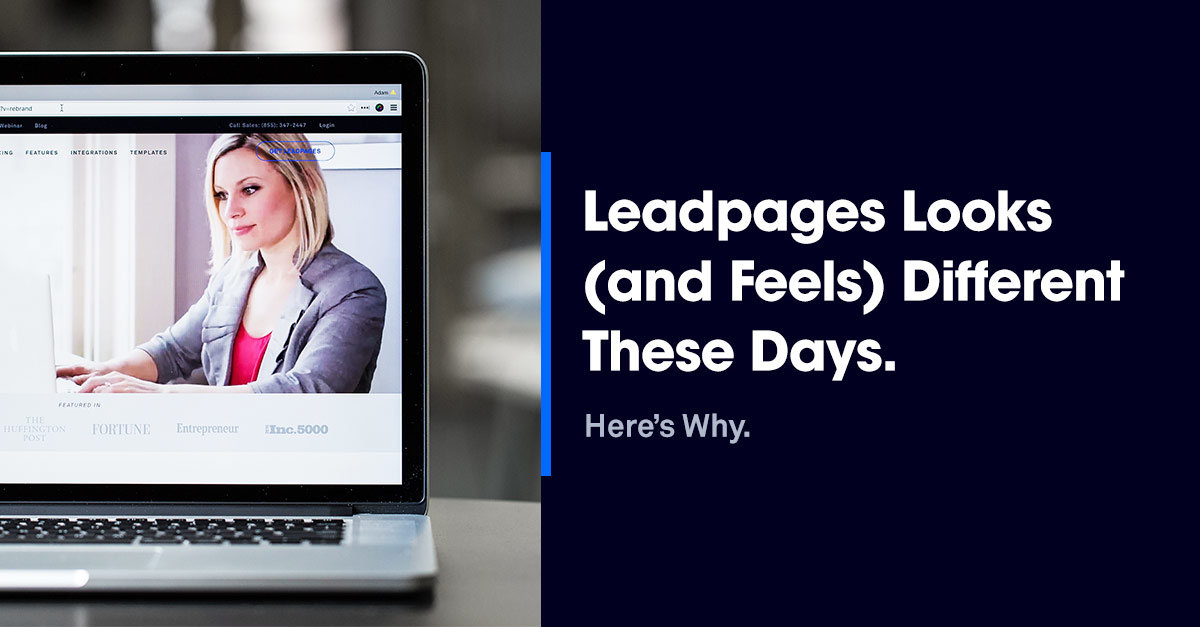 It's all about you.
In fact, it always has been. Before Leadpages was Leadpages, it was a blog where founder Clay Collins occasionally posted videos dissecting landing pages. Eventually, in response to reader requests, he began releasing landing page templates. And as that audience tested the templates, provided feedback, and began asking for more, Leadpages grew into a company.
As of last week, the public face of that company looks a little bit different. You've probably noticed it if you've visited this blog, or signed into your Leadpages account: new look, new logo, new layouts, new overall feel.
And, again, it's all about you. Which isn't to say that this redesign is guaranteed to please everyone. But from start to finish, it's intended to put our users—and all the other marketers and entrepreneurs in our community who have been generously vocal about what they need—front and center.
That's the main thing I took away from a recent chat with one of the primary architects of the evolving Leadpages brand: UX Design Manager Greg Howell. I sat down with him to get his perspective on what went into our new look and feel, as well as his recommendations for any other business considering refreshing their brand (or even thinking about it for the first time).
So, what exactly is a brand?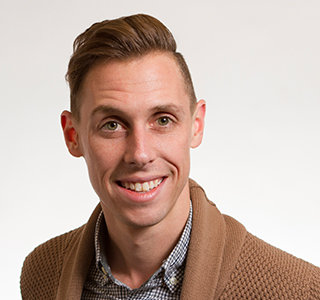 Greg lives and breathes branding. After earning a BFA in design, he began working with agencies and corporations on brand and communication design, specializing in defining corporate identity through design—everything from logos to websites to user experience.
There's a famous quote about branding attributed to Amazon founder Jeff Bezos:
"Your brand is what people say about you when you're not in the room."
It's a good starting point, but it's not exactly actionable advice when you're trying to build your own brand. I suspected Greg would have more to add to the picture.
He did. "It's a little more nuanced than that," he says. The first thing to note about brand is that it pervades every part of the experience your customers have with you. Of course, the extent of that experience depends heavily on your business model.
Greg gives some examples: "If you're Target, the brand experience extends to what your experience is like inside the store. With Amazon, it's the experience checking out and finding the products that you want. A large part of the brand experience is also: was it delivered on time? Was it exactly what I was expecting? All of these things are how you engage with the brand, and they shape your thoughts on that engagement."
A brand's traits—its core personality—start to take shape at this point, as the customer reflects on their experience with the company. "Are they chummy and friendly? Do you rely on them? Or is it a brand that you look to to teach you something new each and every day? What role does it play in your life?"
For that reason, it's hard to predict exactly what your brand will look like when your company's brand new. You can plan to serve customers in a positive way that reinforces your own idea of your company's character, but until they're actually there, you can't fully understand your brand.
When is it time to start thinking about your brand?
Many startups and small businesses don't pay much attention to branding starting off. They'll probably choose a name and design a logo, but beyond that, well … when you're trying to launch a rocket ship you might not worry about the color of the paint.
But when should brand enter the equation?
Greg's answer: "Brand's always part of the equation." But if you're just starting out it's not necessarily crucial to do formal branding exercises. He continues:
"The big thing you should focus on is: who's the person on the other side of what you're creating? How can you tell a story that's compelling to them in the product they're going to buy or the webinar they're going to watch? How can you make a connection with them that transcends a simple transaction and becomes the beginning of a relationship? I think any business should be having that conversation."
And at some point, it's time to give some structure to that conversation.
"We've been a really fast-growing startup," says Greg. "And a lot of what you do in the early stages of a startup is try to build, build, build as quick as you possibly can and expose your product to as big an audience as you can possibly get. When I came on board I started having conversations with our leadership team about what our brand stands for. What do we want to say? Where do we have room to grow?"
After lots of conversations and brand archetype exercises (more on that later), it became clear: our brand wasn't really about us. Greg explains: "Our users are the achievers of the world, and our brand is all about helping them succeed. How can we make the best product so that they can better advance their business, their life, their product, their funnel?"
Leadpages has always been about helping our customers achieve great things. Now it was time to make sure that focus was reflected in every part of the customer experience, from visiting the website for the first time to building their 50th landing page.
What's new at Leadpages
Here are a few of the changes you'll see if you poke around Leadpages today.
Simpler, cleaner interface: The all-about-the-user perspective "translates really well into the application," says Greg. "We've removed all of the clutter, all of the noise, and focused on helping users create the assets that are going to perform for their business. You go inside the application now and it's not about us trying to push our brand's narrative, it's about moving it out of the way so you can envision your own brand's narrative."An example: previously, when you logged into Leadpages, you were taken immediately to the template library, whether or not you needed to create a new landing page. Now, you see your landing pages upon login, so you can see how they're performing right away and make decisions from there.

New visual style: You'll see a lot more real people throughout the website these days. Our designers and photographers have been working to spotlight more images of the people who use and work at Leadpages. You'll also get a closer look inside the Leadpages platform, with screenshots and video footage taking the place of more abstract illustrations.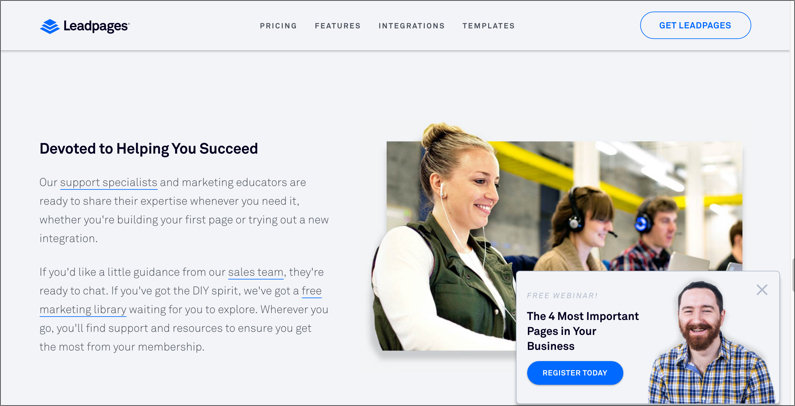 New design standards: Our design team has also worked to make everything easier to understand at a glance. You'll find bold colors, clean lines, and new fonts that have been optimized for Retina displays.
New logo: In line with our updated, uncluttered aesthetic, the Leadpages logo has been simplified and modernized. We've also done away with the capital 'P' in the middle for a more streamlined reading experience.
And that's just the beginning.
What's next for Leadpages
"My favorite thing is the fact that we have really built a system now across our product, marketing, and design teams," says Greg. "We're able to build extremely quickly, with extreme efficiency and precision. The most exciting thing is not that we got to this point, but that this point is a launchpad for us to be able to do so much more in the future."
In other words, we're not done. You'll see many more changes in the months to come, and those changes will go far beyond design updates. We've built the systems we need to release and fine-tune new features faster than ever before.
Because every aspect of your experience with Leadpages is part of the Leadpages brand. And we'll be listening for your feedback all along the way.
4 brand-building thought starters for small businesses
Are you starting to think seriously about your company's brand for the first time? Carve out an hour or so and get started with these exercises.
Map out your customer experience—from your customers' perspective. Examine your existing customer experience from the moment they become aware of your company to the moment they become customers and (ideally) decide to recommend your product to others. For each stage of the journey, collect feedback customers at that stage have given you—not just formal survey responses or complaints, but also things like social media interactions, blog comments, and emails.Do any themes emerge in how customers are viewing and responding to your business? What do their positive reactions tell you about how your brand is perceived? What do any negative reactions say about how it needs to evolve?
Find your archetype (or your anti-archetype). Many resources exist to help businesses home in on their unique brand, but Greg especially likes the brand archetype guide developed by design agency Forty. Happily, it's available to anyone—you can get a free copy for yourself here and work through the exercise to see which brand attributes resonate for you.As a brand, are you perhaps a motivator? A thrill-seeker? An everyman? Even if you go through all 20 archetypes and find that the answer is "none of the above," Greg has a hunch you'll learn something valuable about your business. He says: "It's not so much that you come out the other side with a really clear archetype. It's a great exercise for figuring out: this isn't who I am, this is not what I stand for. It's often neglected that part of figuring out who you are is figuring out who you aren't."
Find your branding leaders. To get a feel for the elements of a strong brand, don't be afraid to watch and borrow from major companies and the agencies who help shape their brands. "I love following some of the bigger design teams and branding agencies and reading their release notes when they roll out a new brand for somebody: the idea, the thought, what they're trying to emote," says Greg.You don't want to copy your competitors, but you may be able to get fresh perspective on your brand by analyzing the branding of completely unrelated companies you admire. A blogger trying to seem extra relatable could take brand strategy lessons from a home goods store or a clothing brand; a consultant trying to move upmarket might assess how a bank or an auto company does branding.
Brand your landing pages. One of the wonderful things about landing pages is that they don't necessarily have to fit seamlessly into some master plan; you can spin up a campaign on a whim and use Leadpages to make a landing page that'll live for a week and never be seen again. But when you're ready to take the next step in defining your visual brand, consider building a style guide so you always know exactly which colors, fonts, logos, and other graphic elements you should reach for each time you make a new page. It can be as simple as compiling a list of fonts and sizes, color hex codes, and links to image files in a Google document that you and anyone else who helps with your marketing can access.
If you're not yet a Leadpages customer, click here to start your free 14-day trail and start making landing pages!
How would you define your brand? How did you arrive at that definition? Tell us in the comments!