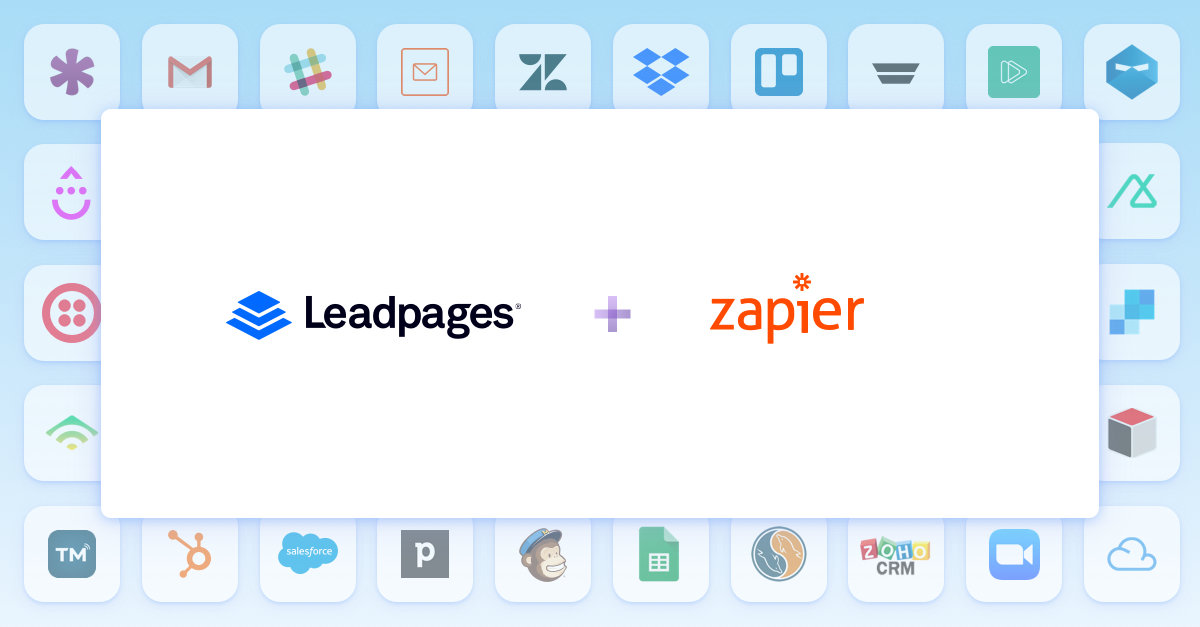 Send Your Leads to 1000+ Apps Instantly with New Integrations Powered by Zapier
Want to automatically add leads to your CRM and update their contact info?
Need to instantly transform leads into email subscribers and import their data to the right list?
Would you love to instantly notify your team of new leads & event registrants via Slack or Gmail?
Instantly send new leads from landing pages & Leadboxes to over 1000+ apps all without typing a line of code.
What if all your favorite marketing tools could talk to each other?
And update lead contact information seamlessly?
And ultimately save you from 'workarounds' that don't work?
Leadpages is (unabashedly) thrilled to announce our recent partnership with Zapier, which allows you to build "code-free" connections between 1000+ web apps to add/ update leads, trigger automated follow-up activity, and save boatloads of time. While Leadpages natively integrates with a large number of tools, Zapier takes that flexibility even further and is the most extensive app integration platform around.
Now you can seamlessly shuttle your leads (email addresses, contact information, and related data) into your favorite marketing tools – such as an email service provider or CRM. All without touching a single line of code or hiring an IT guy.
Read on to learn how you can get started with the new Leadpages Zapier integrations.
"Zapier is the industry leader for connecting web applications. Our customers can now access over 1,000 new applications to get the most out of their leads generated from the Leadpages platform. This has been our #1 requested integration, with thousands of mutual customers asking for it and we couldn't be more excited about this launch."

John Tedesco
CEO of Leadpages

What is Zapier? (Zap-i-er)
Zapier connects more than 1,000 cloud-based web applications so that you can easily automate the key processes that keep your business up and running. It enables you to easily connect & integrate your favorite applications without writing a single line of code or paying a programmer to do it for you. By linking up your web apps, data can seamlessly flow between your tools and across your workflows – ultimately saving you from both headache and heartache.
More than 1,000,000+ people use Zapier every single day
to connect their daily tools & streamline their business-building.
Are you ready to join them? Learn how to integrate Zapier with Leadpages
Use Leadpages + Zaps to Automate Your Apps
Inside the Zapier platform, you'll encounter a super-simple, highly intuitive way to build integrations (known as "Zaps") across your marketing tools. Zaps are data bridges that you create between 2 or more web apps. They allow data to flow between your favorite tools and trigger automated actions based on different events.
Inside Zapier, unique workflows between your apps are called 'zaps.'
Each Zap consists of both a trigger (cause) and action (effect). By stringing together these two types of events across different web apps, you're essentially funneling data and activating actions across a workflow.
With the Leadpages Zapier Integration, as soon as you collect a new lead, the contact information is automatically sent directly to the tools and apps you use for follow-up and tracking.
When Leadpages sends data out through a Zap, you can trigger actions such as:
Sending Leads & Subscribers to Your Email Platform
When someone fills out a Leadpages form to sign-up, subscribe, purchase, or receive a lead magnet, their information can be automatically sent to segmented groups inside your email service provider (ESP).

Updating Your CRM Contact Info
Collecting new Leadpages form fields from a pre-existing contact? No biggie. All your contact information can be automatically updated & refreshed inside your chosen CRM software.

Instantly Deliver Goodies & Nurture New Leads
Form submissions can trigger the instant delivery of (automated) confirmation emails, the delivery of a product/ lead magnet, or trigger an email nurture sequence.

Logging New Submissions
Track Leadpages form submissions directly in a Google Sheet or MySQL table.

Receiving Submission Form Digests
Easily keep your team in the loop when you provide automatic submission summaries on a daily/ weekly/ monthly basis (delivered via Email or Slack).
"Leadpages empowers Zapier users with engaging ways to capture the interest of their customers across all channels. Following that up with automation to ensure that these customers flow through needed tools, from marketing to CRMs and accounting, is a perfect fit. Now our users can better acquire, retain, and engage their leads, spending their time on work that truly matters as automation handles data entry."

Cody Jones
Head of Partnerships @ Zapier
Get Started with these Zaps (Integrations):
How do I set up with Zapier + Leadpages?
Once you have both your Leadpages account and Zapier account activated, building integrations is as easy as pie.
Log in to your Leadpages Account (or start your free trial)
Edit the page or Leadbox containing the form you'd like to connect to Zapier
Click on the form to open the editing options
Under the Integrations tab, select "Add an Integration", then "More Services"
Choose an App within the "Integrations powered by Zapier" section. From here, you can get started with Zapier or create the zap with your existing account.
Follow the on-screen prompts to finish setting up the zap.
Need inspiration? See everything that's possible with Leadpages Zapier Integrations.
Leadpages has been among the top requested integrations for the last 3 years, so this partnership is a long time coming and we're thrilled to launch the Leadpages Zapier integration for all to enjoy.
"We're excited to see marketers be able to feed their business processes with more leads than ever due to Leadpages' support for intuitively built, cross-platform marketing content. Like Zapier, Leadpages can be set up in minutes, enabling users to get all the marketing content and associated workflows they need up and running quickly, yielding results faster than ever before. Whether it's passing leads into databases and marketing tools or creating lead-alert chat notifications and automated outreach sequences, we're looking forward to seeing all the ways folks save time and money with their Leadpages Zaps."

Cody Jones
Head of Partnerships @ Zapier
What we love about Zapier:
If you're new to Zapier, you'll quickly discover that there is a lot to love. Such as:
Highly intuitive software that is exceptionally user-friendly. It takes just a few clicks to set up a new workflow and anyone can DIY.
Unparalleled integrations that include 1000+ apps (and that number is always growing).
Time-saving automation that enables you to finish routine tasks (automatically), so you can get back to the more important things.
Zapier + Leadpages = Save Time. No more workarounds. Just innovative workflows that allow you to stick with the apps that work best for you.
Thanks to the combined magic of the Leadpages Zapier Integration, you can easily connect the applications you use on a daily basis, automate the interactions between them, and (truly) DIY your digital marketing.
Try the Leadpages Zapier Integration for Free Today
Did we mention that you can start, completely free?
If you're not already a Leadpages customer, grab your 14-day free trial and get started with a free Zapier account today.
Already a Leadpages customer?
Get an extended, free 30-day trial of Zapier's For Work plan
when you sign up for Zapier within your Leadpages account.
Are you already using Leadpages and Zapier together? Do you have any favorite integrations (zaps) that make your digital marketing automation work even more seamlessly together?
Let us know your favorite ways to integrate these tools in the comments below and get inspiration from other Leadpages and Zapier users there as well!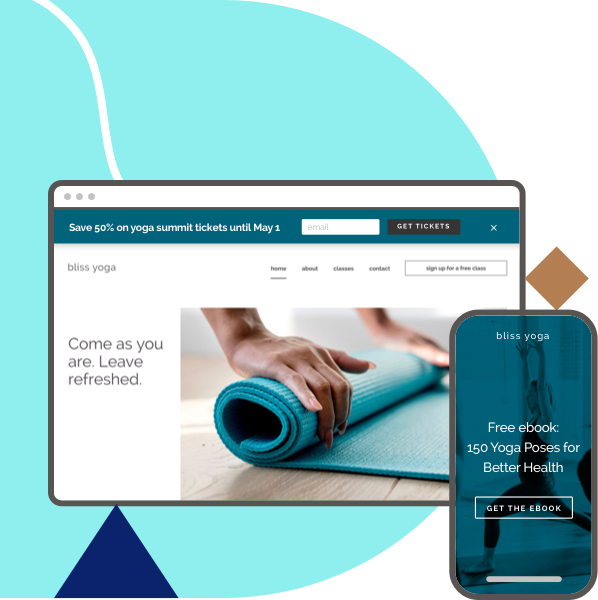 Turn clicks into customers
Leadpages helps small businesses connect with an audience, collect leads, and close sales. Easily build websites, landing pages, pop-ups, alert bars, and beyond.