The split test I'd like to show you today comes from LeadPages user Norbert Orlewicz of Market Your Mastery.
Like many LeadPages users, Norbert split tested two different landing page templates for his webinar registration page here. Specifically, he tested the Web 3.0 Webinar Registration Page vs. the Webinar Page from James Schramko.
The first variation features the font and colors for the Web 3.0 Webinar Registration page and more graphics — including an extra photo for a mystery "Mr. Traffic" presenter.
The second variation includes the font and colors for the Webinar Page from James Schramko page and fewer graphics — including only one photo for himself, as the presenter.
In Norbert's case, less turned out to be more for this split test. Let's take a look.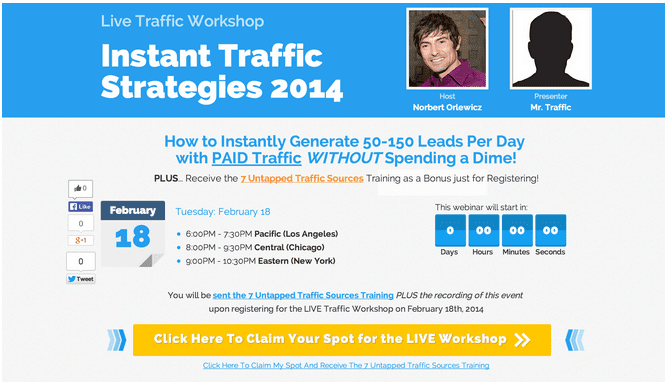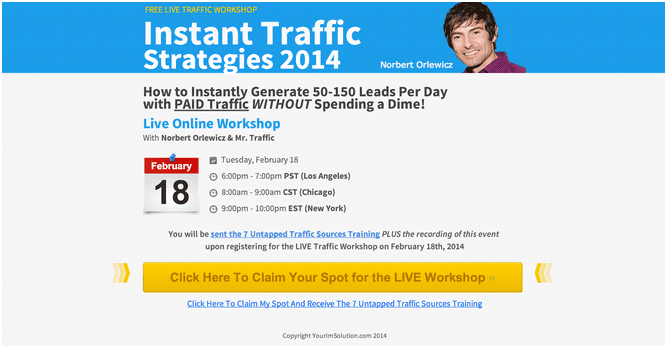 Fewer Graphics Won in This Split Test
The Webinar Page from James Schramko with fewer graphics was the clear winner in this test.
Norbert's test ran for approximately two weeks and attracted a total of 966 visitors. Throughout that time, the overall baseline conversion rate was around 28.5%.
The graphics-heavy Web 3.0 Template converted 122 of 507 visitors. That gives this losing variation a conversion rate of 24%.
Meanwhile, the winning variation with the graphics light James Schramko page pulled in 153 of 459 visitors — for a winning 33.33% conversion rate.
These numbers indicate that the winning James Schramko page led to a 38.5% overall increase in conversion. Also, this winning James Schramko page had a probability of outperforming the original of over 99.8% certainty after analysis.
(Keep in mind: We consider a split test statistically significant when it has reached 90% – 95% probability of outperforming the original.)
Check out the data table below — it's exactly what Norbert would see after using a LeadPages split test.

How to Perform This Split Test on Your Own
If you have your own lingering design questions about what might work better for your own landing pages, LeadPages makes it easy to test what will work for your audience.
In this case, fewer graphics — including deleting the mysterious Mr. Traffic host — boosted conversions. But it could be the exact opposite for your audience. Split testing is the best way to be sure.
Our built-in tools and pre-made templates make split testing quick and easy, even if you're not a technical wizard. It's just as easy to test one template vs. another as it is to test the same template with different elements as Norbert did here.
If you're brand new to the LeadPages system, take a look at our three-minute tutorial on getting started or get instant access to our free 4-Step Tutorial.
Once you're up and running, deploying a split test like the one can be done in a matter of minutes. No exaggeration.
Just a reminder: The LeadPages built-in tools are available only to our pro members. But as always most, any other third party split testing tools on the market will work with any LeadPages account.
Thank you guys again for joining me for another split test. A big thank you to Norbert Orlewicz of Market Your Mastery up in British Columbia, Canada for sharing his results with us today.
Have you had positive or negative results with testing different templates like this? Let me know in the comments below — I look forward to hearing the discussion.