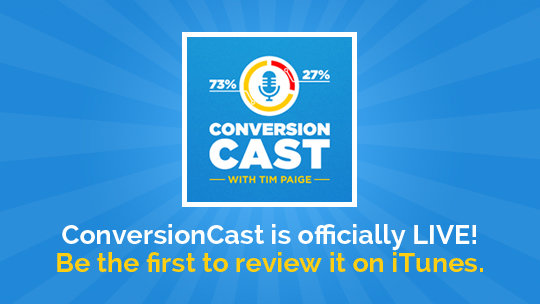 By Kat Von Rohr, Blog Editor for LeadPages
Yes, it's official. We're LIVE.
As of today, the LeadPages podcast ("ConversionCast") is now LIVE on iTunes.
Last time I looked, ConversionCast was already ranked #1 of all marketing podcasts on iTunes. Even more impressive, ConversionCast was also #1 for all business podcasts on iTunes.
ConversionCast is also already ranked in the top 5 of ALL podcasts on iTunes — something that's almost unheard of on the first day a podcast launches.
You'll see why when you check out the first five episodes.

3 Ways to Get the Most Out of ConversionCast
Now that ConversionCast has officially launched, there are three ways to get hooked up with everything coming for this podcast.
Step 1. Go Here and Subscribe To Our Podcast On iTunes.
As we mentioned yesterday, this is the only daily podcast that gives you data-driven case studies from the most highly respected marketers on the planet.
Step 2. Listen To One Podcast Episode (It Takes Less Than 10 Minutes).
The first five episodes feature case studies from HubSpot, KISSmetrics, Pat Flynn, AWeber, and Moz.
That includes how HubSpot increased their conversions by 300% and how Moz made an extra $2 million in revenue (with $0 acquisition cost). So I promise it will be worth 10 minutes of your time.
Step 3. Leave Us a Review within 24 Hours and Get a Marketing Critique.
If you go on iTunes, listen to ConversionCast, and leave us a review today…
You will receive a free public marketing critique from our Co-Founder/CEO, Clay Collins, the host of ConversionCast, Tim Paige and myself tomorrow on the ConversionCast blog.
To be clear: Every single person who leaves us a review today on ConversionCast will get a public marketing critique from all three of us.
How to get this free marketing makeover/critique
Step #1: Leave us a review for ConversionCast on iTunes.
Step #2: Leave the URL of your landing page or website that you want us to critique at the bottom of your iTunes review. Then we'll critique your landing page or website tomorrow.
Again, ConversionCast just went live. Already, marketers are loving this. So I'd encourage you to check this out.
Make sure to leave us a review today, so we can review your landing page or website tomorrow. Don't forget to include a URL of the material that you want us to critique in your iTunes review.