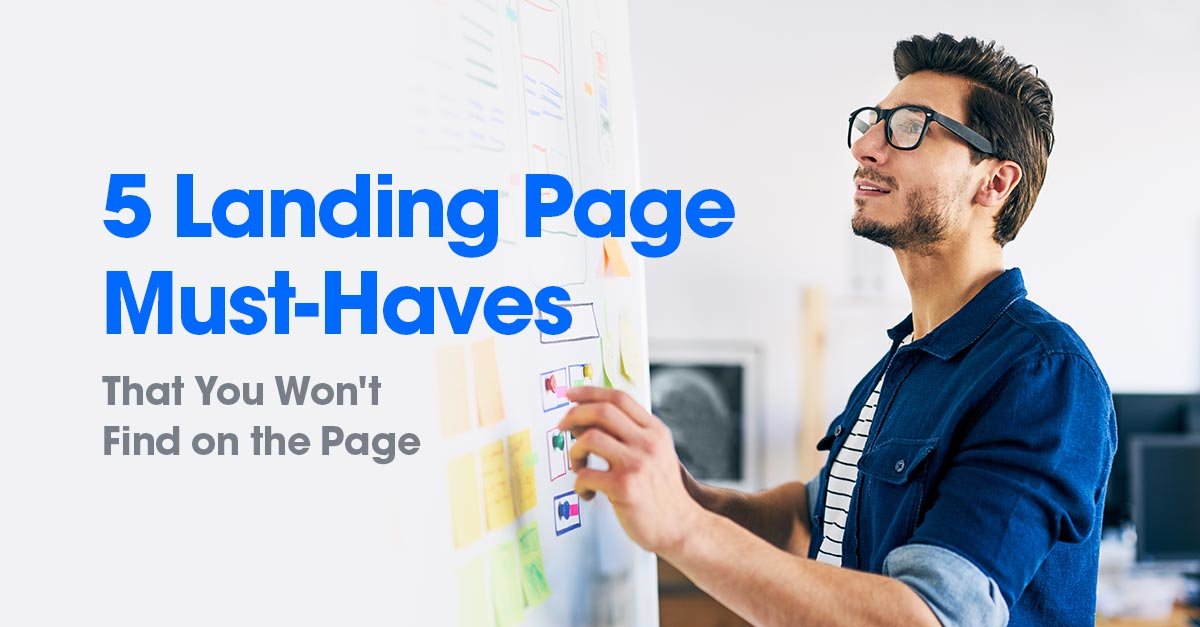 When it comes to landing pages, you can buy conversion-proven templates, hire a copywriter, and even purchase a great stock photo for your page's hero image.
But you can't really buy everything a high-converting landing page needs to be successful.
There are a few parts that need to come right from you (and not your landing page platform). These are the parts of your landing page that are driven by your own personal and business goals, and those are decisions a landing page tool can't make for you.
Start by asking yourself these five questions while making your landing page:
Have you established a conversion goal?
Do you have a plan to get traffic to your landing page?
Do you have an offer that your audience wants and needs?
Can you communicate why your offer is the best possible solution for your audience?
Do you have a way to follow up with your new leads?
If you answered "yep, yep, yep, yep, and yep," great—go build that page. But if you're missing a couple of pieces, read on to nail down your strategy for a successful landing page.
To help set you up for landing page success, we've also made you a Pre-Launch Resource Pack, which includes:
Our "14 Questions to Discover and Reach Your Target Market" worksheet
Our "10 Places to Find Your Audience" guide
Our 64-Point Landing Page Optimization Checklist
Get Your Free Pre-Launch Resource Pack
If you have
LeadPages™
, you don't need to download this template – it's already available to you inside your LeadPages account. Just
log in
and you'll see how super easy it is to customize this page in seconds with no technical knowledge or skills, make it mobile responsive, integrate it with your email service provider or CRM, run A/B split tests, and publish it to Facebook, WordPress, or your own server.
Here are five landing page elements money can't buy.
1. What is your conversion goal?
Your landing page should build toward one desired goal. It might be a newsletter signup, social media follow, opt-in form submission, or purchase—whatever action you want visitors to take—but you should have one conversion goal, not five.
That will help with another key factor: measurement. Your conversion goal should be easy to measure and have a measurable impact on your business.
Just want to "raise awareness" or "make visitors feel connected," perhaps? Those are fine things to strive for. But in order to build landing pages that help your business, you'll need to find the specific audience actions that let you achieve those broader aims.
If you want to raise awareness, you might build a landing page that asks visitors to post about your business on social media. If you want to form connections, build a page that gets subscribers on your list.
Once you establish what your desired visitor action is, decide how you'll measure whether your landing page is succeeding.
This is where the fundamentals of your business come into play. How much revenue do you need to see each month to stay afloat?
And how many leads do you need to attract to produce that revenue?
And how much traffic do you need to produce those leads?
This can take a little bit of math and a little bit of experience, but once you answer those questions, you'll have a good sense of what kind of conversion rate you need to see on your landing page.
To see if you're meeting your goal, you'll probably want to use some combination of an analytics platform, such as Google Analytics, and your landing page platform's built-in reporting.
In the example below, I can log into Leadpages and see that this opt-in page is converting at 42.24%. If this were a sales page and my conversion goal were a Stripe purchase, I'd see my revenue appear in the Earnings box as well.
(A Stripe-powered Leadpages checkout widget is currently in beta testing, but we'll be sure to let you know when it's publicly available.)
When your conversion goal is unclear or unquantifiable, there's no way to tell if your landing page is doing what it's supposed to do. Establish what your starting point is and what change you wish to see to track how your efforts are paying off.
2. How are people going to find your landing page?
Your landing page isn't a stunt video or a funny GIF—it's not going to simply get found and go viral. It's important to have a plan to attract traffic to your page before you launch it so you can start converting right away.
Here are three of my favorite channels to start driving traffic to your landing pages as soon as you publish them:
Social Media: Posting your landing page across your social media platforms is a great way to get interested followers to your page. If someone is already following you on social media, they've shown they're interested in your business. This established interest boosts the likelihood that they'll convert once they land on your page.
Here's a great example of a landing page nestled within Mari Smith's Facebook page.
Paid Media: Pay-per-click advertising can be immensely effective for driving traffic to your landing pages. PPC ads can be highly targeted to reach people with the exact demographics and interests you're after.
The visitors who find you from paid search or paid social ads (like Google AdWords or Facebook Ads) might not convert as often as people who are already following you, but you're likely to make up for the lower conversion rates with higher volume.
Guest Blogging: If you're building a landing page for an evergreen offer, you definitely want to link to it from your blog or website. But if you're not getting much traffic to your own site yet, try posting as a guest on someone else's blog that gets more traffic.
Before committing to write a guest post, make sure your host is comfortable with linking to your landing page. Then, find a natural spot to mention your landing page offer within your post—perhaps in your bio at the top, in a call to learn more at the end, or even from a graphic or button in the body of the post.
When your post goes live on someone else's popular blog, you'll be helping them by providing a meaningful article while reaping the benefits of their web traffic.
There are many other ways to drive traffic to your landing page, but these three will get quick results for nearly any kind of offer (assuming your page itself is solid).
3. Do you have an offer that your audience wants and needs?
If you answered the first question, you know what you want people to do. But you also need to show them why they should do it.
The first step to creating any high-converting offer is understanding your audience. This means digging deep into who they are and what stage they're at in the conversion funnel. Are they just researching or are they ready to buy?
Then, design an offer that speaks directly to the audience segment you've pinpointed. Ask yourself the following questions to set yourself up to convert:
Does your offer make sense in the context of your business? Don't create a generically crowd-pleasing offer just to fill your list with as many people as possible. You want to get straight to the people who are most likely to become part of your customer base. Make sure your landing page is part of a natural pathway to that destination.
Does your offer make sense for your traffic source? Strangers you've targeted on Facebook probably aren't going to book an in-person consultation right away. But people who are searching Google for the kind of service you offer might.
Does your offer format make sense for your audience? Very busy people might prefer something they can use quickly, while people in research mode might be ready to go in-depth.
By continuously reflecting on who your audience is, what they need, and what you can offer to help them, you'll be able make offers that prove their worth on your landing page.
4. Why is your offer the best solution to a problem?
Odds are good that someone else on the internet is providing an offer similar to yours.
This is why your landing pages shouldn't just show the solution you're offering. They need to show why your solution is the best.
Visitors will be more compelled to opt in if your landing page copy clearly states the unique value of the offer.
High-converting landing page copy includes these two elements:
1. The specific problem your audience is experiencing, from their point of view
2. The unique solution your service or product offers for that exact problem
After clearly and concisely describing your customers' pain points, explain how your offer solves them better than any other solution.
Below is an example of a landing page for actors that instantly highlights its audience's pain point and leads into distinct benefits offered by the free downloadable PDF.
The problem the audience is facing is not booking enough work. It's highlighted clearly and concisely at the top of the page. The solution, on the other hand, is thoroughly explained in the rest of the landing page.
The key benefits are called out above the fold while a more thorough explanation is laid out below. This offer is unique in that it provides training, support within a community of actors, and, of course, the free PDF with seven tips to solving the problem.
Remember, specific landing page copy will drive more conversions than general explanations and generic consumer obstacles.
5. What is your lead follow-up strategy?
You've created your conversion goal, crafted a plan to get traffic to your page, and collected email addresses from people who have opted in to receive your tempting offer. Now what?
Before you publish any landing page, you need to have a lead follow-up plan in place. You worked hard to bring in those leads, so make a strategy that will nurture them for the long haul.
Many landing page tools will have the built-in capability of delivering your lead magnet to your lead's email inbox. By doing this, your links, videos, PDFs, or templates will be sent to your lead soon after they sign up.
While this is a great feature, built-in lead magnet delivery tools won't keep the conversation going. Your lead will simply receive their offer in an email, and you'll have to hope they return to your website for further conversion.
This is why you need a plan that includes a follow-up sequence so your leads don't get cold.
Integrate an email marketing automation tool with your landing page tool. With email automation, you can set rules that trigger entire multi-email campaigns when someone submits a landing page.
This means you can do more than send a one-time email with your offer; you can nurture those leads even further, provide upsells down the line, and create a deeper relationship with them overall.
This is also a good option if you have a truly hefty offer, e.g., courses, long ebooks, video series—you get the picture. Breaking up large content pieces makes them easier for your leads to digest. They also won't feel overwhelmed by your awesome 20-chapter ebook if they receive it a few chapters at a time by way of email campaign.
(To learn more about this strategy, check out Drip email automation. You can try it for free to see exactly how it complements your landing page tool.)
Formulate your follow-up strategy early on so you can visualize exactly how your landing page will flow from opt-in to delivery and beyond.
Answer these questions and build your most successful landing page yet
No matter how powerful your landing page builder is, there's no out-of-the-box replacement for what you need to bring to the table.
Dig deep into what your goals are for your landing pages. Once you put your finger on exactly how your landing pages will meet these goals, you'll experience some major conversion growth (and pages will be easier to build down the line).
Get Your Free Pre-Launch Resource Pack
If you have
LeadPages™
, you don't need to download this template – it's already available to you inside your LeadPages account. Just
log in
and you'll see how super easy it is to customize this page in seconds with no technical knowledge or skills, make it mobile responsive, integrate it with your email service provider or CRM, run A/B split tests, and publish it to Facebook, WordPress, or your own server.
Are you experiencing roadblocks on your way to landing page success? Let us know in the comments and we'll help you pave the way!