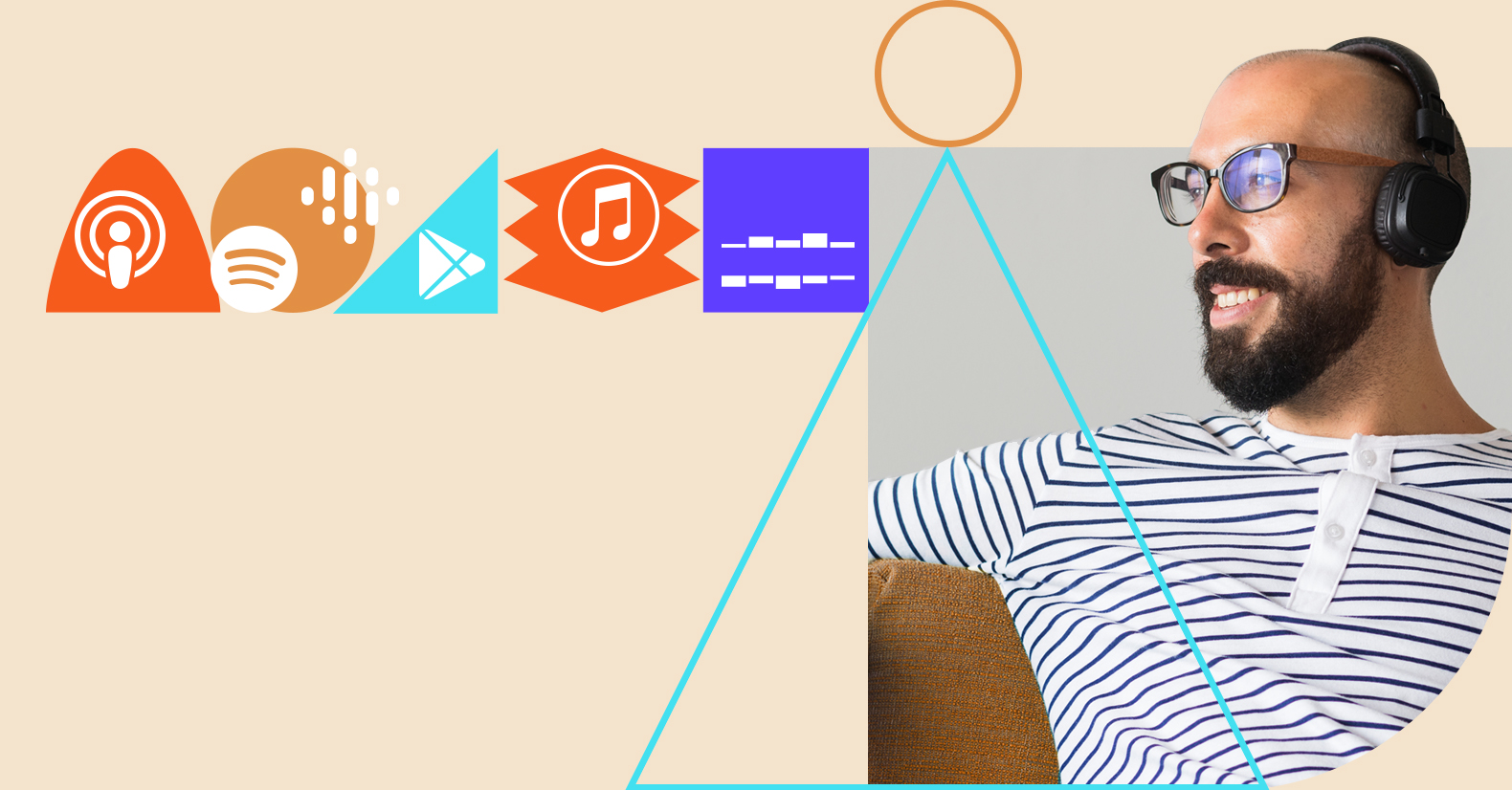 Podcasts… Heard of 'em? You may listen to podcasts at your leisure while driving to and from work—chuckling at the latest comedic podcast host or getting intel for your Fantasy Football league. But did you know you can actually expand your professional knowledge with them too?
Yes, that's right. Marketing podcasts can help you learn how to grow your business. There are a few podcasts that shouldn't be missed. Our own podcast, The Lead Generation, is one of them of course.
And here's a great selection of under-the-radar marketing podcasts "must listens" for entrepreneurs and marketers—based on overall value (Does the podcast provide actionable insights that I can use to improve my marketing results?) and entertainment (Is it enjoyable to listen to the show? Are the hosts engaging and fun to listen to?)
The following shows have their own enthusiastic audience, but I don't hear people talking about them enough. You won't see these on all the usual "best podcast" lists yet—though they definitely should be. Listening to the seven marketing podcasts below more than repays the time you spend listening with substantial business growth.
Ok, now get to reading!
For a marketing podcast to be worth listening to, it has to be entertaining and sometimes even humorous. While not all podcast hosts need to be standup comedians—it helps engage you as they share pearls of wisdom.
You'll be hard-pressed to find another business-centric show that's as entertaining as The Fizzle Show. Hosts Corbett, Chase, Barrett, and Steph have a unique and wonderful chemistry that means the show never feels crowded, even with a long lineup of hosts.
The content of "The Fizzle Show" is relevant and offers wildly personal advice directly plucked from their vibrant community of followers. They answer questions that real entrepreneurs pose, and as a result, the content is—quite literally—tailored to the listener.
And you know it's a quality program if it's been around the block. The hosts have produced one show a week since 2013; so there's a great archive of content as well.
The podcast topics are focused on the solopreneur or small business owner, but folks at large corporations and agencies could benefit from this "in the trenches" show as well.
Some highlights:
Entrepreneurship is 100% sales driven: building a sales funnel, getting people to click on an organic search result, generating leads on Facebook, download a lead magnet, subscribe to an email newsletter, and the like are all sales-oriented customer acquisition strategies.
Get it, sales = marketing, and marketing = sales.
Sales tips are important to stay abreast on for a number of reasons, which is why the podcast The Sales Evangelist is a must-listen if you want to learn how to sell without being a jerk or sounding like a used-car salesman.
Host Donald Kelly has truly amassed knowledge tidbits on the art of helping you get better at selling. Like "The Fizzle" the talent is funny and delivers awesome education.
Some highlights:
Oh copywriting, you are invaluable. In fact, one of the most critical skills you should learn as an entrepreneur is copywriting. It's the gift that keeps on giving.
With that in mind, you'll be hard-pressed to find someone better equipped to guide you in your journey to more effective copywriting than Ray Edwards. Ray was a copywriter for Tony Robbins, Jack Canfield, and Mark Victor Hansen (creators of the "Chicken Soup for the Soul" series'), and Jeff Walker, just to name a few. If that doesn't do it for you, this might: his sales letters and email campaigns generated more than $100 million in lifetime value!
That's the kind of guy I want to learn my copywriting from. While some of his shows are solo, he also brings on copy-guru interviewees to add color and perspective to his podcast.
"The Ray Edwards Show" pairs copy and spirituality, adding to a twist to this marketing podcast. On his marketing podcast site he says, "God created you to be an entrepreneur, you were born for this, and I was born to help."
For those of us who've gone months, days, or even years with a sense of dread at the idea of writing emails, blog posts, sales letters, or landing pages for our businesses, it's time we reframe writing in our minds. We must stand up to the copywriting monster under our beds and say, "No more!"
Because writing good landing page copy isn't just important—it's essential. The way you talk to your audience either makes them want to learn more or it pushes them away. That's the difference between a successful conversion and a page bounce…
So, tune into this podcast every Wednesday morning each week. And you can subscribe to the show using iTunes to automatically get every episode. Either way, it's free!
Some highlights:
In "Zero to Scale," host Greg Hickman and co-host Justin McGill document their business journey from zero to $100k per month. Self-deprocating and honest, this now-archived marketing podcast offers lots of value and never puts off the vibe, "Hey, I'm going to start a business that's all about me talking about the business I'm starting even though I've never started a business. Learn from me!"
Both Greg and Justin are experienced entrepreneurs with highly successful endeavors under their belts, and gives you the dirty details you need to be successful. And just because they share their own personal stories doesn't mean it's all about them. Contained within each episode is highly actionable advice that any bootstrapped startup can seriously benefit from.
They also have occasional guests. And their interviews get straight to the tactics: getting to the bottom of what's working, what's not, and how can the audience do the same thing. If you don't take something away from each episode, you weren't listening.
Some highlights:
Point blank: "Perpetual Traffic" talks about marketing tactics that actually convert. As its name implies, this podcast focuses on getting website traffic. This DigitalMarketer.com-sponsored podcast also discusses what you do once a flood of visitors appears on your website.
Recent episodes have featured creating the perfect offer, measuring your Facebook campaign's success, and landing page optimization
Co-hosts Ralph Burns and Molly Pittman offer treasure troves of guidance for your small business website. And the guests they bring on are top-notch marketing pros.
Better yet, they casually discuss in-depth topics, so even if you are new to marketing you can still get huge takeaways to apply in your own efforts. We also love their strategies for social media advertising on a bootstrapped budget.
Some highlights:
If you've ever read, listened to, or experienced anything that Chris Brogan has created, you know that this guy knows what he's talking about. Not only has he created a massively successful business with huge clients (like Staples), he is nonchalant and relaxed when offering some pretty serious marketing tips.
While he's been around the block building other podcasts, "Making the Brand" is a new endeavor. This podcast features companies doing interesting work in the realm of brand-building and customer experience.
It's one thing to come up with an innovative product, service, or new technology that's going to disrupt the marketplace, but another to actually
You know you're not going to get your next big idea from the same industry as you, so I go out and find listeners: the cool leaders and movers from all kinds of marketplaces and industries. The common thread that ties every podcast episode together is answering: what are we doing to equip our customers for success?
It's equal parts insightful, honest, and motivating. His tips are valuable regardless of what role you play in your company.
Most episodes are super short (averaging between 15 and 30 minutes) which is perfect for getting little nuggets of branding wisdom while you're at the gym or when you need a break from whatever you're working on.
Beyond this, he's friends with most of the marketing industry's movers and shakers, so you know he'll bring on the best talent to interview. (Ahemmm Beth Comstock, CMO of GE.)

Some highlights:
Good grammar on your website and really any piece of marketing collateral is essential. You know the make or break moment when a web visitor scans your content and decides to take action? Want proof? Here's a good testament of that from BusinessTown.com:
"Your business leaves impressions with its presentations, ads, brochures and marketing campaigns. Consumers and business partners may or may not take notice of the fact that your written materials are carefully put together, but if those materials contain glaring grammar errors, they will take notice.

The reputation your business has enjoyed will be tarnished, and your company will come off as unprofessional. Even if you don't consider good grammar as something that is crucial to your business, just consider the effects of bad grammar for a moment, and you will be able to realize the importance of grammar. You might not notice good grammar, but you'll definitely notice bad grammar."
Enter "Grammar Girl" podcast. Mignon Fogarty is the founder of the Quick and Dirty Tips network and creator of Grammar Girl, one of Writer's Digest's 101 best websites for writers. Fogarty is also an inductee in the Podcasting Hall of Fame, so we know her tips are good.
Some highlights:
So, take some quick and dirty grammar tips from the godmother of Grammar in "Quick and Dirty Tips" podcast.
Devote some time to absorbing information through your earbuds… You may glean some pointers to implement all the great strategies in your day job!
And be sure to check out the Leadpages podcast for authentic stories of marketers' entrepreneurial journeys.