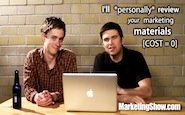 Clay: Hello everyone, my name is Clay Collins.
James: I'm James Lepine.
Clay: And this is the Marketing Show. In this episode, we're going to be sitting way too close to each other. James is going to be drinking some marginal beer, and we're going to be reviewing some marketing materials. That's what you have to look forward to in this episode of the marketing Show.
James: All right, so what are we going to talk about today?
Clay: Okay, so in the Marketing Program, we recently started offering as, you know, to members of the Marketing Program reviews of folk's marketing materials, and we asked in our little community of people who do marketing, we asked them if they'd like us to review any material, and we got a number of responses and instead of just reviewing this material inside of the website, we thought it would be fun to take a marketing show and take one of the pieces that was submitted for review and review it here today. So that's what we're going to be doing. So James, what do you like about this page?
Marketing Reviews: Examples Of Landing Pages
James: Yeah, so one of the things that I like just as soon as you look at it, you know it's a clean website design. It looks like he's using Optimize Press so it's just very clean and very clear. I like that. What do you think?
Clay: Yeah, there's a clear call-to-action. There are arrows here. You generally get a sense of what you're supposed to do. Enter your name, enter your e-mail address. So I really like that. I like that he included some testimonials. And I like that there is a very clear call-to-action. At the bottom it says you get started immediately. Just enter your name and e-mail address in the boxes on the right of this page and click to get instant access button.
That's something that you should always do. If you have a sales page, for example, you should say 'Click add to cart.' On the next page, you'll be asked for your credit card details. Enter them and then click 'Buy.' After that, you'll be taken to a page where you can download your software or get your book or whatever you're doing. So I like that he did that. What are some areas where you think he could improve?
James: Yeah, well, if you watched the last episode of the Marketing Show, you saw that we talked about one of the things that you don't want to do on your squeeze page is ask for someone's first name. Clay, you want to tell him a little bit about why you may only ask for the e-mail address?
Clay: Yeah, so generally speaking, the more fields that you ask for on an opt-in page or on any form in general, the more fields that you ask to be completed, the lower your conversion rates. So I know a lot of people like to ask for the first name so that in e-mails they can say, "Hey, Bob," or "Hey, Jane," or whatever… the truth is that that personalization isn't as effective as it used to be. It's not like 1995 anymore. Folks know that they're on your list. They know that you're not writing directly to them.
And so you're not fooling anyone by using their first name. And often, people put, you know, Joe Schmoe or whatever in the first name or just stuff to be funny, and when they get an e-mail that says Joe Schmoe, it tips them off to the fact that, you know, just reinforces and reminds them that they're getting a bulk e-mail, which they already know anyway. But he's going to get a higher opt-in rate if we take out the first name.
We recently tested this on our webinar squeeze pages. We used to asked for first name, last name, and e-mail address to register for a webinar, and now, we just ask for the e-mail address, and that increased the opt-in rate to our webinar sales page by about 5%. Now that's not nothing, but with the kind of all you're doing, that's going to result in tens of thousands of dollars if not hundreds of thousands of dollars over the long haul. So that's something that we've done. That's something I suggest he do. How else do you think he can improve?
James: So some other small things. Yeah, we'll get into the meat of what he needs to change here shortly, but I would also say that maybe adding pictures. He does have the testimonials at the bottom which is great, but if you have a picture, if someone can see another real person who has benefited from what you're offering that really helps, and maybe put where they're from. Like I said, I think it's great that he has the full name here. Some people just have like kind of initials going on or something, but yeah, I think a picture would help down here.
Clay: And he could highlight the testimonials as well. It's good to have – I like this textual variation so you can see that some stuff is bolded, some stuff is not. It's good to have that textual variation that really drives people's eye down the page if stuff looks different. If they just see a big blob of text, often, that text isn't going to be consumed but he could certainly do that with the testimonials here, maybe have those in a yellow box. It doesn't have to be, you know, obnoxious yellow highlighter, but just sort of like a general box around it or some quotes that you can see that just mark that this is a different type of information than the information in the bullet points. That would help.
Another thing that would help is if he had a picture of the free vision setting template. So something that you'll see often is that when someone is selling an e-book or giving away a digital download on the page where that's being given away, you will see kind of a 3D representation of that. So someone selling e-book often on the sales page, you'll see like a 3D representation of that e-book with a nice cover and style.
James: So how do you make one of those?
Clay: And it just – It makes it seem more real.
James: Yeah, it does.
Clay: So when you have those types of things on your page, it boosts conversion rates. And there is a software called Auto Cover Generator, and it creates, you know, pictures of CDs, pictures of books, pictures of Reno reports, membership cards. It basically creates 3D representations of all these digital stuff that we sell online, and so, he would get a better opt-in rate if he had a picture of that template or of that report or something that people could physically see what they're getting, or there's something that creates desire, you know.
James: Right, some kind of preview, some kind of yeah, here's what you're about to get.
Clay: Right.
James: Totally. Let's see some of the bigger things.
Clay: Absolutely. So here's – Now, we're going to get deep. We're going over some superficial things and these things can certainly increase the opt-in rate, but now, we're going to go for like the big guns. How do you really take this to the next level?
James: Better get it right, uh-huh. Right.
Clay: He's drinking on behalf of Lauchlan.
James: Yeah.
Clay: No, this is actually – This is a wonderful start Lauchlan. So the first step is that I really don't know who this is for, and you know, whenever you're in a selling situation, please know that the number one question people want to address is, is this for me.
James: Totally true.
Clay: Right?
James: Yup.
Clay: So Sally, who's a life coach living in Illinois who's 45 is reading this, and she's saying is this for female life coaches in their 40s from Illinois?
James: Right.
Clay: You know, like specifically, is it for me? Now they don't think of it in a way that I just broke it down, but people are much more – And study after study has confirmed this. People generally don't have an idea of what their goals are, but they do have a sense of who they are.
James: They are, right.
Clay: Right? So there's a famous split test where folks were presented with two options. One was I'm a professional marketer with clients versus I have a business, right? Those were the two options and folks click over one. So that was the role base option. I am this or I am that versus – The other version of the split test was I have this goal or I have another goal. And folks generally participated and purchased things that were for them even now in a lot of cases they didn't know what their goals were.
So we really don't get a sense here of who this is for. The most we know is that it's for someone who has a business. And you know, there are a lot of products that work for people in every single kind of business possible, right, but you're going to have a very difficult time marketing to those people if you don't call them out explicitly. If you go to like the medicine isle in Walgreen's, you'll see that there is Tylenol PM, there's Tylenol AM, there's, you know, Migraine Tylenol. There's all of these different types of Tylenol and they basically all have the same active ingredients.
But when they started branding them in these different ways, people could say, you know, yes, this is for me. I have a migraine. You know, I identify as someone who has a migraine. I'm buying this. Yes, I'm having trouble sleeping at night. And so conversion rates went up even though they were basically buying the same medication. And so while it might be true that this can be applied to anyone, he needs to pick a specific market and target to people in that market.
These people with lawn care businesses, people with bowling alleys. Who is this going to help specifically? That needs to be addressed. And if his products is going to help people across a number of different industries, he should create, you know, 10 different versions of the squeeze page so he can speak specifically to the needs of the people in that industry.
The second thing that's sort of missing from here is language that matches the way real people talk. No one goes around saying, "Gee, I'm really looking for a vision setting template," like have you ever heard someone say, "You know what, I'm really just looking for a vision setting template.
James: I haven't heard that. Uh-uh.
Clay: It's what I'm looking for."
James: No.
Clay: Or, you know, I've never heard anyone say like I'm looking to grow my business with focused business goals.
James: Yeah.
Clay: Right? They do say things like you know, I'd like to cut my hours in half. And I really need this business to be profitable, right? They say things like I'd like to get to six figures this year or I'd like to get to seven figures this year. So this is something Kevin Nations calls the pillow talk test. People don't speak to each other in these terms, and so your marketing should match sort of the water cooler talk or just it should match everyday language. So if Lauchlan finds that his target market is going around saying, you know, I really need to get ten more clients this year, then that's what the report should be, how to get ten new clients this year.
Or if Lauchlan finds that people are saying, you know, I'm just extremely frustrated because my vendors aren't working with me. I can't identify and locate the right vendors. I'm paying too much. And my margins aren't as high, it needs, you know – And my margins aren't as high as they need to be. The report should say, you know, how to get better vendors and get better margins so that you can make your retail business more profitable. It needs to absolutely match up with the language that folks are using.
James: We want to market to that 'it' right? That's something that you talk about. What is their 'it?' So what is that thing that they're looking for? The vision setting template may get someone ten more clients, but if you're not saying hey, this is going to get you ten more clients, right, if you're just calling it a vision setting template which is what you want to call it, then that's not going to be as effective. People aren't going to opt in.
Clay: Right. So you need to basically have two things here in this headline on the squeeze page. You need to have some mention of who the person is. And that main goal that they're looking to achieve. So like let's say it's the lawn care business, right? So it should be like grow your lawn care business in 2012 so that you can double your revenues this year and cut the number of hours that you're working in half.
James: There you go.
Clay: Some version of that, who they are, and what their goal is in their language, and using the terms that they use to self identify, right. So one thing that I see people doing all the time is saying, attention, small business owners, you know. Now is time to capitalize on like whatever, but the thing is that most small business owners don't go around calling themselves small business owner like…
James: Right, right.
Clay: …James, what do you do for a living?
James: I'm a small business owner.
Clay: Yeah.
James: Yeah, right.
Clay: People don't talk like that so you need to use the language that they're using. You know what, I want to just talk about how maybe I would rewrite this headline. So instead of grow your business fast in 2012 with focused business goals using this free vision setting template, you could potentially say take your lawn care business to seven figures in 2012 by implementing this 12-step business growth plan over the next 12 months, something like that, but it absolutely must target what they're doing. Another thing I'd add to this is that, you know, the same kinds of mistakes that are being made in the headline are being made in…
James: The bullet points.
Clay: …in the bullet points as well.
James: Yeah.
Clay: So for example, you know, let's take this one bullet point here. Enter 2012 with a clear vision that will let you move ahead of your competition and create the results that you want in your business and your life. What's difficult about saying things like this will get you the results that you want in your business in your life is that most people know what their frustrations are. They know what pisses them off. They know what they're worried about, but they don't instantly know what their goals are. So if you say to them here's something that's going to help you get your goals that doesn't create a lot of desire because they don't know what their goals are.
James: They want you to tell them what their goals are, right?
Clay: Right.
James: So here's what will take you to six figures.
Clay: Right.
James: And then they go, okay, there is my goal.
Clay: Right.
James: But if you say what are your goals, they're not going to be able to answer that question.
Clay: Right. And it's just not believable like if you were creating a travel guidebook that said a guide to traveling around that country that you really want to go to this summer, right?
James: Right.
Clay: Like no one's going to buy that book. They want the book that says a guide to Portugal, right?
James: Yup, yup.
Clay: A guide to Lisbon, and all the best restaurants in Lisbon. Not a guide to all the kinds of restaurants that you typically would like to go to in that country that you've wanted to go to for a long time. So you absolutely need to tell them it's exactly what they're getting. Now when you speak to someone specifically and you talk about the specific outcome that you're going to get, you are eliminating a lot of people, right?
James: Yeah, yup.
Clay: Because people who might read this who don't have lawn care businesses or who might not want to go to Portugal, however, the conversion rate is going to be much, much higher because every single one of the people who match up with this Avatar, at least a huge percentage of the people that match up with the Avatar he is targeting are going to opt in.
James: Yup, yup.
Clay: Got anything else?
James: No, I think that's it. You know, I think we should close by saying that you're off to a great start here Lauchlan and I hope that these suggestions help, and chime in on our group, you know, if you need updates and if you need more feedback.
Clay: Yeah. I mean we're marketing nerds so the truth is that we could take any piece of our own marketing and our own copy, and probably refine it for at least an hour. In fact, we do want a daily basis. So you know, the depth of our comments here isn't saying that this is horrible although there is a lot of improvement. My guess is that this isn't getting higher than a 10% opt-in rate on cold traffic right now. And you're going to want to get that a little bit higher if this is going to convert and probably bring in the level of income that you're looking to achieve and to build your list as quickly as you want to build it.
James: Yup, yeah. All right, so that wraps it up for today's Marketing Show. Thank you so much for watching. It's a pleasure to be here with you every week. If you enjoyed this, please share it with your friends. Show it on Twitter, Facebook, and pass on the love, and pass on the lessons and the work that we're doing here together. It's an honor to be here with you and we'll see you next week.
Clay: Hey, see you next week. I don't know if James will be here drinking bud lite…
James: Drinking my platinum.
Clay: …drinking platinum, but we'll try and hook it up. Let us know if you like this double team thing…
James: Yup.
Clay: …and we'll try and send you more. Thanks so much. Take care.