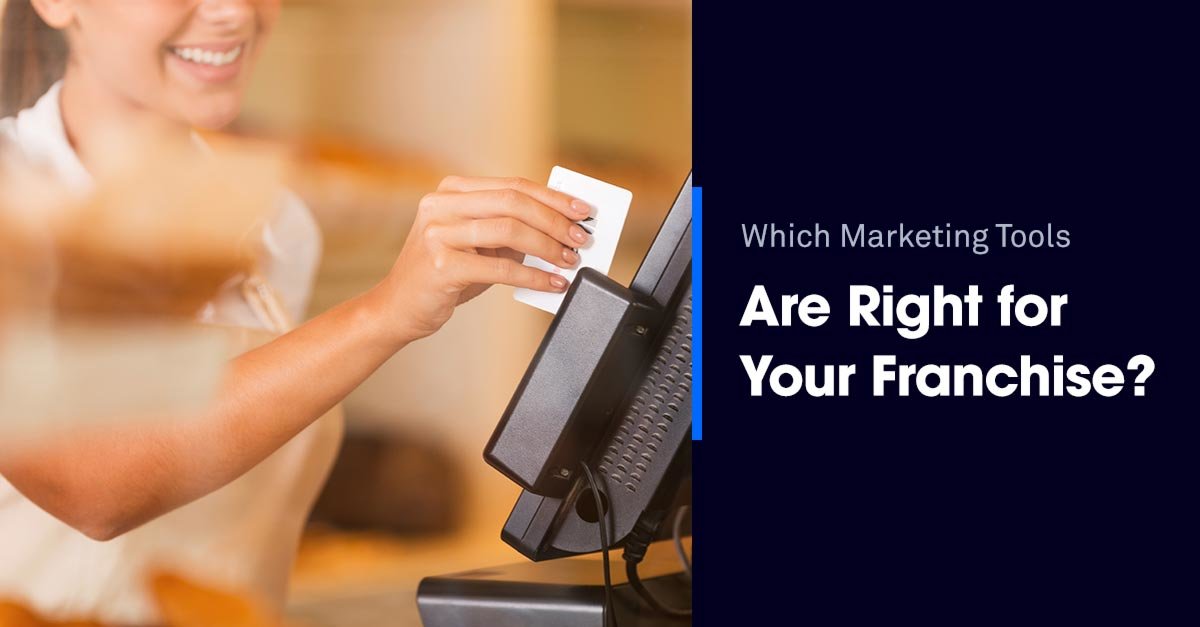 Marketing for any large organization can get complicated, but it becomes exponentially more complex when that organization is a franchise.
That's due to one unavoidable factor: the franchisee/franchisor dynamic.
If you're involved with a franchise, you probably do have some system in place. In most cases, the franchisor is primarily responsible for promoting the brand nationally to drive franchise expansion. Meanwhile, the franchisees are responsible for local marketing efforts to get customers in the door.
The problem? Franchisees are rarely marketing experts. And even if they do have a talent for marketing, they almost never have a dedicated marketing staff to help them carry out campaigns.
That means local marketing efforts for franchises are often lacking: hastily executed, underdeveloped, or off brand. And because the brand is the core of of any national franchise organization, brand consistency is paramount. The challenge many franchisors face is how to enable local franchise marketing without jeopardizing the integrity of the brand.
Before I joined Leadpages, I spent nearly a decade working for marketing agencies with franchise clients including Applebee's, Red Robin, Fastsigns, and Carquest Auto Parts (among others). I learned a lot about what does and doesn't work in franchise marketing, and ultimately I've concluded that there's only one overarching solution.
That solution is local franchise marketing that's unified at the corporate level but drives demand at the local level.
Local franchise marketing works best when it is a shared responsibility between franchisor and franchisee. This allows you to combine the marketing expertise of the franchisor with the local market experience of the franchisee.
A good franchise marketing plan has three phases, each overseen by either the franchisee or franchisor:
1. Franchisor: Build your local franchise marketing strategy.
2. Franchisor: Create integrated local franchise marketing campaigns.
3. Franchisee: Customize, implement, and measure the results of campaigns on the local level.
In planning the first two steps, the franchisor needs to keep in mind that their marketing strategy cannot be one-size-fits-all. Each local market is unique, and each franchisee needs the ability to easily customize, implement and measure local franchise marketing to fit their unique markets. It's critical that franchisors leave space for franchisees to adapt assets and tactics to suit their location.
The best way to do that: use marketing tools that allow for centralized planning on the franchisor's part and local flexibility for the franchisee.
This is where Leadpages comes in. It's not the only marketing tool your franchise will need (see our infographic for some others we recommend), but if used correctly, it can form the backbone of your digital marketing strategy.
Here are a few reasons why.
Why use landing pages for your franchise?
Landing pages—that is, highly focused, action-oriented web pages designed to receive traffic from one or several sources—are a vital part of most any online marketing plan.
But they're especially useful for franchises, for the following reasons:
Landing pages don't have to be part of your core website. Changing the structure of your website can be a weighty decision and a major undertaking. If you're launching a campaign that'll last for only a season, a month, or a week, it doesn't make much sense to make that campaign a part of your site. Instead, promote that campaign on a standalone landing page.
Landing pages are simple to create. Depending on the complexity of your offer, a landing page might be only one or two screens long. You don't necessarily need an intensive development process—once you know your message, your branding, and your call to action, you're most of the way there. If you have 40 franchise locations that each need a landing page, you can swiftly replicate one simple page and add location-specific details as needed.
Landing pages are effective. When a page puts all its energy into getting visitors to do just one thing—no distractions, no clutter—it'll be much more successful. Landing pages give your offer a chance to shine, helping franchisors and franchisees alike succeed in a local space where every interaction and every lead is important.
Once you've decided to make landing pages part of your marketing strategy, you'll need to figure out how to roll them out in the context of any given campaign.
How should you use landing pages for your franchise?
In line with the three-phase franchise marketing plan I mentioned above, franchisors and franchisees should each play a different role in launching landing pages. For the best, most efficient results, I recommend the following approach.
1. Franchisor: Choose a Landing Page Template
Leadpages makes it easy to build high-performing landing pages by providing hundreds of mobile-responsive page templates. And unless you have a large team of designers and developers working for your marketing department, you'll definitely want to begin with a proven template.
This doesn't need to be limiting. With our new drag-and-drop builder, you can customize those templates in any way you want. But you'll make things much easier for your team if you're not working from a totally blank slate.
Start by determining the page's function: are you looking for opt-ins? Running a sale? Holding a contest? Offering a coupon? Promoting a series of events? Keeping that in mind, you'll be able to quickly figure out what page format best matches the content you need to promote.
2. Franchisor: Decide on Messaging and Branding
Now, jump into that landing page template and add your content. If you use a landing page builder like Leadpages, you won't need to do any coding; you'll just point, click, and type to make the changes you need.
At this point, consider making a list of the hex codes (color designators that look like this: #F2C82C) that correspond to your brand colors, the fonts and font sizes you prefer to use, and any other design elements that might crop up as franchisees make changes. Include these in a campaign playbook and make it available to every franchisee who'll be participating in the campaign.
Using Leadpages, you can create pages that harmonize perfectly with your main website. For instance, here's a snapshot of top tutoring franchise Tutor Doctor's homepage: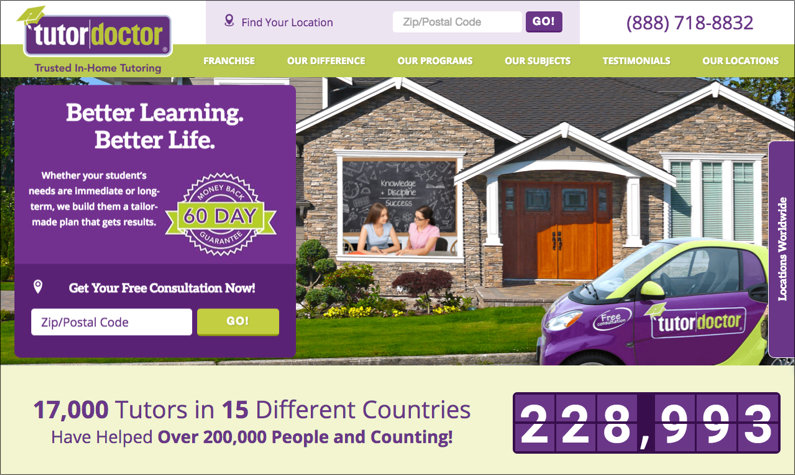 … and here's a simple landing page they created for one promotion using Leadpages: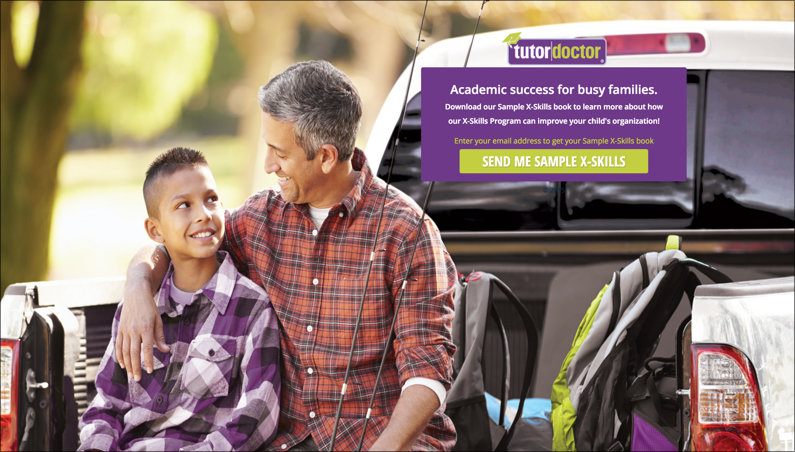 3. Franchisor: Give Franchisees What They Need to Succeed
Once you've created your landing page(s), it's time to start sharing them with franchisees. The best way to do this is to use Leadpages sub-accounts.
Sub-accounts are fully functional Leadpages accounts that are each tied to the franchise's primary account. A franchisor can:
1. Create and customize a landing page in Leadpages,
2. Use Leadpages to generate a share link to the customized page, and share the link with each franchisor,
3. Allow franchisees to customize a copy of the page for their specific location,
4. Review and approve the franchisee's changes, then
5. Monitor the performance of each location's landing pages to keep tabs on the campaign's overall success.
Using a process like this, both sides can work together to launch a campaign in the space of a single afternoon.
Make sure franchisees understand exactly how their landing pages work together with your email marketing, paid media, and social media marketing efforts, adding this information along with your branding to your campaign playbook. If franchisees will promote the pages via channels such as email and social media on their own, give them sample copy and images to use that match the landing page.
Even if some of the campaign's elements are controlled by the franchisor, franchisees should understand what the customers who show up at their locations have seen so they can provide a coherent customer experience.
4. Franchisee: Customize, Integrate, and Publish Landing Pages
Once the franchisee receives a share link to the promotion's landing page, they'll want to make sure it reflects any necessary local details (which could be as simple as adding a phone number and address), working from the franchise branding guide to ensure consistency.
If the campaign in question is designed to generate leads, franchisees will generally also want to make sure the form on the page links to the CRM or email marketing service they use, so that they can follow up with their own leads. Or, if leads will go into a centralized database to be distributed later, one side or the other will simply need to do some initial setup to connect the page to the necessary software account. (Curious whether Leadpages integrates with the software you already use? Click here to see all integrations.)
Then it's time to publish. In some franchises, different franchisees may use totally different website platforms and hosting services. Leadpages makes it easy to control for this: you can publish unlimited pages to unlimited domains, no matter what's on the back end of each location's site.
Even if franchisees use Facebook business pages as their location's main web presence, you're not out of luck. You can also use Leadpages to publish any landing page as a custom Facebook tab, so franchisees can embed the promotion's landing page right into Facebook.
Here's a real-life example from (non-franchise) pet-care company Sleepy Paws: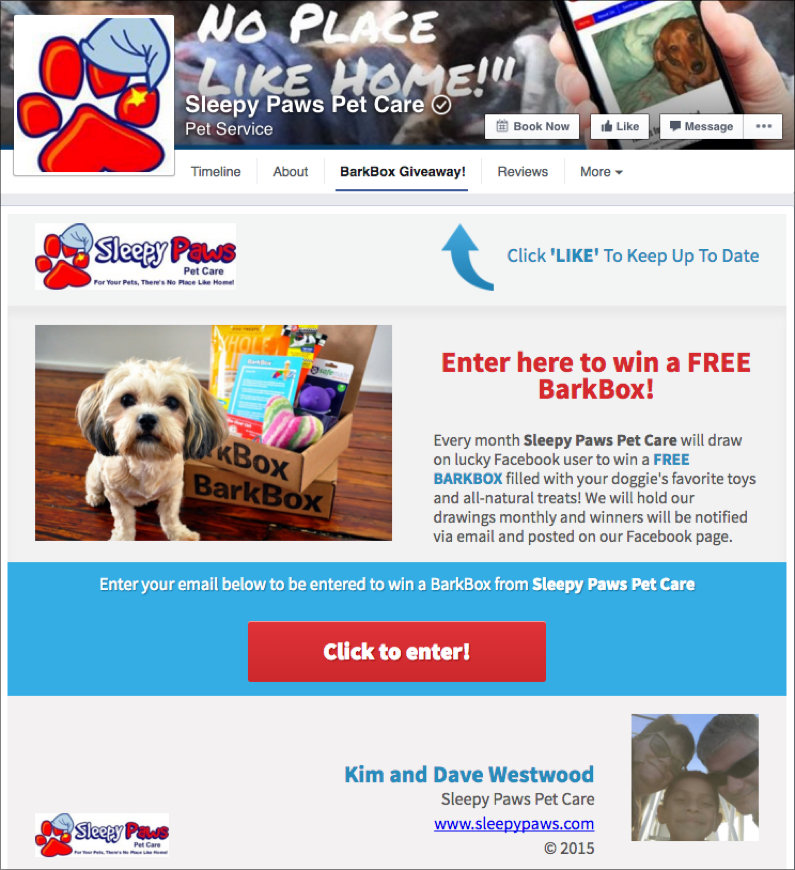 Other powerful conversion tools for franchises
We've talked about landing pages in depth and mentioned email, social media, and paid advertising. These tend to be the essentials for online franchise marketing, but if you use Leadpages, there are a few other tools you should explore.
Pop-ups: Capture Leads on Local Websites, Blog Posts & More
Pop-ups
are lead-capture pop-ups that can be linked to anything on any page or site to collect leads and deliver content.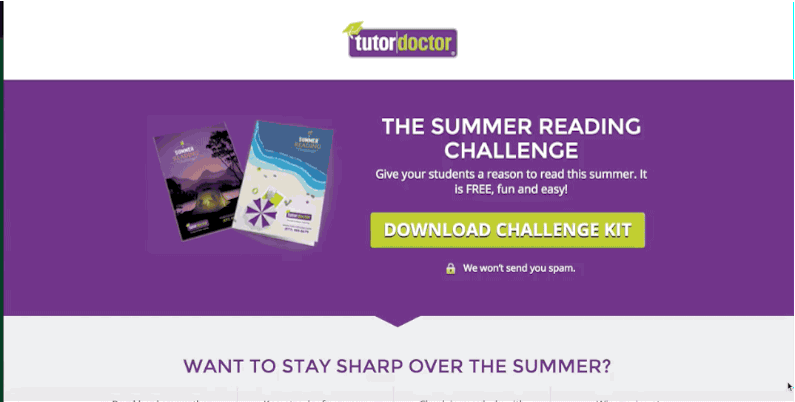 Using pop-ups for local content marketing improves the lead generation capabilities of local websites, blog posts and any other local online content. pop-ups come with every kind of Leadpages account, and can be generated at the franchisor or franchisee level based on the needs of the organization.
You can also use pop-ups as timed and exit pop-ups that appear when visitors have lingered on a page for a given amount of time or are about to exit.
Opt-in Texts: Get a Better Return on Print and Broadcast Advertising
We talked about improving the lead generation capabilities of online content with pop-ups, but how can you do the same thing with offline content?
One answer is opt-in texts.
Local franchisees often understand offline opportunities to generate leads in their area better than franchisors, and opt-in texts allow them to take full advantage of those opportunities.
Created specifically to fill the gap between online and offline lead generation, opt-in texts allows you to collect a prospective customer's email address and phone number via text messaging. You simply add a phone number and text code to your offline marketing materials, asking leads to send you a short message to join your email list or get a freebie (such as a coupon or information packet).
This is obviously a much easier process then going online, typing in a URL and filling out a form. It increases your chances of capturing a qualified lead on the spot, whether someone's taking in your signage, billboards, television, radio, or any other offline marketing source you can think of.
Trigger links: Streamline Prospect Delivery
If you already have a prospect's email address,
trigger links
are an exceptionally easy way for that prospect to opt into different email lists, sub-lists, and webinars. You simply copy and paste a email Trigger link into your marketing emails, and your prospects can sign up with one click. No additional forms or information required.
Email Trigger links can help franchisors deliver leads to franchisees based on location: simply set up a trigger link for each location's email list and send an email asking the prospect to click the location closest to them. That prospect will automatically be added to the local franchisee's contact database.
Email trigger link take the guesswork out of prospect delivery, especially when prospects are unwilling to provide you with more and more contact details. Plus, franchisees themselves can use trigger links to further segment their own prospect lists with very little effort.
How can Leadpages help your franchise?
Leadpages has the power to increase productivity and generate sales for local franchises of all kinds, as well as other organizations with multiple branches (such as multi-location brick-and-mortar businesses or nonprofit networks). We've also got a team of sales and marketing experts ready to talk if you'd like to learn more.
Click here to talk to someone online or by phone.
Have you ever worked with a franchise? What were some marketing challenges you faced? Tell us in the comments!