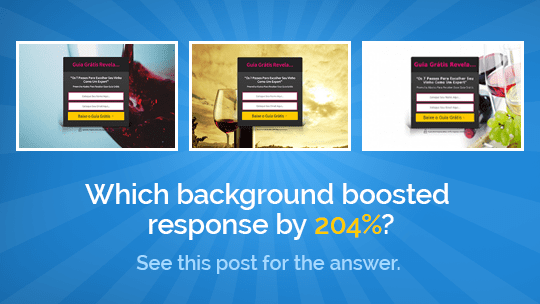 By Kat Von Rohr, Writer for LeadPages
Three gorgeous pages, with three stunning backgrounds.
But only one background more than doubled response in this simple split test.
Recently, LeadPages customer, Eric Ferreira ran this split test you see below to see which image of wine would generate more leads on this Facebook page for wine lovers, Mania De Vinho.
As you can see, he tested three variations of this basic centered squeeze page.
Of these three images, which background do you think dominated in this split test?
Take a guess and then scroll down to see the winner…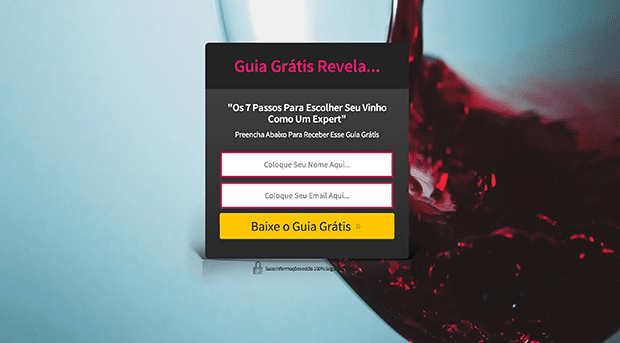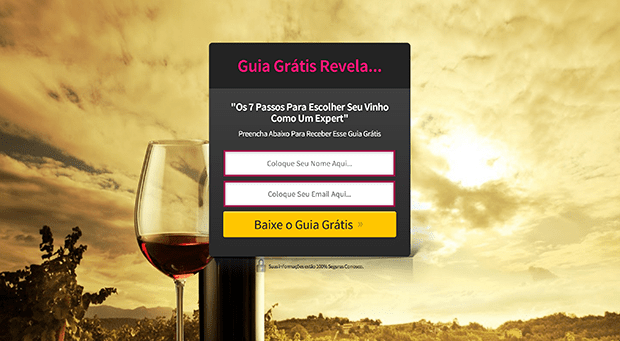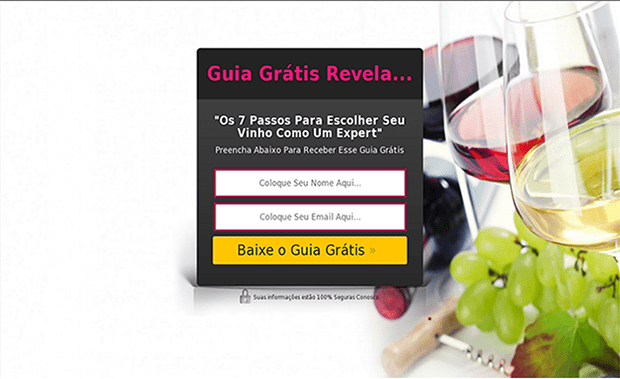 And the Winner Is…
Choice B. This variation with the sunset in the background beat out the original and the second variation — with a 204.72% boost in response.
(Have any idea why this background image won? If so, I'd love to hear about it in the comments below.)
As you can see below, this variation also won with a 100% probability. That means our LeadPages split testing tool determined that there was a 100% probability that this result was NOT due to chance.
In other words, these findings are statistically valid. You can check out the data from inside LeadPages below.

According to our customer, Eric, the winning page also led to a nearly 40% conversion rate on this particular Facebook page. At the time, Eric was paying 0.08 for clicks in Brazil, so he secured opt-ins on this page for around 0.20.
Not bad for a couple quick pages that you can set up in minutes.
A big thanks to Eric Ferreira for sharing his results with us. As an Internet Consultant, Eric sets up digital marketing projects like this one for worldwide clients at the consultancy firm, WSI Digital Marketing.
According to Eric, LeadPages is currently their "#1 solution for creating squeeze pages."
How to Run a Similar Test for Your Own Business
Right now, testing background images like this is the #1 most popular split test to run here at LeadPages.
It makes sense. After all, it only takes seconds to change the image on any LeadPages template. So simply swapping out the background photo is one of the easiest, fastest ways to create an entirely new page to test for your audience.
Changing the background also tends to have an impact on your response rate. As our customer, Eric said…
"I always test different background images because I always notice a huge conversion rate difference between different images." – Eric Ferreira
Even with multiple variations (like in this test above), setting up a split test like this is fairly simple inside LeadPages. It only takes five simple steps…
Step #1: Create (or find) the page that you want to split test.
Step#2: Enable split testing on that page by clicking on "create a test" on the page.
Step #3: Add a variation to this page by clicking "add variation" from the drop-down menu under "create a test."
Step #4: Choose which page you want to make a variation of.
Step #5: Save the page and you're done! Ready to split test.
If you've never run a split test like this before inside LeadPages, I recommend you check out our video on split testing first.
Otherwise, if you're a pro LeadPages customer, you can dive into the member's area and start testing your own background images right now. Even if you're not a pro customer, you can also use any outside split testing tool to run split tests inside LeadPages.
Before you go, I'd love to hear what you think of this split test in the comments. Why do you think Choice B won? Let me know below.