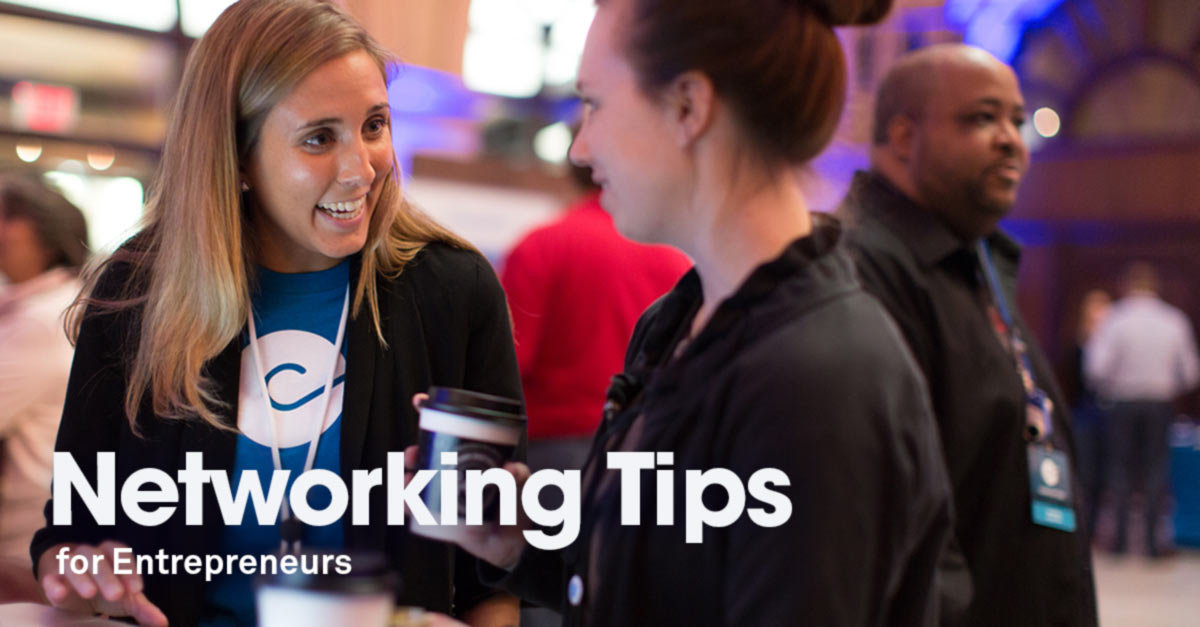 There are so many theories about networking. From 50 cups of coffee to never eating alone to the the five-minute favor, the abundance of popular networking techniques out there makes two things clear:
1. We all find value in meeting people in person and growing your network. It can help you make connections that can grow your business, make sales, or help you make the next step in your career.
2. We haven't really figured out how to do it yet—not in a way that reliably feels natural and gets results.
Reading up on all the networking tips in the world doesn't make actually talking to strangers any easier. In fact, it can be downright awkward, especially in situations without the advantage of a pre-arranged meeting or even a mutual friend.
That is, in situations like big conferences.
With our Converted 2016 conference coming up in October, I knew I needed to brush off my networking skills. From the cocktail party on the first day, to group breakfasts and lunches, to casual conversations in the hall between sessions—not even counting private networking opportunities for VIP ticket holders—it's enough networking opportunities to make your head spin.
And to make some truly valuable connections—as long as you can keep your cool and prepare for success.
I decided to ask for help. I reached out to some of our best Leadpages customers to get the best networking tips from people who do this all the time. Read on to see what they said about making connections with fellow marketers and networking at a major event like Converted 2016.
Before the Event: Networking Begins at Home
Your pre-conference preparation probably includes picking out your outfits and packing your business cards, but many of our customers let me in on one secret of great networking: prepare before the event.
Before you jump on a plane, you should research the conference. This means more than just a quick survey of the website to be sure that the information will be helpful. (If you've got your ticket, you've surely done that.) Researching the session topics and figuring out who else will be attending can make conversations with new connections easier.
Then, do these three things:
1. Practice how you'll introduce yourself.
Consultant and founder of GrowInspires Mark Neild suggests:
"Practice your intro and answer to the question 'what do you do?'—people usually ask. Make it specific, outcome-based, and implicitly inviting people to ask more."
How many times have you met someone, asked what they do, and ultimately let the conversation die because you had no idea how to follow up? Avoid the same fate for your new potential connection by making it easy for them to ask for more information.
So what's Mark's own well-rehearsed intro? "I work with creative businesses to help them put an authentic business model around their talent so that they don't have to sell."
Yep—I want to know more!
2. Connect online before you meet in person.
Chances are good that once you buy a conference ticket, you can tweet all about your excitement using a catchy hashtag like #Converted16. And if you click on the hashtag, you can see who else is excited about the conference.
President of Pepper It Marketing Services Kathy Colaiacovo suggests using this to your advantage.
"Find the conference hashtag and connect with people using it online prior to the event. Then when you get there you have a leg up on people you may know," she says.
Social media consultant Christian Karasiewicz suggests also setting up Twitter lists ahead of the conference with people who will be there and are tweeting about it. If you're able to get a feeling for what kind of experts are also in the crowd, you'll be able to set a mental action plan with specific goals for what you want to learn.
For instance, if you know that a lot of the attendees are email marketing experts, you might set a goal of meeting one email marketing expert and learning one thing from them. This mini-framework will ensure that you have mentally prepared a specific question or two that will help you meet your goal of learning about email marketing.
3. Research speakers you're hoping to talk to.
Even if the hashtag isn't bustling with activity from your fellow attendees, you can probably find out a lot about the speakers who will be there from both the conference website and their social media pages. For instance, we've loaded up our Converted 2016 website with information about our stellar speakers and the topics they'll be covering in their sessions, and we've also posted blog posts about them.
Beyond the information that the conference organizers provide about the speakers, you can do your own Google search to be sure you're prepared to strike up a conversation with the speakers.
Skip Andrews suggests doing exactly that:
"Research published content by the speakers or vendors in case you run into them. You can show your interest and awareness of their work. Commenting on past posts written by someone I am interested in has gotten me into deeper conversations quicker than 'Hi, nice to meet you. . . '"
Even if you only have time to skim their recent headlines on blog posts, it'll help you make the most of the opportunity to connect with them. You'll also stand out in their mind as the person they had a really great conversation with—and who doesn't want to be that person?
During the Event: Focus on Connections
Networking can sometimes feel a bit disingenuous, especially if you know you're going to want to ask the person you're talking to to do something for you. So instead of focusing on what other people can do for you, try to concentrate on having a sincere conversation. You can always ask for a favor later.
Our customers were happy to share tips on making strong connections through networking.
1. Be memorable by building real relationships.
If you focus only on selling yourself, you miss out on the opportunity to learn from another person with completely different experiences than you. Focus on asking questions and learning as much as possible about their story. Not only will you be everyone's favorite person to talk to (who doesn't love talking about themselves?), but President of Trustway David Hall reminded me that you'll also be more memorable to that person once they get home from the event:
"The real power in networking is in 'it's all about who knows you.' I once heard someone say that you lose 100% of the business of people who don't know who you are. In networking, that's very true. To be successful, you have to get curious. Ask lots of questions. Leave the selling for later. Build relationships first."
2. Ask questions that get people talking.
Sure, "What do you do?" does just fine as a conversation starter, but how are you planning to follow-up after you hear their response? Come armed with an arsenal of excellent questions that will get people talking and you'll be much more likely to have the types of conversations that people actually want to follow up on.
Owner of Hudge Factor, Drew Hudgins suggested a technique for following up on the classic "what do you do" opener.
"I ask, 'Hey [new person I just met], so tell me the coolest or most fun thing that you got to do this week [in the context of what you do … which you just told me because I asked that prior to asking this]," he said.
At Converted 2016, we've set you up for success by making the conference one-track, which means you'll be able to ask every attendee their thoughts on the last speaker and how that message applies to their business model. (No awkward conversation dead zone when you realize you went to different sessions and have nothing to talk about.)
3. Offer your help
One of the best ways to leave a positive impression on a new contact is to ask what you can do to help them. Often, it will be a quick favor or a question that is quick and easy for you to answer. Event specialist Denise Kelly said:
"When you meet someone, don't only ask what they are working on, but ask the biggest problem they are facing in their business. Offer up a fresh idea or ability to connect them to someone you know who could solve their problem. You'll make a friend for life."
As a bonus, someday when you're looking for help in your business, that person you helped without question may well return the favor.
After the Event: Follow Up
Obviously, the connections you just made will not truly expand your network unless you continue to keep in touch!
Following up can be anxiety-producing, though. What channels should you use to connect? Is it enough to add someone on LinkedIn? How soon should you reach out?
Our customers shared some great insights into keeping connections solid even after the conference or networking event:
1.Skip the paper business cards.
Go ahead and bring them if you have them—but you should also be prepared to go digital. How many times have you arrived home from a conference with about a hundred business cards at the bottom of your tote bag from people who have already faded from your mind?
Tracey Lynn Cox, owner of One Courageous Life, recommends going digital—especially for the people you really want to follow up with—in order to keep track of all of those names.
"Make a new contact [in your phone] with their phone number and website or email (or all three). You have what it takes to send a text at the airport and an email when you arrive home," she said.
She also suggested snapping a photo if your new contact is open to it, and making a note within their contact information about where and when you met them, in order to keep all of the new faces from a big conference straight.
2. Establish expectations before ending the conversation.
It is always a good idea to ask your new contact how they prefer to be reached after trading business cards.
For instance, I hate when someone I've just met texts me out of the blue, even if I'd be willing to keep the conversation going via email or even toss industry links back and forth on Twitter. It only takes a minute to ask how you should follow up, but it might save you from annoying a new friend without even knowing it.
3. Remind them who you are in the follow-up.
Sending a note with your name and position may not be enough to jog your new contact's memory. Instead, lay out a bit of what you discussed in your previous conversations.
"The real key is in the follow-up," social media marketer Dave Woodward said. "Follow up soon after and remind them what you talked about. This always needs to be more about them. So find out what excites them, what projects they are working on, and see what you can do to enhance that."
By making your follow-up about them, you're also setting yourself up to once again offer help if you can, which is going to help you build a relationship for the long-term.
With all of these tips from expert marketers, I know you're ready to network like crazy at Converted. If you're ready to meet hundreds of the best marketers from around the country and learn about every step of the conversion journey, get your ticket below.
What are your best networking tips? Let us know what we missed in the comments!