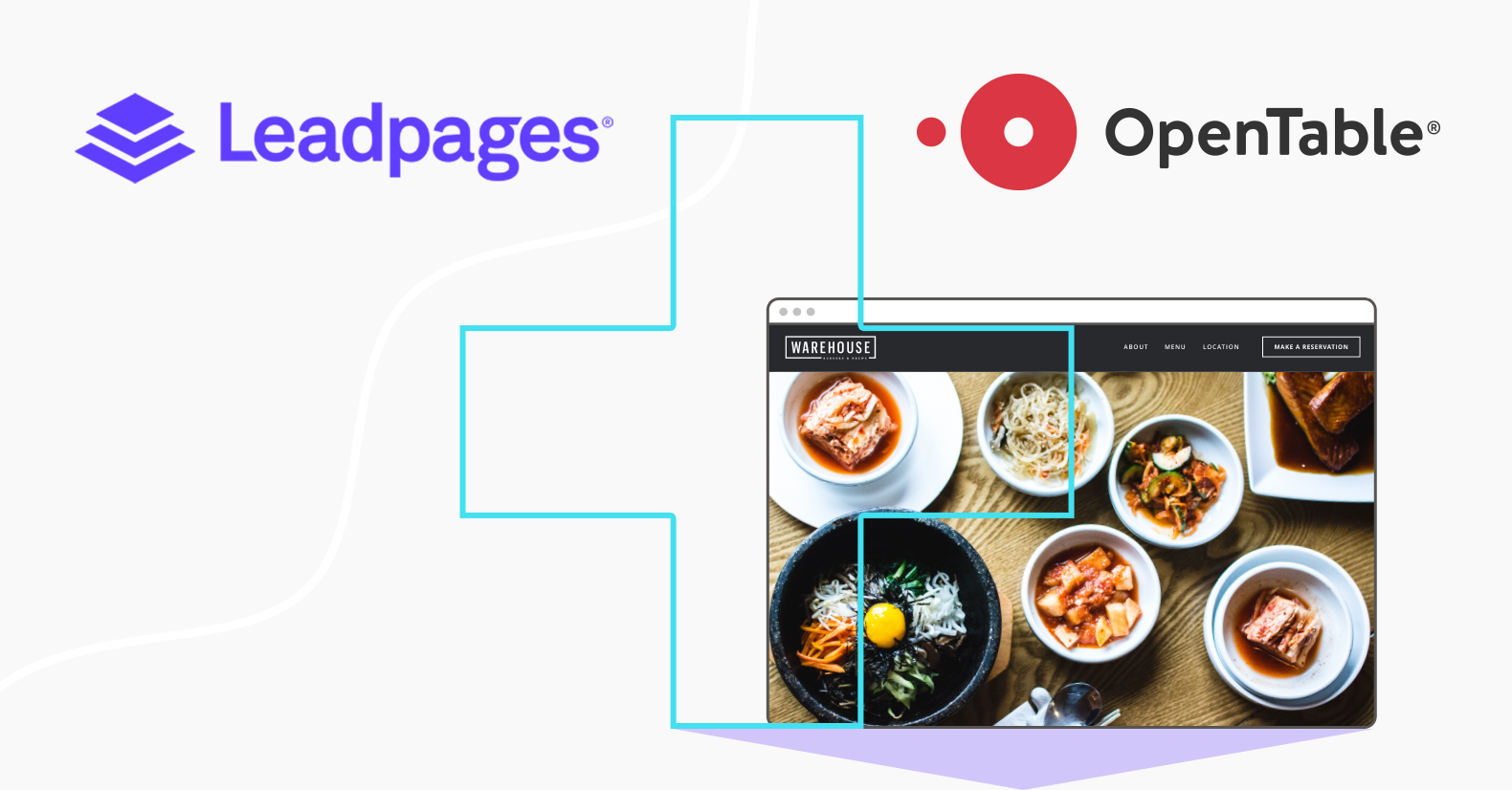 Leadpages' new OpenTable widget allows your customers to search available reservation times and book a table right from your landing page! Simply drag and drop the OpenTable widget onto your page or pop-up, paste in your restaurant ID, and publish!
What is OpenTable?

OpenTable is a real-time online reservation software and smartphone app that allows people to make online reservations, read restaurant reviews from diners, and earn points towards free meals.
As the leading online reservation solution, OpenTable needs no introduction—particularly among food and beverage professionals. But what does deserve an introduction is Leadpages' latest widget: an OpenTable embed feature enabling you to seamlessly accept online reservations from your audience.
From 5-star restaurants to 24-hour diners, breweries, bars, and everyone in between OpenTable streamlines the reservation process and makes customer acquisition considerably easier.
With the OpenTable embed widget, you can easily give your visitors the ability to make a reservation right on your Leadpage or Leadbox. Mobile responsive and made for ease, it's simply the best way to make (and take) reservations.
What are you going to (absolutely) love about OpenTable?
Here's what we suspect will make you swoon:
Let your audience easily find and reserve a table without having to call into reception
Receive reservations 24/7 without being restricted by business hours
Offer seating options to make it easy for your customers to choose where they'd like to sit. Bar? Booth? Patio? Now diners can pick their favorite seat in the house.
Turning online traffic into foot traffic
Landing pages are an essential piece of the puzzle when it comes to booking reservations and winning both new and repeat business.
Perhaps you've got your restaurant's website up and looking sleek and shiny. Perhaps you've even invested in paid advertising online—but if you're not seeing the conversions and customers coming through the door, is likely because your landing pages are letting business slip through the cracks.
Because landing pages have a narrower, targeted focus they are better able to compel an audience to take action—like, say… reserve a table.
Here are just a few ideas for how you can use the OpenTable Widget to get more customers through your front door.
Include the OpenTable widget:
On your thank-you page

On a timed pop-up (Leadbox)

On your business's 'about page'

On promotional landing pages
What one cider house has to say about the OpenTable Widget
Brooklyn Cider House, Brooklyn, NY's first cidery with onsite restaurant & bar, was one of the first establishments to put the new OpenTable Widget to work.
How? Brooklyn Cider House offered a 15% off coupon (on their mouth-watering brunch menu) and included the OpenTable widget within the thank-you page of their promotion. That way, immediately after opting in to receive the discount, visitors were prompted to book a table and drop by.
We reached out to their Customer Aquisition Manager and Leadpages customer, Tim Shilstone, to learn a little more.
Here's what Tim had to share:
What do you think of the OpenTable widget?
The OpenTable widget in Leadpages is a dream for restaurants. Adding it to our landing pages couldn't be easier. No need for web development experience necessary here, just strategic implementation.

What problem were you trying to solve for Brooklyn Cider House? What solution were you able to provide?
Brooklyn Cider House is a massive 12,000 square foot cidery and restaurant. That being said, there are a lot of seats to fill to cover overhead costs. Leveraging Leadpages alongside strategic Google and Facebook ads has helped us fill our space during historically slow periods.

How did the OpenTable widget contribute to that solution?
Acquiring a lead is one thing. Getting them to covert at our brick and mortar location is a whole different story. Adding the OpenTable widget to the thank you page of our promotions has helped leads follow through with their decision to visit our restaurant. Simply put, it's increased the conversion rate of our leads.

Can you envision any other ways to implement the OpenTable widget?
Booking large parties and private events is always something the Brooklyn Cider House marketing team is thinking about. Moving forward we plan to incorporate the OpenTable widget to help large groups, whether they be birthday parties, corporate holiday parties or bachelorette parties reserve their space with us.

How does OpenTable & the suite of widgets within Leadpages help you grow your business?
When attracting new customers our relationship starts with a Leadpages landing page. It's the very first experience a potential customer has with us. Leadpages and the OpenTable widgets help Brooklyn Cider House put their best foot forward.
Ready for OpenTable on your landing page? Get started with ready-made templates.
Find a conversion-optimized, mobile-responsive landing page that you can easily customize to fit your business and any campaign.
It's all inside the Leadpages Template Gallery.
Here's how to embed OpenTable right on your landing pages:
OpenTable makes it easy for your customers to make a reservation and Leadpages makes it easy for you to reach your audience and put your best (professional) foot forward.
Easily collect reservations in one of two ways: embed your OpenTable reservation widget directly on a page or as a pop-up that triggers from the click of a button or hyperlink text.

Let's show you how that's done:
Drag & drop the OpenTable Widget wherever you like it to appear


Locate the new OpenTable widget from the widget sidebar within the Leadpages builder. Simply drag and drop it onto the page, paste your Restaurant ID directly into the widget, and voila! You're good to go.
Once a visitor clicks 'Find a Table', a new browser tab will open with the restaurant's availability for the date, time and number of guests they selected in the widget.

Just as with any other widget, when placed next to another widget, the size and shape of your OpenTable embed will automatically adjust.

See how the OpenTable Widget works

Ready to open your business to new possibilities?
The OpenTable Widget awaits!