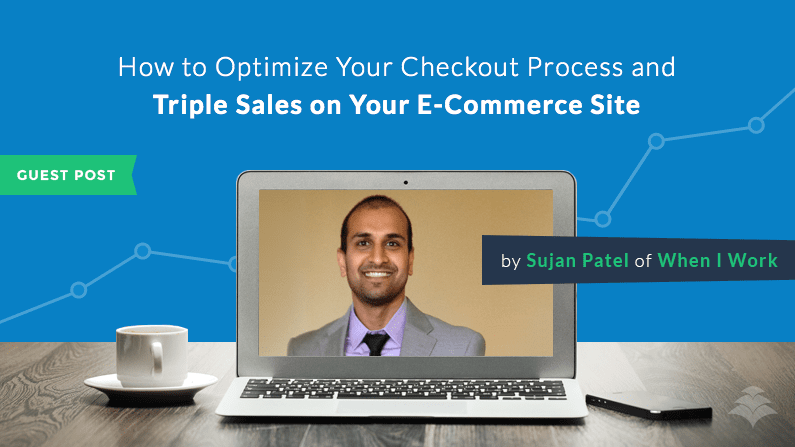 Editor's Note: The following article was penned by Sujan Patel, a Leadpages Guest Blogger. Interested in writing for the Leadpages blog? Hit us with your best shot!
At Leadpages, we write a lot about how to raise your conversion rates on your landing pages, but we haven't written a lot about what happens after the landing page, especially if you need people to complete a checkout process on your e-commerce site.
That's where this post from Sujan Patel comes in. Sujan is VP of Marketing at When I Work—an app that nearly half a million people in more than 50 countries rely on for employee scheduling, time clock, and communication. He previously founded Single Grain, a digital marketing agency based in San Francisco. He has over a decade of experience helping companies of all sizes connect with and convert more prospects online.
And with that, I'll let Sujan take it away…
Did you know that studies have shown that 68.07% of shopping carts on e-commerce sites go abandoned? That's a lot of abandoned carts!
So how can you avoid this?
First, think of the check-out process as the finish line of a race. The goal is to get your customers to cross the white line to receive their prize from you without any distractions.
Sounds simple, right? Unfortunately, optimizing the checkout process is often overlooked as a conversion strategy—with devastating results.
And here's why.
When you pour money and effort into your sales funnel, the last thing you want is for the final step to be the one that derails the sale. There are studies that show why people abandon their carts, with the number one reason being unexpected costs.
But what do these results tell us? They show that you need to take the proper steps and use the right split testing protocols to optimize your checkout process and drive more sales.
Here's how to do it.

Avoid Unexpected Cost Add-Ons
Some studies suggest that roughly 56% of shoppers who drop out of the check-out process cite unexpected costs as the reason for doing so. To avoid running into this problem, start by making sure you aren't pricing your product inappropriately and then surprising your customers by adding on unexpected shipping, handling, or processing fees at checkout.
As an example, consider an order touted on Vistaprint. They advertised a price of $16 for 100 cards, but that quickly became $24 with a non-optional colored backside selection (which was part of the card design on the initial page). At checkout, a shipping fee of $6.99 minimum is also added, bringing the total to $30.99—almost twice the initial offer.
Add three pages of upsells to the process, and it's not surprising that Vistaprint received poor reviews on its shopping cart process:
VistaPrint: Worst checkout flow I've seen in a while. 3 popups. 4 up-sells. 1 broken survey. It's like they wanted me to abandon my cart.

— Greg Raiz (@graiz) December 28, 2013
Make Your Price as Low-Key as Possible
No one wants to part with their hard-earned money, but remember that customers are on your site for a reason: to shop and buy your product. To help them along, position your pricing, especially in your checkout process, in a way that makes it easier for them to stomach.
In one study on the subject, conducted in 2000, researchers found that making prices prominent, large, and highlighted made consumers price-conscious—even if they weren't in the beginning. Other studies show that omitting the dollar sign can improve sales and that presenting prices in a smaller font makes people more comfortable paying.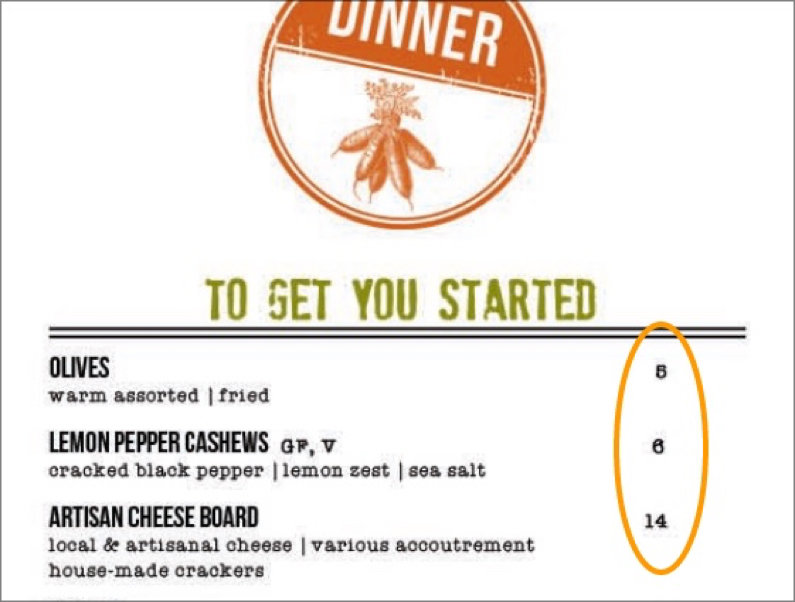 In all of these strategies, the idea is to make your prices appear insignificant. Using smaller fonts, neutral colors, and no dollar signs should help to improve the conversion rates of your checkout process.
Offer Free Shipping
High shipping prices are the number one killer of online purchases.
Seriously. The added expense turns customers off.
So what can be done? Wharton marketing professor David Bell points out that a free shipping offer that saves a customer $6.99 is more appealing than a discount that saves them $10. He goes on to say that 60% of online retailers cite "free shipping with conditions" as their most successful marketing tool.
A "free shipping with conditions" example would be a program that offers free shipping on orders over $50. Consumers are often willing to buy more from you in order to get past the $50 mark—even if they have to spend more than what the original shipping price would have been to do so. This strategy also causes customers to see higher-priced items in a positive way since they help the order meet or exceed the free shipping threshold.
Saul Torres of the Global Healing Center ran an A/B test on free shipping to see if this theory could be proven true in the real world. He sent half of his traffic to a page with free shipping and a half to a page with a $2.99 standard shipping fee.
What he found was a 20–25% increase in conversion rates on the page with free shipping, which more than justified making the shift to free shipping.
Use "Continue" Rather Than "Register"
Who'd have thought that all it takes to improve checkout rates is a simple change in wording?
Consider the case of Jared Spool, who ran a test on a major e-commerce site whose checkout process included a button that said "Register."
The business owners thought this was a great tool for customers. They reasoned that this made it easier for them to shop in the future since their information would be saved for later use.
What Jared found out in usability tests, though, was that first-time shoppers hated registering. They just wanted to buy and felt they'd be pestered with marketing messages once they gave up their personal information.
Even repeat shoppers struggled, commonly forgetting their login and password information and having to go through a lengthy recovery process to place orders in the future.
As a result of Jared's tests, the company removed the "Register" button in favor of a "Continue" button. They still offered the chance to create an account during checkout but didn't require it.
The result? In the first year after the change alone, the company brought in an extra $300 million, and the number of purchasing customers went up by 45%—all without changing anything else.
As you can see, small changes can—and do—make an enormous difference in your checkout process. By simply avoiding cost add-ons, keeping your pricing presentation low-key, offering free shipping, and not requiring registration, you could more than triple your sales results. It's a win for you AND for your customers.
What other changes have you found that make a difference in your checkout rates? Share your suggestions in the comments.