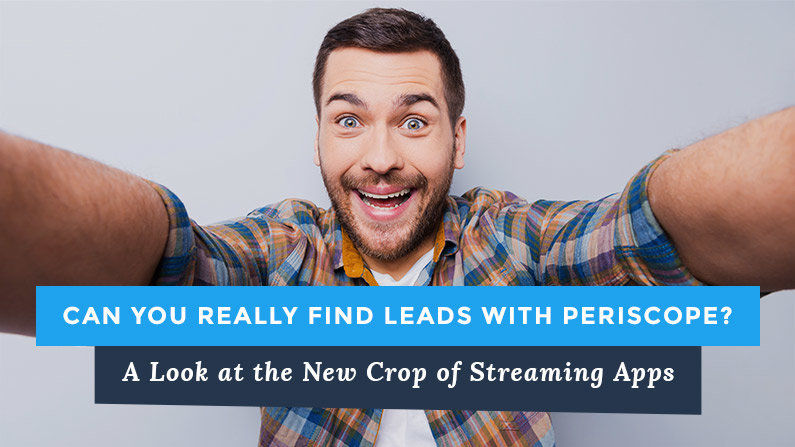 Last week, one of the most popular online media personalities in the world was a puddle.
For one day, close to 20,000 people were fixated on a live video feed of a sidewalk-spanning puddle in Newcastle, England. People edged around it. People walked through it. The puddle did not respond.
What was going on? There are 2 things that help explain the phenomenon (if only partially):
1. The puddle was being broadcast on Periscope, a live streaming app launched last year that was just voted Apple's 2015 App of the Year and boasts more than 10 million users.
2. The device streaming it belonged to one Richard Rippon, a very clever social media manager at a nearby advertising agency.
While I'm not sure whether Richard had a strategic marketing goal for this broadcast, its success demonstrates how something as ephemeral as a one-time video stream of a minor weather event can focus tons of attention on one company.
Periscope's not the only app that allows for this kind of live streaming, though it is the most popular. (The expanding field also includes Meerkat, Blab, Facebook Live, and several more—download our free guide, Live Streaming for Small Businesses, below, for a detailed look at your best bets.) If growth continues in this sector, we can expect to see many, many more businesses and entrepreneurs of all kinds take advantage of apps like these to reach their audiences in new ways.
But can the average small or medium-size business owner hope to achieve puddle-size success with Periscope and its brethren?
That's a high bar to clear. But in the past 6 months, we've come across some very intriguing possibilities for integrating streaming mobile video into your marketing plan. Read on to see if it's for you, and discover lots of ideas for using it (many inspired by LeadPages® customers).
Because it's currently the most popular of the bunch, I'll be talking about Periscope as a default in what follows. However, these recommendations can work for whichever platform you use.
What's new about apps like Periscope?
From webinars to YouTube videos, businesses of all sizes have been using live or recorded video in their marketing for years. Apps like Periscope bring a few new things to the table:
They're mobile-centric. While other video platforms assume you'll be using a video camera, or recording slide presentations from your computer, these apps depend on your smartphone's built-in camera. Accordingly, audiences are less likely to expect a polished, formal presentation.
They can be more interactive. Several of these apps incorporate audience-feedback features such as comments, questions, polls, and upvotes right on the screen.
They're (usually) free. Unlike most webinar software, Periscope and most similar apps are currently free to download and use on your phone. That alone can be a big advantage when you're taking your first steps toward using live video in your marketing as a small business.
How can I use Periscope in my marketing?
If you serve a web-savvy audience and are reasonably comfortable on camera, live video streaming can be a fun, effective way to get your message out. Here are 12 ways small businesses are using Periscope and other apps to get customers right now (if you can think of others, tell us in the comments!):
1. As a webinar alternative: If you have an audience of heavy mobile users, live streams may have more appeal than a traditional webinar. They may seem more casual and lower-commitment, and if you use a social-integrated service like Periscope (owned by Twitter), you don't need to ask your followers to master another platform.
2. As a virtual conference platform: With multi-presenter apps like Blab, you can co-host a live stream or invite a few other experts in your field to present on a given topic.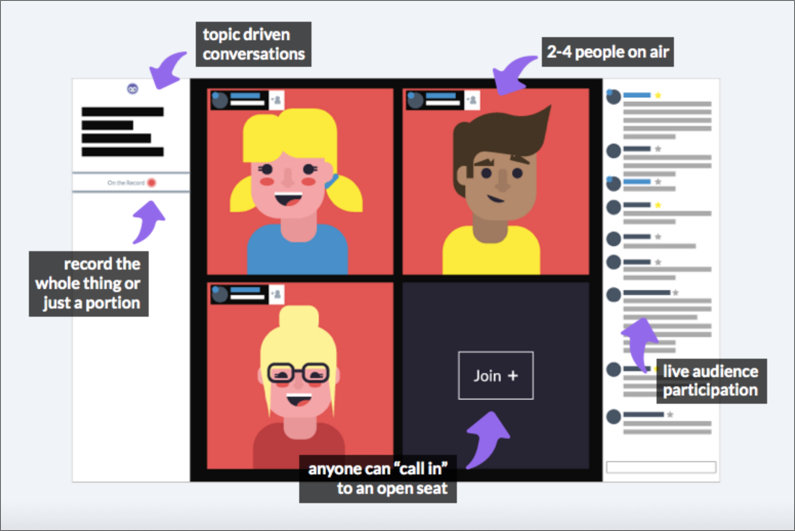 3. To broadcast conference presentations: If you're speaking somewhere in person, why not let your virtual followers tune in by setting up a live stream? You can even set up a LeadDigit beforehand and ask real and virtual attendees to text their info to the LeadDigit to download related resources, such as your slide deck.
3. To stream other events: Concerts, talks, readings—if your organization hosts regular live events, you may be able to expand your reach by offering the option to view it from Periscope. Here's a nicely done page for a high school's concert: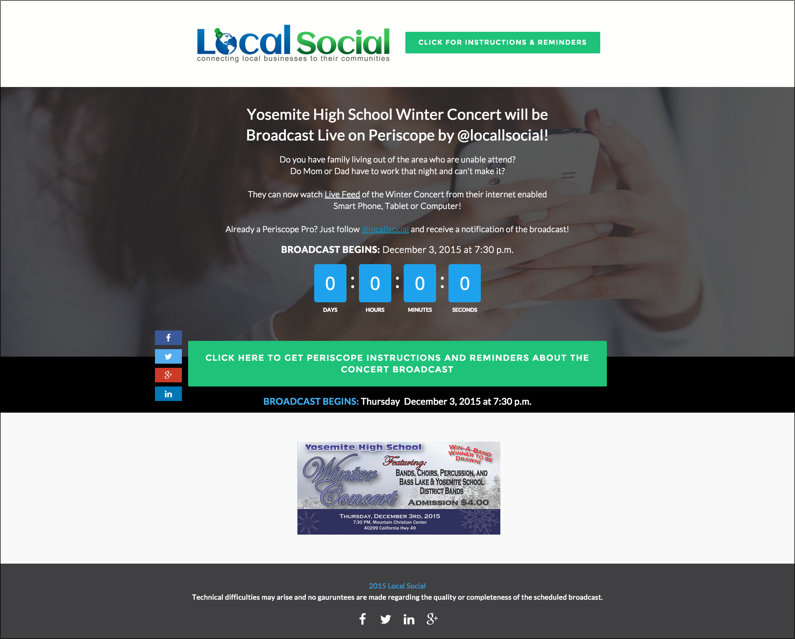 4. To offer group consultations: Whether you're offering it as a perk or part of a paid program, you can easily set up a live stream as a virtual consultation option and serve multiple clients at once.
5. To give followers a peek at what's next for you: Get your audience excited about what you're doing next by using Periscope to show them around a new location of your business or an event you're planning.
6. To tease a product launch: Making product announcements in real time adds an element of excitement around your newest big release. Check out how one LeadPages member has been using this tactic (to launch a product that's actually made to complement Periscope) below: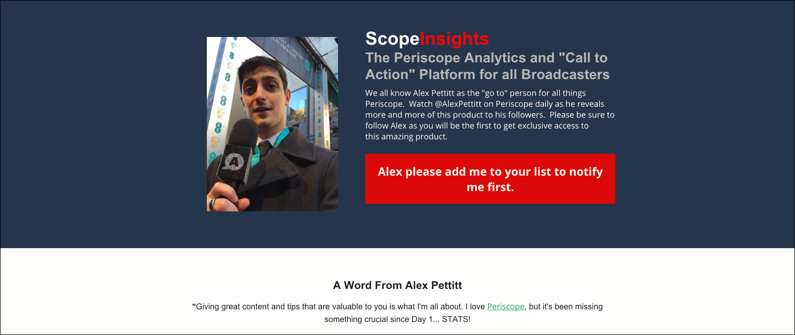 7. For live product demos: If you make software or another kind of useful product, few sales tools are likely to be as effective as a product demonstration. Doing a demo live can be even more compelling: there's no room for editing, so your leads will know they're seeing the real deal.
8. To present advice or how-tos: Periscope is an easy medium for giving your audience casual (but valuable) tips. For example, a spa therapist could show off different beauty treatments, or a cleaning service owner could demonstrate a DIY cleaning technique. On camera, you can ask viewers to opt in via a LeadDigit or by visiting a landing page to get more information on the topic.
9. As a blogging or podcasting alternative: If you're a natural on camera, consider holding regularly scheduled broadcast times to share your ideas, business updates, and any other kind of content that will hold your audience's attention.
10. To hold Q&A sessions: Since audience members can ask questions and comment in real time, a live stream can be an ideal way to host a Reddit-style "Ask Me Anything" session or an orientation session for prospective customers.
11. As a press-release alternative: If you've got something to share with the media, try making your PR pitch stand out by delivering your news live on camera.
12. To show off accolades: Platforms such as Blab and Meerkat, which allow other people to dial in, can be great for on-the-spot video testimonials. Turn the camera over to a client with an impressive story to tell, or a fellow industry expert who can attest to your skills and knowledge.
Got any tips for a successful streaming session?
A little preparation goes a long way when it comes to live streaming. Here are some tips for a smooth experience:
Don't read from a script, which will seem unnatural in this context. But do take time to put together an outline of what you want to say ahead of time.
Keep your broadcast briefer than a standard webinar. If it'll just be you speaking into the camera, staying under 30 minutes will help viewers stay focused.
Find a well-lit area with a strong WiFi signal. Do a private broadcast ahead of time so you can make sure your filming area is free of odd shadows or background noise.
Use a headset or lapel microphone. This small investment will make for far better audio quality.
Set up a tripod. If you're filming for more than a few minutes, you'll want your hands free. Your phone can become surprisingly slippery when it's the world's window on you.
Make a contingency plan. Decide how you'll handle a dropped connection or a knock at the door.
Save your broadcasts. Some apps do this by default, but for Periscope, you'll want to use a third-party app like Katch to back up your stream.
How should I promote my streaming session?
In many ways, you can promote your live stream just as you would a webinar. Here's one example of an attractive Periscope event page built using Leadpages: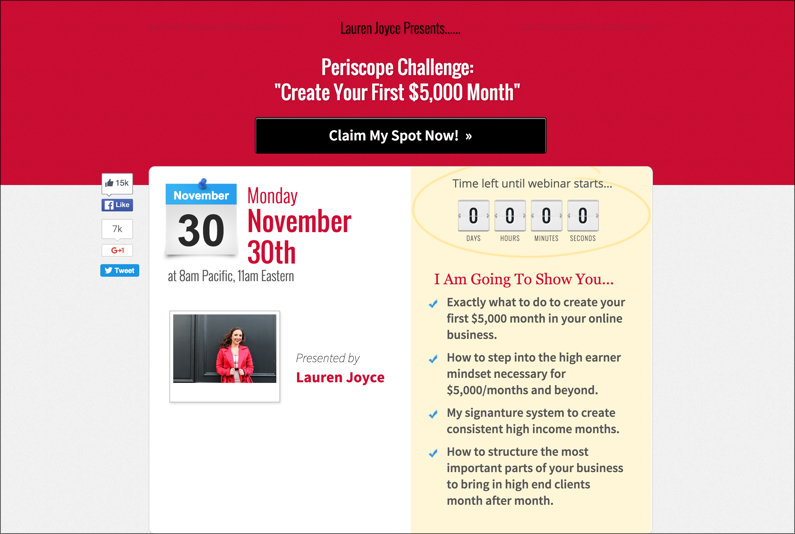 While anyone can join your public Periscope stream once they find it, you can still use opt-in pages to effectively capture information from attendees. Offer them the chance to sign up to get updates and reminders about the live stream (which might otherwise be easy to forget about) via email or text message.
If you decide to make live streaming a regular part of your marketing plan, you should also consider setting up an evergreen landing page to serve as a hub for all your streaming efforts. A page like this one welcomes Periscope fans and directs them to some of Diane's best content on her other channels: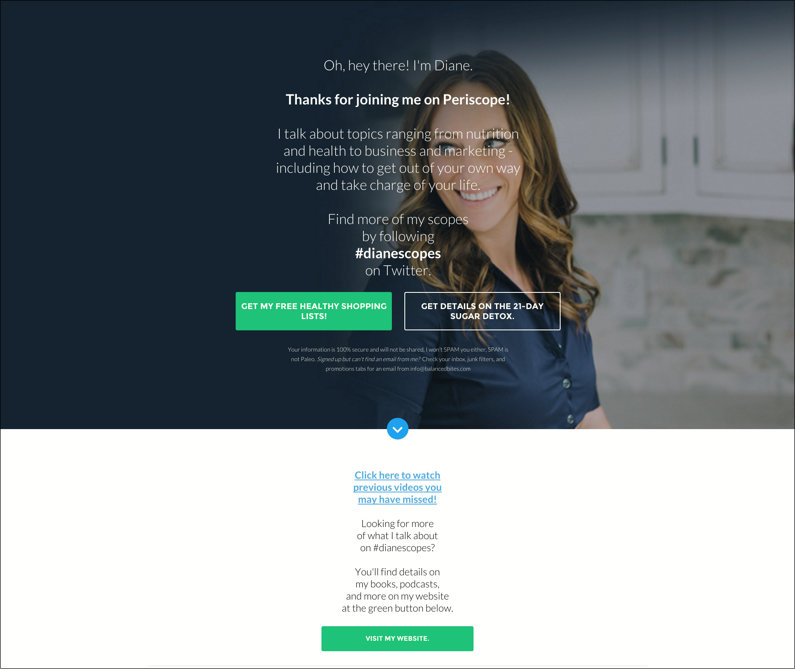 During your broadcast, you can give a short link to the page so viewers know where to find it. (If you send out email reminders in advance, you can include a link there, too.)
Finally, you should follow some standard social-media best practices. Take time to set up a good profile page on whichever site you choose; craft an appealing title for your broadcast; and cross-promote upcoming streams on other social-media platforms—and perhaps even in places like your blog sidebar or your email signature. If you're using Periscope, it's also easy to expand your audience with a promoted tweet.
I suspect that we're just seeing the beginning of what businesses will do with live video streaming in 2016—and it's so easy to get started, the next innovator could be you.
Do you regularly use Periscope (or another live streaming app), either as a broadcaster or a viewer?
What recommendations would you add?–tell us in the comments below!