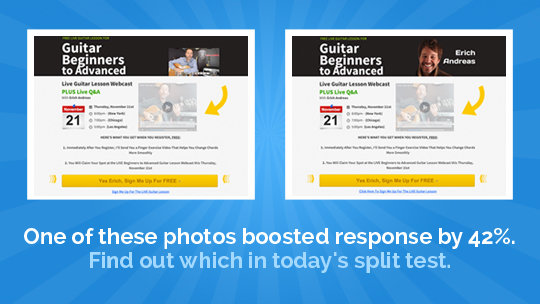 By Tom Q. Johnson, Split Test Analyst for LeadPages
Today's split test shows small changes can make a big difference in conversions.
We're looking at a webinar registration page from Erich Andreas, a.k.a. "Your Guitar Sage." Erich uses webcasts to give guitar lessons to thousands of players across all skill levels and time zones from his studio in Florida.
A few months back, Erich's marketer (and LeadPages user), Jason Braud split tested two different photos on the Guitar Sage's webcast page.
As you'll see, the swing in conversions was almost immediately clear.
Before I go into the details, check out the two pages below and see if you can tell which version outperformed the other.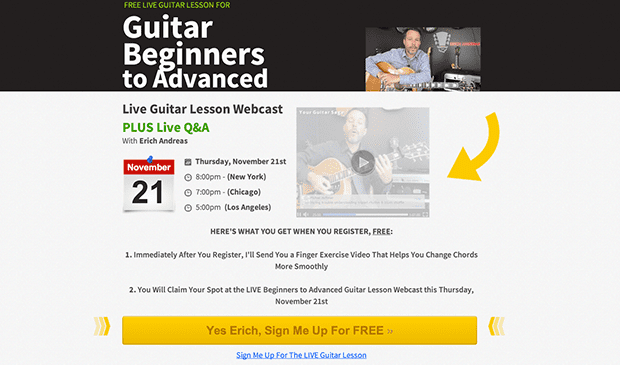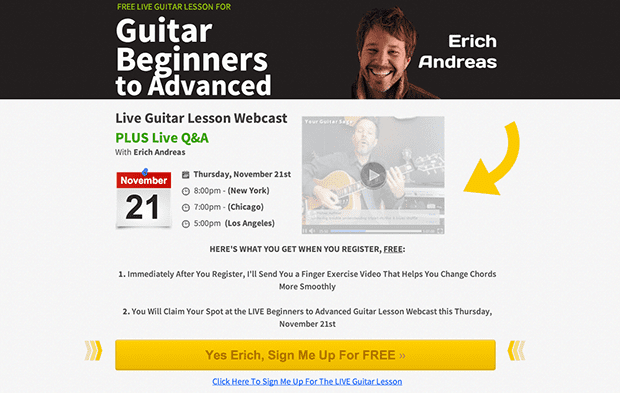 And the Winner Is…
The challenger, with the updated, smiling photo of Erich.
The test results confirmed with a 98.7% certainty that the new photo made a significant improvement in Erich's conversion rate. This new headshot boosted the conversion rate by 42% over the course of the trial.
(As an industry benchmark, a probability of outperforming that's over 90-95% is considered statistically valid. The closer to 100%, the more conclusive the test.)
With over 550 visitors sampled in this test, the second variation managed a 37% conversion rate compared to the original's 26%. In other words, for every 100 visitors to each page, this second page generated approximately 11 more registrations.
Go ahead and take a closer look at the full set of numbers from LeadPages below.
A Look at the Numbers Inside LeadPages

Digging Into the Results
Collecting data like this will always help you make better marketing decisions.
Whether you're confirming or contradicting all kinds of design ideas, the results can be used to your advantage.
That's especially the case on a page as prominent as the webinar registration page in this split test. We're talking about a business that almost exclusively uses webinars for their marketing, so getting even a slight edge on conversion can be a game changer.
Imagine multiplying those 11 extra registrations per 100 visitors by the thousands of visitors that visit Erich's site each month — the results are huge.
Thank you again to Erich and Jason for sharing these results. For more on what Erich is working on now, check out www.yourguitarsage.com.
How to Run This Split Test on Your Own
LeadPages makes it easy to deploy rigorous split tests like the one above in a matter of minutes.
Whether you are changing your headshot to an action shot, the thumbnail image of your lead magnet, or the feel of your background image, you can start testing different images on your own pages quickly to find out what will impact your conversions.
If you have never used LeadPage's split testing tools before, I'd suggest checking out this brief introduction to the system and watching our three-minute tutorial.
Also, just a reminder: If you want use LeadPages built-in split testing tool, you do need to be a pro member of LeadPages. However, you can also use any other split testing tool on the market with your LeadPages account if you prefer. It's up to you.
Well, that's a wrap for this split test. As always, I look forward to your feedback, questions and conversation in the comments below.