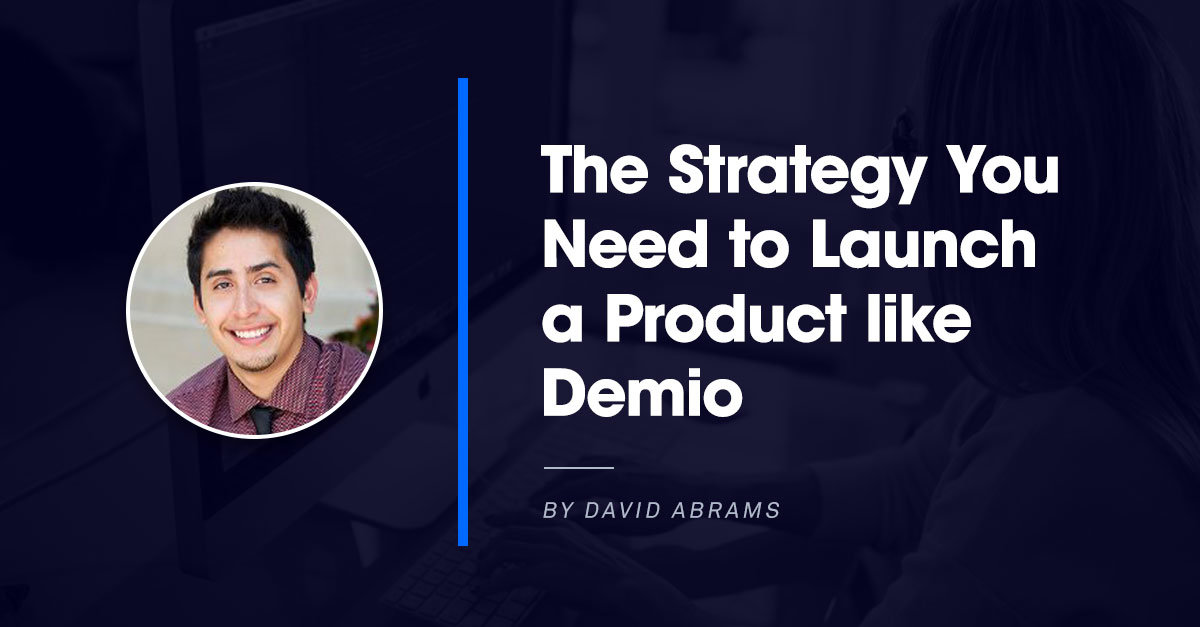 Editor's Note: David Abrams penned this fine post about how to put on a wildly successful product launch. As CEO and co-founder of Demio, he knows a thing or two about the perfect strategy to build a strong customer base and anticipation early in a product's life for long-term success.
Looking back is often funny. Decisions seem to make so much more sense and, of course, we all know hindsight is 20/20. But, sometimes the decisions we make at the moment aren't what we always want to do, but happen to just be what we needed.
I can still remember clear as day, one and half years ago, Wyatt (my co-founder and partner) and I sitting in a coffee shop, laughing that we "would never do another product launch, ever."
We had already pretty firmly ruled out doing a product launch with Demio (our webinar platform for SaaS and software companies).
In fact, there were a few reasons why we didn't want to do it, and to this day they all make sense. Deeper in this post, I'll explain some of those reasons along with why we were also so, so wrong.
But, first, let me explain why we basically had to eat our words and launched Demio on a Grand Opening Product Launch to bring in more than 450 customers in the exact OPPOSITE fashion than we ever expected.
Flashback: It had been a year and a half of continuous hard work trying to decipher the internals of Demio. Yes, this has always been our Achilles' heel…the technical build of Demio. And, sadly, it had eaten most of our bootstrapped, self-funded monies.
Time was ticking down to the inevitable and dreaded "we are out of cash" moment. No business owner wants to face that, but, although terrifying, it also drives massive action. To quote Jurassic Park, "Life finds a way."
"What could we do to survive?" we pondered.
We needed an influx of capital to continue through the development and into customer acquisition, feature additions, scale growth, and so much more. With our burn at a scary $30k/month, we knew we needed at least 5-6 months of runway to keep the project alive and push into monthly accounts.
So, we needed a big splash in sales. Or, we needed funding, but without any MRR on the books, we knew we faced a tough, uncertain path with probably very low leverage. We didn't want to approach that route without at least having the final technical details in place.
And although a launch meant a lot of pressure instantly on our system with barely any time for customer validation, we had to make it work.
So, now that we knew what we had to do, we had to work out a plan.
Having done a few successful launches before, we had a pretty good outline of the steps and involved tasks we were going to be up against.
How we organized our launch schedule
1. Lock in dates for launch (with no corresponding launches similar and competing. For most marketing, Muncheye.com works for this)
2. Outline possible funnel for the launch to incentivize affiliates and offer a great deal for users
3. Create commission structure and pricing for launch
4. Organize the primary "sexy" features of the launch for front-end product (you'll want to organize a list of why the product would be good for customers-aka benefits)
5. Outline the Affiliate Invitation Page with dates, benefits, the product outline, commissions, contest details, and contact information using Leadpages Templates
6. Write an Affiliate Invitation Video for the page that reflected the professionalism of the launch
7. Get the Affiliate Invitation Page created in Leadpages Templates
8. Start promotion of the Affiliate Invitation Page on Social Media, Facebook Advertising, and Personalized Outreach to affiliates (could be done in Drip or other email platforms)
9. Organize the primary outline for the Sales Page for launch (again, making sure we think of the user's key benefits of purchasing)
10. Prepare the setup to take payments for the product (For this launch, we used JVzoo)
11. Prepare the integrations for payments to create accounts in the demo system (this might also be getting information into CRM like Drip and product)
12. Prepare Sales Page copy, organization, and outline for Sales Video
13. Start work on the design for the Sales Page with finalized sales copy (Leadpages has a variety of amazing templates to use for exactly this)
14. Prepare Upsell Sales video and Upsell page for Design (again can use beautiful pre-made templates from Leadpages)
15. Test, Test, Test
16. Lock in tier 1 affiliates and make sure they have all promotional items for launch
17. Prepare emails for customers who are coming in and upsell sequences (use something like Drip or similar CRM)
18. Prepare advertising during the launch
19. Emails created for Affiliates and Customers during launch time
20. Launch
I'll break this down a bit more below to make sure you understand some of the key items and why we organize it in this way. But, if this looks a bit heavy and overwhelming…well, it is!
And that's the thing about launches: it can take a great deal of energy leading up to it, and the results are not always guaranteed. In fact, a lot of your time/energy is dependent on promotional affiliate partners to help you get traffic and make sales.
Flipping back to our initial fear of launches and reasoning to stay away, here's a clear-cut one: It's not always wise to base your marketing strategy on "dependent" marketing because when you are dependent on others and they don't come through, you'll find that whole strategy flipped on its head and you'll be back at square one.
We jumped into it anyways and having had some previous experience here, we already knew that 80% of the sales would come from 20% of the affiliates on board. That helped us organize how we wanted to recruit the best affiliates we could.
Luckily, we had an ace up our sleeve. This was our network. We'd already been working in the IM space for some time and had networked with great businesses from events (which, if I can say, are the fastest way to get connected to great people) and doing prior launch work together.
I don't have a network, can I still use product launches?
As you may have read, we were able to leverage a previously existing network here to accelerate the results of our launch. With this network, we knew that a well-timed, organized, and angled launch should allow us to hit our revenue goals (about $150-180k in net revenue for 5 months of the runway).
For us, we needed accelerated results, so this came as a major benefit to us. But, we did face the fact that many people in our network weren't the "ideal" partners with the "ideal" angles to use to promote Demio. We had some convincing to do, but it also took out some of our most powerful network resources (a lot of people were in e-commerce, social media, or SEO).
That being said, you don't need a previously established network already if you have a product that can actually produce results and is solid or backed by testimonials. Most of the affiliate partners you will meet during this time will be looking for something that provides their users with real value for a good cost and is something that fits their marketplace.
If you can provide those elements, it's only about showcasing it in a professional and sexy way to get in front of them.
Ok, so how did we do this initially when we had no network?
It's all about the pre-launch
We did a lot of pre-launching of Demio to gain an early audience and some eyes on the product. We talked about the product on social media, attending events, made a live YouTube video talking about what we learned (we called it "Inside Demio"), and ran ads for $5/day to some videos we had shot around Demio.
It was all about getting our name and message across social media. We weren't selling anything, just gaining some initial momentum.
Our call-to-action page was simply to sign up to learn more and secure a Beta spot.
We then reached out to these people to get on a call and explain/sell the benefits of Demio and showcase it to them. We also used this time to get the product in front of possible affiliates/partners so they could see what pains our product solved, the benefits of their users switching, and talk about why the product was not just another "me too" product.
Our pre-launch turned out to be about 3 months (although not intended) as we were doing a "Free Beta" period of Demio during this time. This free beta period also served as a soft pre-launch by bringing in over 900+ Demio users during a short 3-month period.
We actually decided on the launch during this free beta period, so it wasn't exactly planned, but worked out great! It got us visibility in the marketplace and we got some key influencers in early.
The key element for us was to figure out how we could take a monthly recurring SaaS product that was in a crowded marketplace and launch it successfully. We knew that two things were going to be key: pricing and trust.
How do I price my product launch correctly?
Wyatt and I actually come from a sub-culture of digital marketing known as the "internet marketing" world. It's an interesting place, full of short-minded thinking and get-rich-quick products. And from that mindset came one that I've seen hurt so many early products…the "Lifetime Access" sale.
Unfortunately, it's become a big thing online where a product launch entails some type of "all-access lifetime pass" of a product for a discount in pricing during a short time period. The problem you face here is that although bringing in initial capital, you'll also be cutting yourself short on the ability to continue funding development, acquire new customers, and elongate runway once the funds are gone.
Knowing this and knowing that monthly recurring is hard to price (simply for the fact that commissions become so low for affiliates), we decided to think of a pricing model that gave us great revenue inside of Demio along with great commissions for our affiliates.
We landed on a discounted "Grand Opening" discount of annual products, adding a massive discount to already lowered marketplace pricing.
We launched with three packages (all annual): a 100-Attendee plan for $237, a 500-Attendee plan for $367, and our 1,000-Attendee plan at $497. These were guaranteed discounted plans for life, so it was a HUGE win for users to get in early. We also added a $197 upsell or OTO (one-time offer) after the initial package for our membership program called the Demio Academy.
Knowing we had some more revenue on annual packages, we knew we could also be a bit more generous on our affiliate commissions, so we brainstormed and finally concluded on settling at 40% recurring commission for life.
For every sale, we'd earn 60% of the sale price after fees from the payment processor (not including PayPal fees). For the OTO, we'd offer 50% commission for the one-time purchase (so, another $100 sale to the affiliate).
From this, we reverse-engineered what our sales metric had to be to hit our sales goal of $150,000 net revenue for the launch.
Why sexy matters for product launches
The nature of an online "product launch" is a bit of an odd structure, to begin with. You are basically hyping up a product for a few-days sale on a discounted price in order to trigger scarcity, urgency, and excitement on a new, game-changing product.
The very nature is BASED on hype.
Although it's a terrible idea for a long-term marketing strategy, these marketing tactics work brilliantly for a broad launch of a product, and you'll have to really dial in on what makes the product desirable during this time. What makes it exciting? What makes it a "need to have now" type of deal?
These questions need to help you figure out the core, "sexy" benefits of your product itself.
These angles are tied deeply to all your marketing surrounding the launch, from the affiliate page, the affiliate video, pre-launch advertising, sales page, and, of course, the sales video. So, take your time here and really dive deep to brainstorm the key components.
For us, we tried to decipher:
What made Demio differently?
What do webinar hosts truly want from a platform?
What features are helpful to this experience?
What do attendees truly want from a webinar experience?
What are the overlooked parts of webinars from other providers?
As you can see, we were trying to dive into more of the benefits of how Demio provided value to the user and, ultimately, the attendee, too (who we decided was equally if not more important to the webinar experience than the one running the event).
We landed on a few key items:
Simplicity
Ease of use
Marketing/Sales drive
Not just a "product launch," but a driven company behind it
Amount of money/time added into the launch
The genesis of the product coming from marketers
On our Affiliate Invitation page, we angled these benefits toward the affiliate partners and made it desirable for them to want to be a part of the grand opening. Check out our entire Affiliate Invitation page and see the nuance in a copy yourself.
Here's an amazing highly optimized Leadpages template you can build yours off of:
We also outlined our story more and elongated the explanations of the individual features down on the sales page, but the exact same formula applied. See our grand opening sales page here.
Here are a few more powerful and high-converting sales page templates you can use in your own product launch:
These are great templates to start with and build upon as they already list the primary page outline you will want to work with.
The most dangerous part of the design is that you often don't know what converts and you're sort of hoping that your design will connect with your audience. Pre-made templates that are proven to convert (and Leadpages even ranks pages by conversion percentage) give you a huge leg up on any design. Plus, it becomes so easy to copy/paste in copy and design around the text as you need.
We did everything we could to keep our branding similar to our launch in regards to our product and our primary website (which is easily done with Leadpages's drag-and-drop builder). It was all one congruent experience, and even those pages matched our core mission of simplicity (we even tried to do the same thing with pricing).
You'll want to organize your angles based on your own marketplace, competition, affiliate partners, and company culture or mission.
What most people assume on launches
The truth is that most people who see successful launches on the outside see an easy way to generate huge amounts of money really fast and make a big splash in the marketplace. It can be enticing. Or, you may see promoters pushing a product and either assume they have already formed connections to big affiliates, or you fear that a big launch is only for ground-breaking products.
But, let me debunk both for a moment, as our few combined experiences have shown us a couple of reasons why you might want to rethink those assessments.
Look, product launches are insanely difficult. Not only is there a LOT to do prior to launching and getting prepared, but there is also just about no certainty that things will go as you expect them, especially since so much of your launch traffic is generated by affiliates who you'll have to constantly chase down to make sure they promote for you.
Most of the time, a lot of your affiliates will bounce at the last minute or do a small, half-assed promotion where they might face some slow sales from not putting in the effort and bail on the promotion itself. Expect it. It's bound to happen, so don't take it personally.
Focus on what you can control and keep in mind the Pareto principle of 80/20 on affiliates. Actually, in this case, you'll see it more like 5/95: five of your affiliates will probably generate 95% of your affiliate sales. Focus on these five and you'll be better off for it. Do everything you can to help them and make the process easier.
As I mentioned above, you can get bigger affiliates with the right planning and product for their niche. Your product should be solidly created, able to have the infrastructure to handle the influx of customers, and have angles that are well-thought-out and designed. But, there are a few downsides…it's not as flashy and glamorous as it may seem.
Your days leading up to launch will be stressful and exhausting. Your launch days will be doubly exhausting, even more stressful, and you'll most likely face some level of near-burnout.
It's going to take a lot out of you, but again, that's OK! If you're doing a launch here, it's most likely because it's a great way to get into the marketplace and generate capital. This is just what comes with it.
For a small start-up, here are a few reasons why you might not want to consider this marketing channel:
Customer Validation Becomes Very Tough
With an influx of customers who were generated through scarcity, hype, and pricing discounts, you'll more often get less than the ideal customer. That's OK if that's the situation you are in. But, if you're an early stage, the customer feedback may be the most important thing you receive. So, customer feedback from the "wrong" customer can be dangerous if you aren't really thinking about it.
Product Usage Will Be Low
Just as above, with a lower product-customer fit, you'll also face lower usage of the product itself. This won't help you diagnose problems, learn, or get the right features in fast.
Product Might not Be Ready for Scale or Mass Exposure
If you are like us or bootstrapped, you might be looking for ways to bring in capital and quickly. But, like most start-ups, you might not be ready just yet for scaled product usage, heavy hitters, or even a barrage of customers at one specific time. You'll find unexpected product bugs and have a zillion customer requests all at once. And that can be overwhelming as hell. Things are bound to break, but you'll need to move fast to get through this. Be prepared, because your product may not be as complete as you think it is.
What we learned from the launch
I don't want you to take this post as me telling you NOT to launch a product, but rather, be aware of WHEN the right time is to launch a product. Often, early-stage launches of a product may be the wrong time to get them into a mass public exposure. Early attention on a buggy product can be hard to come back from, especially if you get those heavy-hitting affiliates.
That being said, we did bring in 450+ customers in 7 days, hit our revenue goals, saved the company from impending doom, and are here to talk about it.
So, I guess it can work just fine.
Here are a few things we learned in particular:
A grand opening webinar is a great way to get people excited and start momentum on day one right. With this momentum, you can then push more affiliate sales and get your affiliates jazzed about what's to come.
The last day of sales will ALWAYS be the best. Day one typically will have good sales while the middle days are usually dead. We may or may not have had a mini freakout in the middle of the launch, only to see about 50% of our sales on the final day.
Have a strong refund policy in place. You'll see higher than normal refunds/cancellations just from the nature of the promotion itself. Be prepared for it and factor a refund rate of 5-10% into the sales estimations. This may not have anything to do with the product itself.
Burnout may rear its ugly head near the end of the launch. It's OK to allow yourself to decompress and take a bit of a breather afterward so you can recollect yourself. We jumped into 15-hour days of consultation calls with customers, which was even worse.
Remember to have a backup sales ability (talking to Paypal/Stripe prior to launch, a different payment ability, a backup server or host, and a support team on deck to help with anything that blows up). Things go wrong and expect them to show up.
Affiliates ultimately care about what's in it for them and their people, so make sure to angle why the product will be a good fit for their audience and make them look great. No one wants to promote a crap product. Back it up with a great product and great support.
Early and great support can be a huge win for your product and your company even during the launch days. This is such a simple thing but will help keep the buyer's remorse down and get people excited and even talking about your product.
We've grown a lot since the grand opening launch, and we still get people coming in and asking for those grand opening prices all the time.
From that launch, we've now been able to evolve and grow every month into a better company. We still use these Leadpages-based templates on smaller promotions as well, and they are so powerful for boosts in growth!
Want to get ahead of your product launch with landing pages? Download our pre-launch resource pack that will show you how to find your audience and optimize your pre-launch landing pages.
If you have any questions about anything we've learned, we'll be more than happy to answer them in the comments below.