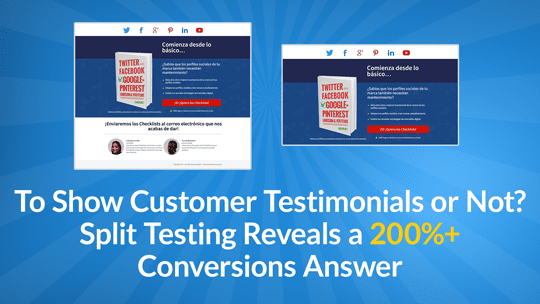 Everyone likes to share great reviews about their product, but can customer testimonials ever actually hurt conversions?
Today's test — designed by Humberto Inciarte of Venezuelan-based Mercadeo a La Carta — speaks directly to that question.
Humberto's copy, colors, and "Comienza desde lo basico…" header (which translates to "Start with the basics…") is exactly unchanged. The only variation between his two pages is the inclusion of customer testimonials attached to the bottom of the page.
I'm a fan of this test because it brings up an important concept we've dealt with on this blog a few times before: Sometimes shorter is better.
Check out the two pages Humberto split tested head-to-head before we get into the results.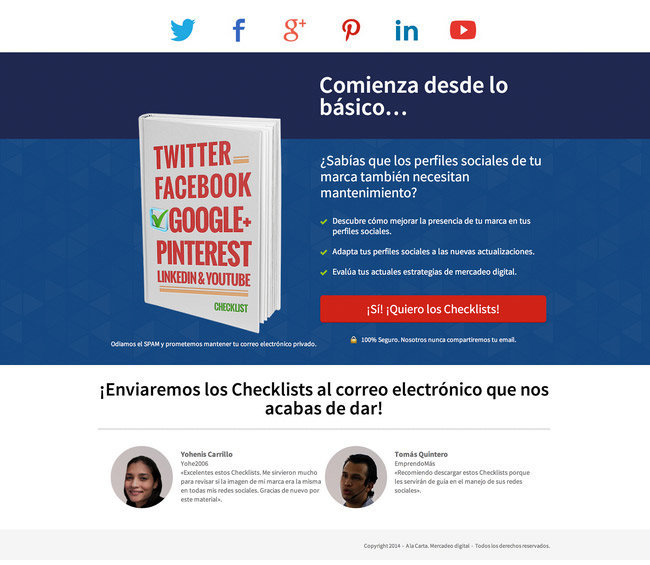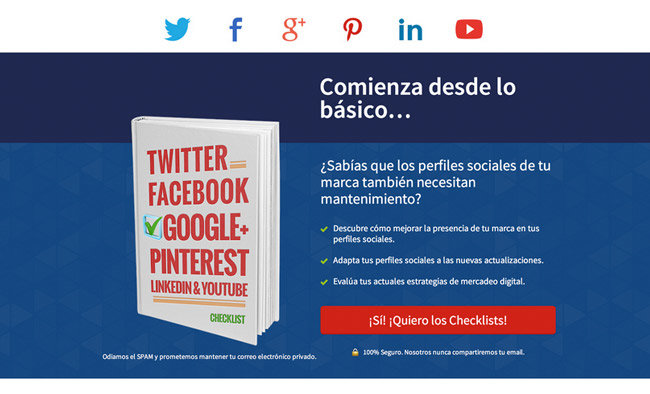 Less Is More
The winner is… the LeadPage without testimonials.
What's more, the winning page didn't just edge out the competition — it completely demolished the page with testimonials by a remarkably high margin of improvement.
In Humberto's test, the conversion rate of the page with testimonials only came out to 8.11%. After removing the testimonials, he more than tripled his conversions to a rate of 24.84%.
In other words, for every 100 visitors, Humberto can expect to see 16 more conversions just by getting rid of his testimonials. That's an addition of over 200% efficiency.
With 227 people visiting the page, this test can be declared significant at the probability level of 99.96%. Keep in mind that in split testing anything over 95% is considered highly statistically significant.
Take a look at the summary of Humberto's stats below.

Digging Into What Happened
These results took me by surprise at first. It's natural to believe that testimonials from happy customers could only improve the chance that a user converts. In fact, the addition of testimonials often does improve conversions, which is why they're part of the Social Proof Giveaway Page template in the first place.
But as I mentioned above, the concept that a more simple design can attract conversions is something we've seen on the LeadPages blog before.
Consider the case of the "boring" background or Norbert Orlewicz's slimmed down page that boosted conversions by 38%.
I'd like to hear your own ideas about these results: Why do you think the page without testimonials outperformed one with testimonials? Have you had a similar experience?
Let me know in the comments below.
Your Turn To Get Testing
LeadPages users have loads of free templates and tools at their disposal to run highly customized split tests.
Just as we saw in Humberto's case, conversion rates can vary highly depending on a number of factors such as copy, color, or template features. Split testing for these factors is the most effective and practical method for finding what makes a difference.
Check it out for yourself — if you're brand new to the LeadPages system, this three-minute tutorial is a great place to get acquainted.
At the moment, only Pro and Enterprise users of LeadPages have access to our in-house split-testing tool, but all accounts have the option of using outside split-testing tools within our system. Check out the video below to learn more about upgrading your account.
Once you're set up, it takes mere minutes to design and deploy your own test.
Before we go, I'd like to say gracias again to Humberto for giving us the chance to look at his results.
If you have any feedback on this test, let me know in the comments. Let's continue the discussion: Why do you think the variation without the customer testimonials won?