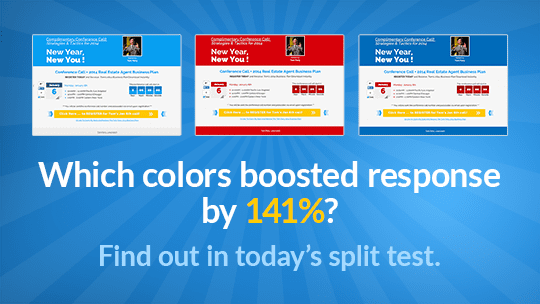 If you've ever had to design a page within a client's strict guidelines, this split test is for you.
In the results below, I'll show you how John Westley — the Director of Marketing & Events for Tom Ferry of TomFerry.com — gave his conversions a boost by keeping the same client-approved copy and simply changing the page's design.
After mocking up a pair of new color schemes, John's split test showed an impressive conversion improvement of over 140% above the base.
Before we get into it, take a look at the pages below to see which option — dark blue, light blue, or red — won the day.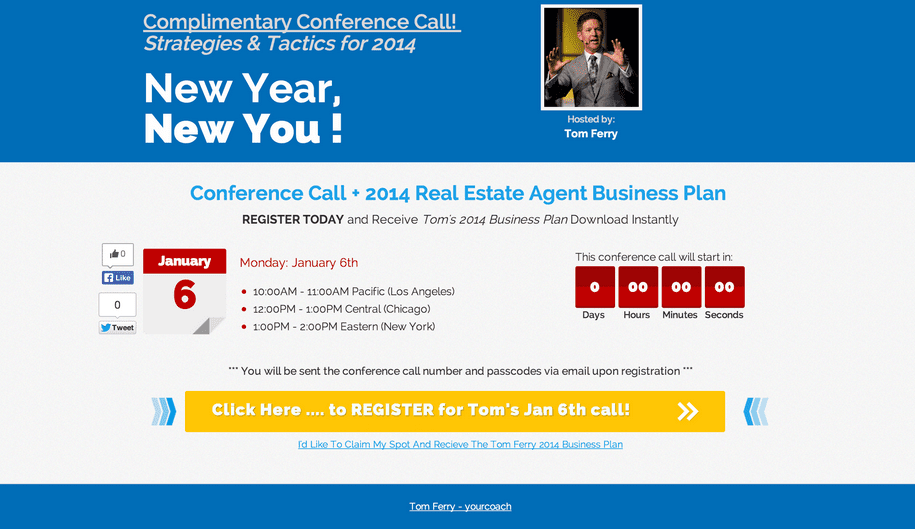 Color Scheme Dark Blue (Experimental Control): John designed this dark blue page using the Web 3.0 Webinar Registration Page inside Leadpages.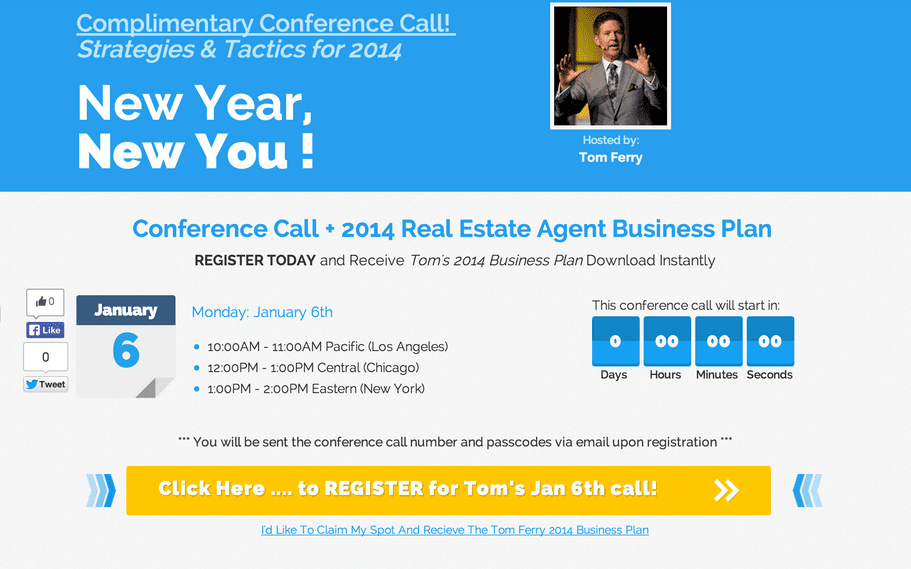 +141% Color Scheme Light Blue: This winning variation featured the default Leadpages colors for this Web 3.0 Webinar Registration Page.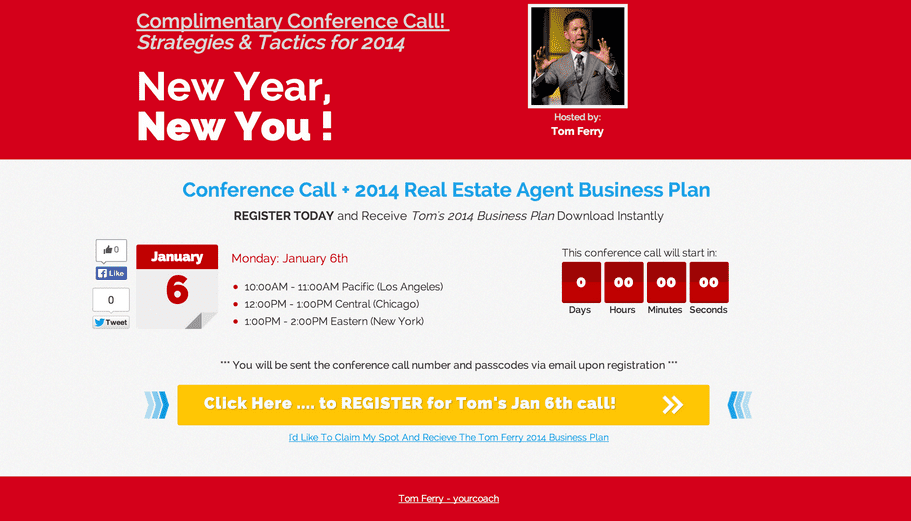 +120% Color Scheme Red: Now we're seeing red. For this variation of the Web 3.0 Webinar Registration Page, John gave the page a warmer red color.
The Winner: The Default Leadpages Template
Color Scheme Light Blue, with the default Leadpages colors, boosted response by 141%.
Compared to the original webinar template which was used as a base, the light blue Leadpages default variation increased the conversion rate by 141% with 1,923 visitors converting out of a possible 2,924.
This means that for every three visitors, two converted with the second variation compared to only one with the original — not a shabby improvement at all.
The red color scheme also performed extremely well, by increasing the conversion rate by 120% from a little less than 30% to a flat 60%.
Given the low performance of the original design in this test, both variations were effectively guaranteed to outperform it with significance rates of 99.99% and 100%. Looks like John's idea to tweak his client's color scheme was right on.
Digging into the Results

John's split test was pretty simple compared to some tests we've featured in the past like adding a LeadBox or adjusting the timing on a call to action button.
Still, the results in John's case prove the point that I and the rest of the team at LeadPages are always making: never underestimate the effects that even the smallest changes can have on your results.
Seemingly simple changes can have very real effects on results.
In this case, John was working with a page that had a pre-approved copy that he could not change. This limited his split testing options. Still, he managed to increase response by 141% by testing different page colors.
When asked about the results of the test, John shared some great advice on how to use split testing: "The results were terrific … I'd encourage everyone to split test – everything!"
Thank you again to Leadpages users, John Westley and Tom Ferry of TomFerry.com for sharing this split test with us. I always appreciate the chance to dig into these results.
Running This Split Test on Your Own
Deploying a test like John's is easily done in a matter of minutes using Leadpages' built-in split testing tools, which can be applied to a wide variety of site design questions.
Feel free to browse through the ultimate list of free landing page templates we offer to get a feel for what's already available.
If you're new to Leadpage's split testing tools, I'd suggest checking out this brief introduction to the system and watching our painless three-minute tutorial.
Just a quick reminder: Our built-in tools are only available to pro members of Leadpages. However, any other split testing tool on the market will work with your Leadpages account if you are not a pro member or prefer to use a different system.
That does it for today's sample split test. Once again, the winner here was the light blue variation with the default Leadpages colors. Do you have an opinion on why this light blue variation won out overall? If so, let me know in the comments.