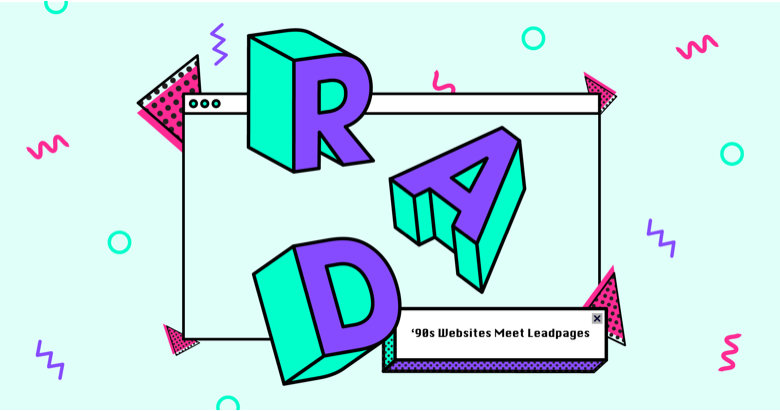 It's no secret. Around here, we think landing pages are da bomb. So much so that we wanted to traverse time and space to crack open a veritable time capsule of internet awesome and spice it up with landing pages. Behold: Nine websites of the 1990s that could've seriously used a landing page.
Through some miracle of world wide web life support, these sites have been both forgotten and preserved. They've lived alongside the birth of HTML, the dawn of email, the launch of Google, and, against all odds, Y2K. (Y2K!! As if!) And while the '90s was clearly the best decade in all of history, we're betting these conversion rates were totally brutal.
Iron your Zubaz. Feed your Tamagotchi. Do the Packarena. And get ready to see how simple landing pages could've blasted these '90s websites straight into the millennium by providing clear CTAs and building beefy email lists.
Want to see how you can turn your own rad site into a list-building machine? Check out how easy it is to build a simple landing page in under 10 minutes. Just click below!
1. You've Got Mail
You've Got Mail — a '98 rom-com that captured the hearts of hopeless romantics everywhere. If you were a child of the '90s, nothing probably bored you more than watching a monopolizing bookstore tycoon grapple with local competition while unknowingly falling in love behind the anonymity of screen names like Shopgirl and NY152.
Nothing bored you more, unless, of course, you perused the flick's website. For such an understated layout, it's surprisingly complex. You're originally confronted with hyperlinks acting as the navigation of the site, which is clunky and it's unclear where to go.
You have to make choices at every turn. Right away I have to decide if I want to enter the site (with Flash or without? What is Flash?) or if I want to jump right in and buy the VHS.
For anyone new to the web in the '90s (i.e., everyone), this is some serious analysis paralysis. Most people weren't even sure how to wrestle their mouse into submission let alone navigate this cryptic site. While some features are nice—hello, "Sounds of New York," I did want to listen to a NYC subway—the real point of this website is diluted.
A simple landing page could've alleviated some major nav headaches as well as put the conversion goal of the entire site front and center: Buy the movie!
Uncluttered. Informational. Dripping with '90s appeal. This is one tempting deal presented clearly on a landing page. I have one option here and it's neatly presented by a big clickable button instead of being displayed as illegible text in the footer.
While You've Got Mail has made more than $250 million, I'd be shocked if more than a few hundred came from this website and its scattered calls-to-action.
2. The Internet 1996 World Exposition
If any event has ever epitomized a generation trying to adopt new technology, it's this. As the only Internet World Exposition to have ever taken place, press releases leading up to the event still had to describe what the internet was to its readers — "a computer network that connects millions of users in more than 100 countries."
While that may seem laughable today, nothing is more laughable than how badly this site needed a simple landing page. With no fewer than 18 clickable directions to go in on the home page, all I really want to know is what this whole thing is about. What's a pavilion? Why would I register a place? Where are the answers?! I'm alive now, 2017, and I still wouldn't know what this all means.
All my world wide questions could've been answered with one ultra-direct landing page. Plus, with all of those email addresses, subscribers could've been kept up-to-date with IWE happenings and even nurtured into registering for the event.
In the end, the Internet 1996 World Exposition had roughly 5 million participants out of more than 77 million internet users across the globe. The landing page we created is clear and concise; it lays out exactly what a visitor's next steps should be. With the simple CTA and tempting offer of a landing page, imagine how many more would've dialed up!
3. The Nanny
Fran Fine laughed her way into living rooms across the world as the lovable yet sassy TV nanny who did seemingly little work (but totally lots of shopping)! Contagious wit, running gags and bold wardrobe choices stamped this show's ticket in TV history, causing fans to rave about it to this day.
The Nanny's website, on the other hand, was totally buggin'. With missed opportunities to convert visitors into even more devout fans, we stepped in to see how to spruce it up.
This site has a goldmine of treasured deliverables for visitors: synopses of each and every episode. This was a phat opportunity to capture leads and drive conversions. Updates and fan paraphernalia could've been delivered to the inboxes of Fran's fans all around the world.
We crafted a simple lead magnet promising to deliver the synopsis of each week's episode directly to subscribers. This level of lead generation could've turned this site from simple fan page to Conversion City, USA!
4. Promote-it!
This isn't the most iconic website of the '90s, but it's one of the only remnants of Internet's past that was trying to form some sort of email list. As the earliest evidence of lead gen efforts, we commend you, Promote-It!
The thing is, this website had so much potential for sustainable growth. It's a bummer that it was last updated in October, 1995. It's like a boarded-up shopping mall where all the cool kids used to hang out—an archive of Internet has-beens.
Our designers took to the task of creating a simple Leadbox for this website. Outfitted with a clear and tempting promise to instantly promote your website, it's no doubt in our minds that this would've been the high-converting solution that could've kept this site kickin' for decades to come.
It has all the right components: evident benefit, clear call-to-action, minimal form fields, and a solid offer. With a lead magnet like this, Promote-It could've amassed a huge email list, distributed its promotional expertise, and monetized upsells.
5. Danny and Julie's Webzine
This is quite possibly one of the finest vaults of '90s blog content I've ever laid eyes on. Danny and Julie created a catalog of interesting real-life stories, fabricated lies, 10 reasons to hate frames, and a hefty promise to make you famous (or at least as famous as Danny).
With a great Leadpage, these two could have been some of the decade's first to make a living off of full-time blogging (erm, sorry—weblogging).
We wanted to see what this site would've looked like with some real lead generating opportunities, so we built a two-step opt-in Leadbox asking visitors to subscribe. With such tempting posts like "Clinton's Other Woman," how could anyone resist subscribing? (Danny or Julie, if you read this, please revive and update. Thank you.)
6. The Retire Early Home Page
The Retire Early Home Page is a rare breed on the internet. Built in 1996, this site is relatively unchanged in design but is still consistently updated today. It's doing relatively well in terms of search engine optimization, which means people are still going to it—yet it still isn't using any lead generation tools.
Some might see a website trying to retain the innocence and simplicity of the '90s while I see a website missing out on mega list-building opportunities.
This is clearly a reputable resource of early retirement know-how. It's relatable, up-to-date, and stuffed with answers to the retirement questions of the masses. This site is also somewhat of a community as it houses a very active "hocus-free forum."
We mocked up a Leadbox to show how every valuable resource on the site could be used to generate leads and increase ROI-boosting conversions. We can't help but think of the possibilities here: webinars, e-courses, automated campaigns—the list is as long as Breckin Meyer's hair.
7. The OJ Simpson Trial
We don't know if OJ's guilty or not, but we do know that this 1995 website dedicated to every facet of the trial could've used a landing page.
With a tool to help build an email list, CNN could've clued in news-hungry followers to every happening of the trial. Automatic updates could've been sent directly to inboxes everywhere, generating a bigger following for CNN overall well beyond the trial. People could've been encouraged to interact with discussion forums, compelling arguments could've been had, and everyone would've had one go-to resource for trial news.
8. The World Wide Web
We'd be remiss if we didn't throw the first website ever onto this list. As one of the first brave pioneers in the wild, wild web, we sincerely commend this site's efforts.
This website is packed with more information than you can shake a SURGE at, but it's tough to navigate unless you really know what you're looking for. The average visitor has to wade through link after link to find what they're looking for, and when they do find what they need, it might not be very comprehensible.
As a the be-all, end-all resource for internet prowess, we think a really brief and simple landing page complete with a friendly description and great offer could've done wonders for this website and made it a valuable resource instead of a quirky relic today.
9. Space Jam
The galactic background, the planetary navigation, the list of every radio station in the country splattering Seal's "Fly Like an Eagle" across airwaves.
We really didn't wanna mess with one pixel of this shrine to the '90s as there's nothing that could be improved on. It's an O.G. of the world wide web and represents a staple in the history of pop culture. Fly right into the future, Space Jam. Fly like an eagle to the sea.
Creating a high-converting landing page or Leadbox is possible for any website, including these internet throwbacks. If you want to start building an email list or putting your offer front and center, check out how easy it is to create a simple landing page. Just click below and start converting.
Inspired by these '90s sites? Let us know how a simple landing page could help your very own website!