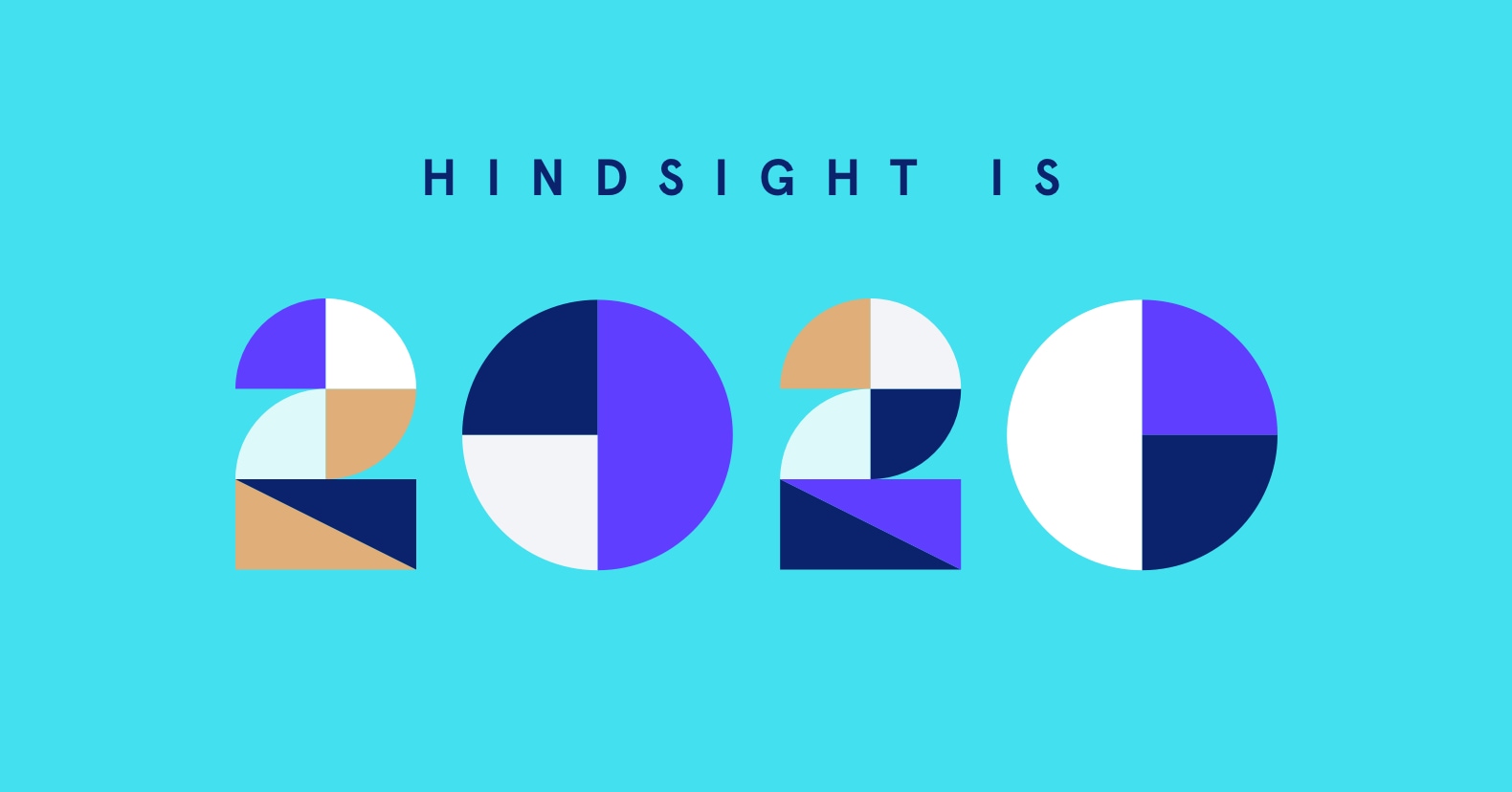 Hindsight is 20/20 — so to kick off the new year, we're featuring 22 small biz. owners sharing the top lesson they learned in 2019 and what they're doing differently this year.
The top themes we heard?
Delegate more
By far the most common theme we heard from small businesses in 2019 centered on knowing your strengths and being willing to outsource the tasks that 1) are outside your expertise, 2) drain your energy, or 3) slow your business growth.

Charge what you're worth
And drop the clients who disagree.

Diversify (everything)
Whether it's the number of marketing channels you use or the number of clients you bill, the more you can spread your risk, the more stable your business will become.
So without further ado, let's dive into hindsight 2020!
Jump Ahead:
1. Don't wait
"If you're waiting to make it perfect, you're actually procrastinating. If you're waiting until you're confident, you're actually afraid of being judged." @jasminestar
Click To Tweet
2. Take your time
This was particularly difficult for me this year as our team went from 3 full-time people to, now, twelve over the course of about eight months. Along the way, we lost a whopping 5 of the people we'd hired; two of them didn't even make it a month.
Going into 2020, we still need to keep hiring, but I'm being much smarter – and slower – about it. Above all, I'm looking for people who care. Skill can be taught – will cannot.
3. Test, then test again
As a supplement company, it's very challenging to turn a profit on Google Ads, because most of the search intent is informational. This means that most people searching supplement terms are looking for information, not to make a purchase. Every click you pay for costs money, so every click which has an informational intent rather than a transactional intent is unprofitable. It follows that search terms with greater than 50% informational search intent will not be profitable on the whole.
4. Check the vibe
In 2019 I learned the power of surrounding myself with a high-vibe community. As a 'solopreneur' I'm often… well… solo! Whether I'm on the road or working from home, it's easy for me to slip into being a 'digital nomad'.
I was in absolute awe of the newfound clarity, reconnection to my purpose and creative charge that hit me every time I spent even a few precious moments with inspiring women in my community.
So, in 2020 I'm switching up my monthly goals in order to prioritize connecting with fellow passionate business owners who are writing their own stories and smashing through glass ceilings. From group coaching programs to masterminds and meet-ups, I can't wait to see what inspiration this new path brings.
5. Trust your intuition
It came to the point where I was so reliant on others' opinions and feedback, I had no confidence in my own abilities to make decisions. I was constantly second-guessing myself. The best way to serve your people and grow your business is to trust that you know your business more than anyone else – the biggest shifts I've seen in my business have come from trusting my own intuition.
In 2020, I will be taking the time to strengthen my own 'self-confidence muscle' by focusing on connecting with the people I serve first and foremost, and waiting until later in the year before actively seeking coaching or consulting.
6. Put relationships first–on every channel
In fact, that's been my company motto for over a decade. Marketers need to first warm up their target audience. Use a series of short videos, including Facebook Live, if possible. Build up that know-like-and-trust factor. Generate awareness. Use social proof, too.
Now, all this to say that with this vast increase in social media marketing complexity, I've had to be rigorous about expanding my own team with A-players only. To be able to craft the right offers, nail the ad campaigns, and deliver stellar customer service. It really takes a village these days. And this is where I feel many small business owners are falling short. We cannot be experts in all areas. The solution is to grow at a managed pace and ensure you have the right team members in the right roles, including your external vendors, too.
As #smallbusiness owners, we cannot be experts in all areas. The solution is to grow at a managed pace and ensure you have the right team members in the right roles, including your external vendors. @Leadpages @MariSmith
Click To Tweet
I've been fortunate to get a head start in digital marketing, having started in 1998 building websites, growing email lists and creating information products. Throughout my entire career, I've always had two parallel loves: my love of people and my love of technology. I joined Facebook in 2007 and my two loves merged and became one. And, I've never looked back. I've also always been very passionate about marketing—in an ethical, high integrity, honoring way. An approach that optimizes tech but always puts people first.
7. Track your data
By tracking where my leads came from and how they converted to sales, it was much easier to identify where to allocate marketing dollars and efforts.
8. Personalize your content
Sure, you can have thousands of followers on Instagram and Facebook, but if you're only getting 5 likes per post, something is wrong. In 2019, we created social media content to sell our products, which was wrong.
In 2020, we will create shareable content that is designed to resonate with our target audience and engage them. Our focus will be on personalizing our content so that our community interacts and feels a real connection with our brand.
9. Don't be afraid to invest
As a small business owner, I learned that my business grows faster the more I invest in it. I am an expert at helping babies and toddlers sleep through the night, but am not a guru in areas like SEO. It would take me several months or years to learn the basics of SEO for my website, but I could get results much faster if I work with an expert.
When you have a small business, it can feel like it's all on you to do everything. As it turns out, I feel more confident and at ease when I can simply outsource certain business functions so that I can stay focused on servicing my clients.
10. Charge what you're worth
Even if it seems high. For years I have kept my rates low to stay competitive and to help those I thought needed it. This year I learned just how low my rates were compared to others in my industry.
In 2020, I will charge what my time is worth, and cut any clients that are holding me back.
"For years I have kept my rates low to stay competitive and to help those I thought needed it. This year I learned just how low my rates were compared to others in my industry. Charge what you're worth." ? @HealingLaw
Click To Tweet
11. Be transparent
As a small digital marketing business, we have found that transparency is vital when reporting to your clients. Be open about what you do, and be generous with the reporting data. It's not always about the bottom line, but also your approach and WHY you are taking that particular approach.
Don't be afraid to over-explain concepts, strategies, and methods you employ in your work. This is especially true of SEO and digital marketing. This can go a long way in building (or solidifying) trust with your clients and help with keeping your clients onboard long term.
12. Go a step further
Writing something down on a to-do list or business plan is the easy part: You get an endorphin boost and you feel like you achieved something. But the real work is in committing to the task. I set a goal at the beginning of this year (among many other goals) to grow my business blog. Looking back, I didn't spend nearly as much time on it as I had envisioned — because I didn't actually make the time! It was just another item languishing on my to-do list.
In 2020 my goal is to schedule that time in for content creation (at the beginning of the day) and make it happen.
13. Don't bank on one client
Abruptly losing my biggest client put my entire business in jeopardy. It took late nights and long hours to recover.
In 2020 I'm going to do things differently. We're building several large clients, several sources of web traffic, and several streams of income. That way, if one goes away abruptly, it won't cause us to go out of business.
14. Trust the process
I've learned the true value of trust in human to human relationships. Our learning design business operates fully remote around the world. With employees and clients in different cities, in different states, trust is the most crucial factor for our organization's success.
For our business to be successful, every single individual must have full trust in each other. Clients need to trust that we will deliver. We need to trust that our employees will get their work done. We need to trust that our clients will compensate us and provide the required feedback. It's a constant cycle of trust-building that is absolutely necessary, yet even more challenging to accomplish due to the geographical barriers.
This realization that trust is so important has come from a lot of trial in error in 2019. It's one of those business lessons that can't be taught in a classroom. On one side, we had clients not pay us for projects, deteriorating trust, while on the other side, we've spent years building trust in good people that continue to be repeat customers and allow us creative freedom.
In 2020, we're going to continue pushing trust as one of our core values and search for answers to: How can we build trust in a remote setting even faster than we're currently doing? For now, we know that relationships are key and you only want to be in a business surrounded by people you trust.
15. Less is more
We were focused on buying as many houses as we could in 2019. We scaled up just about every aspect of our business in order to facilitate acquiring as many houses to renovate as possible.
We realized that in order for us to be effective and truly accomplish our goals, we needed to scale back in some areas of our marketing apparatus and be more laser-focused on other areas. We realized that growing in every aspect was causing a drag in productivity.
In 2020 we plan on taking the lessons we learned in 2019 and focusing on our core advertising methods and growing those so that we can be as efficient as possible. We plan on buying even more houses than in 2019 by taking a less is more approach to our marketing efforts.
16. Diversify
I'd say that the biggest lesson I learned in 2019 is that diversification for any business is the key to its survival. I run a portfolio of websites and roughly 90% of my income comes from one of my web properties. While this website had done well in the past, November of 2019 is the first time it was ever impacted by an algorithm update and that was a good reminder that in order to survive, diversification is key to any organization.
In 2020, I'm going to work on making my impacted website even better, but more importantly, I'll be putting more resources and effort into new web properties so that if something like this ever happens again, 90% of my income won't be at risk.
17. Explore new opportunities
You can create partnerships with people both online and offline. You can develop partnerships with people that sell at events and trade shows or with people who are consultants who can recommend you.
By strategically partnering up with non-competing companies such as marketing agencies who have access to our pool of target audiences, we've been able to get many new clients and we plan to do more of the same in 2020.
18. Never rely on one channel
As an affiliate marketer, I used to rely on Search engine optimization where all the traffic was organic from major search engines. So the ROI was more profitable and it continued well until some of my blog ranks were down because of major algorithm updates and my earnings suddenly went down and some of my blogs had 200 to 400 visitors a month which was getting around 10,000+ visitors a month.
That time I felt so shocked and another thing I did was I never built any email lists so I couldn't mail anyone regarding my new blog posts and offers. That was the day I realized to not simply depend on one traffic sources and after talking to some of my mentors they advised to start building a list and do paid ads on major search engines like Google, Bing. Yahoo.
In 2020 my plan is to spend 20% to 30% of my monthly income to run ads on Facebook, Instagram, and Linkedin on each and every month. At the start I know I will be getting some negative results too but later I'll turn it profitable. To test it, now I am running ads of Facebook, Instagram, Google and getting some clicks and sales too. So my final advice is not to depend on one traffic sources and another important thing is to build email lists.
19. Keep a work journal
As a small business owner, it's tempting to change a few words on a landing page or update a call-to-action in an email, thinking nothing bad will happen but small changes can have a devastating impact on sales, traffic and conversion rates in general.
Keeping a work journal doesn't take long, all that's needed is a few words like "changed the CTA on the landing page from 'I'm in' to 'send me the free ebooks.'"
But having a trace of all changes made in the past can save hours of headache when something goes wrong.
20. Step out of your comfort zone
Last year (2019) was my first year working full-time for myself as a blogger and freelance writer.
The biggest thing I learned was the doing excellent work can get you really far, but you'll substantially inhibit the ceiling of your business if you're not willing to invest time and resources into promoting yourself or your business.
I wrote a ton of amazing content in 2019 and enjoyed a good year, but it could have been a great year if I had been willing to market myself more aggressively and put myself out there more frequently.
It's a little uncomfortable to ask people for things (like testimonials, recommendations, links to your website, etc.) that might help you earn more business, but it's crucial to stand out in an ever-more-crowded online marketplace.
21. Know when to walk away
There were some people I had to say goodbye to and it hurt. Some drained me emotionally & mentally, others weren't truly happy for my accomplishments and it showed in their words and actions, while others I still really wanted to share my journey with but we were just moving in different directions.
I will say that this opened me up to meeting new persons and forging new relationships that have not only helped my business but helped me grow as a person.
22. Prune your email list
In 2019, my email marketing strategy was focused on list building and growing my audience. I ended up with a large list, but many were not engaged. I hesitated to prune my list because more subscribers mean more business—or so I thought. But eventually, I uncovered that my emails were not landing in the inbox. Why? Because more unengaged subscribers result in more trips to the promotions tab (in Gmail).
Once I pruned my list and focused on my truly engaged (albeit smaller) audience my business grew. I plan to continue this strategy in 2020.
Now it's your turn!
Share with us – the lessons you learned in 2019 and what you hope to do better this year. Have any additional tips we haven't mentioned in the post? Share them below!