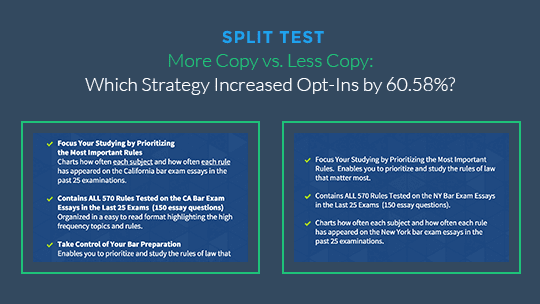 The law scales of justice are a symbol of balance and fairness to people everywhere. Similar to the goal of justice, finding the right balance between the amount of copy and detail to feature on your landing pages is also key. Luckily for us, we have a great example to address with the jury (that's you).
Here, we have a split test that Matthew Bates from SmartBarPrep ran to find how much copy to feature within a bulleted list on his landing page. Matthew and his team tested two different strategies:
Version A: More Detailed Bulleted Copy
Version B: Less Detail Bulleted Copy
Which bulleted copy strategy do you think boosted the click-through rate by 60.58%?
Vote below to reveal the winning split test page and our analysis.
[split_test id="4641″]