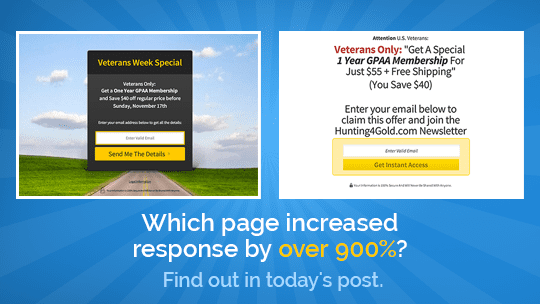 By Kat Von Rohr, Writer for LeadPages
Wow. You don't often see split test results like this.
Last Veterans Day, LeadPages user, Jess Wilkinson — aka "Prospector Jess" from Hunting4Gold — ran a quick test to see which LeadPages template would boost conversions on this limited time offer.
One of the LeadPages templates you see below boosted response by over 900%.
Take a look and see if you can pick out the winner below…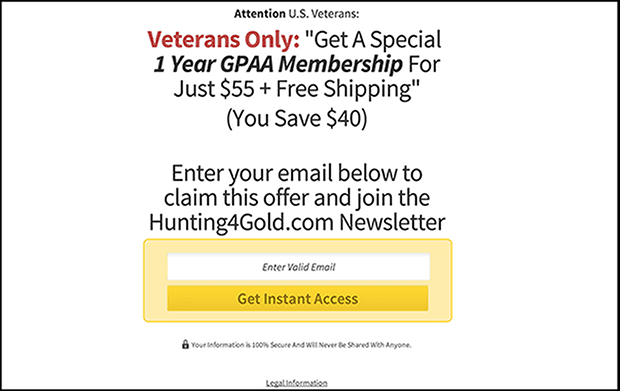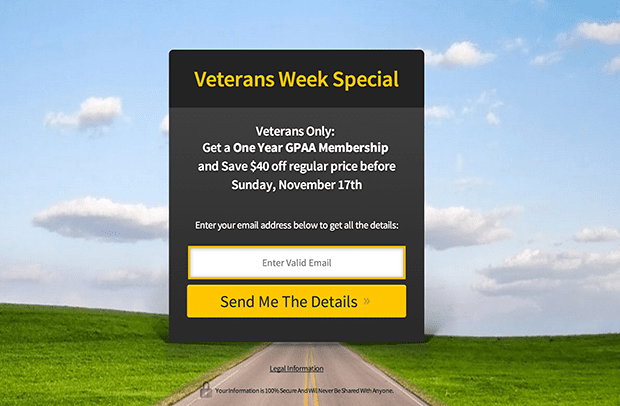 And the Winner Is…
Choice B.
This second variation increased response for this Veterans Day offer by 952% according to the data from inside LeadPages below.
Also, Choice B dominated in this split test with a 100% probability. As a rule, we only declare a split test like this one statistically valid if it has a 95% probability or greater than this result was NOT due to chance.
So in this case, our LeadPages split testing tool calculated this particular result was NOT a fluke. In other words, it's statistically valid.

The Genius Behind this Test (and the Entire Campaign)
Personally, I love this split test for several reasons.
First of all, the entrepreneur behind this test, Jess used the same out-the-box template backgrounds that anyone can use inside LeadPages.
We rigorously test all the designs in LeadPages, so we can give all our users the highest possible conversions. That means both the white background in Choice A and the blue sky background in Choice B are proven designs.
So testing both these proven pages to your audience is like challenging two prizefighters to a grudge match — and seeing which one wins. (Not a bad strategy, right?)
Also, as you can see, this is not a simple background split test.
If you look closely, you'll notice that the copy has been slightly tweaked on both pages. I like that because the copy clearly matches the design for each page. But at the same time, both pages still convey the same information and speak to the same target audience — veterans.
(Of course, that begs the question: Was it the slightly tweaked copy or the completely different design that clinched the winner here? I'd love to hear your thoughts in the comments.)
The Holiday Factor
Finally, I like this test because it features an urgent limited-time offer that's tied into a holiday. Most marketers would never consider using a largely unsung holiday like Veterans Day to build their list like this.
Also, if you opt-in for this page, you immediately receive an email that asks you to contact the GPAA by November 17th to claim your veteran-only discount. That's a fantastic way to inspire urgency — and in this case, to honor veterans who have served their country.
Quick tip: As you're planning out your marketing for 2014, you might consider using the lesser-known holidays in your country to run special offers like this one. Depending on your business, you might even try targeting specific groups of potential customers as they did here.
A debt of gratitude goes out to Jess Wilkinson and his team at Hunting4Gold and DoradoVista, Inc. for sharing their results with us. To learn more about what Jess and his team are up to, check out http://hunting4gold.com/.
The Fastest Ways to Run This Split Test in Your Own Business
Again, the two pages you see above are available inside LeadPages for you to use as is. So without changing backgrounds or making any significant changes, you could have a similar test up and running in minutes.
If you currently have a control page that you're using to grow your list, I recommend you try testing it against a radically different opt-in page like our user did in this split test.
You never know – you just might find your next page that boosts your conversions by triple-digits like Jess did above.
If you're already a pro customer, you can start testing in minutes with our built-in split testing tool. If you haven't tried it yet, I recommend you start by watching our three-minute tutorial video on how to use this tool first.
Even if you're not a pro customer, you can still split test your pages inside LeadPages using any other split testing tool available today. (Fair warning: Using other split-testing tools is not as easy as using ours — but they still work.)
That's it for today's split test. Before you go, why do you think choice B won this split test? Was it the design? Was it the slightly tweaked copy? Let me know in the comments below.