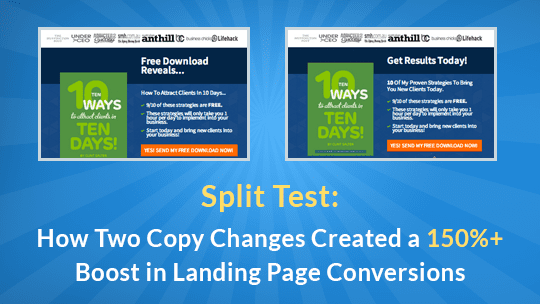 How much impact can a new headline and subheadline really have on conversions?
In the case we'll look at today — provided by LeadPages customer and professional business mentor Clint Salter — the answer is quite a lot.
Clint ran the test below to determine which combination of headline and subheadline would perform better on his free ebook download page.
After a few simple copy changes, the difference between the two pages was a remarkable 152% increase in conversions. Running the numbers, these changes improved Clint's conversions with a near 100% statistical certainty.
Some more information about the test before we get into it: Most of the traffic to this page came from Facebook ads and Clint's occasional email newsletter.
Let's check out the two pages below, dig into the stats and read into Clint's insights in the Q&A.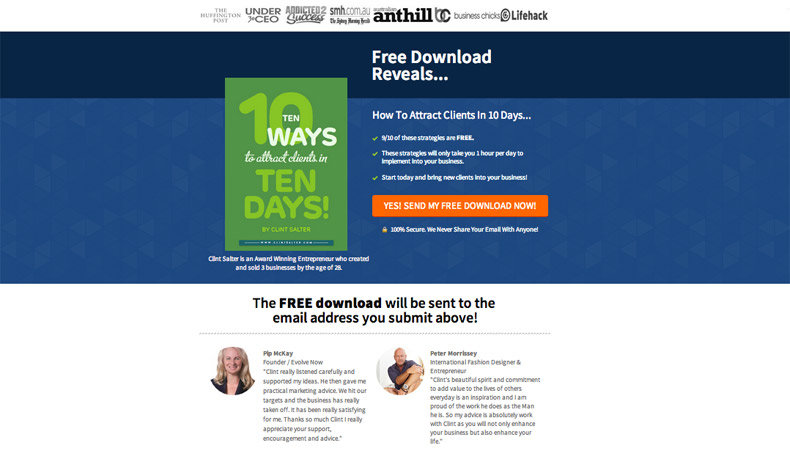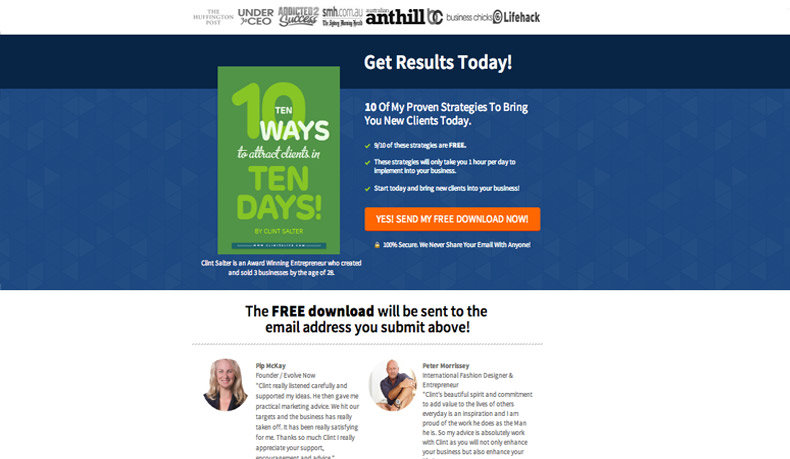 Clint's Results
The winner of this test with an impressive 150%+ improvement is the alternative "Get Results Today" page.
During Clint's test, the original page converted 11.41% of visitors while the alternative drew a markedly improved 28.76%.
Working in the amount of traffic to our statistical calculations, the probability of outperforming is just over 99.9% (which is simply rounded up to 100% in the full report which you can check out for yourself below.)
Now, because the test changed both the headline and subheadline, it's not possible to pinpoint exactly which factor is responsible for the largest change.
Given that Clint now knows his hypothesis is significant, further testing on the headline or subheadline individually would be a good way to see what's going on in further detail.
Still, these results show that this combination of the headline and subheadline generated some significantly better results.
For Clint, this effectively means that after making his copy change, an extra 17 people can be expected to download his book per 100 visitors to the page — a huge boost when you spread it over monthly or yearly traffic figures.

Q&A: Clint Describes the Test in His Own Words
Why did you run this split test for this landing page?
Clint: Over the last 12 months I've become a bit of nerd when it comes to testing many aspects of the marketing we roll out in the business. I walk the talk. We tell our business owner clients to test, measure, tweak, repeat and we do exactly the same.
It takes an extra few minutes to tweak your existing original landing page to make a variation and then your job is to send the traffic and LeadPages will do the rest. For us, we wanted to see if by changing just two lines of copy would make a difference and well, it does!
What was your hypothesis when you started?
Clint: As with any type of split testing you always have a gut feel. Whether or not that feeling proves correct is up to the conversion Gods. With this specific campaign we had a strong feeling that our variation to the original landing page would provide us with a higher conversion rate.
What did you think of the overall results? Were you surprised by which page won here?
Clint: We were really thrilled with the results. As I mentioned we felt like the variation landing page would win but not by the amount it did.
Since then we have been planning a number of additional campaigns for our business along with our clients' campaigns so we're really excited to see the results over the coming months. Sure, content is king and in this case the copy was queen!
Try This on Your Own
A big thank you again to Clint for sharing his insights on his test. Hearing first hand from people is really valuable when going off to design tests on your own.
Running tests like Clint's are simple using LeadPages' built-in split testing system. LeadPages has dozens of built-in templates with intuitive drag-and-drop design and deployment capabilities that are ready to go within minutes of your activation.
Whether you're testing copy changes, color, background images, or any other elements of design, getting hard data has never been easier.
Check out the video below for more information on using split testing with LeadPages.
That's it for today's test. Did these results surprise you? Have you split tested any landing page copy recently? Share your thoughts or results in the comments below.