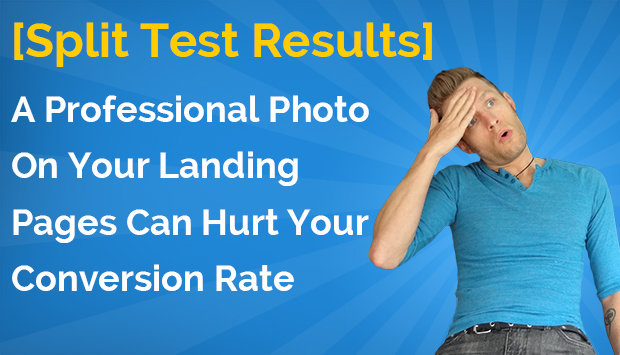 Transcript:
[0:00:00]
Hey, this is Jeff Wenberg with LeadPages, and today, we've got a bit of a counterintuitive split test to show you. This is something that people don't often think to split test, but true LeadPages users were awesome enough to test it out and share the results with us. Here, we have CarlTaylor.com.au, and Carl was running a split test to see what the results would be between two different pictures of themselves; one being the traditional business headshot where he's in a suit and buttoned-up shirt and his hair's all done nicely, and the other being a more relaxed picture where his hair's a little more messed up. He doesn't have a suit on and he looks more like a maverick. Literally, this is the only difference between these two pages and I was blown away to see that Carl achieved a relative 76.62% lift in conversions with a less professional photo that showed more personality and insight into what Carl is really like, but this isn't the only example of this. Rob Cornish from GainHigherGround.com also test with a more professional picture against the picture showing him out backpacking in a more relaxed atmosphere. Everything else is exactly the same on the page. Just like Carl, Rob also found that the less professional photo that showed more personality and insight into what Rob's life is really like achieved a relative 13.57% lift in conversions.
Both of these split tests illustrate the same point. Conventional wisdom about the way you're supposed to look in photographs isn't always correct and you shouldn't just follow that wisdom blindly without running your own test. Of course, your mileage may vary. Sometimes, it can produce a big result, and sometimes, it can produce a small result. As you saw, Carl got a relative 76% increase and Rob got a smaller 13% increase, but an increase nonetheless. Both got an increase from doing nothing other than challenging conventional wisdom and testing out a different kind of picture. The results depend on your market, and of course, the picture you use, but this is something we recommend that everyone test out. If you're a LeadPages customer with access to our split testing package, here's how you design a test like this for your own pages. In your LeadPages account, find the page that you'd like to set up the test on and select 'Edit.' Once in the Edit window, click on 'Create Test.' Click 'Add Variation,' and then select from the original. Then change the picture out from a more relaxed one, then click 'Save.' The split test is now completely set up.
We believe that LeadPages is by far the easiest, most simple way to run split test because we've integrated the split testing tool with the landing page builder so you don't need to drop in any tracking code on your pages or do anything. We do it all for you in a matter of seconds inside of LeadPages when you have access to the split testing package.
I hope you've enjoyed the split test result and thanks again to Carl Taylor from CarlTaylor.com.au and Rob Cornish from GainHigherGround.com. If you're not a LeadPages customer and you'd like to be, please visit LeadPages.net right now. Have a great day.
[0:02:55] End of Audio