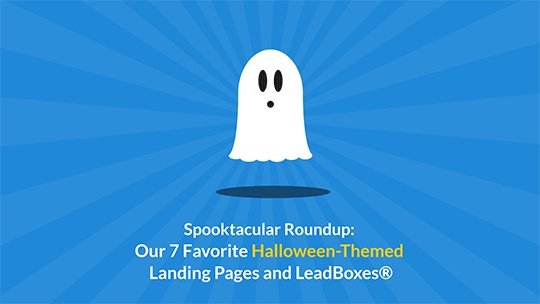 It was a conversion smaaaaAAAaaash.
Hey, it wouldn't be Halloween without some conversion marketing, right?
Just like The Simpsons, we've got our own Halloween tradition of showing off our favorite Halloween-themed LeadPages™ landing pages and LeadBoxes® created by our imaginative customers.
And now, children of the night, feast your eyes on the spookiest LeadPages™ examples from the far, mysterious reaches of the internet.
It helps if you read that last part like Dracula.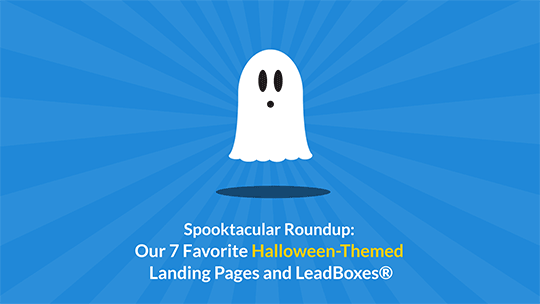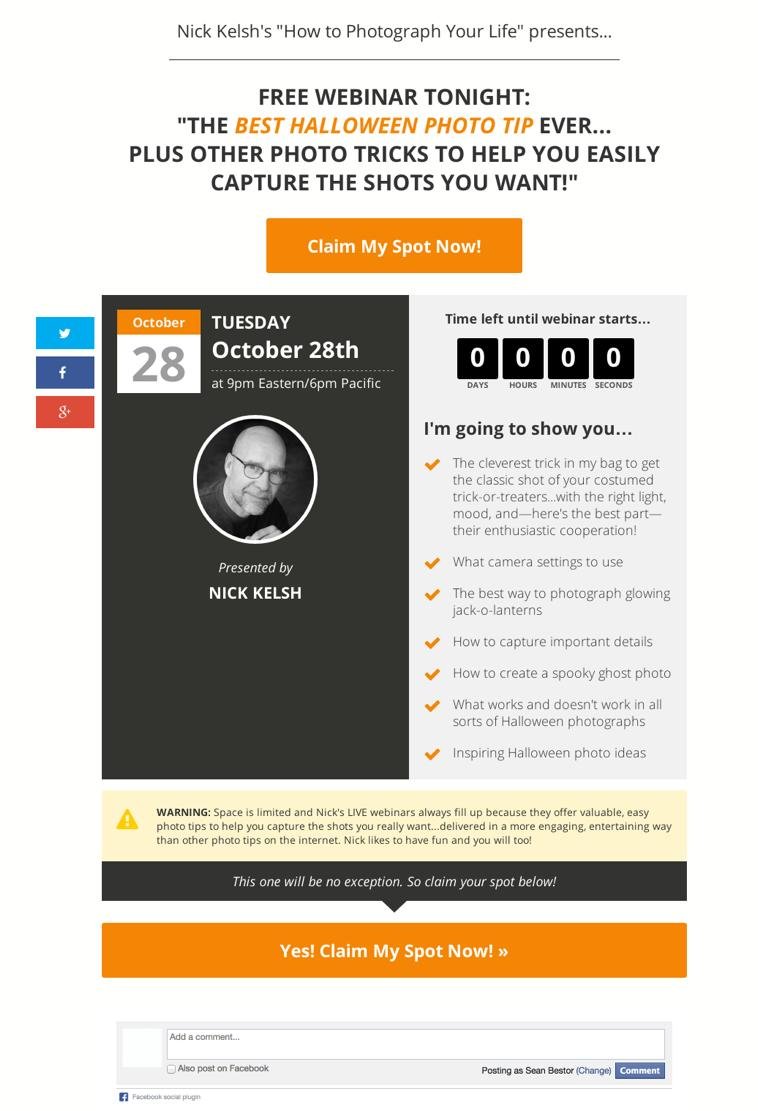 Why It Stands Out: Let's lead off with our newest free template that's already converting at a record-high pace: the Webinar 3.0 Page (Two Hosts and High CTA Button).
This beautiful page is customized by Nick Kelsh to reflect the feel of Halloween with an orange and black/grey color pallette. With the neutrality of black, white and grey as the primary colors, the addition of orange in key spots really draws your eye to the points of emphasis.
Here, Nick chose to highlight the main copy point in his title, the call to action buttons, the date of the webinar and his copy checkmarks.
Outside strategic coloring, this template is chock-full of features that help conversions. There's the countdown timer to create a sense of realness and urgency, two bold call to action buttons, social share buttons on the side, a social commenting section, a photo to increase credibility and a "Warning" section to further increase urgency.
Needless to say, you'll want to get this page into your marketing efforts ASAP, so check out more about the template here .
Why It Stands Out: LeadBoxes® can be used in a variety of ways, and Tumblestar highlights one of those unique options here.
In many cases, LeadBoxes® are used to collect email addresses or to act as contact forms. In this instance, Tumblestar uses their LeadBox™ as a gateway to a registration page.
You can see in their copy what will happen when you sign up. Upon entering your email, you're taken to the complete registration page for the party.
The copy on their LeadBox™ reveals what is unique about this strategy. If you forget to fill out the registration page after signing up, they send a reminder email to the address you gave them.
Either way, everything directs to their main goal, which is a registration completion. It's a great alternative way to use a LeadBox™, and you can see it in action here.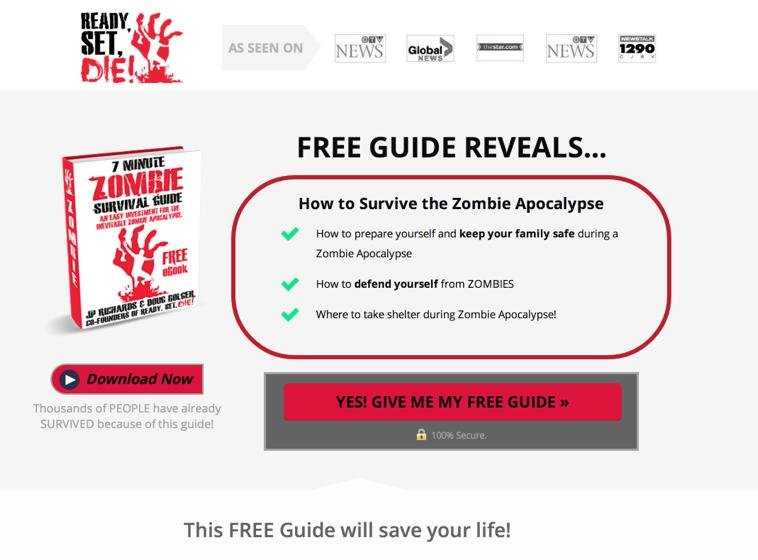 Why It Stands Out: Ready, Set, Die! uses excellent social proof and design for direction in this Perfect Squeeze Page from Justin Brooke template.
At the top of the page, you're greeted with reputable and high-profile news outlets that have featured this book. Before the reader has seen one word of your sales pitch, they've already built your product up in their minds because of this social proof.
Everything you need is in one fold for this example, with two opportunities to buy with the "Download Now" and "Yes! Give me my free guide" buttons. Neither one overpowers the other, so the two download chances this template offers are optimized.
Like Nick Kelsh, this template uses color as a point of emphasis enforcement. Most notably, your eye is drawn to the body copy because a pink circle is drawn around it. You move from important point to important point with this template, which is crucial when creating an efficient template.
See this template in action here.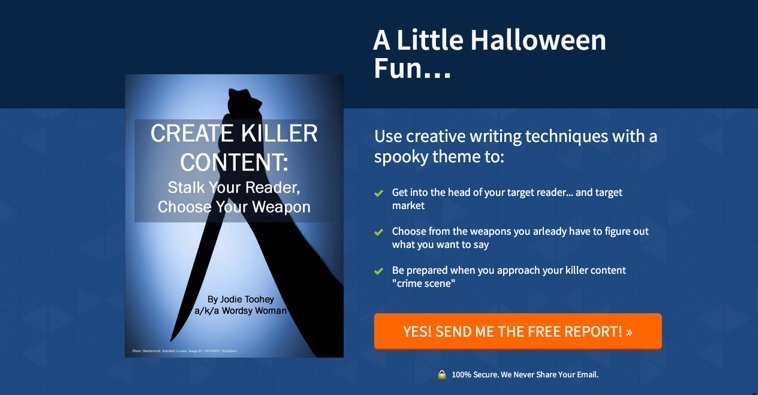 Why It Stands Out: This Social Proof Giveaway Page puts the product at center stage, yet still gives plenty of focus to the body copy.
There's a great balance struck between the visuals and the copy. The landing page is only one fold long in order to keep the focus on exactly what you create in this space. The book image takes up a large chunk of the left section, which builds up credibility in the visitor's mind since they can visualize the actual product they'll receive.
The body copy on the right side of the page does a good job of using timeliness with a Halloween theme to put a new spin on their product. Halloween is already relevant in your mind (even if only subconsciously), so even framing the ebook in this light makes it stand out more than products that don't use this tactic.
Why It Stands Out: Haunted Attractions uses our time-tested copy on their LeadBox™, with the addition of their own image and call to action.
They've kept our "It's 100% Free!" claim, as well as the anti-spam promise at the bottom of the LeadBox™ to increase visitors' confidence in providing their email. These come by default on any LeadBox™ because we've seen them work time and time again (though you're 100% encouraged to split test your own copy).
Haunted Attractions customized the button text, font, and picture to help keep their branding consistent in the LeadBox™. The font matches their orange/black/yellow color palette, and their logo validates the authenticity of the experience. They've changed the button text to say "Subscribe," which is a strong, clear word to use for a call to action.

Why It Stands Out: Simple K-12 does a phenomenal job of using every feature of this Ebook Landing Page from Pat Flynn to, surprisingly, market their webinar.
We've talked before about using templates for different purposes, and this example personifies this idea. Simple K-12 is marketing a webinar for purchase, and this landing page is the gateway to that product.
The first fold of this template is so enticing. The imagery is sharp and engaging, and the copy really gets to the core of the product benefits. There's an opportunity to purchase the product right away in this first fold with a clear call to action on a buy button.
The rest of the template continues to add to the strong sales message. You'll see teacher testimonials to build social proof, a video preview to create anticipation and an in-depth copy dive into the specific features in the webinar. It's all rounded out with an author bio for added credibility and one last call to action to purchase the webinar.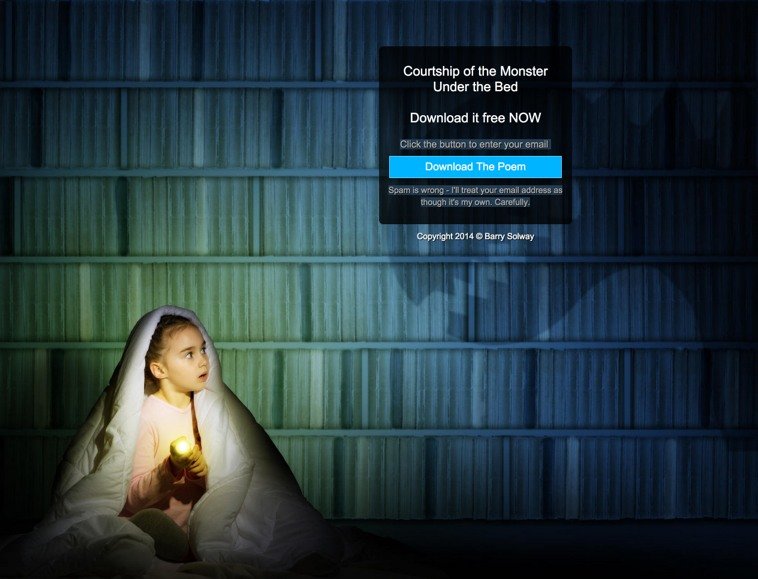 Why It Stands Out: This free poem created by Barry Solway just feels ominous with the Basic Squeeze Page (Aligned to Right).
He really designed for direction by using an interesting image for his background. The child is looking up towards the monster in the top right corner, which is also where the opt-in box happens to be.
Not only do we see pages succeed when they have visual cues like this, but having the opt-in box on the right side of the page increases the likelihood of a visitor engaging with your product. Additionally, the bright blue button stands out tremendously in this example, and the "Download the Poem" call to action tells you exactly what to do and what you'll get.
How Are You Using LeadPages™ and LeadBoxes®
Before you go, I'd love to know. . .
How are YOU using these templates in your business? Have you taken advantage of any of the new LeadBox™ publishing options? Drop a comment below and let me know.