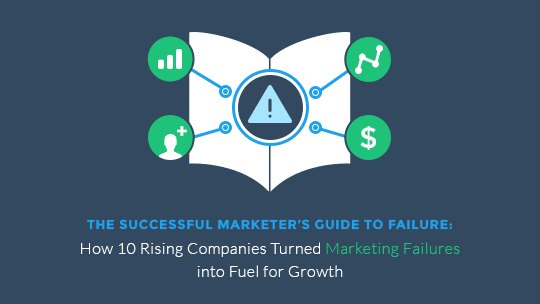 In recent years, failure has become glamorized.
You've seen article after article telling you to embrace failure, to fail forward, to fail quickly. The successful business owners you admire all have harrowing tales of epic screw-ups.
But there's an important distinction to be made: the failure itself isn't the important part. In fact, failure by itself is never a good thing. It's what happens after the failure that matters most.
Failure presents a unique opportunity that's often absent from success: it's much easier to determine why something failed than to determine why something succeeded.
If you want to see someone act clueless, ask them what they've learned from their successes.
For example, look at Slack, the increasingly popular team communication Platform. In the span of 12 months, Slack went from not existing to being valued at over $1 billion. When the CEO of the company, Stewart Butterfield, was recently asked at a conference how they had become popular so quickly, his response was brutally honest:
"I have no idea," he said.
Failure doesn't guarantee enlightenment. But it does provide the opportunity.
It was with that in mind that I recently spoke to some friends at companies I admire and asked them:
"What marketing failures have you experienced that you could teach us to avoid?"
Below, you'll hear the stories of their most epic failures in their own words, and — most importantly — exactly what you can learn from each of these stories.
Jason VandeBoom, Founder and CEO of ActiveCampaign

"My largest marketing failure happened a couple of times and was caused by our desire and habit of moving very quickly.
"We are moving at a fast rate and there have been times we have missed out on fully benefiting from some of the work we have done. We would release a major feature that would help all of our existing users (and bring in more users) but once the feature passed dev/QA it didn't get the attention it deserved for marketing it to our existing users as well as potential new users. So much time was spent on the UX, development, and testing while the marketing of the update wasn't given as much time.
"We now give post-release marketing & education the same attention (and resources) that we give UX, development, and QA. This has resulted in higher conversion rates of new users, lower churn, and consistently improving our average revenue per user."
Key Takeaway: If you create an outstanding product, you need to remember to show people how outstanding it is.
At Leadpages, we call this the "minimum marketable event." It helps you recognize opportunities to talk about your product that you may otherwise miss. For example, every time we release a new free landing page template for Leadpages customers, we create a video about it on our blog. We do the same for major feature updates.
The ongoing evolution of your product provides tons of marketing opportunities — be sure you're on the lookout for them.
[Tweet "The biggest mistake when building great products? Not marketing them. @ActiveCampaign explains:"]
Chris Hexton, CEO and Co-Founder at Vero



"The number one thing I learned when switching from building our first product to building Vero was that gauging interest is crucial. If you can't even get potential customers interested in trying your product for free then you have no chance of getting them to pay.
"I see too many startups spend too long trying to convince people they want something they don't have a true interest in. If you solve a problem, people will welcome your solution."
Key Takeaway: The "if you build it they will come" mentality rarely works. Make sure you are developing a solution to something people consider to be a real problem.
[Tweet "If you solve a problem, people will welcome your solution." – @chexton of @getvero"]
Matthew Field, Director of International Operations at Birchbox



"Lesson: listen to your customers!
"In early 2014, we were hearing from various customer feedback channels (customer operations, social media commentary, and surveys) that Birchbox subscribers were craving more control over their monthly experience. Typically, Birchbox subscribers receive 5 personalized samples each month, tailored to their profile. In April, we tested letting customers choose 1 of their 5 samples as a means of giving them the control they were craving.
"Results showed a significant improvement in customer retention rates for customers in the test group, and we rolled out the program to all subscribers in July.  We continue to see higher retention rates from this even now. Our customers have influenced some key features which have resulted in better metrics for us, and this was achieved by listening to them."
Key Takeaway: Matthew said it best: listen to your customers. However, I think there's something else that's important to note — the way Birchbox listened to their customers. They didn't just implement every single customer request that came their way. Instead, they paid attention to something they were hearing over and over across many different channels.
It's important to listen to your customers, but it's even more important to be sure you're prioritizing and acting on the things that matter to them the most. That's where you'll find the big wins.
Jairam Eyunni, Director of Global Digital Media at Ancestry.com



"My background is primarily in performance marketing & new customer acquisition. Obviously, new customers are a great way to grow your business but I think these days advertisers need to put an equal emphasis on deeper funnel metrics (i.e. retention, loyalty etc.).
"At my previous employer, we aggressively grew sales lead volume but it wasn't until we looked into deeper funnel metrics that we realized this had been at the expense of the sales lead quality. Once we had sufficient analytical tools and closer working relationships with clients, we were able to better see that more upfront volume isn't always the best way to grow a business."
Key Takeaway: It's important to analyze your entire funnel, not just the entry point. Focusing on getting new customers is a great way to grow your business, but it's not always the best method for increasing your revenue.
Depending on your business model, it often becomes cheaper to retain an existing customer than to acquire a new one. If you're not looking at all of the relevant metrics, you're essentially flying blind.
Diana Smith, Director of Marketing at Segment



"We didn't realize that content is the LONG game and tried to tie it to immediate conversion metrics, which was the wrong short term goal for content with Academy. These should be around engagement and sharing to show that you're actually creating something worthwhile. The signups will come."
Key Takeaway: When you implement a new strategy, spend time making sure you understand how to measure its health as early as possible. While you may not be able to measure the ultimate goal (conversions, for example) right away, is there something you can monitor that may indicate whether you're on the right track or not?
Erik Harbison, CMO at AWeber



"Biggest Mistake: Taking the Homepage for Granted.
"It is one of the most critical pages for any business. Our mistake was that we were too focused on impacting other levers tied to the onboarding experience for new customers. Once we were able to focus on the homepage and execute some very quick and simple tests, the results were very noticeable.
"By adjusting the tone of some copy and adding ONE word to our call to action, our results were double-digit improvements in our conversion rates.
"Hear more about the tests on ConversionCast:
http://podcast.leadpages.net/aweber/ – Change in copy tone.
Leadpages + AWeber – Adding One Word."
Key Takeaway: Small changes to high-impact areas of your business can often result in big wins. Analyze the points in your sales funnel with the biggest impact and experiment with split testing them. Not only can you increase revenue, but you can also learn a lot about the things that motivate your prospects.
[Tweet "Wise words of warning from @ErikHarbison of @AWeber: "Don't take the homepage for granted."]



"My biggest marketing failure was misreading the metrics behind AdWords. I was successfully measuring engagement and things like signups for our mailing list which looked absolutely phenomenal — but the lifecycle of someone? Horrendous! Once I realized the small metrics of success didn't represent success for the company, only then could I turn it around.
"The number of signups can be a TERRIBLY misleading metric without the context of other data."
Key Takeaway: Again, we see the value of monitoring your entire funnel rather than just the entry point. When you pay to acquire opt-ins, you have to make sure that enough of those opt-ins are converting into customers to justify what you're spending.



"When we were getting ready to launch Lucy & Co., we set out to build a very beautiful website. A website's aesthetic and navigability is a huge piece of the marketing strategy, especially when running an e-commerce business.
"Initially, our site looked and worked great on the desktop, but it wasn't optimized for mobile. We realized that 80% of our traffic was coming from mobile and we needed to make a change. People use mobile sites the same way they use the Facebook or Instagram app – they scroll down. We needed to implement flick-of-finger navigation without requiring visitors to click through menus.
"Now, every one of our products is accessible with a single click, right from the homepage. We're already seeing significantly lower bounce rates and therefore higher conversion rates."
Key Takeaway: You need to know where your traffic is coming from and how visitors are experiencing your website or landing pages. Once you understand that, you can optimize specifically for your core visitors.
Jeff Epstein, Founder of Ambassador



"When running a 'lean' organization it's easy to consider 'marketing' a cost center. For a long time, we neglected obvious marketing channels because they were expensive. Instead of making smart investments in the growth of the business, we focused on 'hacks' and quick wins.
Eventually, we saw the light of day and focused on driving long-term value. We started by investing in content. Quality content not only drives traffic (and leads) it ranks us for keywords and creates awareness. This awareness has helped us land some of the world's largest brands as customers."
Key Takeaway: When analyzing potential marketing channels, you should consider more than just the expense (both money and time). Be sure you're considering the expense in the context of the channel's potential ROI for your business.

"My biggest marketing mistake is waiting too long for things to happen.
"For instance, I started my podcast a year and a half ago and only recently started promoting it more heavily. Monthly growth rates are > 40% and it continues to increase.
"Another example is waiting too long to do offline events that would translate to more business opportunities, such as creating an internet marketing mastermind or running MeetUps. I just recently started a mastermind and the benefits to the entire group have been impressive. I've been told about the benefits of running MeetUps/panels and I've finally secured a group of star panelists and am locking in a venue.
"These are all marketing opportunities that I simply waited too long for and was hesitant to take action on. That's why my main goal for 2015 is to 'follow-through'. Once you take action, it doesn't feel all that bad. It's just about taking the first step."
Key Takeaway: Simple — if you want to see an area of your business grow, focus on it, and consistently take action.
Now it's your turn
See a pattern here? Each of these marketing failures led to insights that enabled these companies to grow. They didn't set out to fail, but when they did they seized the opportunities that were presented.
So tell me, have you experienced any marketing failures lately? What insights did you gain, and how did you act on them? Leave a comment below and share your story with us.
Here's to your future successes…and your failures.
About the Author:
In doing Business Development for Leadpages, Kevin Raheja spends his days speaking to some of the top marketers in every industry. Before Leadpages, Kevin worked on Strategic Partnerships and Business Development at Cox Media, the Star Tribune, Groupon and has consulted for many Fortune 500 companies. He's created partnerships with Coca-Cola, Uber, Target Corp, Whole Foods, Delta, Petco, and others. If you're already a Leadpages partner or you're interested in becoming a partner, you can contact us at partnerships@leadpages.com.