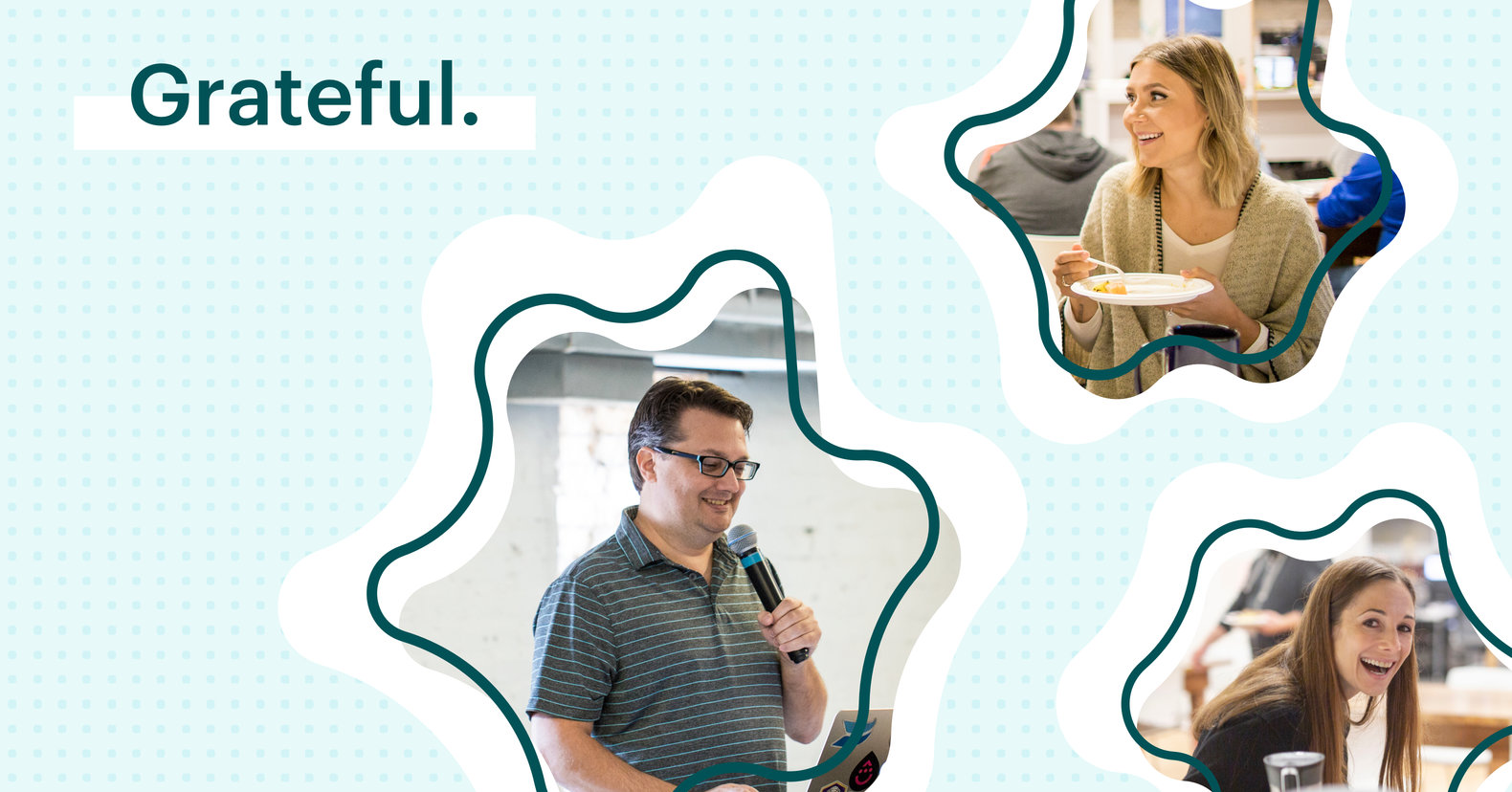 Gratitude is so much easier to preach than it is to practice.
We all appreciate the things that make life easier and when the stars align in our favor—but what about all the things—big and small, that we value and wouldn't want to live without.
Thanksgiving means different things to different people. To us, it's more than a gut-busting menu and spending the day with family and football. It's also an excellent excuse to take a moment to get our gratitude on and share with you all a few of the things that we're most thankful for this year.
1. Office dogs and Fido Fridays
To say that we're grateful for an office-wide Fido Friday (take your dog to work) policy, is a bit of an understatement. Few things are better than having your four-legged fur buddy curled up beneath your desk as you wrap up the week.
Wondering why there's no 'take your cat to work day'?
We were wondering that too. Hmmm…must be because dogs rule. 😉
2. Gifs gone wild
We select them with glee, we send them in our customer service chats, and Slack them across the office… because getting your point across with a .gif is like topping off dinner with a slice of chocolate cake. It's the final flourish that you didn't really need and don't really want to live without.
When words fail you, .Gifs get the message across. All it takes is a little search and scroll.
A customer deserves kudos? Get 'em a .Gif.
New hire? Here's how we welcome new employees to the tribe.
Someone did something awesome? Bring on the Bonusly points.
3. 
Teamwork (aka family breakfast)
Some do family dinner—we do family breakfast.
Every Wednesday morning Leadpagers gather 'round our kitchen table in our Minneapolis headquarters and talk about 'all the things.' We discuss upcoming projects and ongoing feedback from our community. Aside from the giant swing set hanging from our office ceiling, it's one of the things that makes our workplace truly unique.  (Oh – and who wouldn't want to munch on a breakfast burrito during an all-hands team meeting? That's what we thought.)
4. The "Interwebs"
In many ways, the internet has leveled the playing field for small businesses around the world. It's the great equalizer of our generation. By doing away with barriers to entry, the internet is an invitation to the table. Savvy, scrappy, soulful business owners no longer need a webmaster, ad agency, or gobs of cash to get their dreams off the ground.
5. The end of the content gold rush
Don't get us wrong, content marketing is alive and well but the days of 'high-production, write until your eyes bleed, churn and burn content' may be coming to a close.
As the web becomes saturated with billions of bits of content and a battleground for users' attention span, we're entering a new era, in which relevancy and exceptional user experience trump all else. In other words, less may actually be more. And that's good news for all of us.
6. Our customers
What inspires us more than anything else? Our customers.
We get each other. Since the dawn of time the early days of Leadpages, we've been in it together—banding together as a new breed of entrepreneur. Our co-founder, Clay Collins, knew that a company could not be about a product—it had to be about the people.
That's why, over the past six years, we've gotten to know each other, we've grown together, and we've worked hard to inspire and champion the growth of this new generation of entrepreneurs—the specialists, enthusiasts, experts, mentors, gurus, coaches, freelancers, gigsters, and go-getters that have what it takes to write their own rules and rule their own lives.
Every day our customers inspire us.
Speaking of inspiring, check out Leadpages-user, Teresa Heath-Wareing, who recently delivered her first TEDx talk!
7. Healthy competition
The web is a competitive place—especially for a small business just starting to carve out a community of online followers. But competition isn't a bad thing. It's what shapes and inspires us to become the people we were born to become.
Which is why we constructed a month-long Shuffleboard tournament—randomized team composition, double elimination, unfathomable glory.
Oh, and did we mention that Conor from the Marketing team took home a first-place trophy?
8. Bringing lead pages to life (in unexpected ways)
We spend all the majority of our days training and educating entrepreneurs on all the many ways lead pages help small businesses grow big. But… at night… after the lights of the office have gone dim… we use lead pages in a plethora of quirky, creative ways that we rarely ever talk about.
We are now breaking our silence.
Disclaimer:


The following use cases are not (even close to) CEO-approved.

Off-label applications of lead pages may result in a rush of creative adrenaline, side-eye glances from your online neighbors, and an unexpected increase in ROI. Always consult your better judgement before deploying a lifestyle lead page or modifying your digital marketing practices. Viewer discretion is advised.
Remember that meet-up presentation we delivered to the digital marketing group in the Twin Cities? Who needs a pesky old powerpoint when a landing page can bring your narrative to life.

Click here to see the page in action.
And what about that unicorn-themed birthday party for a 7-year-old daughter? 

Click here to see the page in action.
Speaking of parties… what could be more fun than a little bit of friendly, interoffice competition?
Click here to see the page in action. 
9. Our HQ home: Minneapolis
As you may know, Leadpages headquarters are located in the heart of Minneapolis, Minnesota—and we couldn't be prouder to be part of our local community.
INC Magazine summed it up nicely when they said "Minneapolis: Where People Are Nice, Craft Beer Is Plentiful, and the Startup Scene Is Hot."
But for those of you less familiar with our corner of the world, here are a few amusing, mostly useless tidbits of trivia about our beloved city:
Twin Cities Startup Week

is now the second-largest in the country, according to Techstars data

Minneapolis was among the first cities in the US to use wireless internet.

Famous inventions to come out of Minnesota include the Post-it Note (by 3M), black box flight data recorders, water skis, rollerblades, and the pop-up toaster.

Minneapolis is the nation's third most literate city, only topped by Seattle and Washington.

The Minneapolis Skyway, spanning 69 downtown blocks, is the longest continuous skyway system in the world.
10. Software partners that are our secret sauce
As a software as a service (SaaS) company, we're uniquely atuned to what it takes to build a phenomenal tool and craft an outstanding team to support the people that use it.
We also rely on dozens of different applications to get our daily work done and we want to give a shout-out to a handful of the phenomenal companies & tools that make our work possible.
We were raking our brains for the best way to say thanks this year and then it hit us… we are already saying thanks—thousands of times a day, in dozens of languages, all over the world.
So wouldn't it be beautiful to harness all that gratitude and concentrate it into a single Gif to get the message across?
Yes—that would be beautiful. We should do it 😉
Thanks, Leadpagers. Have a Happy Thanksgiving!